What Is A Free Cryptocurrency Faucet
The concept of free cryptocurrency faucets revolves around the idea that tiny drops of water that fall from a leaky faucet can eventually fill up a glass. A free cryptocurrency faucet leverages this idea to allow users to earn the entire Bitcoin by completing small and easy tasks.
Although crypto faucets will pay you just fractions of Bitcoin (called satoshi or sats), by being diligent in your work, you will finally earn a substantial amount of BTC. Different free faucet sites provide payouts in a variety of cryptocurrencies, including Bitcoin, Ethereum, Litecoin, and more.
How Does a Free Crypto Faucet Work
Broadly speaking, every free cryptocurrency faucet is an online advertising platform where advertisers (sponsors, marketers) publish their paid offerings for marketing purposes, while users complete these tasks to get a profit.It is exactly the sponsors that offer crypto rewards for various activities via free satoshi faucets. These little paid jobs allow sponsors to raise awareness around their brands, attract more traffic to their online platforms, and just create hype around their projects, while users are incentivized to perform these simple jobs in exchange for crypto rewards.
It appears that any free cryptocurrency faucet pays out rewards that it gets from advertisers aka sponsors. The faucet can operate and provide rewards as long as the advertising on the platform brings more income than distribution of rewards among users. This also explains why a crypto faucet pays insignificant amounts of Bitcoin – otherwise, the faucet itself will not generate sufficient revenue.
It is very easy to start earning crypto through a free cryptocurrency faucet. All you need to do is to create an account with a desirable service by visiting the faucet's website or downloading the faucet's mobile app. The entire process is generally very straightforward, and the system will prompt you throughout the way.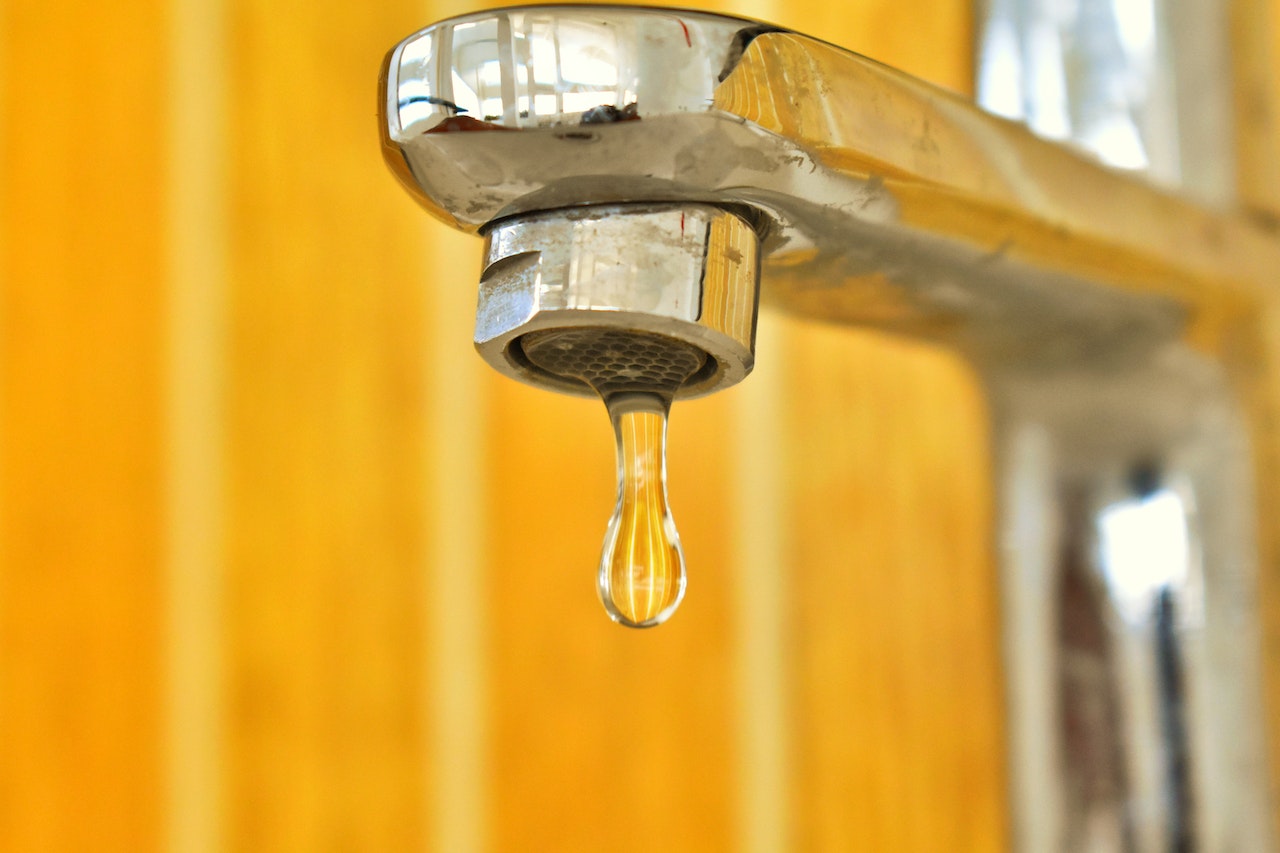 Upon creating and verifying your account, you can then proceed with accomplishing different micro-tasks proposed by your free cryptocurrency faucet. To enable you to earn free satoshi, the faucet of your choice will suggest a diversity of opportunities, which commonly include clicking on ad banners, following links, viewing promo videos, liking publications, and all that jazz.For each successfully completed task, the free cryptocurrency faucet will give you a fixed amount of satoshi or another crypto, depending on the peculiarities of a given offering. The earned cryptocurrency is then sent to your internal wallet within the faucet's site or app.
Once your crypto earnings reach a certain threshold (for example, one million satoshi), you can claim a payout to your external wallet, such as your Bitcoin wallet. Some faucets allow you to cash out the rewards to your existing account on popular online crypto exchanges such as Binance and Coinbase.
When you are looking for the best Bitcoin faucet on the Internet, you can often come across such titles as a Binance faucet or a Coinbase faucet. That does not mean that the world's largest crypto exchanges organize faucets. Instead, these crypto faucet platforms just allow you to withdraw your funds to your account on a reputable crypto exchange, Binance or Coinbase.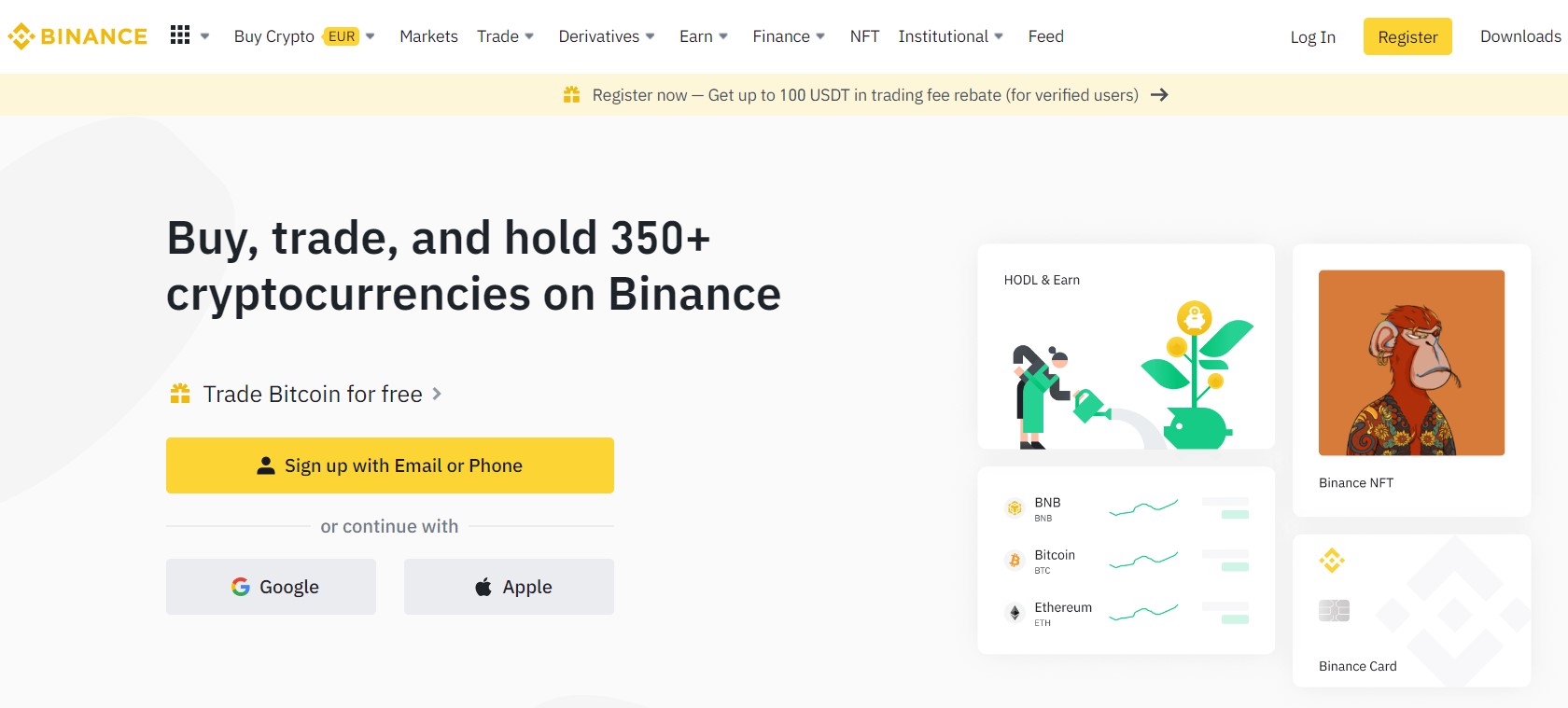 There are also some free satoshi faucets that do not establish any minimum withdrawal requirements, and you can cash out as few satoshi as you currently hold on your faucet balance. Depending on the platform, the time frames to process your withdrawal may range from a couple of hours to several weeks or even months.
How Profitable Can A Free Cryptocurrency Faucet Be
To lure more participants into a deal, individual free crypto faucets may promise extravagantly high quantities of Bitcoin rewards. It is pretty common among free faucet sites to claim that they enable their members to make $100-200 per hour, but in reality, you can expect no more than $5-10 per whole day of working.
Still, the profitability of free satoshi faucets largely depends on the type and complexity of tasks they offer to complete. Sometimes, rewards for certain jobs can be truly lucrative. You want to realize that the reward you reap from a free cryptocurrency faucet may not be commensurate with the time and energy you spend on it.
For decent rewards, it sometimes makes sense to join several free satoshi faucets, but this may require a full-time commitment from you, with the rewards still being just minuscule portions of Bitcoin.
Are Free Cryptocurrency Faucets Legit
For some of you, web-based platforms that dish out electronic money for performing simple actions may seem like mousetraps offering free cheese. But there is no actual point in steering away from free cryptocurrency faucets because these portals are massively legit, secure, and user-friendly.Although the Internet brims with creepy stories about some free faucet earning platforms that do not pay the coins to users, luckily, they are not that many.
You can usually avoid running across this by doing your homework and researching the free faucet site before you join it. Scam sites are often marred by negative opinions and bad comments on such reputable review platforms as Reddit and Trust Pilot.
Another easy way to spot a scam faucet is to look at how the site treats its users. Trustworthy options never ask a person to pay any money for registration or completing a task. Legit Bitcoin faucets are free to participate.
Best Free Cryptocurrency Faucets of All Time
The rapidly developing cryptocurrency industry has ushered lots of faucets into the picture as an easy method to get some digital cash without pouring much effort into the business. While the Internet brims with all sorts of free satoshi faucets, identifying the decent ones is quite a challenge. If you do not want to waste your precious time on doing the research on your own, have a look at these incredible free faucet sites and apps that are on everyone's lips nowadays.
Moon Litecoin

Moon is a well-known free Litecoin faucet that allows you to earn Litecoin. Whereas most coin faucets only allow you to claim a reward once per hour or once per day, Moon lets you claim as often or as little as you like. You earn crypto through Moon Litecoin primarily by interacting with the ads provided on the platform and are rewarded with a fraction of Litecoin (Litoshis). The earned rewards pile up on your integrated CoinPot wallet to be then transferred to your external crypto wallet address.Features:
Paid tasks published on the Moon Litecoin platform by different advertisers.
Pros:
Moon Litecoin rewards you with 1,000 Litoshis every 5 minutes.
Cons:
Small earnings that hardly exceed $10 per month.
Cointiply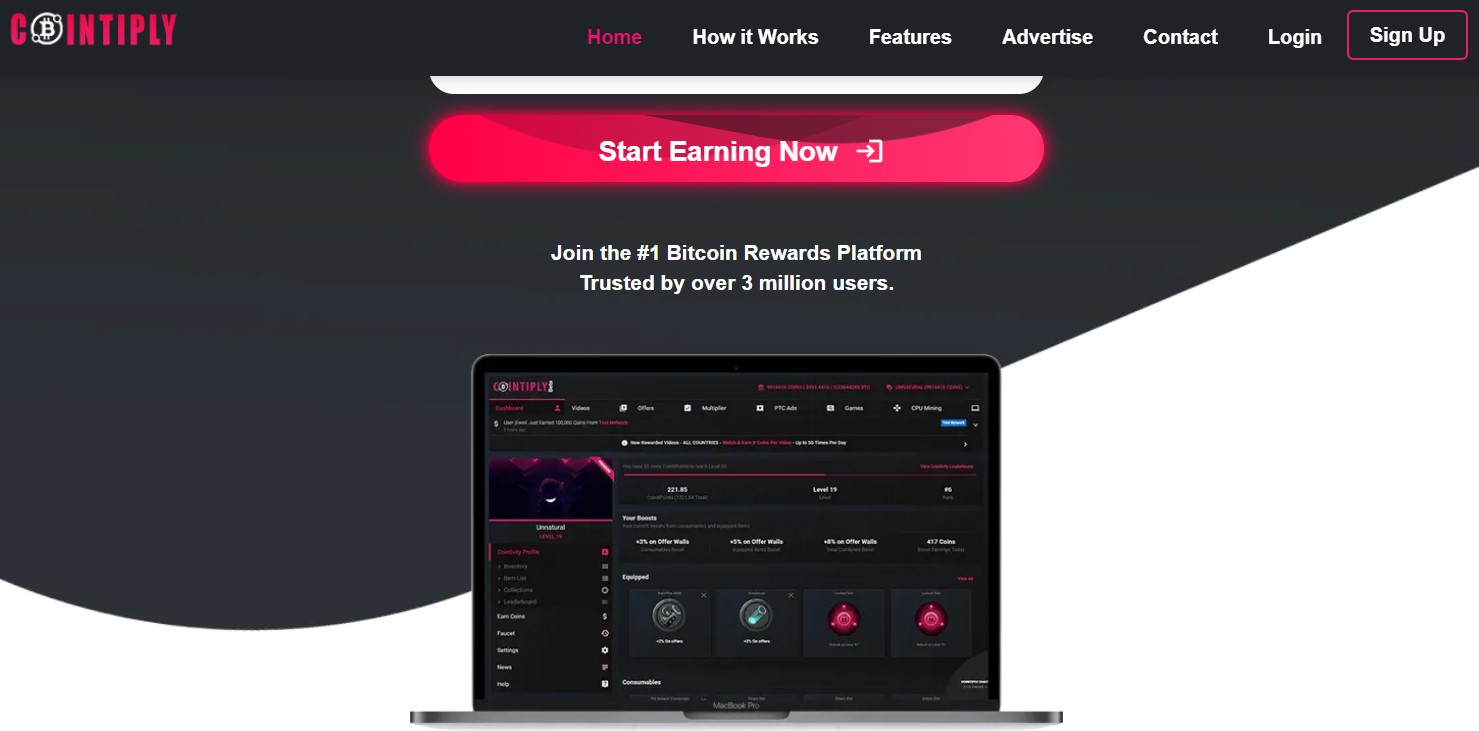 A well-known name in the space of free Bitcoin faucets, Cointiply offers its members over 20 real ways to earn satoshi. The platform's client database gravitates toward the 3 million people who flock to the site to grab their portion of Bitcoin rewards. Aside from standard functionality (paid videos, surveys, paid-to-click ads), Cointiply also features frequent bonus days, coin boosts, and giveaways as special perks. What sets it apart from other free cryptocurrency faucets is that Cointiply also offers rewards for chatting. If you interact with other crypto currency enthusiasts through the platform, you can earn while you chat.Features:
Surveys
Games
Ads
Loyalty bonuses
Pros:
Withdrawals to any Bitcoin, Doge, LTC or Dash wallet.
A low payout limit of $5, which can be reduced to $3 if you cash out to Dogecoin, LTC, or Dash.
Cons:
Users report that it is one of the greediest Bitcoin faucets that pay too small amounts of crypto.
Fire Faucet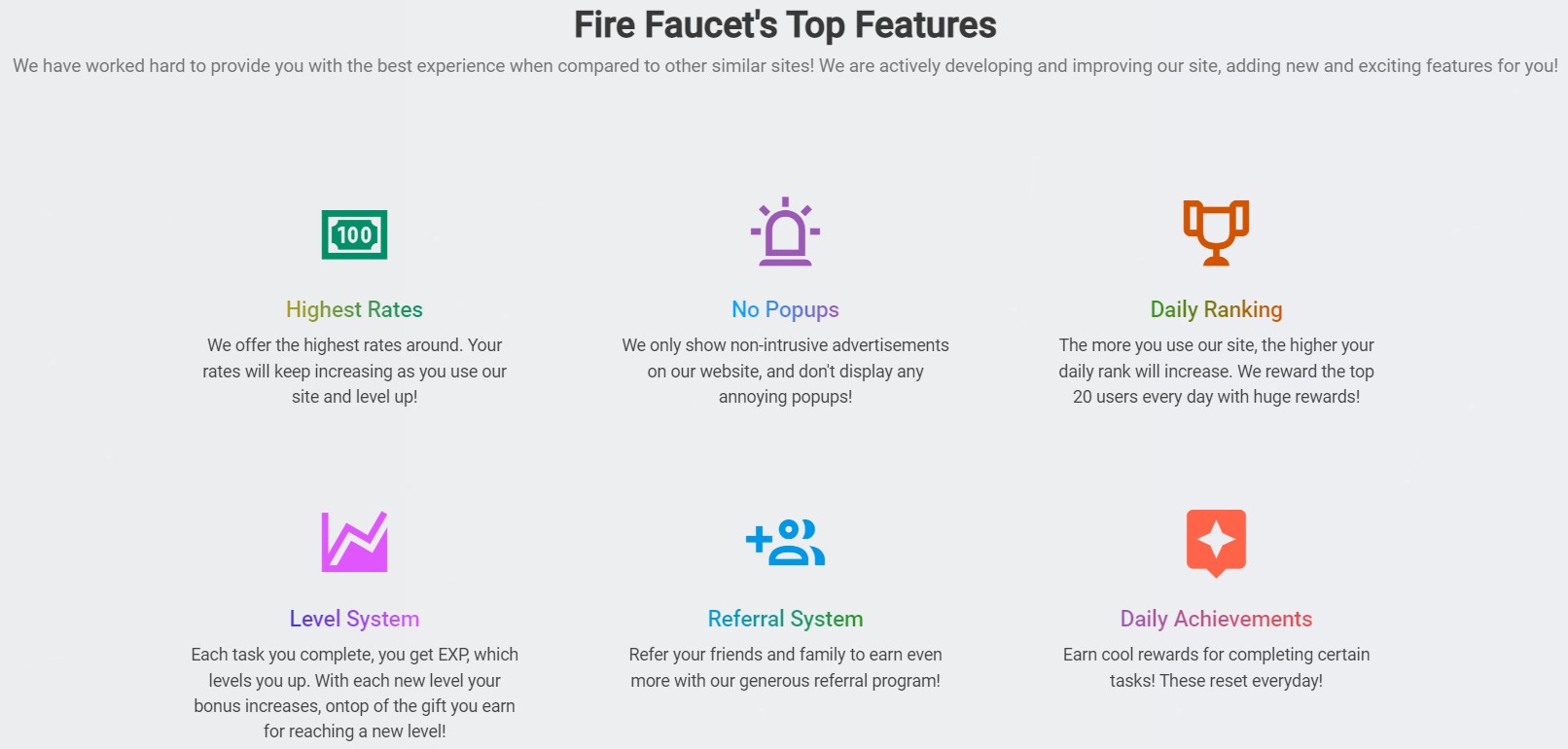 Another smart choice for those who wish to earn cryptocurrency effortlessly, Fire Faucet lets you farm your favorite cryptocurrencies by performing multiple activities such as filling out surveys, offerwalls, watching ads, and much more. Additional money-making elements like achievement incentivization, daily bonuses, and a level-up system render Fire Faucet an outstanding free Bitcoin faucet.Features:
Withdrawals in 13 cryptocurrencies
User ranking system (the higher ranked users access higher-paid tasks)
Referral program
Daily bonuses
Pros:
It is one of the most generous crypto faucets so far.
Special perks and rewards for the daily top 20 most active users.
The website does not display any annoying popups.
Cons:
The rewards could not be so substantial depending on your daily rank.
Bitcoinker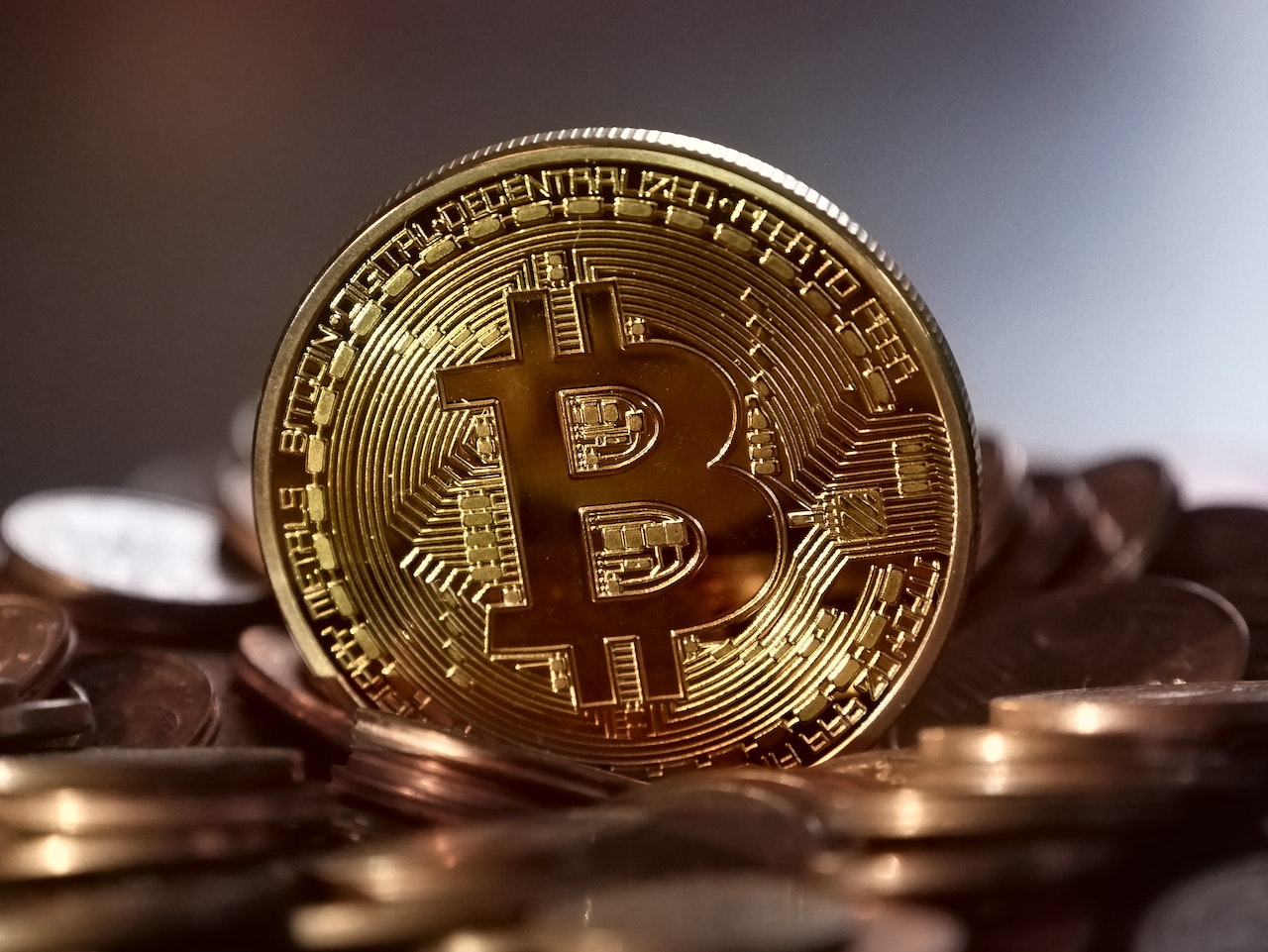 Bitcoinker is a long-existing free Bitcoin faucet that is also famed for offering some of the highest crypto rewards for micro-tasking. The platform proclaims you can earn up to 100,000 satoshi every 5 minutes. The earned points are accumulated on your account and once you reach the minimum threshold (currently 20,000 satoshi), you can request a withdrawal to your wallet. Payouts are made every 1st day of the month.Features:
Watching Ads
Filling out surveys
Downloading apps
Solving captcha puzzles
Pros:
A low withdrawal threshold.
Cons:
Payments are only processed once per month.
To qualify for a crypto reward, you may need to download the game and play it to a certain level or make an in-game purchase.
FreeBitco.in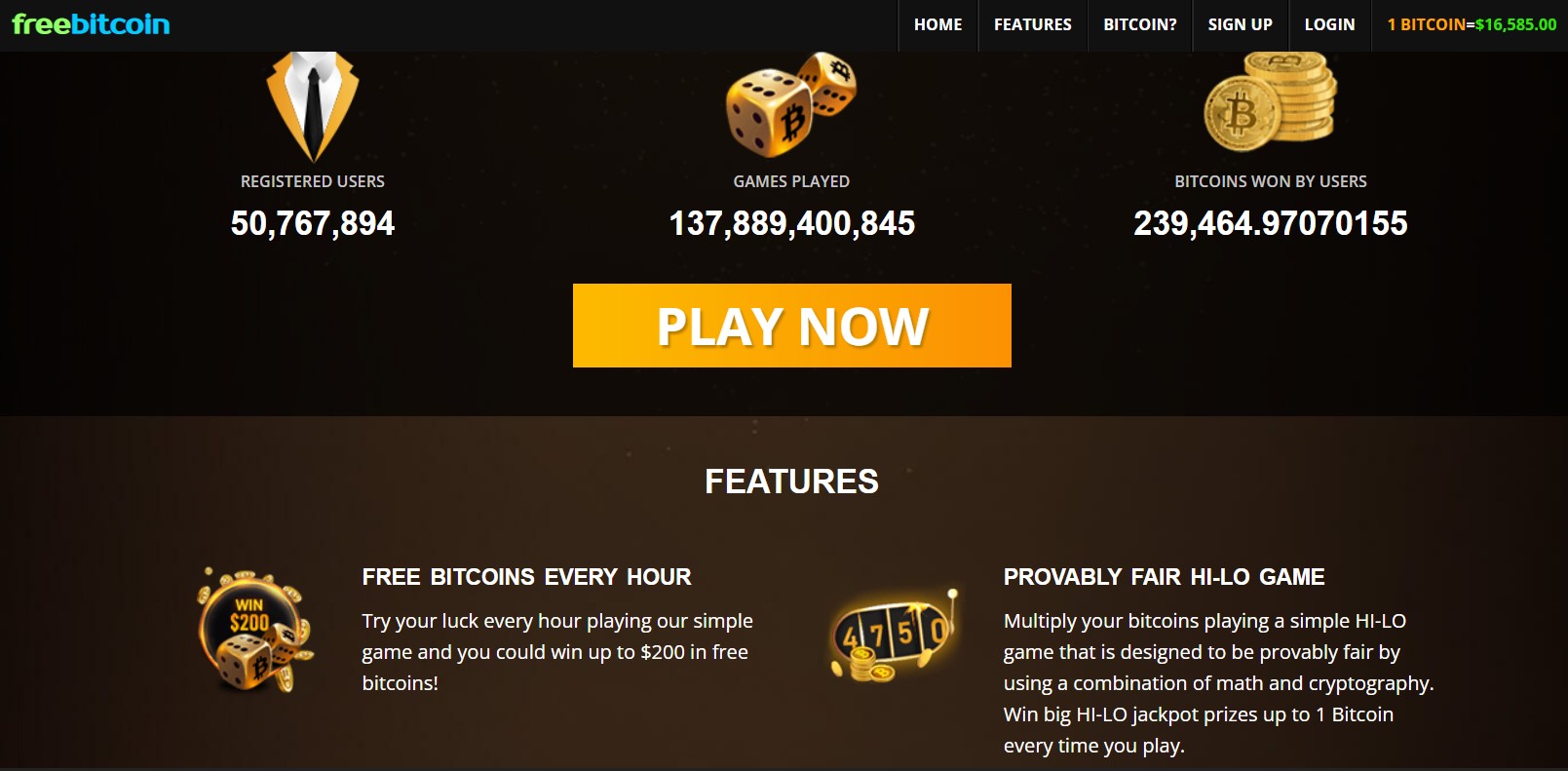 FreeBitco.in is a reputed free Bitcoin faucet that claims to give away up to $200 in free BTC every hour. They say there are no frills, no hidden agendas on the platform – just an easy, risk-free way to get started with cryptocurrency. To get free Bitcoin, registered users need to play hourly free spins.The platform also offers gambling features where users can try their luck in the multiplier Dice Game by picking one of two options: HI or LO. FreeBitco.in is on a mission to establish a fair platform where users can engage in Bitcoin dice gambling. So, it is essentially an online crypto casino.Features:
Lottery tickets
Spin games
HI-LO Dice Game
Pros:
No KYC requirements.
Fast withdrawals to your Bitcoin address at any time.
A referral program that allows you to and get 50% of what your friends earn from the faucet.
The platform gives participants a chance to win up to $200 per roll (every 60 minutes).
Alerts on newly available spin games.
Cons:
It is not a crypto faucet, but rather a gambling site.
Faucet Crypto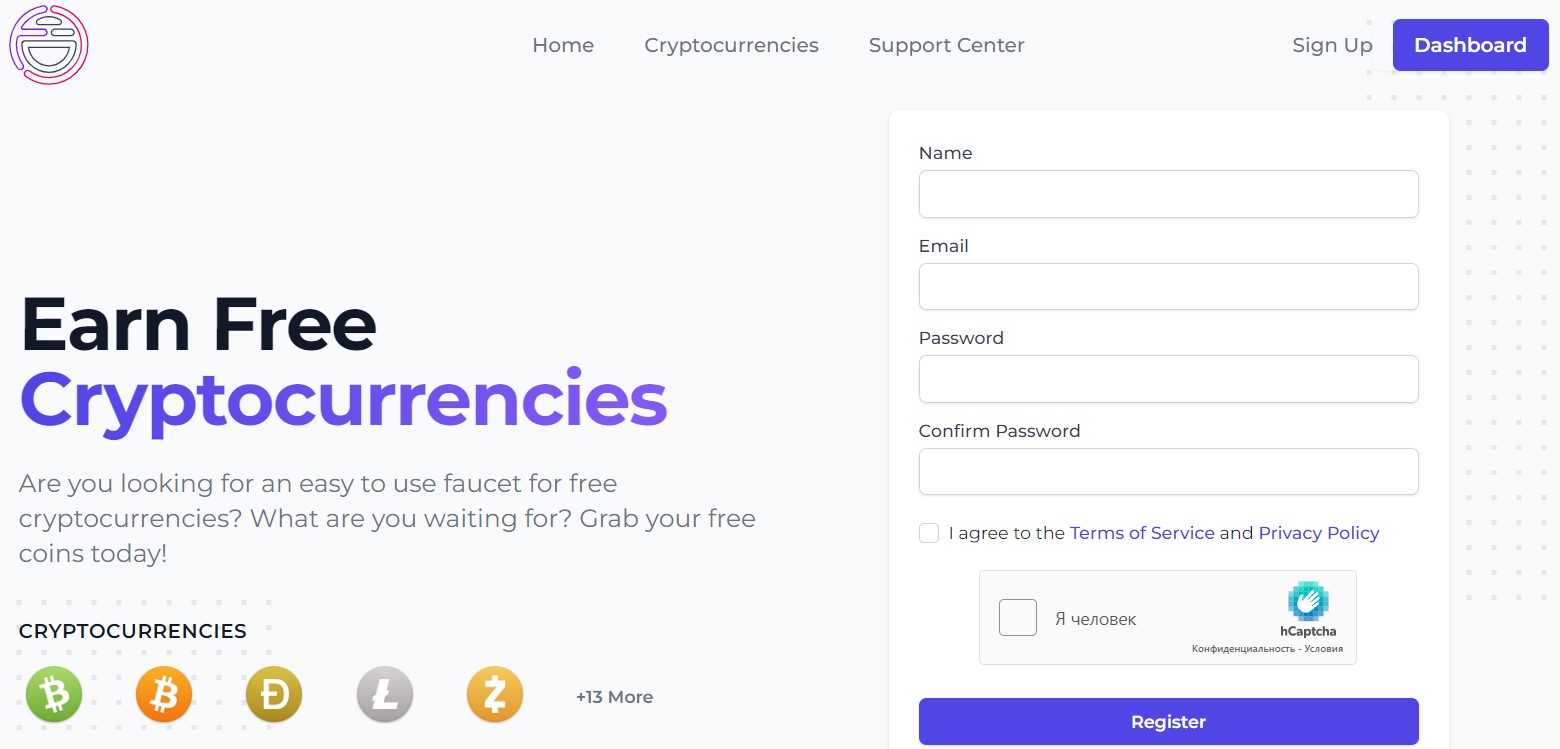 Faucet Crypto is not just an ordinary free faucet mining site. It is full of extra features and has a Role-Play game (RPG) style. There are a slew of possibilities to earn free tokens via this service, including pay-per-click ads, answering some questions, registering on services and playing games. It also has the "faucet Claim" game where you just need to hit a button to win a reward, but the button only appears every 30 minutes.The faucet is also loaded with the so-called Items System. This system is designed to make completing tasks more rewarding. You can win items that give different types of bonuses to your account. Moreover, these items can be sold and bought through the internal marketplace, and it is up to you to set your special price on these things.Features:
Support of 18 cryptocurrencies
Direct withdrawals to blockchain wallet addresses
Pros:
Referral program: you can share your referral link with your friends and earn 20% + Items of all their earnings for a lifetime.
Level up system. As you complete tasks, you progress through levels, and your reward gets increased accordingly. You can combine your level ranking with your items to multiply your earnings.
Cons:
Beginner users cannot earn enough rewards, but need to level up to win notable amounts of crypto.
Blockchain Poker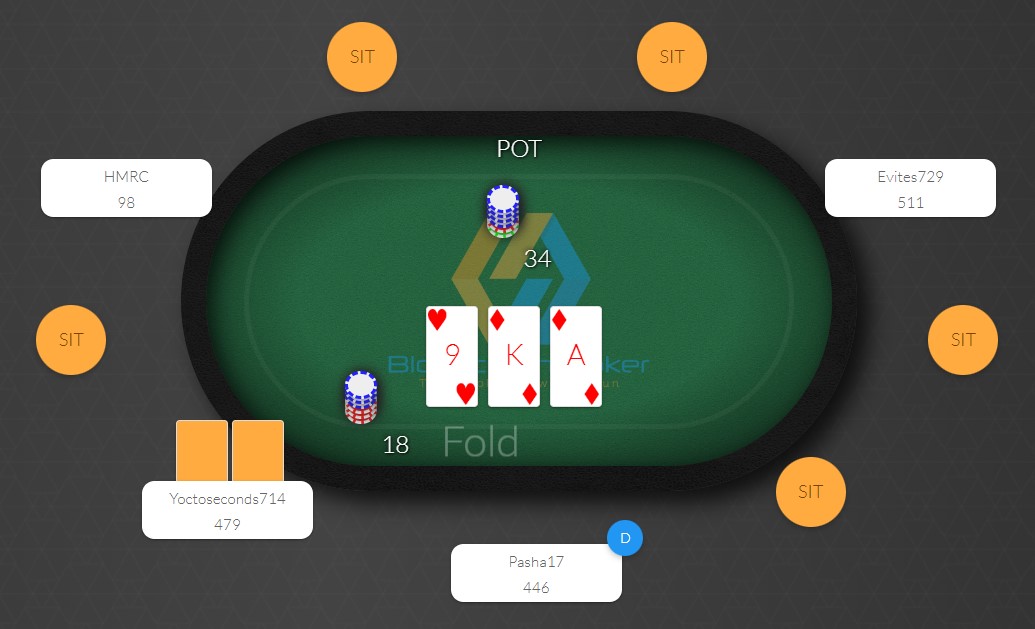 Another interesting faucet that drips free crypto is Blockchain Poker. New users are welcomed with 100 satoshi to start playing with. Even if you run out of this bonus, you just press the small button next to your bankroll balance and you will instantly get additional 100 satoshi. If you are good at playing card games and would like to earn free satoshi, the Blockchain Poker faucet is the easiest way to play Poker instantly, anonymously, and with real Bitcoins. It is the first poker website that gives out free satoshi just for playing, without obligations.Features:
A free-to-join Bitcoin poker site
Pros:
A no-obligation welcome bonus of 100 satoshi for those who have no crypto to stake.
Withdrawals in Bitcoin, Bitcoin Cash, Bitcoin SV, eCash.
Cons:
Not a crypto faucet, but a Bitcoin poker website.
You need to have a minimum balance of 100,000 satoshi to withdraw.
SatoshiLabs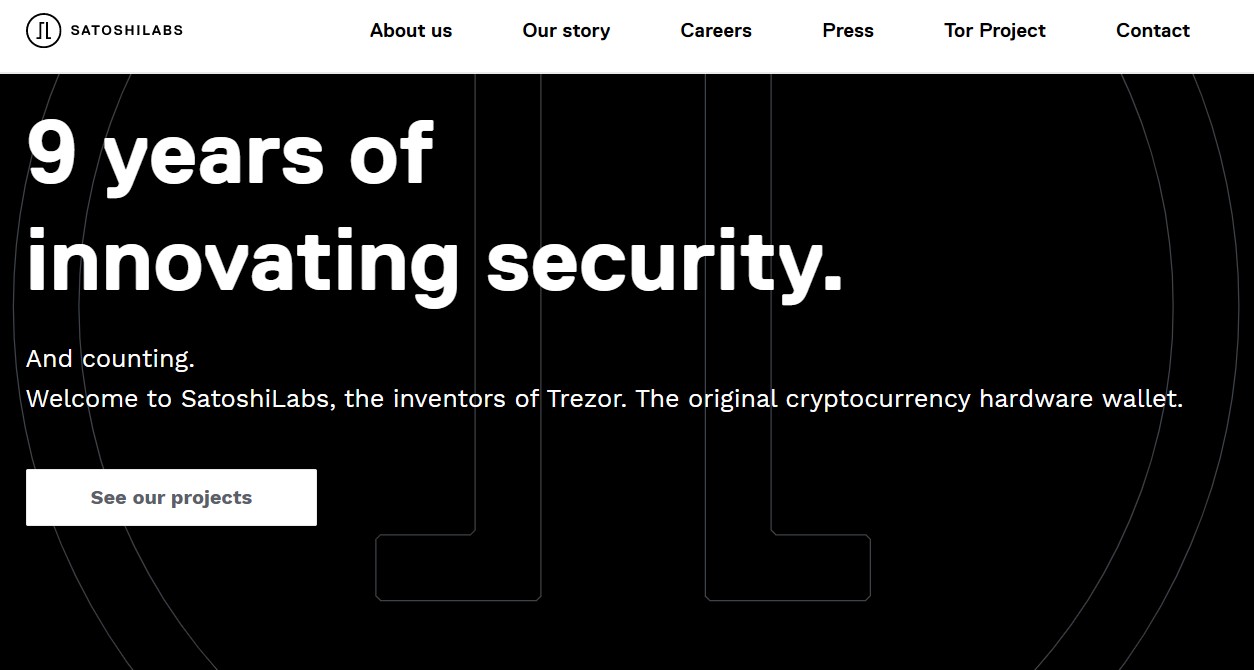 SatoshiLabs is not only a great free crypto faucet with a gamut of earning opportunities. It is also a fun and easy game where you are invited to become a lab manager and increase your crypto rewards with passive income that your laboratory generates. You can withdraw your earnings to FaucetHub or directly to your Bitcoin Address.Features:
A crypto faucet with a 5-minute timer and 10-30 Satoshi rewards
Simple online tasks and surveys
Paid shortlinks
Web mining
Play-to-earn game
Pros:
Additional passive income from your labs.
20% referral program.
Minimal withdrawal of 5K satoshi.
Cons:
Users are unhappy with poor customer support, the prevalence of dead shortlinks, and small rewards for surveys.
Rollercoin
RollerCoin is web-based crypto mining simulator game. The project's concept is the distribution of a block reward among players depending on their mining power – just like with real crypto mining. It is one of the best faucet mining sites where you only need to create an account and customize your character to start farming cryptos.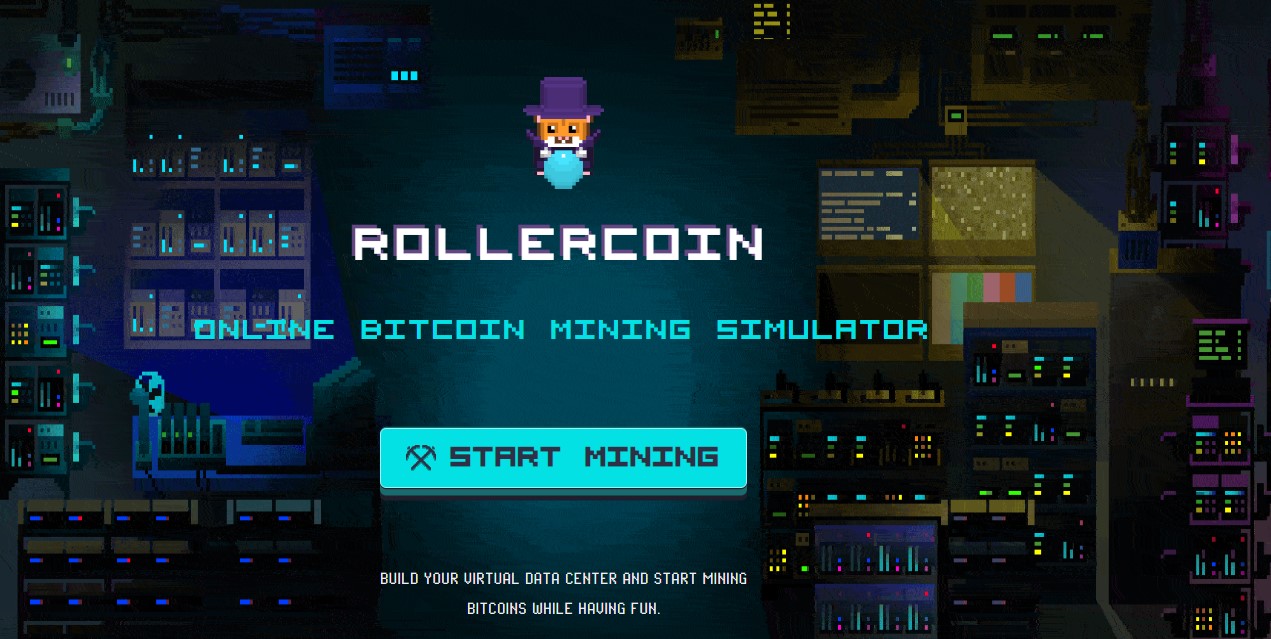 RollerCoin also offers a multi-mining tool where people can mine several coins at the same time. Depending on how you distribute your power, you can choose to mine one, two or even all coins at the same time. The platform employs the original idea of Bitcoin mining, but instead of complex Blockchain and processing algorithms, RollerCoin allows you to test your mining skills, tackle quests, complete tasks, and play fun mini-games to farm a real Bitcoin.Features:
An online Bitcoin mining simulator game with real rewards
Mini arcade games to increase your mining power
Pros:
A play-to-earn game to test your mining abilities.
A 10000 satoshi withdrawal requirement.
1-5 days to process a cashout claim.
Cons:
The required withdrawal limit is hard to reach; it takes a lot of time and effort to do so, though the faucet does come with a strong fun factor.
Timebucks

A much lauded free cryptocurrency faucet, Timebucks is ready to pay you for posts on social media, viewing slideshows, playing games, installing apps, and performing other micro-task miscellanies. The platform proudly claims that its users can easily make up to $20 per day working on the Timebucks site. Withdrawal requests are processed every Thursday, which is great.Features:
Watch videos
Install free apps
Follow people on social networks
Complete surveys
Participate in vote polls
Pros:
Multiple withdrawal gateways including Bitcoin, Payeer, Skrill, Neteller, AirTM, TangoCard, and Bank Transfer.
Generous referral program of 15% on referee earnings.
Cons:
An elevated withdrawal bar of $10 USD.
CoinPayU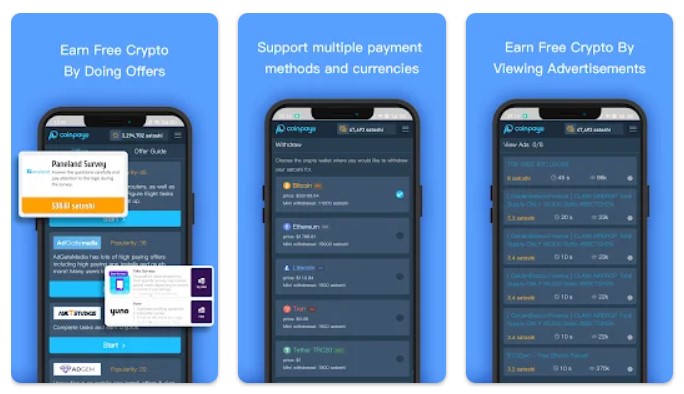 Coinpayu is a Bitcoin advertising network and a free crypto faucet where you can earn token rewards by viewing advertisement and doing offers. It is a legit website providing versatile opportunities to earn crypto. Payments are processed within 72 hours, with the minimum withdrawal requirement being 11K satoshi. Brands can also advertise on Coinpayu and run their promo campaigns to connect to a large audience of crypto enthusiasts.Features:
Pros:
The support of multiple withdrawal methods.
An opportunity to access lucrative campaigns from big brands that advertise on Coinpayu.
Cons:
Extravagantly high withdrawal limit.
FreeCash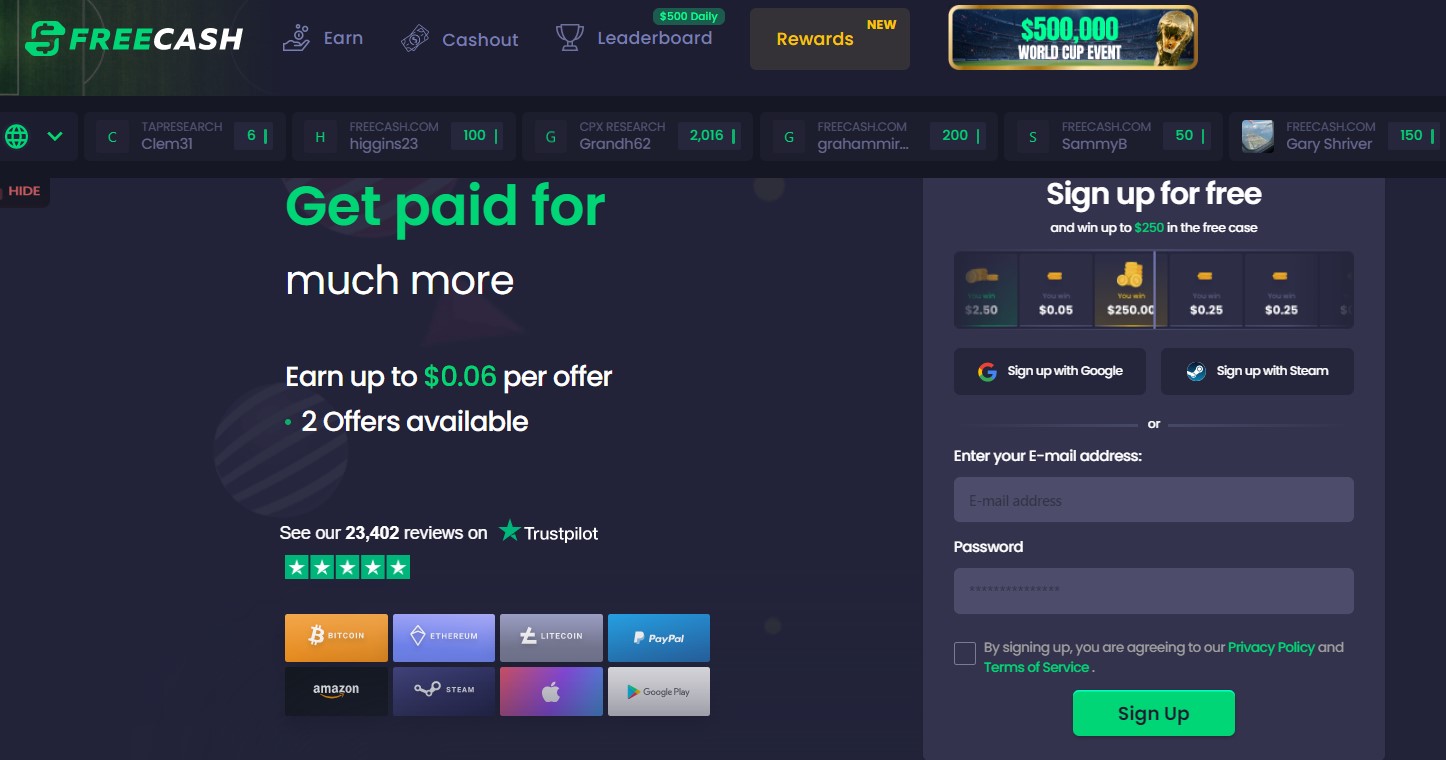 Freecash.com is a GPT (Get-Paid-To) website that partners with leading offerwall and market research companies to provide users with different offers and surveys to earn coins. These coins can be spent on gift cards, CS:GO skins, cryptocurrencies, and much more. Although you generally do not need to invest your own money to earn rewards, a few offers will require you to complete a purchase. hHowever, you can always opt out of participating in these types of offers.Features:
App Offers
Surveys
Offerwalls
Pros:
Instant withdrawals of up to 5-10 minutes.
Withdrawals to PayPal.
Low withdrawal requirement of $0.10.
Some of the highest paying Bitcoin faucets, offering as much as $17.25 per offer.
Cons:
The affiliate program pays only 5% commissions.
Withdrawals may incur a fee of up to 5%.
Fold App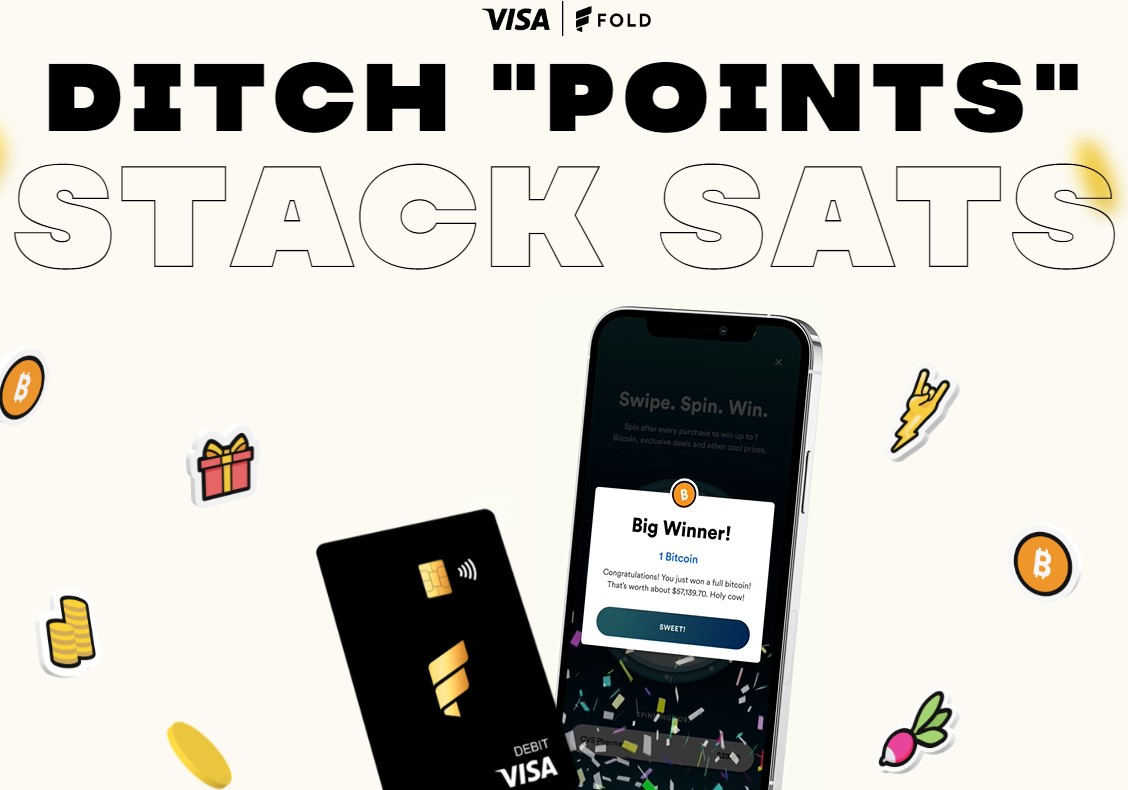 Fold is a Bitcoin cashback reward program. With the Fold app, you can use a debit or credit card to purchase gift cards from your favorite stores such as Uber, Amazon and DoorDash, and get a cashback in the form of Bitcoin rewards. The app is optimized for both Android and iOS smartphones to let you upgrade your online shopping with Bitcoin. The solution also offers a gaming interface where users can join the Fold Metaverse to have a chance to win 1 whole Bitcoin or 100% cashback on purchases. Additional satoshi rewards can be grabbed by spinning the Fold wheel.Features:
A Bitcoin-back reward program
Exclusive Fold-branded Visa cards using which you make purchases and earn cashback rewards
Pros:
Get your money back on online shopping in the form of Bitcoin.
Fold cards are accepted wherever VISA cards are accepted.
A gamification interface to step up your Bitcoin rewards.
Cons:
Fold is currently available only in the USA.
EarnCrypto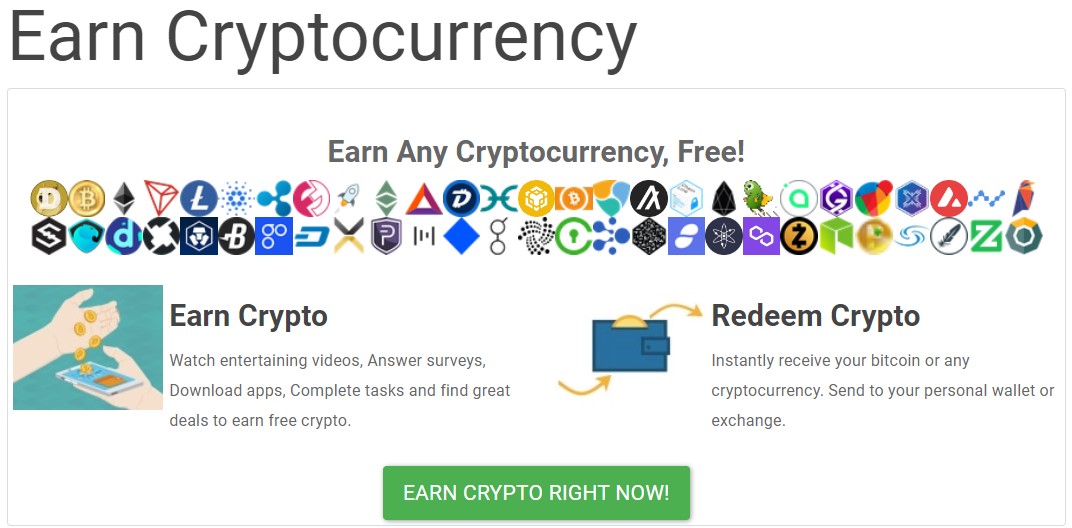 A free cryptocurrency faucet, EarnCrypto allows you to access crypto rewards by completing small tasks, performing data entry jobs, interacting with ads, and more. The platform's advertisers give you the opportunity to earn unlimited amounts of 100+ different cryptocurrencies. The rewards can be transferred to your personal wallet or exchange account.Features:
The standard crypto faucet staples: paid offers, surveys, app testing, link clicking, video watching
Pros:
A diversity of possibilities to earn.
User-friendly site navigation.
Cons:
A mediocre referral program of 10% from your friends' earnings.
Fees incur if you withdraw a minimal amount ($10 USD), yet you pay no fee if you withdraw more than the stated minimum.
What Are the Benefits of Free Cryptocurrency Faucets
Free legit Bitcoin faucets are very beneficial for users who are not experienced in the things crypto and would like to start their cryptocurrency journey with little to no risk. Free faucet sites are also advantageous for experienced individuals who love to try new ways of increasing their existing crypto capital, apart from trading and investing.The greatest allure behind free faucet earning platforms is that they require no initial investment to get started with them.
Although you may need to take your time to pass a paid survey or write a thoughtful comment to grab a reward, these actions are not as intensive as devising effective trading strategies or monitoring the ever-fluctuating Bitcoin charts.
A free cryptocurrency faucet is a way to win a nice crypto reward by completing familiar, low-skill jobs. The popularity of faucets is taking off nowadays because people try to embrace these free Bitcoin earning opportunities and get as many tokens as possible in the realm of the ongoing crypto winter, because summer always comes after winter, and cheap cryptocurrency is likely to soar!
How to Choose the Best Free Cryptocurrency Faucet
Beginner users may find it hard to identify a great free Bitcoin faucet among the ocean of available options. There are certain aspects you want to pay attention to when selecting the ideal faucet to earn free satoshi:
Payment quantity. Do not expect free cryptocurrency faucets to offer you big slices of Bitcoin. Instead, the majority of platforms will pay anywhere from 50 to 500 per task. Though this is not a great sum, you can maximize your earnings by participating in multiple faucets and referring friends.
Payout frequency. Some faucets process withdrawals every day, others – once a week, thirds – once a month. Try to opt for a service that offers adequate time internals to fulfill your reward claim, so you do not wait for ages to make use of your well-deserved crypto.
Available withdrawal methods. Generally, your satoshi points accumulate on your internal wallet within the faucet's website or app. Once you reach the withdrawal threshold, your satoshi earnings get transferred to the specified Bitcoin wallet. Some platforms offer withdrawals to Litecoin, Ethereum, and other wallet addresses. There are even free crypto faucets that send rewards to your VISA and MasterCard cards! Bear in mind: faucets that allow crypto-to-fiat cash-outs will generally require you to complete a KYC procedure where you need to verify your identity.
Minimum withdrawal limits. A sign of a great free crypto faucet is a moderate payout requirement that can easily be reached within a relatively short time. Certain platforms set the minimum withdrawal bar too high – avoid these instances. The best free crypto faucets allow users to cash out their profits quickly and easily, with pretty low withdrawal limits.
Each free crypto faucet sets specific intervals during which your earned rewards get credited to your in-app balance. Generally, the timer ranges from 5-10 minutes, but sometimes it can amount to one hour or even more. If you want to maximize your earnings, choose crypto faucets with shorter timers.
What Are the Risks of Using Free Cryptocurrency Faucets
The major issue with free crypto faucets is that the industry is plagued with scams and fraud. Some websites and mobile applications that self-describe as the best legit Bitcoin faucets may actually perform as malware and infect your device to take advantage of your private data.A good rule of thumb is to rely on well-established brands with a huge user database and a stellar reputation. Mobile software marketplaces such as App Store and Google Play provide real user reviews and brand ratings, studying which can help you make the right decision.
Another notorious problem with free crypto faucets is that the rewards they offer could be too tiny or the tasks too time-grabbing to make this activity worthwhile. Sometimes, users report that heavy time and energy commitments with certain crypto faucet platforms result in only a couple of dollars per week as rewards. Ideally, you should cooperate with a platform that allows you to win enough rewards to fairly compensate for the resources spent.
What Are other Ways to Earn Bitcoin For Free
There is no shortage of possibilities to earn crypto for free, apart from legit Bitcoin faucets. While these options may not guarantee whopping amounts of Bitcoin, they sill deserve mentioning because they do allow you to earn some virtual currency without risking your own funds.
Crypto Wallets
Certain crypto wallets allow you a slew of possibilities to increase your current crypto capital, while you hold your tokens idle within the wallet. MetaMask, Trust Wallet, and Exodus are feature-rich, highly secure crypto wallets that offer staking and savings account capabilities. As you hold your digital possessions on some of these wallets, you can also make your funds generate passive income.
Play-To-Earn Games
There are crypto projects that allow you to monetize your in-game experiences and earn crypto as you play and have fun. By employing a combination of non-fungible tokens (NFTs) and blockchain technology, these games let you trade your in-game assets for tokens and then convert your crypto to fiat. The best P2E games include the Sandbox, Gods Unchained, Illuvium, etc.
Move-To-Earn Games
These solutions allow you to turn your physical activity into virtual currency. M2E games work like step counters and GPS trackers to register the intensity of your exercises and reward your with crypto accordingly. STEPN, Genopets, and Dotmoovs are the most notable solutions in this category.
Airdrops
An airdrop is a promotional event organized by an emerging crypto project to draw public attention to its platform. Through an airdrop, free cryptocurrency is distributed among certain groups of the platform's users, such as the first traders, the first stakers, etc. Dappradar is a popular platform to discover excellent airdrop campaigns.
Learn To Earn
The best way to earn tokens in a hassle-free manner is to resort to learn-to-earn platforms offer opportunities to pick up basics about cryptocurrency and blockchain and earn crypto assets as a reward for your academic accomplishments. These systems ask you to complete courses and study lessons devoted to different aspects of cryptocurrency, and then take a quiz to prove your knowledge. Correct answers to quiz questions will translate into small, yet very covetable crypto rewards. Top-notch learn-to-earn projects include Binance Academy, CoinMarketCap, Coinbase, and Phemex.
Crypto Browsers
A range of internet crawlers come with a special mining algorithm, so they can mine Bitcoin while you are surfing the web and perform your regular online activities (scrolling the news feed, watching movies, chatting with friends, etc.). Other crypto browsers let you earn token rewards if you agree to watch ads as you go online. The best solutions to check out in this category include Brave, Permission.io, and Cryptotab.
Comments