Freecash
Freecash is one of the best websites to get free coins. It provides various ways to earn it. It requires users to do certain tasks, like testing apps and websites, opening accounts, as well as taking surveys.

Compared to many other websites that offer coins for watching ads and doing simple tasks (like Coinpayu, Cointiply, Freebitcoin), Freecash pays more money and is a great way to earn cryptocurrency for beginners.
1,000 Freecash coins equal 1 US dollar. The website acts like a middleman and aggregator that provides offers by the companies it partners with. The companies are usually interested in improved ad revenue and clicks, and most of the tasks are location-specific.
Coinbase Earn
Coinbase Earn is a way to obtain cryptocurrencies, while learning about them. This part of the Coinbase website (a famous cryptocurrency trading platform) offers the visitors to take small courses that will educate them about certain cryptocurrencies and earn some of these coins to test.The course involves watching videos, reading some info about the coins and taking short quizzes. If the results are successful, you will get a coin. If the results are wrong, you can take the quiz again. It is expected but it is worth mentioning that you will only be paid once for each quiz.

For participating, you must meet a certain criteria: you must have a verified Coinbase account (a free one would be enough) and, since the service is location-restricted, live in certain countries (mostly the EU ones).
Brave Rewards
Brave is a famous web browser. And Brave Rewards is the most straightforward option to get cryptocurrency for free. It is as simple as it gets: just browse the Web, and get the coin after enabling the Private Adds system.Brave is not the first browser to implement earning crypto while browsing. For example, CryptoTab browser was the first one to do so. Its solution was simple: the user was earning money while the browser was mining crypto.The tokens can be used for different purposes: they can be exchanged for gift cards or can be sent to favorite creators or websites as donations (this was the original purpose of the system). They can be stored in a wallet like any other cryptocurrency. They can be exchanged for NFTs and used with the dApps.
The solution is opt-in and you get rewarded if you enable Brave private ads, called an alternative to a regular browsing with ads.

The cryptocurrency is called Basic Attention Token (BAT) and they have been successful in the growth of their market. The company is treating the tokens with attention and there are serious plans for the solution: a fully-fledged wallet, search engine integration and multi-chain support. This is one of those cryptoassets that have serious chances to grow even bigger in the future.
CoinMarketCap Earn
CoinMarketCap is a popular website for tracking the prices of cryptocurrencies, as well as finding the best exchanges. Claiming to be "the world's most trusted cryptocurrency data authority", this is one of the most popular services in the world of crypto.SImilarly to the Coinbase Earn, there is a system in-place for obtaining the coins after learning about them. It is called CoinMarketCap Earn. The solution is quite similar: watching the videos, taking the quizzes after viewing and earning the coins. Sometimes there can be other tasks that have to be completed in order to get the crypto.Unfortunately, it is location restricted, and the users from a few countries will not be able to participate in the program. The list includes American Samoa, Belarus, Guam, Iran, Mainland China, North Korea, Syria and some others.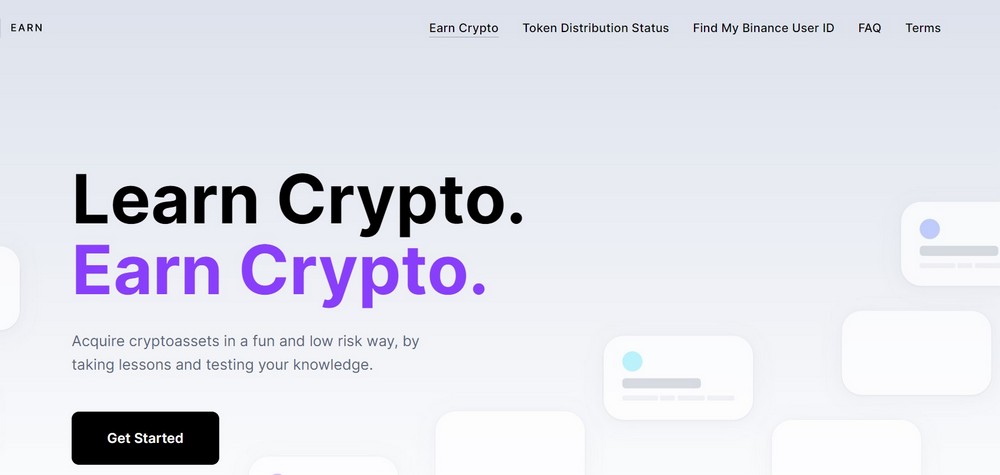 Another requirement is having a KYC-certified (Know Your Customer) Binance account for earning the coins listed on the Binance exchange (such as Freecoin).There is a certain drawback if we compare it to the Coinbase Earn: you can only take one quiz once. And you don't get the coin if you don't succeed. So you have to be a patient reader and treat your courses seriously: your knowledge will be tested, you can't just click on a random answer and hope to win a coin.
But there is an advantage: the list of coins that you can get is significantly bigger and it includes more popular and growing tokens, such as Tron (TRX), BNB Chainand Oasis Network (Rose).
LunarCrush
LunarCrush is a cryptocurrency platform that collects the information about the crypto worlds from all over the Internet. It is not a forum like Bitcointalk but rather a news aggregator where you can read the latest insights from the world of cryptocurrency. The website offers its own token named Lunr for free. In order to get it, you must perform certain tasks, such as logging daily, spending time on LunarCrush and other activities. Keep in mind that Lunr is given daily, so the amount you get depends on the activity of other readers as well.

Airdrops
An airdrop in the world of cryptocurrency is a mass giveaway of the coins. It is usually performed by new projects in orders to get new users, improve circulation and bring attention to the token. Technically, it is a marketing stunt that nevertheless benefits both the project and the token holders.Airdrops usually happen after launches of new coins. You can use various Telegram channels and social media services in order to find out about new ones. But early members of communities are often the first ones to get free coins. So the most sure way is to check for new projects, follow them and become early participants. This way, you can receive a free coin with the immense prospects of growth.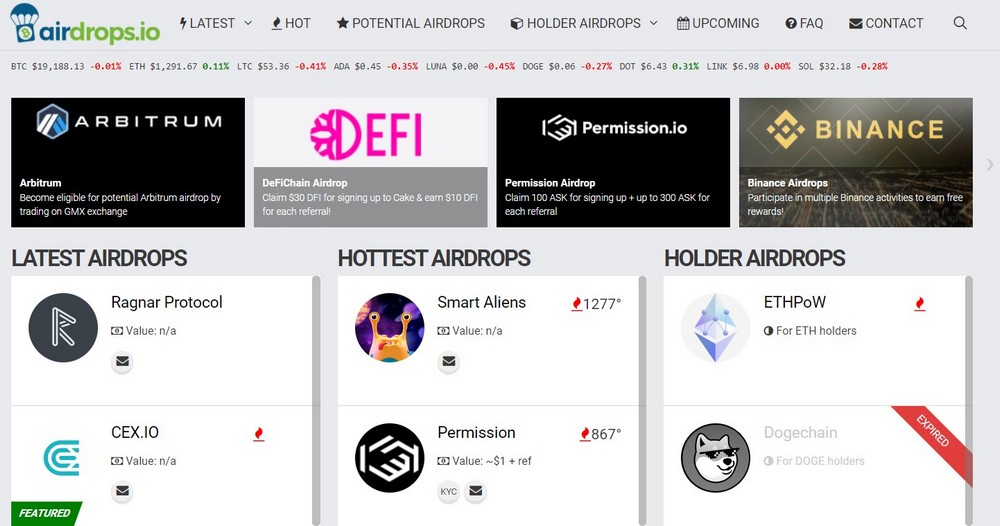 As is the case with everything, try to not get scammed. The popularity of cryptocurrencies is growing, so scams are popping up everywhere. Always check the projects for legitimacy, make sure that the airdrops are announced on their official social media profiles and channels and do not send money and crypto to anyone, as well as your private keys and passwords.
Various play-to-earn games
The list of gaming services is huge and ever growing. It is easy to find one and look for reviews. The games can be blockchain-based or regular ones where you can exchange certain in-game tokens for coins. Many of them are already utilizing the NFT technology. Some of the games are available for free, others will require money. Many are quite simple and just involve clicking or grinding, the others are quite complex.

The list of play-to-earn crypto games include CryptoKitties (launched in late 2017, this is one of the first blockchain-based games and the first popular ones), CryptoRoyale, Cryptopop (a mobile game where you can earn Ethereum or Popcoin), Gods Unchained (it is a strategy game that incentivizes players to collect cards that are technically NFTs), Axie Infinity, CoinHuntWorld and the Sandbox Game.
The games usually involve earning in-game tokens (usually by selling some in-game assets, performing tasks, progressing or winning in battles) that can be exchanged for other tokens or directly for cryptocurrencies. The majority of games are vastly different and come with their own set of rules but this can be a fun way to earn crypto.
Comments