The Essence of Paid Online Surveys
A paid online survey is a method of gathering information using special questions from a selected cohort of people with the aim to understand their opinion regarding different topics. On web-based platforms that offer surveys to earn crypto, the questions are commonly sponsored by market research companies that offer financial incentives to individuals who take part in such activities.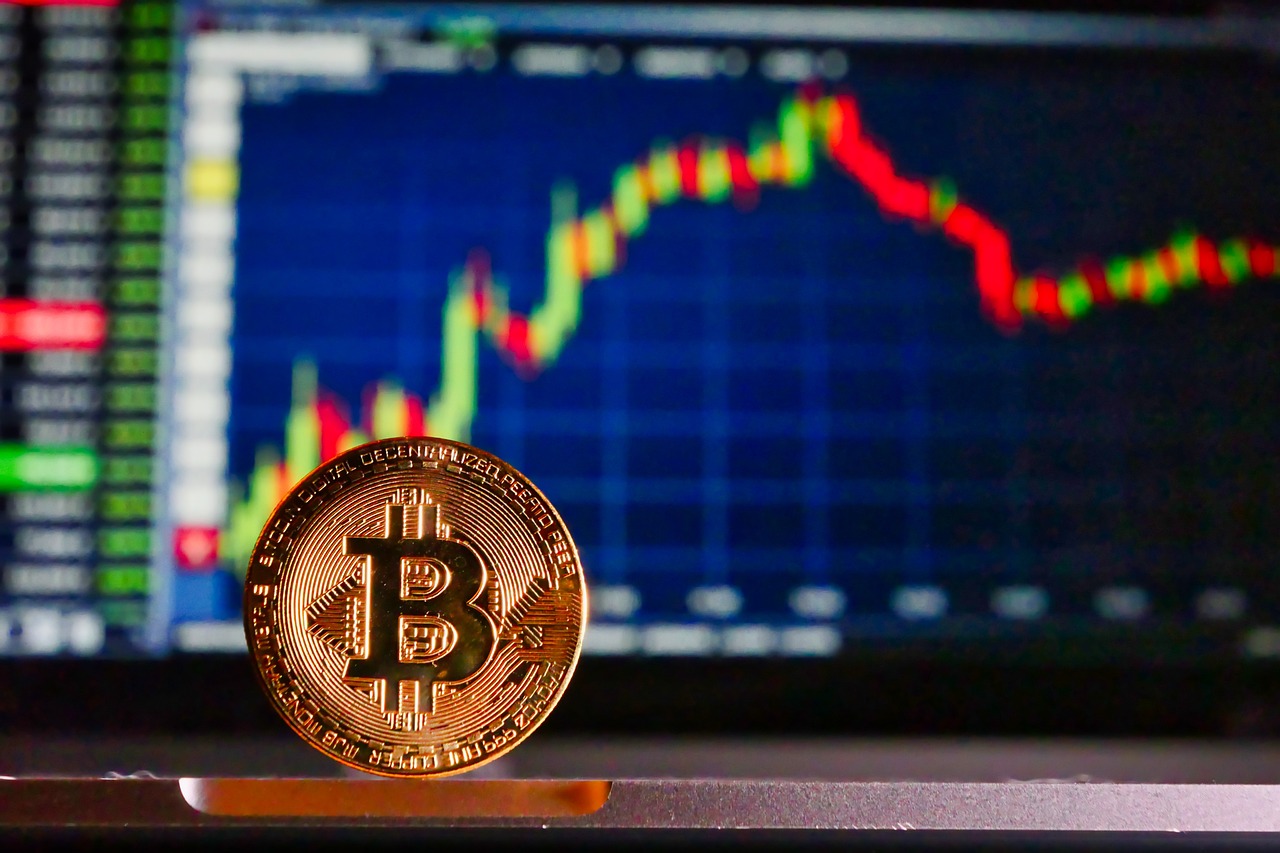 Marketers need consumer feedback to develop better services and offer higher-quality products. Also, market researchers can offer surveys for crypto to promote new goods or raise awareness of nascent brands.
Surveys for crypto are essentially a way to monetize your thoughts and ideas about some product or service. Most websites will pay you from $0.10 to $5 per survey. Sometimes, there are highly lucrative survey opportunities that will give you $15 or even more dollars for doing questions. Some energetic crypto survey junkies can make two or three thousand dollars per month, but an average user can typically make from $50 to a couple of hundred bucks per month.
The profitability of surveys that pay cryptocurrency entirely depends on your eagerness to devote enough time to this business. Generally, a free crypto survey will take you 10-15 minutes, but the reward will tend to be greater for longer tasks.Although doing surveys for crypto will not make you a Bitcoin zillionaire right off the bat, it is a darn good way to get your voice heard about the stuff you use and make some extra cash!
Do Paid Surveys Offer Crypto Incentives?
To keep pace with the demands of tech-savvy consumers, many online survey sites are offering crypto-earning opportunities. You generally need to cumulate a certain amount of points by completing surveys, and once your points grow to a required threshold (e.g. 2000 points that may be equal to $20), you can redeem a reward to your crypto wallet.

Each website will establish its own rate at which it will convert the earned points to cryptocurrency. You will eventually get a small portion of Bitcoin or another crypto that the survey website will transfer to the indicated wallet address.
This means that websites do not actually pay you in cryptocurrencies for answering market research questions. Instead, they allow you to transform what you have earned into cryptocurrencies. Large and reputable websites (will be mentioned below) will generally offer you a diversity of methods to cash out.
Apart from cryptocurrencies, your reward can be transferred to your VISA, MasterCard, or PayPal account. Some platforms will also offer such cashout options as Amazon or Walmart vouchers, or physical objects like Bluetooth speakers or AirPods. Payout schemes vary drastically among individual websites that offer paid surveys for crypto.Whatever payout distinctions, these sites have one thing in common: they feature free crypto survey opportunities! Beware of the platforms that ask you to pay your own money to access surveys for crypto – they are most likely scams!
Can A Paid Survey Offer a Bitcoin Reward?
The greatest allure behind tackling surveys for crypto is that you do not need to engage your own funds to earn Bitcoin. Market research firms are willing to pay you for finding time and sharing your valuable opinions about versatile products and services.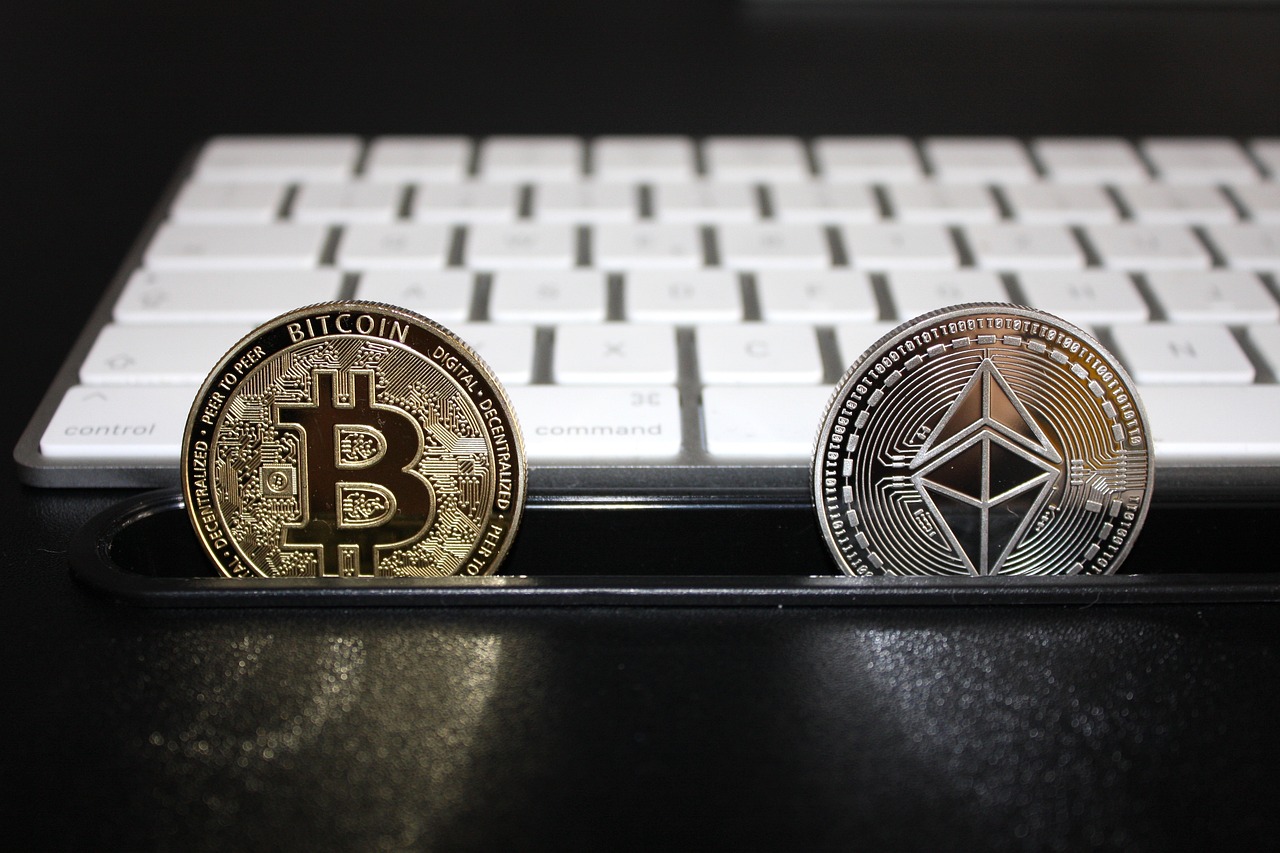 When you pass surveys successfully, you receive points. Once you have enough points on your internal balance, you can submit a withdrawal request in Bitcoins. The process usually looks like the following:
You create and verify an account with any online platform that features surveys for crypto. Make sure it is a trustworthy dealer with an excellent reputation.
The website will offer you a selection of available surveys according to the data provided in your profile. Current survey opportunities are usually published on the platform's main page, but most companies also notify their users about newly available surveys via email or SMS.
You complete a survey of your choice.
Upon completion, the promised points will soon be credited to your internal balance.
Amass the required quantity of points, and submit a payout request in the form of Bitcoins to your existing crypto wallet.
Each website will establish its own time frame to process withdrawal requests. Some instances may payout within 24 hours, others send rewards once a week, while thirds may even treat withdrawals once a month. To earn Bitcoins through surveys, choose a site that has adequate withdrawal times, so you are not kept waiting for eternity to make use of your well-deserved crypto reward.
How Do Paid Surveys for Crypto Work?
Lots of people are interested in owning some Bitcoin, but they do not want to take the risk of losing money that is inherent in crypto investments. Other individuals want to increase their Bitcoin holdings hassle-free, without getting to grips with complex crypto trading and speculation. Whether for fun or extra profit, completing softball questionnaires is one of the easiest ways to earn Bitcoin for free online.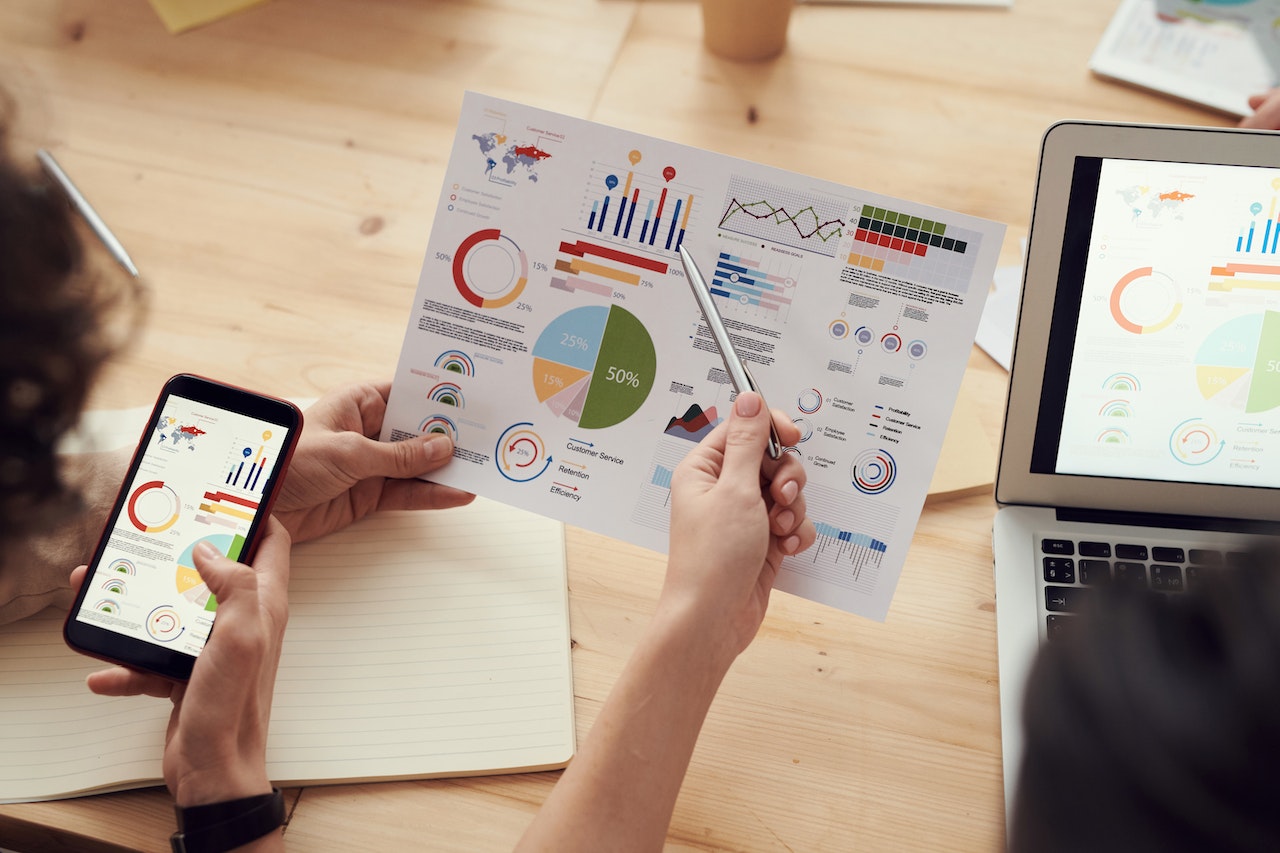 Although you can hardly earn your living from performing simple actions like taking surveys, it is still a real opportunity to gain some Bitcoins in your leisure time. Nothing beats the joy of seeing how your Bitcoin balance steadily grows while it won't cost you a dime!
The work is utterly low-skill and suitable for all categories of people, including those who know nothing about cryptocurrencies. To top it off, you can handle surveys for crypto projects from the comfort of your home, in any region, at your own tempo, and within your own schedule. Most websites that feature Bitcoins for surveys are mobile-friendly, so you can answer questions while on the go and in-between your daily chores!
Moreover, you are free to sign up for multiple websites, so you can be exposed to multiple surveys for crypto at once. If you are ready to shake this free Bitcoin tree, check out these incredible websites that pay digital assets for your voice!
1. Bitcoin Reward
Bitcoin Reward offers marvelous opportunities to earn real Bitcoins for free. Unlike its competitors, this very site pays you directly in Satoshi (a tiny unit of Bitcoin). It means you are saved from the headache of first accumulating many points and then converting them to the cryptocurrency.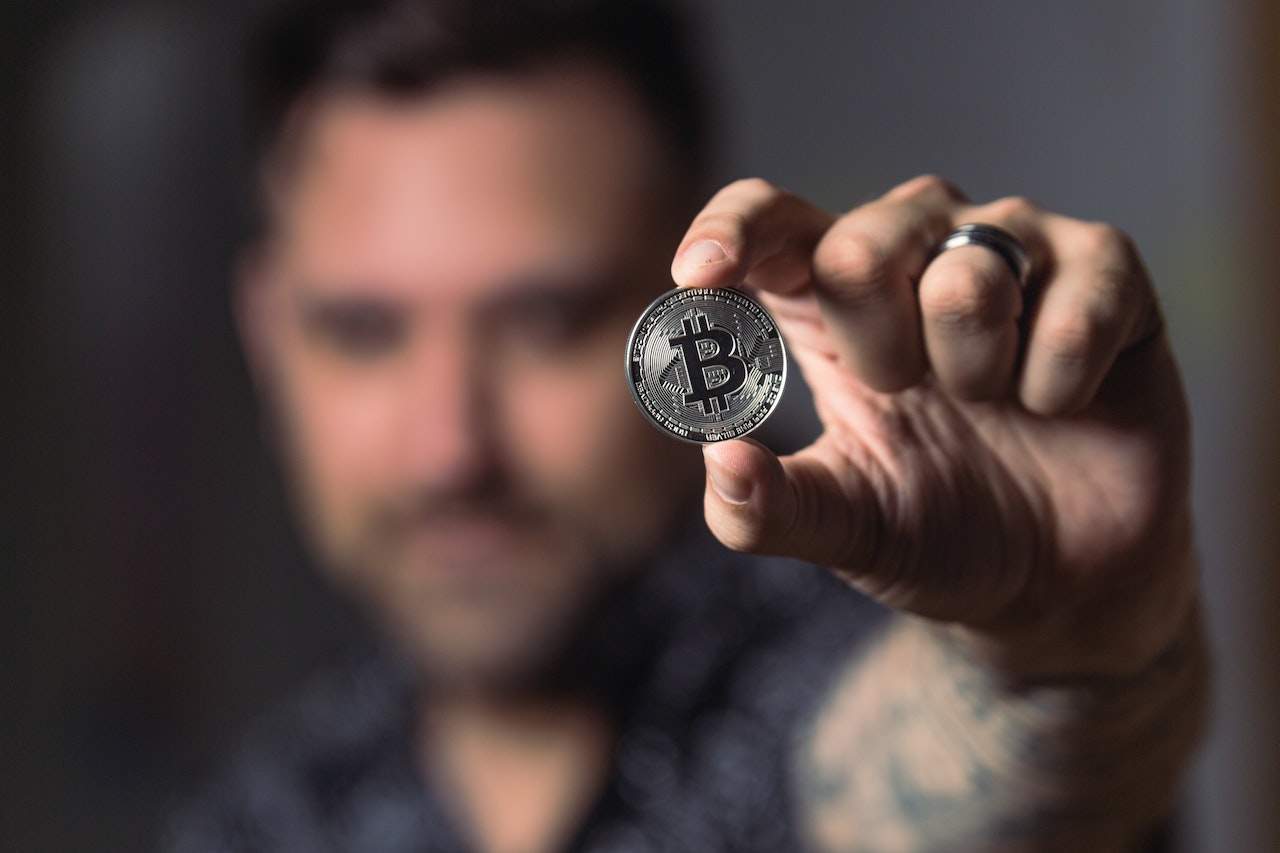 The Bitcoin Reward platform is famed for offering extravagantly generous surveys to earn crypto, paying as much as up to 100,000 Satoshi (0.001 Bitcoin) per offer finished. Although free Bitcoins can steadily roll in on your internal balance through this platform, this outlet will take 3 weeks before processing your withdrawal claim. This helps in preventing fraudulent earnings, but demands that you to do surveys for crypto with utmost honesty.Features:
An affiliate program of 50% commission from your referrals
Game playing and app tasting for crypto rewards
Paid videos and ads
Surveys for crypto
Payout Minimum: 25,000 Satoshi
2. Cointiply
Surveys that pay cryptocurrency are presented in abundance on Cointiply. This project is on everyone's lips among those looking for legit ways to earn crypto for free. Cointiply gives you Satoshi for every successfully completed offer. An average user can make up to $30/month on this platform by answering questionnaires, testing games, and giving assessments of new products & businesses. Not so many bucks, but they are all yours! Moreover, Cointiply has a mobile app for Android, so you can earn Bitcoin while on the move! Earnings can be credited to your DOGE, Dash, LTC or Bitcoin wallet.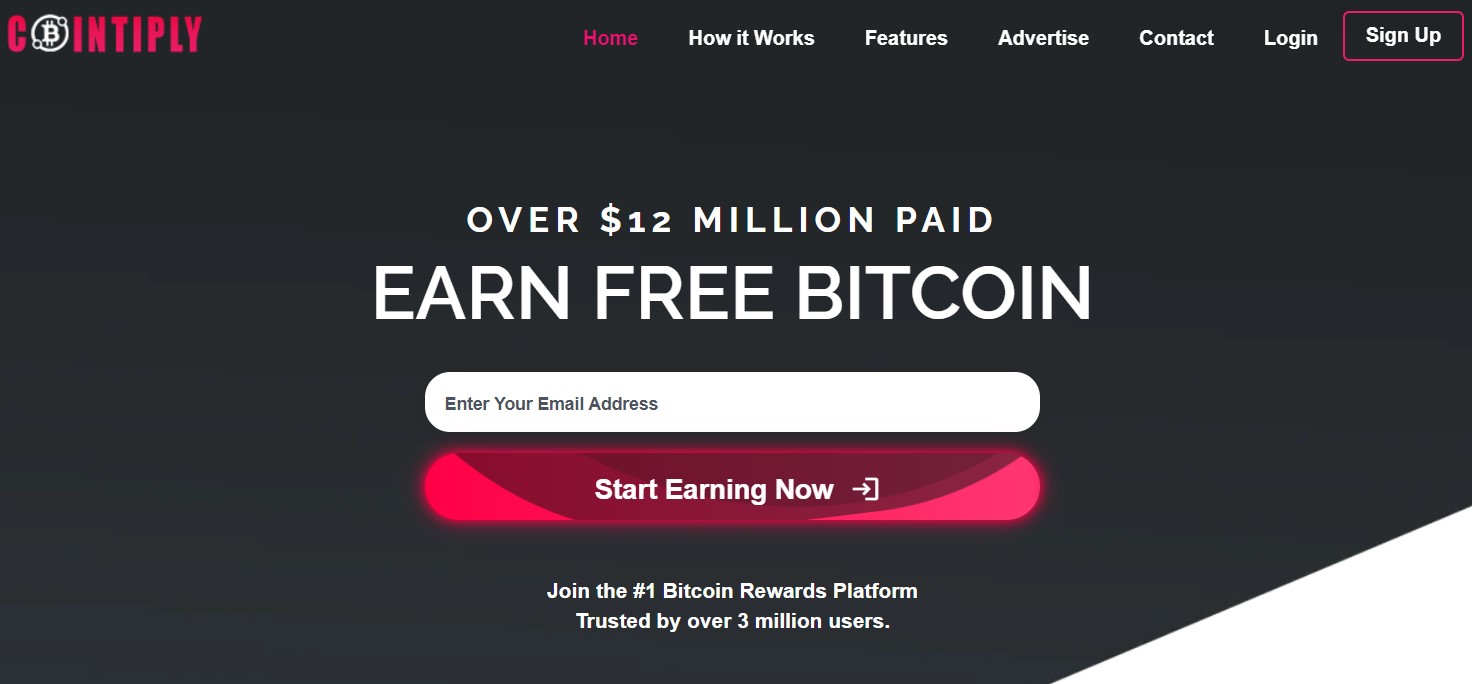 Features:
One-time online gigs
Paid quick offers
Paid video watching
Play-to-earn games and apps
Surveys for crypto
Payout Minimum: $3 (30,000 points)
3. Cinchbucks
Cinchbucks is a widely recognized Get-Paid-To (GPT) online outlet with a good deal of opportunities to earn crypto. You can get Cinch Bucks points (CB) by answering surveys and executing simple web-based jobs. Then you can redeem your CBs to real cash, gift cards, and other nifty rewards. You can also claim your earnings to be sent to your Bitcoin wallet, apart from PayPal, Payza, VISA, and MasterCard. 1 CB is equivalent to 1 cent, so 100 CB is worth $1. You qualify for a cashout once you have gathered $10.Features:
GPT jobs (paid surveys, videos, games, and more)
Payout Minimum: 1000 CB ($10)
4. Earnably
Earnably helps you get digital rewards and gift cards easily. The project rewards its members with real cash and free gift cards for fulfilling simple tasks, watching videos, and answering questions. You can convert the collected points into fiat or free gift cards from your favorite brands and retailers.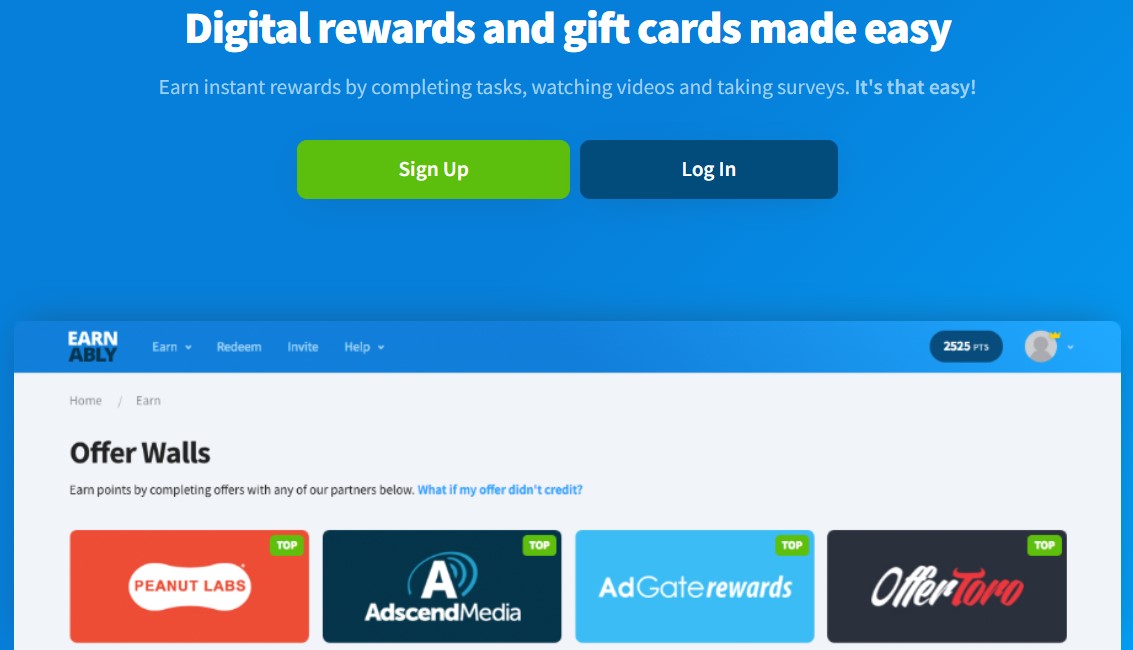 Features:
Paid videos, software testing, and more
Rewarded link clicking
Surveys for crypto
Payout Minimum: $5 for Bitcoin rewards, $1 or $2 for PayPal and Amazon Gift Cards
5. Ebuno
An illustrious GPT panel with some of the most generous offers, Ebuno, unfortunately, currently does not have surveys to earn crypto in its inventory. Still, you can receive your earnings via PayPal or gift cards. Usually, you can expect to earn $1 for every 10-minute survey, but the incentive can be higher sometimes.

Features:
Rewarded surveys
Small online tasks for rewards
Payout Minimum: $10
6. FeaturePoints
Yet another decent company that offers incentives for people's thoughts, FeaturePoints is famed for its awesome great rewards for completing surveys, testing games, and more. The available points can be used toward a vast selection of gift cards (including Amazon, App Store, PlayStation, Starbucks, etc.), as well as Bitcoin and PayPal money. The project has been around since 2012, making it one of the oldest gateways to surveys for crypto.

Features:
Android and iOS apps for testing
Incentivized surveys
Play-to-earn games
Scratch cards
Payout Minimum: 3000 points ($5)
7. FreeCash
FreeCash is a great starting point for everyone who wants to earn Bitcoins through surveys. This reward-paying website is previously known as FreeSkins. FreeCash credits you with points for taking surveys and fulfilling easy-peasy tasks, such as watching funny videos and subscribing to people's or companies' socials.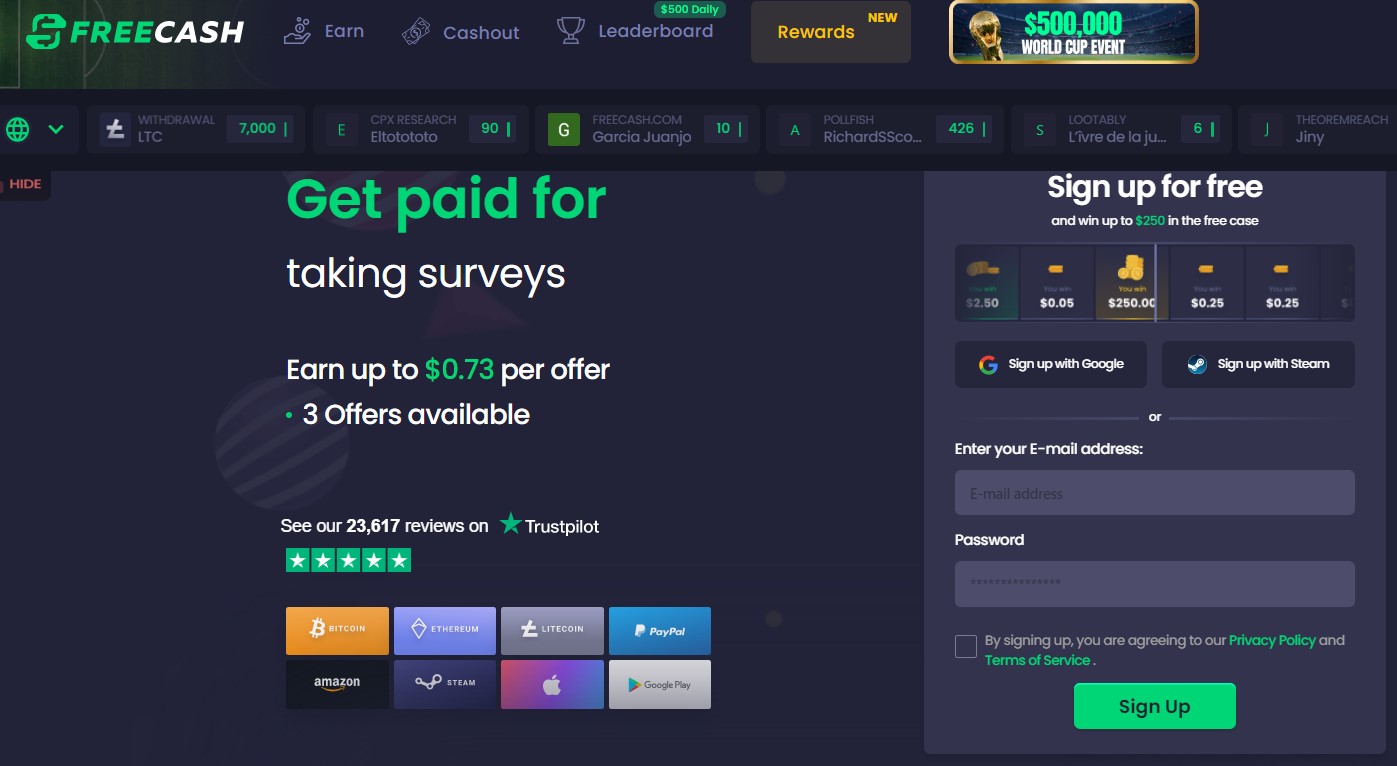 This site prides itself in allowing its participants to earn $1.00 every 5-10 minutes by performing simple actions, along with offering some of the highest paying tasks up to $2.43 per offer. The accumulated points can be transferred to PayPal, Bitcoin, and VISA accounts, among some other options. The platform also supports crypto staking.Features:
Crypto staking
Offer walls
Surveys
Payout Minimum: $0.50
8. Gift Hunter Club
Gift Hunter Club allows you to earn redeemable points with paid surveys, cool contests, entertaining advertisements, and even with your friends. It is a must-visit website for anyone who wishes to earn Bitcoins by doing surveys in their spare time.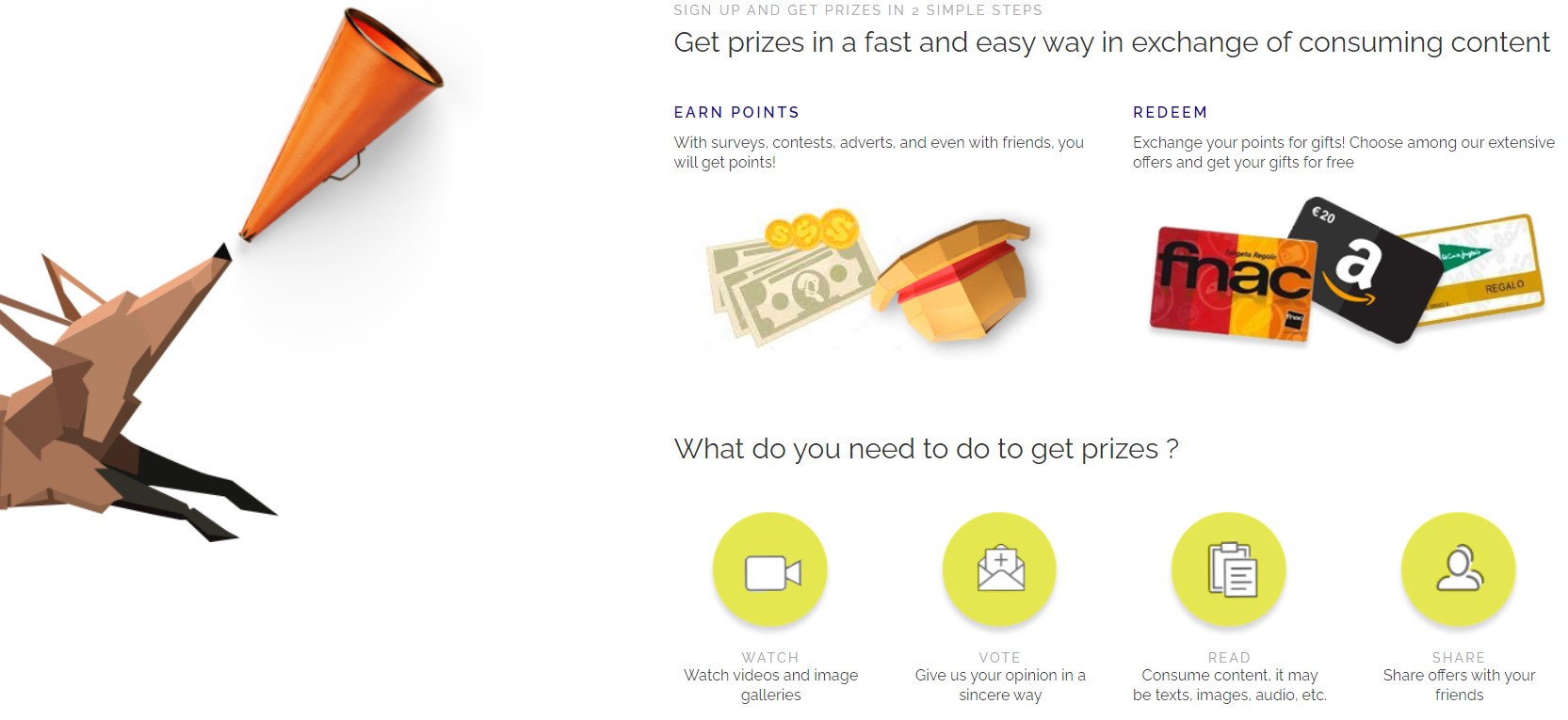 Apart from rewarded surveys and offers, the portal also allows you to grab a daily and a weekly bonus. To step up your earning potential, you can invite other people to join Gift Hunter Club. You will get 10% of whatever the invited person earns. The points can be spent on gift cards and PayPal cash. The website also claims to support Bitcoin withdrawals.Features:
Contests
Paid surveys
Referral program
Rewarded offers
Payout Minimum: $5
9. GrabPoints
GrabPoints is one of the best ways to make cash online. The portal offers gift cards and money rewards for consuming content (watching video clips, reading texts, listening to audios, and more) and undergoing surveys.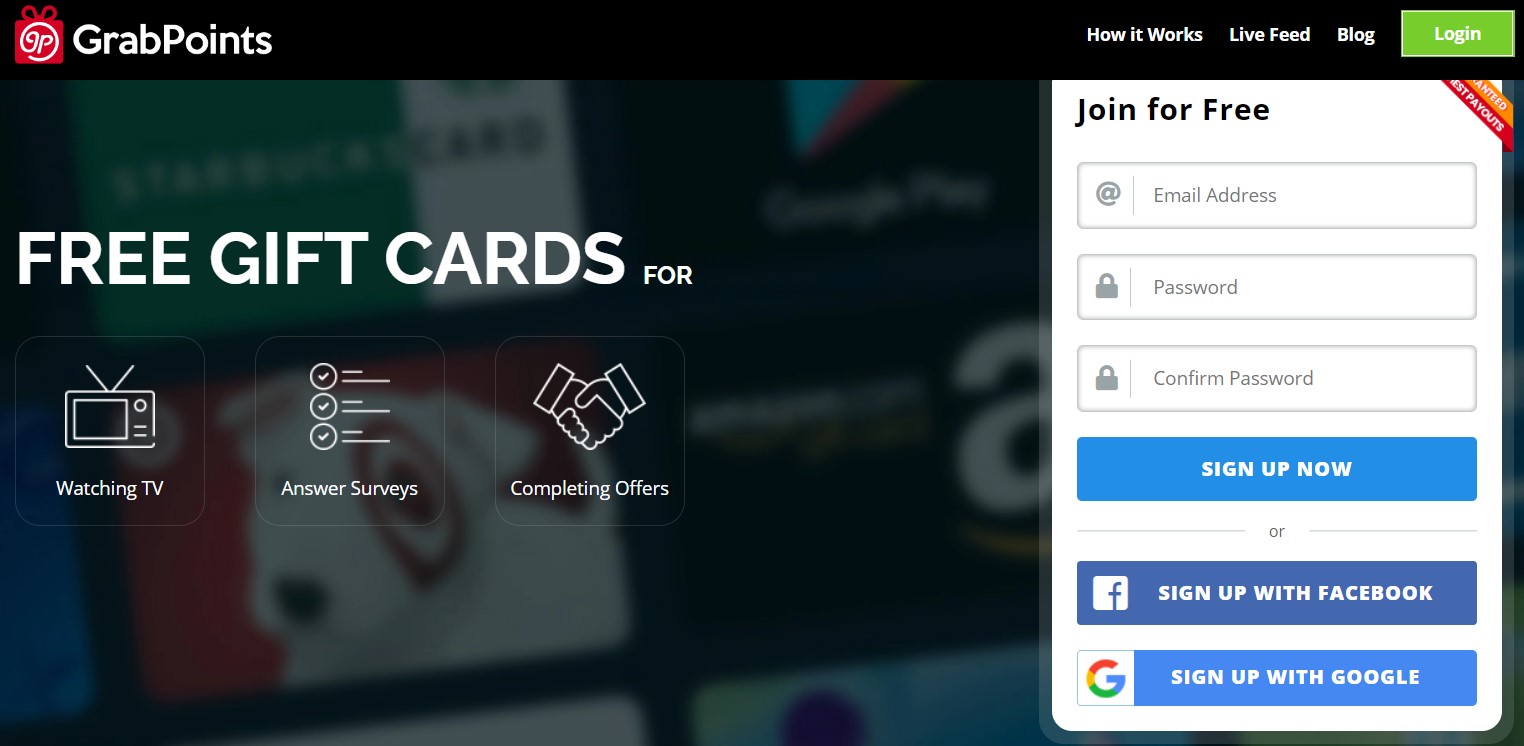 Once you accrue sufficient points, you can request a payout in the form of your choice. Payouts can include electronic gift cards for popular online supermarkets such as Amazon and Walmart, in-game currencies (Minecraft, Roblox, Nintendo), and Bitcoin. This is the easiest method to get free Bitcoins without trading or mining. The platform can send the accrued points to your Bitcoin wallet on Coinbase.Features:
Completing offers
Downloading apps
Taking surveys
Watching videos
Payout Minimum: $5
10. Grindabuck
Grindabuck pays you for performing things online. It is a brand loyalty, market research, and GPT project where you can earn different nice rewards, including gift cards, PayPal, or cryptocurrencies. You can get paid for doing different side hustles online, such as testing out new products, downloading new apps, watching videos, engaging in giveaways, and participating in contests. Surveys for crypto are also in the inventory of Grindabuck.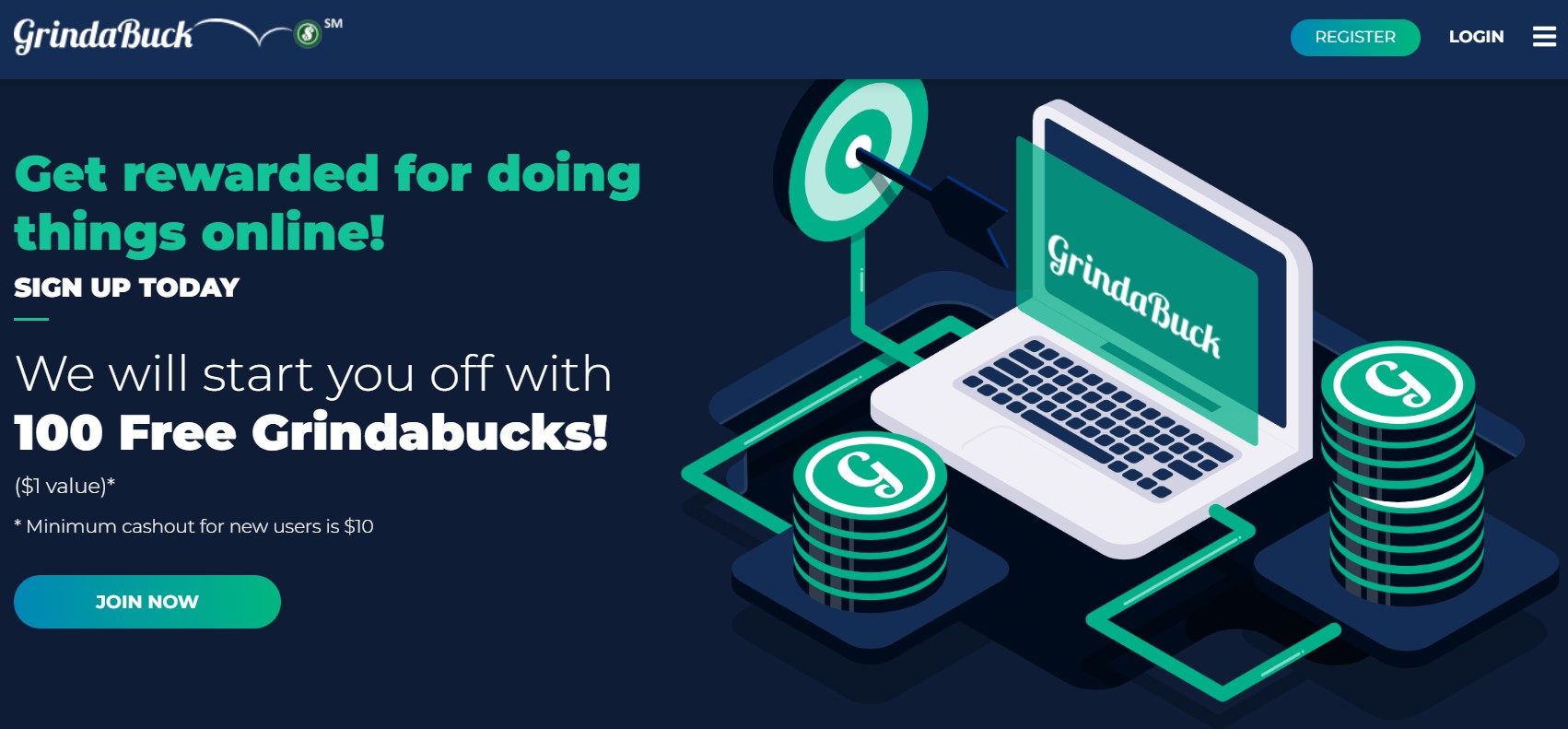 Features:
Complete simple tasks
Do online shopping
Fill out surveys
Fulfill offers
Listen to music
Participate in contests
Try out products
Watch videos and much more
Payout Minimum: $10
11. Honeygain
The Honeygain platform offers an effortless way to earn passive income. The funds you earn here can be used to pay for streaming platform services, unlock paid content on popular video games, or make online shopping more cost-effective. The platform does not throw tons of surveys for crypto at your disposal. Instead, it lets you make some extra cash by sharing your internet resources.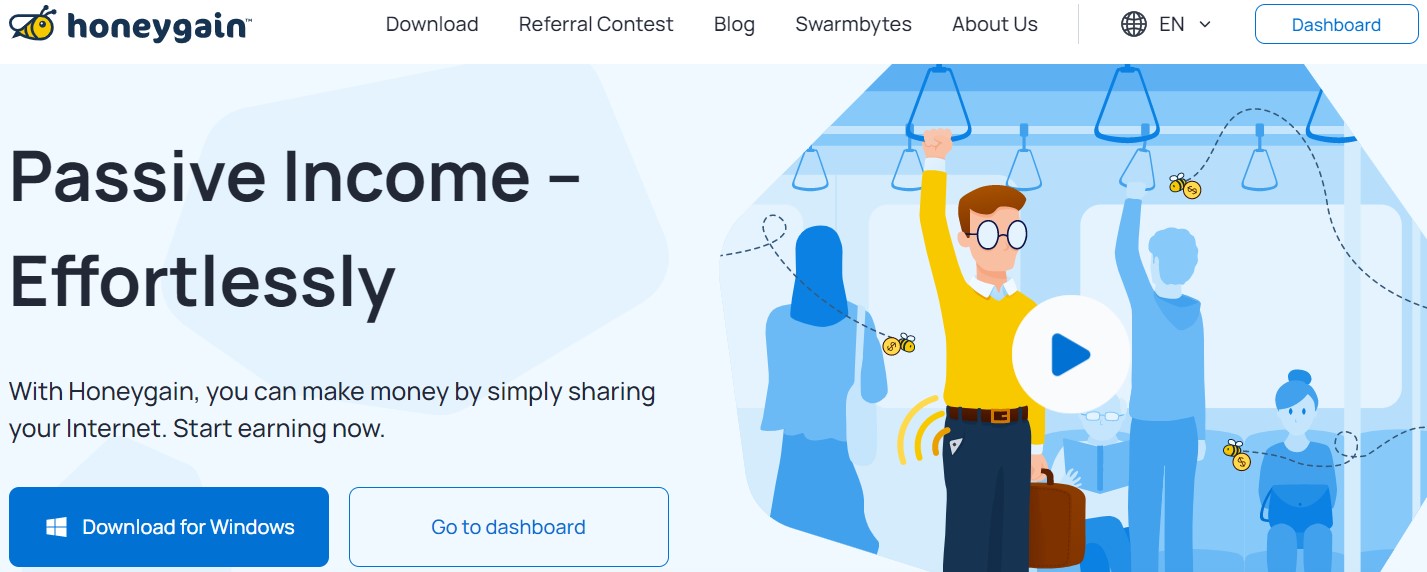 Once you download Honeygain on your computer or smartphone, it will use your internet connection to collect bits of data that's publicly available on the web. Authorized companies can access this information for web statistics, price comparisons, and other verified business activities, and you earn real cash for your traffic contributions.
You will earn 3 credits for every 10 MB of data provided. To cash out, you need to pile up 20,000 credits, which is equivalent to $20. Unfortunately, recently, Bitcoin (BTC) payouts were disabled on Honeygain. Currently, there are two payout methods available: PayPal and JumpTask.
Features:
The rewarded internet sharing and data analysis
Payout Minimum: $20
12. Idle-Empire
With Idle-Empire, you can earn free skins, games, gift cards, and cryptocurrencies. The platform offers different ways to earn Bitcoin too. For example, you can fulfill online jobs and offers, watch ads, play games, test mobile software, or invite your friends to Idle-Empire.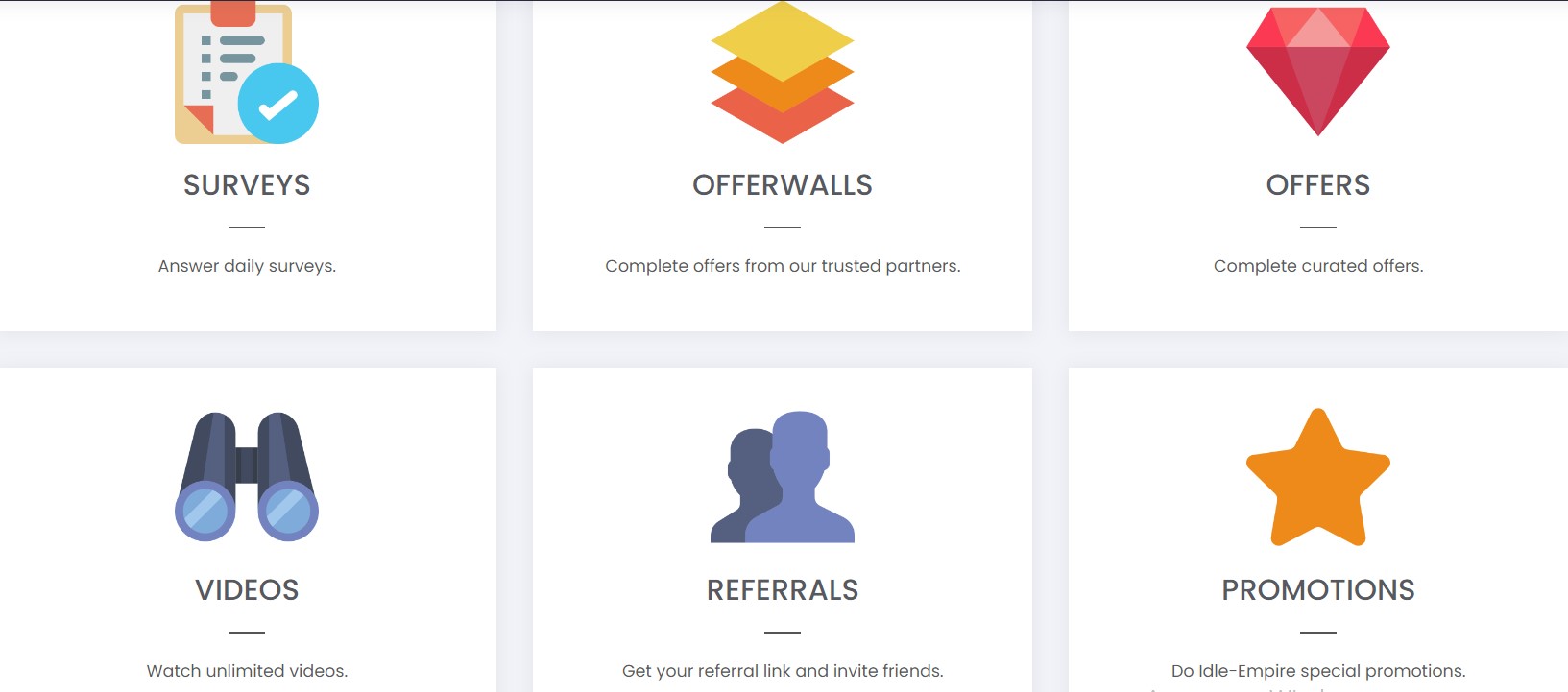 Surveys for crypto are the highlight of the platform. You can points and then redeem them to Bitcoin, Litecoin, Bitcoin Cash, or Ethereum (through Coinbase or Payeer). Idle-Empire is well-famed for offering the best selection of payment methods among all GPT platforms.Features:
Curated offers
Offer walls
Paid videos
Promotions
Referral program
Surveys for crypto
Payout Minimum: $0.10
13. InstaGC
InstaGC is another smart choice that is worth serious consideration if you desire to earn crypto from surveys. Just like other get-paid-to websites, InstaGC lets you make extra money effortlessly by taking surveys for crypto, watching ads, opening links, and more.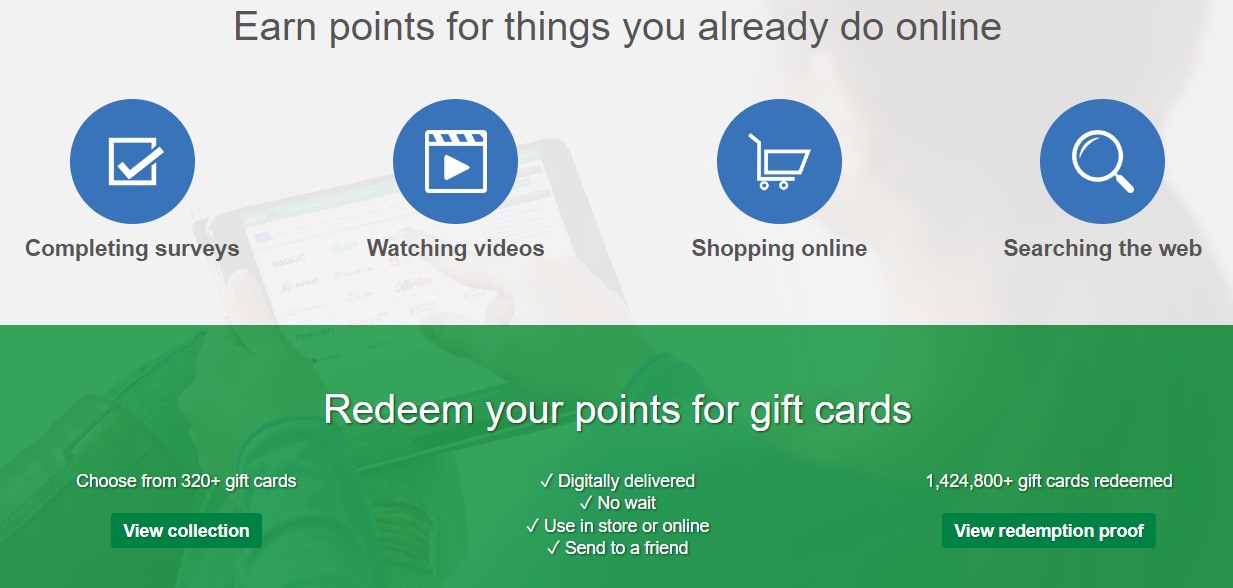 Once you collect a sufficient amount of points, you can convert them to a number of options including popular cryptocurrencies like Bitcoin, Litecoin, Ethereum, PayPal, let alone Amazon gift cards. Keep in mind that before you get able to withdraw in Bitcoins, you need to make your first cashout of at least $50 in other rewards. After that, you will be able to claim your rewards in Bitcoin when you have $10 on your in-app balance.Features:
Complete surveys
Do online shopping
Search the web
Watch videos
Payout Minimum: $50 for the first withdrawal and $10 for subsequent withdrawals
14. Instars
Instars engages you to earn crypto for consensual data exchange. The platform allows you to benefit from sharing your personal information with the platform's data network. You can select what personal data you want to upload to the data network, decide who can access it, and get paid in Instar tokens for your engagement.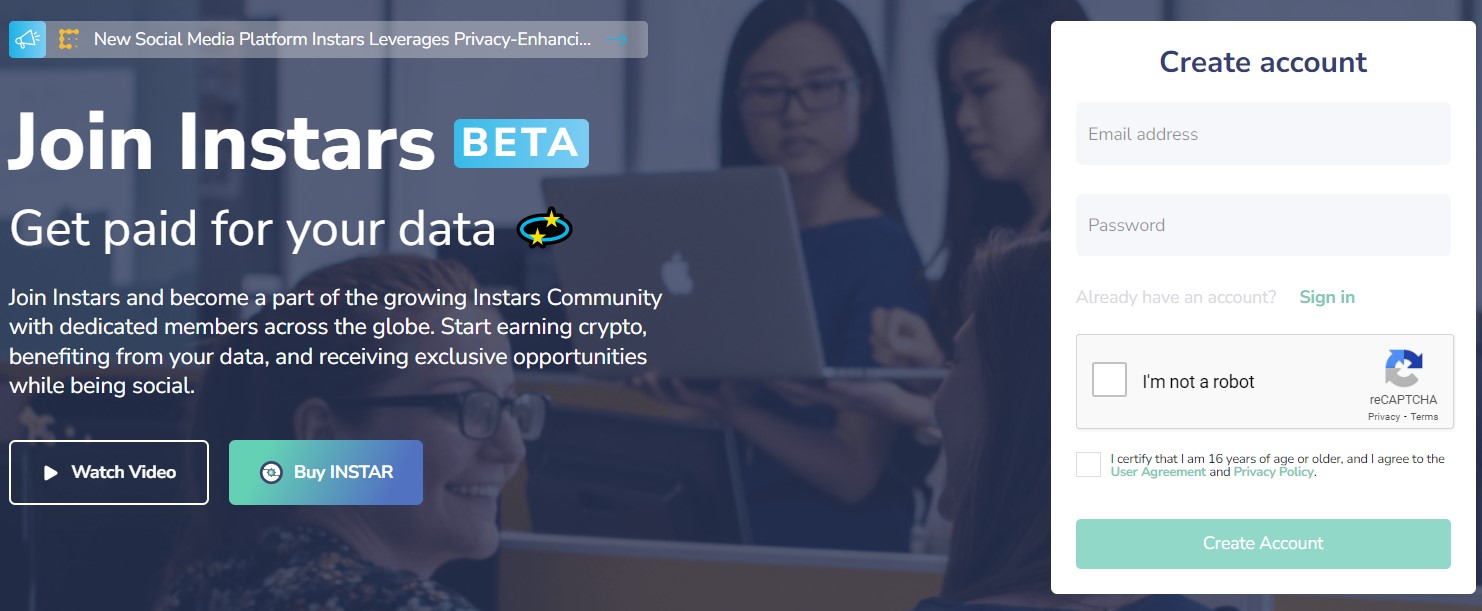 Basically, Instars is an emerging blockchain network, and INSTAR is its native cryptocurrency. The mission of Instars is to facilitate trustless and mutually beneficial data exchange between individuals and organizations in a fair and transparent way. This is achieved by protecting each participant's personal data with advanced technologies and fully encrypted messaging. You can earn popular cryptocurrencies like INSTAR, EOS, and DAI as soon as you join the platform.Features:
Blockchain-powered data exchange platform that rewards you for sharing your data
Payout Minimum: $5
15. MySoapBox
"We ask – you earn" is a motto of the MySoapBox platform. It collects feedback on the goods and services you use daily. You rack up points to be then turned into gift cards at your favorite stores and restaurants, including Starbucks, Amazon, Walmart, and more.You can earn points for versatile activities, such as participating in market research campaigns. Once you have accumulated 25,000 points by doing surveys for crypto, you can cash out your funds for different prizes, including cryptocurrency gift cards.Features:
Paid market research activities
Payout Minimum: 25,000 points ($25)
16. Offer Nation
Offer Nation is a legitimate online platform to access paid surveys. On Trust Pilot, the company has a near stellar reputation and is acknowledged by many customers as one of the best GPT companies ever. The platform is renowned for offering great surveys and processing payouts almost instantly. You can cash out when you have as little as $1.00 on your balance and get paid in less than 8 hours.

Survey rewards vary and can range between $0.10 and $17.00 per completed offer. The site provides its members with daily cash surveys for crypto and other free offers, and it sends payments via PayPal, Skrill, Bitcoin, Tango, or Amazon.Features:
Offer walls
Paid games
Surveys for crypto
Payout Minimum: $1.00 on PayPal and Skrill. Minimum Bitcoin withdrawal is $40.00
17. Peer2Profit
Peer2Profit presents an innovative traffic monetization system. As you share your Wi-Fi power, you get rewarded. It does not offer surveys for crypto, though, but allows you to make cash on the distribution of your spare Internet connection. Share your Wi-Fi or mobile connection and get paid for every gigabyte of traffic.Peer2Profit members build a network for advertisers who use the platform for open-source data gathering, market research studies, and other verified activities. Advertisers pay Peer2Profit for utilizing the network, and the platform pays cash rewards to its users for sharing their traffic data.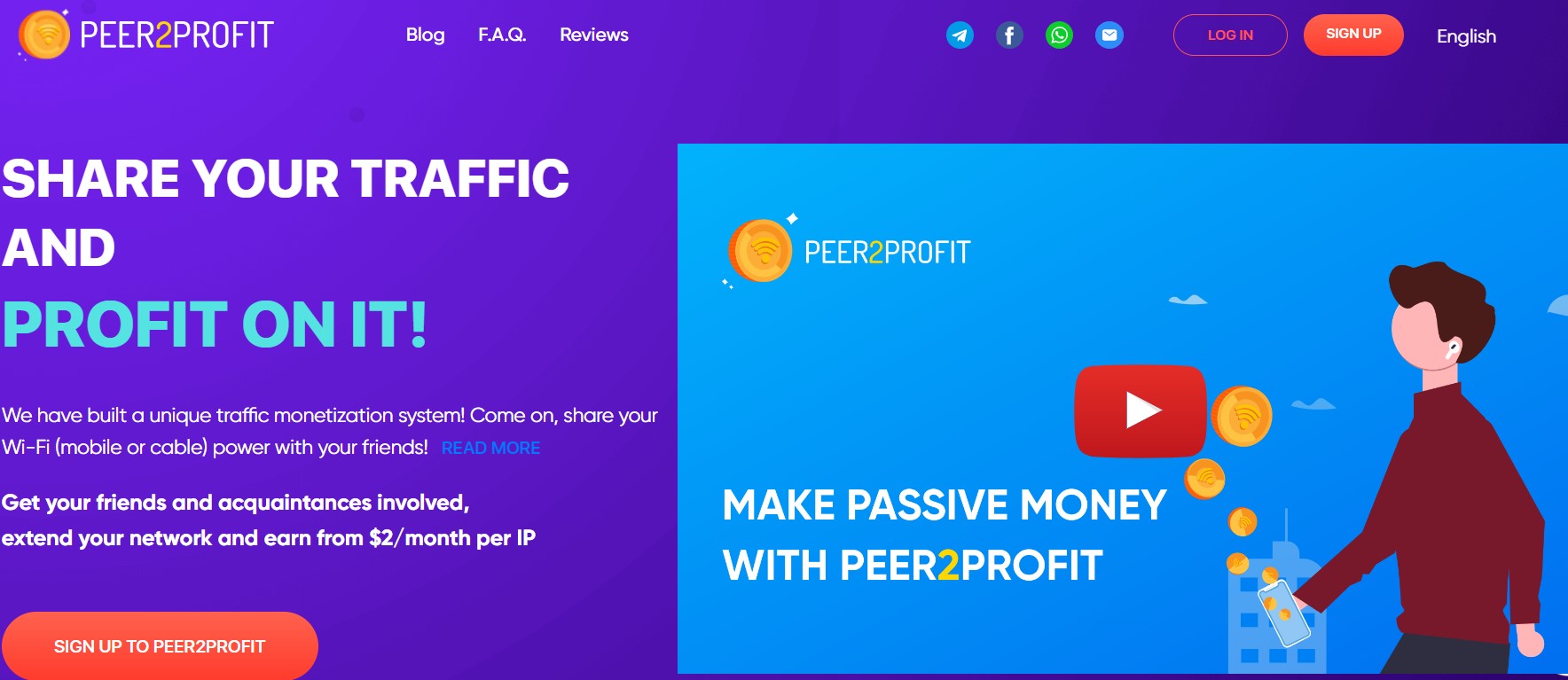 The amount of money you can make depends on your location and the amount of traffic you provide. The longer the Peer2Profit application will work on your machine, and the higher demand for traffic your location experiences, the more you will eventually earn. The platform supports multiple payment systems, including Webmoney, Visa, Bitcoins, YooMoney, MasterCard, PayPal, and Qiwi Wallet.Features:
A rewarded Internet-sharing system
Payout Minimum: from $2 to $14 depending on the payment system
18. Points Prizes
Points Prizes is a reputable provider of surveys for crypto. The platform relies on a point system and grants you points for participation in free surveys and offers. There is also the opportunity to earn Bitcoins by playing games or watching promotional videos.Rewards are processed via Bitcoin, PayPal, and 20+ payment gateways. It also offers gift codes for Amazon, Nintendo, Minecraft, and more. Gift codes are essentially the same as gift cards, except they are delivered digitally.Features:
Downloading free apps
Getting free trials for products & services
Signing up for contests
Taking surveys for crypto
Testing games
Watching videos
Payout Minimum: $20
19. Reward XP
Reward XP pays you cash for testing software and completing other small actions online, such as watching ads, subscribing for emails, and, of course, doing surveys for crypto. There are tons of money-earning opportunities available on the Reward XP website to suit different preferences.There are several payment methods supported by the site, including PayPal and Bitcoin cash, as well as gift codes for Roblox, Steam, and Amazon. The minimum payout for each method is $5, which is equivalent to 50,000 points. The greatness of Reward XP is proved by a nearly 5-star rating on Trust Pilot.Features:
Take part in tournaments
Take surveys for crypto
Try games and apps
Watch videos
Payout Minimum: $5
20. Rewarding Ways
Rewarding Ways is a legitimate Get-Paid-To site allowing you to earn extra money by coping with elementary jobs. The platform will reward you for completing surveys for crypto and other online offers.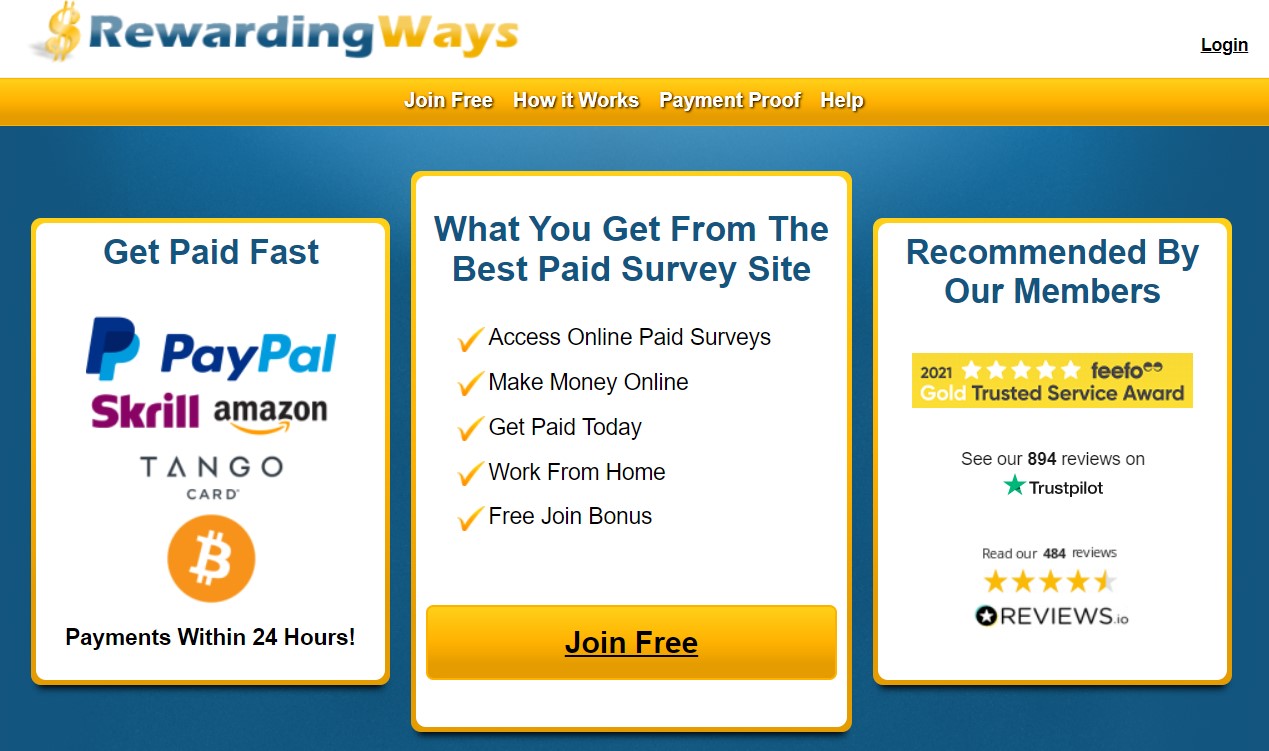 You can redeem your earnings using PayPal, Bitcoin or Skrill, enjoying the same day payment delivery. Alternatively, you can convert your points to electronic gift cards for globally-known marketplaces such as Amazon.Features:
Daily cash surveys
Other paid offers
Payout Minimum: $1.00 on PayPal and Skrill. Bitcoin is a minimum of $40.00
21. Rewards1
Rewards1 has been helping people earn real money online since 2007, which makes it one of the oldest GPT projects ever. You can get paid for conducting surveys, completing offers, watching videos, and more. Rewards1 gives you points for each completed micro task, and you can convert them into cash rewards or gift cards later on.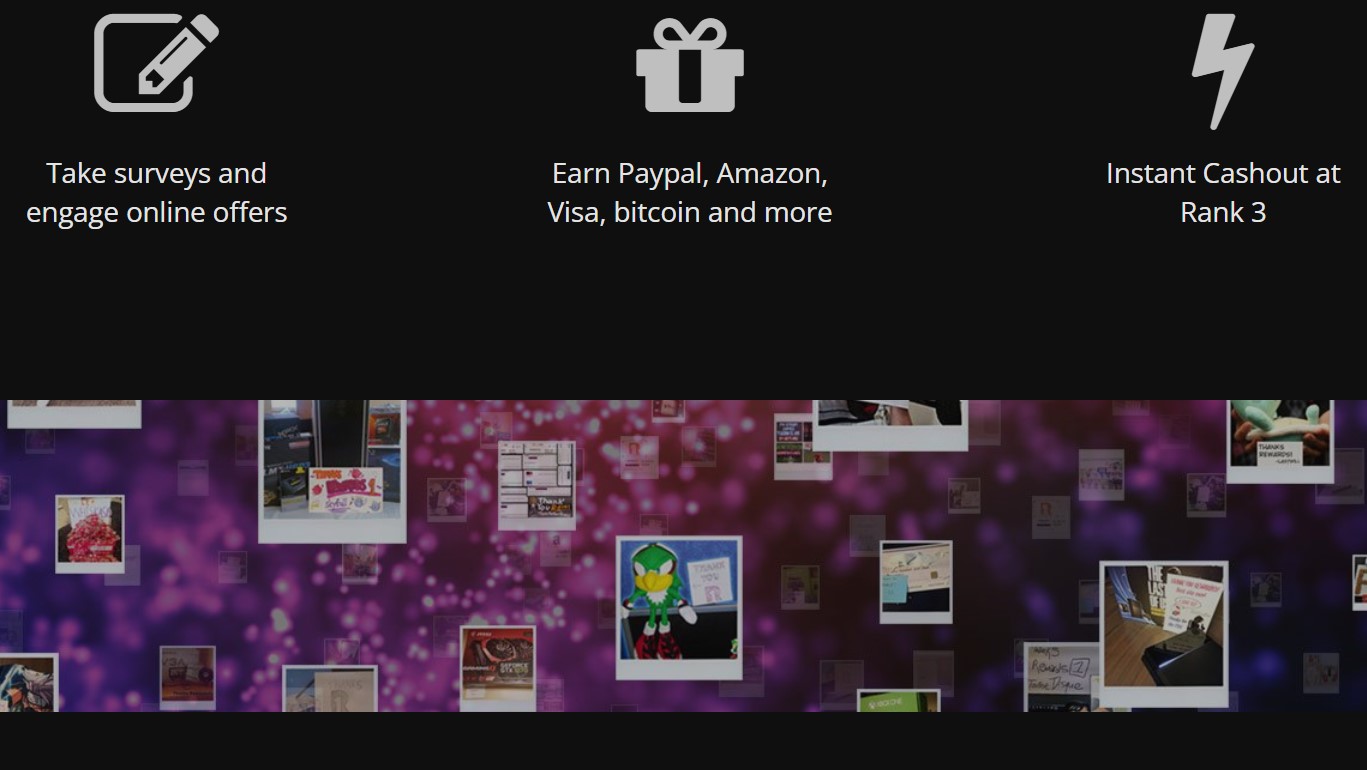 Rewards are paid out via PayPal, Gift Cards, and other payment schemes. As for surveys for crypto, Rewards1 stinks with them, too, and the website states to process Bitcoin withdraw requests instantly. A highly popular like GPT outlet, Rewards1 also has Paid Offers to let you earn digital cash.Most money-making opportunities come from the platform's partners and clients. The character of paid offers revolves around visiting websites, downloading gaming apps, signing up for contests, and all that stuff.Features:
Paid micro tasks on the web
Surveys for crypto
Payout Minimum: $5 for Bitcoin and PayPal rewards, and $1.25 for game codes
22. Superpayme
Another nifty addition to the roundup of the best sites that pay crypto for surveys, Superpayme is an online project that lets you make money by engaging in different rewarded offers. The project has an 8-hour payout promise and allows you to withdraw as little as $1.

Here, you can earn some cash by completing quick surveys, offers, trials, games, videos, and more. Payments are processed via PayPal, Skrill, and Bitcoin. Crypto rewards are sent to your account on a crypto exchange like Coinbase or Coinmama.Alternatively, you can use one of the multiple E-gift card rewards. The platform is free to join, and you are treated with a signup bonus as soon as you establish your account. To heat the appetite of its huge community, Superpayme also conducts regular $1000 prize contests.Features:
25% referral program
Free paid surveys for crypto
Offer walls and trials
Payout Minimum: $1 for PayPal and $40 for Bitcoin
23. Survey Time
Survey Time is a bit different GPT project. Of course, it does offer surveys for crypto, like its counterparts do. Yet, it has no withdrawal threshold. Once you have completed a survey, you get paid for it almost instantly.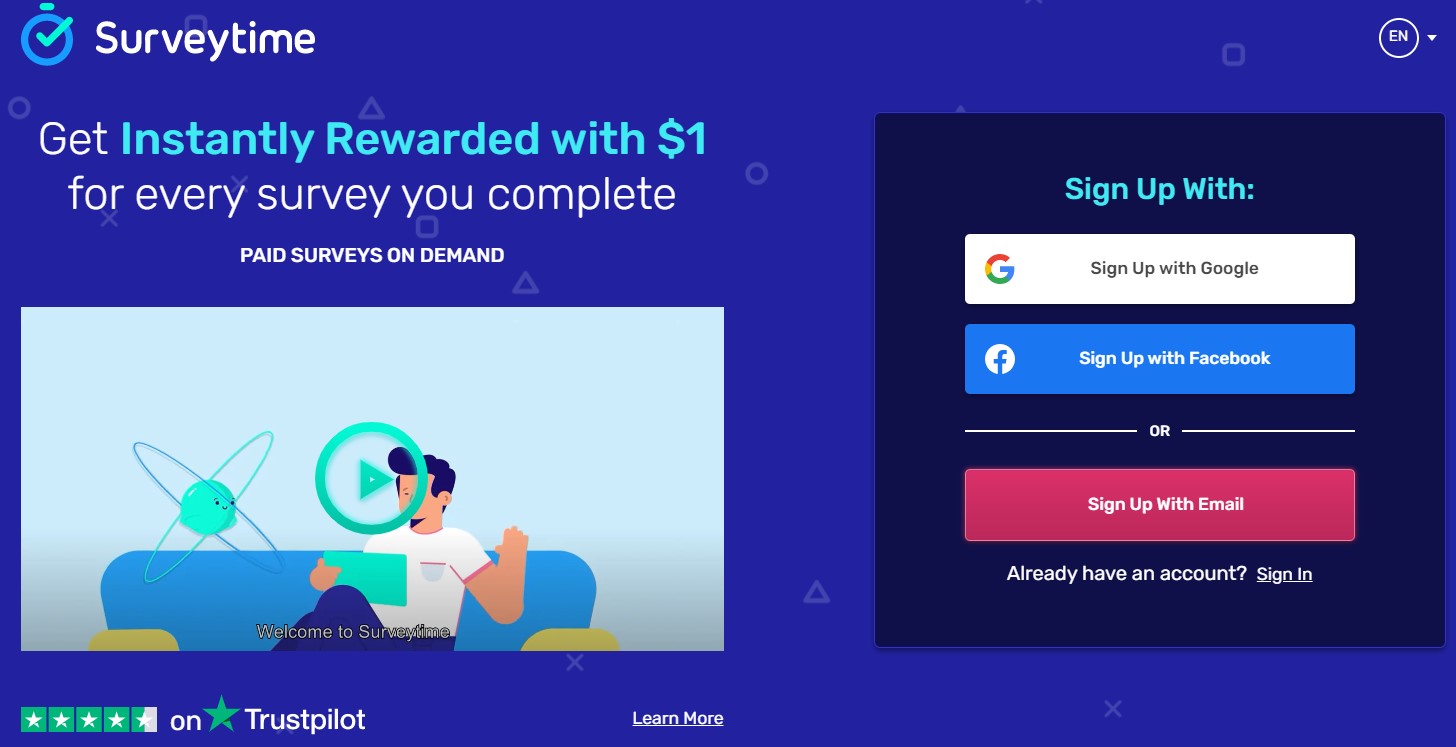 There is no points system. It means you can claim a reward after each offer you finish. All money-making opportunities come with a fixed reward - $1 per offer. Whether the survey takes you 5 or 15 minutes, whether you are asked about pets or politics, if you complete the survey then you get 1 USD.The platform has a mobile app for Android and Apple phones, and the project has virtually a 5-star rating on App Store, Google Play, and Trust Pilot. So it indeed smells like a credible service to take surveys for cryptocurrency. You can choose from several payment methods, such as PayPal, Bitcoin, Amazon, and more.Features:
Payout Minimum: no threshold
24. Timebucks
On TimeBucks, you can make a pretty penny out of paid surveys and other offers, and you can also earn gift cards for your spare time. An interesting peculiarity of TimeBucks is that there is no withdraw button. Payments are sent automatically every Thursday when you reach the minimum payout requirement of $10. Ways to earn free dollars are plentiful on the platform and include watching funny videos, leaving comments, subscribing to different socials, and, of course, completing surveys for crypto.

This online GPT service supports Payeer, Bitcoin, Skrill, Neteller, AirTM, Tango Card, and Bank Transfer as payment gateways. Note that you must have at least $10 USD in your in-app balance before the cut-off period on Tuesday 11:59:59 PM New York time to qualify for a withdrawal, otherwise, your earnings will roll over into the next week's payment run.Features:
Following people on socials
Game and app trials
Paid offers
Post liking and commenting
Surveys for crypto
Payout Minimum: $10
25. Toluna Influencers
Toluna is a consumer intelligence platform. On Toluna, you can share your ideas regarding different goods and services and get rewarded for your valuable insights. The users of this GPT website are called influencers because their opinions can make global brands revise their products and services.Toluna employs a points system. Members get points for performing various actions, such as taking part in surveys, completing offers, and inviting friends to join the project. The website has a 500-point welcome bonus. Upon reaching a certain threshold, the points can be redeemed for different rewards, such as gift cards for popular stores, PayPal cash, or mobile top-up. Toluna's community can also convert their points to a Bitcoin Digital Card with a value of $20.Features:
Payout Minimum: $10 or 30,000 points.
Comments