What is Binance US?
Binance is one of the oldest and biggest exchanges in the market, operating globally since mid-2017.
Related to Binance, Binance US is a secure platform exclusively designed for US customers who need an easy and convenient way to purchase Bitcoin and other digital coins without leaving the borders of their country of residence.
While Binance US generally offers the same features as Binance, there are a few differences between them that any investor should know:
Binance US doesn't allow credit card purchases (debit card only).
Binance in the US requires traders to complete stringent KYC checks before registering with the platform; this process may cause some delay for users in terms of trading but guarantees maximum security for their funds.
Who's behind Binance and Binance US?
Binance was founded by Changpeng "CZ" Zhao in 2017. Prior to Binance, CZ founded Fusion Systems in 2005, which provided high-frequency trading solutions for brokerages around the world. In 2013 he founded BijieTech – a cloud-based technology services provider that specialized in cryptocurrency and blockchain solutions. After effortlessly building up this business to a team of over 200 people in 5 countries, CZ moved on to start Binance as an international crypto exchange platform with its headquarters in Malta.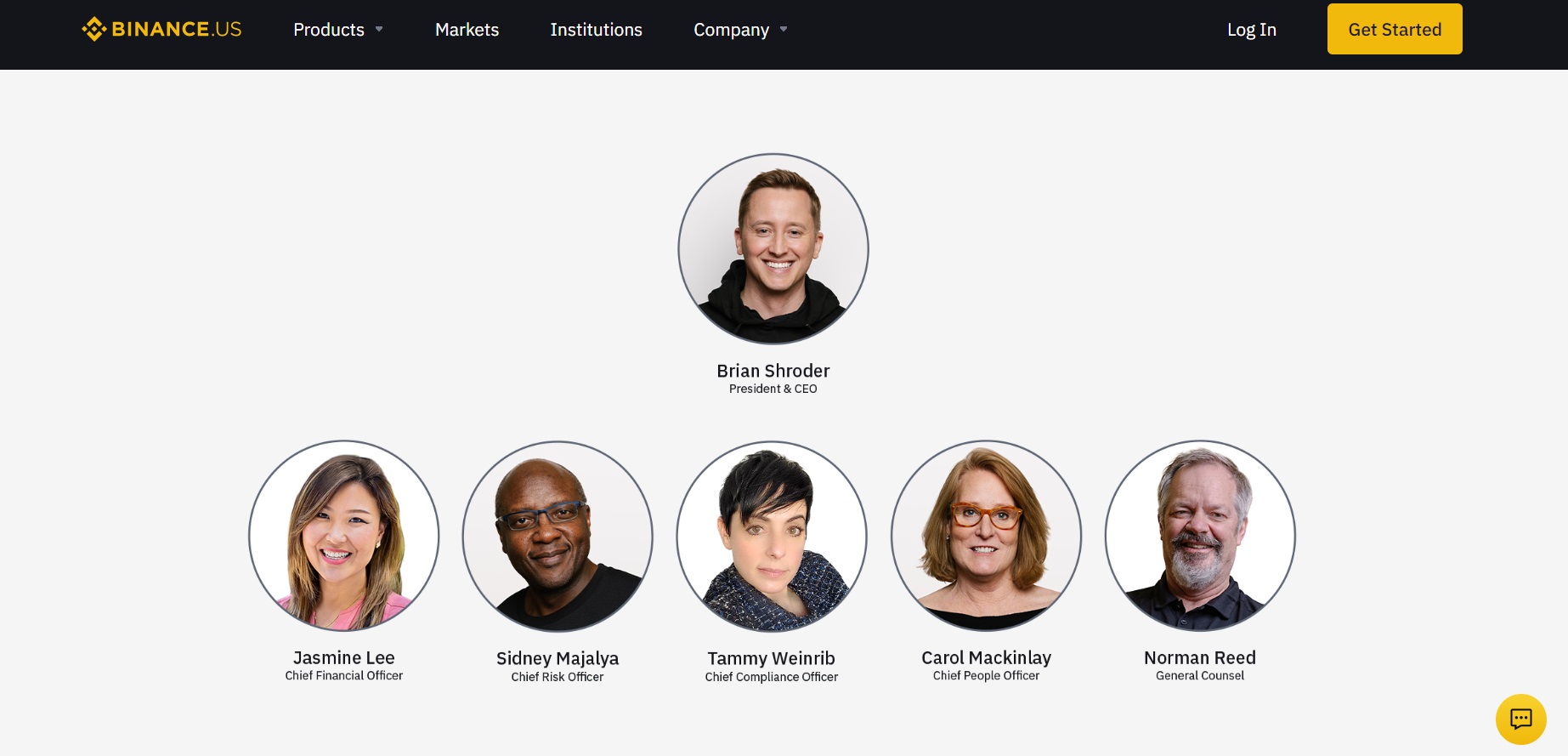 To meet US regulations, the platform has launched Binance US – offering trading services within certain approved states including Arizona and California. Binance US offers reliable and secure customer service for users looking to trade their favorite cryptocurrencies like Bitcoin & Ethereum on Binance's secure platform.
History and background
Binance.US is a crypto exchange based in the United States, providing users with access to crypto trading pairs and crypto-to-fiat pairs. Founded by Binance, one of the world's leading crypto exchanges, the platform is a carefully crafted blend of both Binance global's cutting-edge technology and local crypto regulations in the U.S. In an effort to increase cryptocurrency adoption amongst mainstream consumers and traders alike, Binance.US launched in September 2019 with 15 crypto assets for traders to buy and sell. Since its inception, the platform has grown exponentially and now offers customers access to more than 150 crypto assets accompanied by abundant educational materials for crypto trading beginners and veterans alike.
How does it work?
The platform enables users to easily buy and sell digital assets such as Binance US coins (BNB) and other Binance stocks. Binance.US also provides a comprehensive customer support service, helping users with all the information they need in order to make informed decisions about their investments.
Furthermore, the platform offers real-time trading data tools and a secure crypto wallet for customers to store their digital assets, ensuring all transactions are safe and secure. With its wide array of features, Binance.US allows users to trade in a variety of cryptocurrencies with confidence and ease.
Detailed information about features is presented below.
Key features
Binance US is a digital currency exchange platform that allows users to trade cryptocurrencies, stocks, and other assets. It's one of the largest exchanges in the world, with an extensive list of available assets and low fees. In addition, it has several features that make it stand out from the competition, such as its user-friendly interface, passive income opportunities, and support for fiat currencies. Read on to learn more about the advantages of using Binance US.
Low Fees
One of the biggest advantages of using Binance US is its low fees. Most trading platforms charge high fees for their services, but Binance US offers competitive rates (from 0%) that make it easier for users to buy and sell digital assets without breaking the bank. This makes it ideal for those who want to get into trading without having to spend too much money upfront.
So many assets are available
Another great thing about Binance US is its expansive list of available assets.
Whether you're looking to trade stocks or cryptocurrencies like Bitcoin or Ethereum, you'll find everything you need on this platform, as the exchange currently offers more than 150 assets.
Passive income opportunities
The company also offers a number of passive income opportunities for users who are interested in making money without doing any actual trading themselves. These include staking rewards from holding certain tokens and interest from lending out your coins at a variable rate.
User-friendly interface
In addition to its low fees and expanded list of available assets, another advantage of the exchange is its user-friendly interface.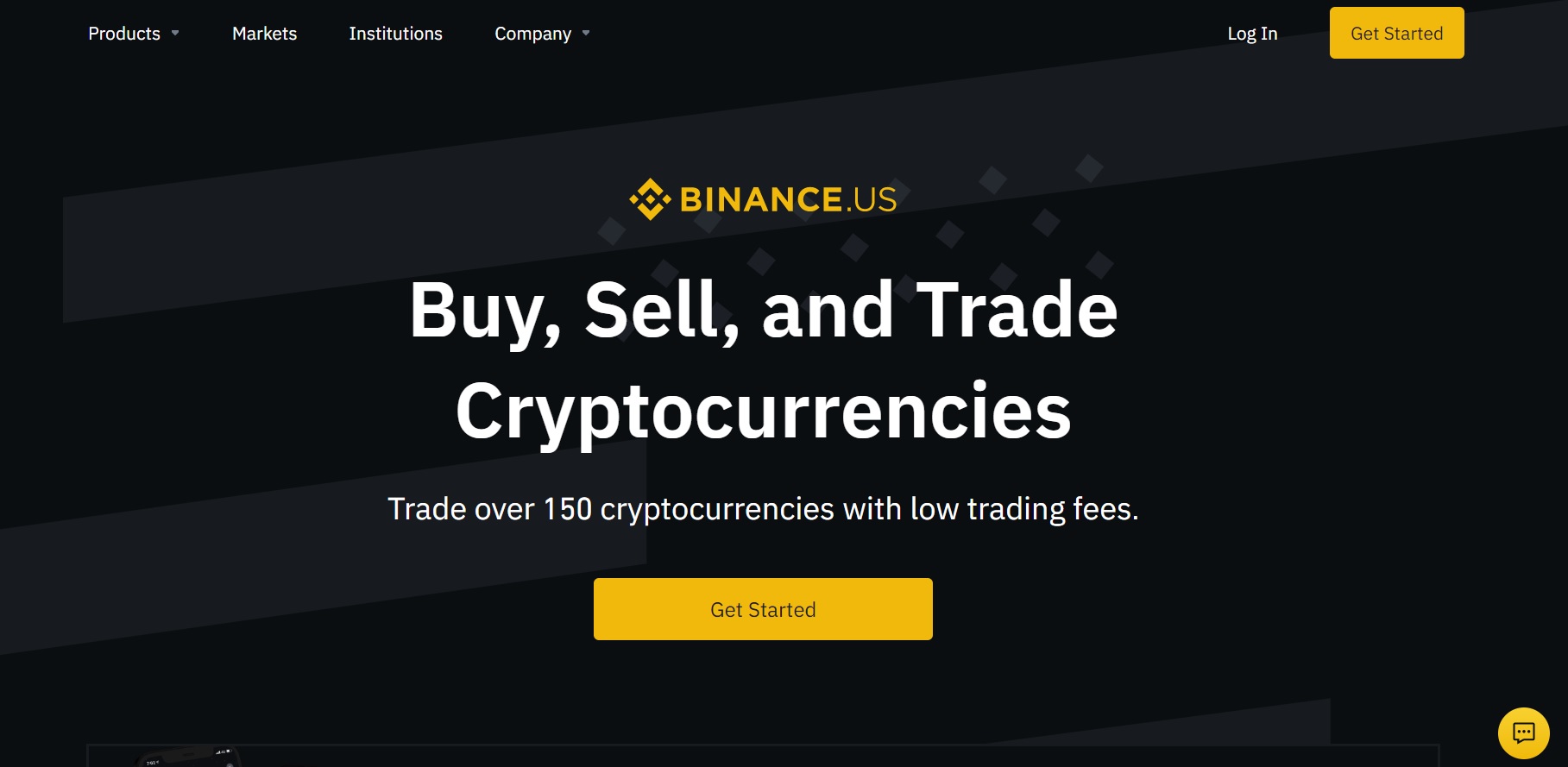 The platform is designed with newcomers in mind and provides a straightforward way to buy and sell digital currencies without having to worry about complicated menus or confusing charts.
Multifunctionality
Binance US also offers various functions that can help traders increase their profits while minimizing risk at the same time. These include spot trading as well as advanced trading features such as stop-limit orders (allowing traders to set predetermined levels at which they will automatically buy or sell) and OTC. With these tools at your disposal, you can optimize your trades and make sure they deliver maximum returns while limiting losses should the market turn against you suddenly.
Fiat currencies payment are available   
Finally, one major advantage of using Binance US is that it allows users to pay for their transactions with fiat currencies like USD or EUR via debit cards or bank transfers instead of having to use crypto exclusively as some other exchanges do.
This makes it easier for new investors who don't yet have any cryptocurrency holdings but still want to get involved in trading digital assets quickly and conveniently without having to go through a lengthy registration process first.
Desktop and mobile versions
The exchange has both desktop and mobile versions, as well as the Binance US app, so that users can access their accounts anywhere they go even when they don't have access to a computer or laptop nearby — perfect if they're traveling frequently or just want an extra layer of flexibility added into their investment strategy!
Ways to improve
However, there are some areas where Binance US could improve in order to provide their customers with an even better experience. Let's discuss three ways that the company can become even more successful in the United States.
Being available in all states
The first issue that needs to be addressed is the fact that not all states are currently able to access Binance US services.
Currently, only 46 states can use the platform – it's not available in Hawaii, New York, Texas, and Vermont. For those who live in these states, it can be difficult to understand why they are excluded from using this service. If Binance US wants to truly become a nationwide service, then they need to work on expanding its reach to all 50 states.
Better customer support and feedback
Another area where Binance US needs improvement is customer support and feedback. While customer service is available 24/7, it isn't always easy for customers to get in touch with someone if they have a problem or question about their account. Improving customer support and feedback should be one of the top priorities for the company moving forward if they want their business model to succeed long-term in the United States.
Bonuses and gift cards
The last way in this list that Binance US can improve its business model is by offering bonuses or gift cards for customers who sign up for accounts on their platform or refer friends/family members through their referral code to do so as well. This type of incentive would encourage more users to join the platform and also reward existing users for staying loyal over time.
Binance US: advantages and disadvantages
Binance US is a crypto exchange, which has been garnering a lot of attention lately. On the one hand, it offers users the opportunity to buy and trade cryptocurrencies majorly due to its wide range of coins and tokens that it has listed against the USD. The exchange is also known for its security features and there are no reported cases of any malicious activities occurring on the platform yet.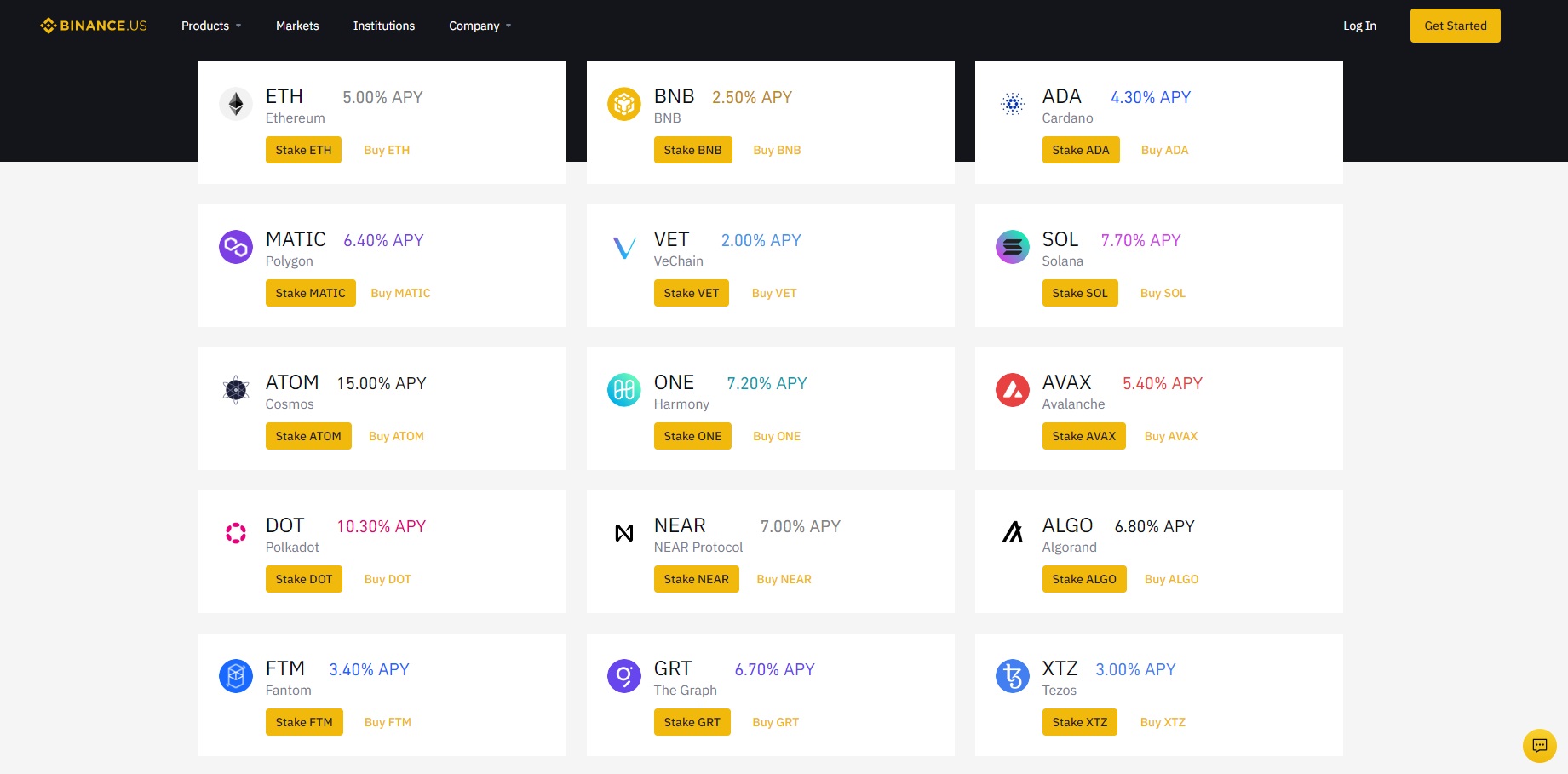 However, Binance US does not offer margin trading, a feature that Binance has enabled its users to access. Additionally, Binance US does not support buying cryptocurrency using fiat currency; users are only allowed to make deposits using USD. Nevertheless, the exchange remains a reliable and secure option for those who are interested in buying cryptocurrencies from all over the world. A quick Binance US review would suggest that though there might be numerous advantages to using this cryptocurrency platform, it should be used after considering both pros and cons carefully beforehand.
| | |
| --- | --- |
| Pros | Cons |
| Allows users to buy, sell, and trade digital assets such as Bitcoin, Ethereum, Litecoin, and more. | For US users only. |
| Has over 1 million users and processes over $200 million in trades each day. | Does not offer as many coins as the international Binance exchange. |
| Offers a user-friendly interface, advanced trading tools, and low fees. | Has a smaller trading volume than the international Binance exchange. |
| Mobile app which is available for both iOS and Android devices. | Is not available in New York, Hawaii, Texas, and Vermont. |
| Safe and reliable (requires KYC verification for all users). | May be subject to additional regulation by the US government. |
Table 1. Binance US: pros&cons
Who can use Binance US?
Binance US is a crypto exchange that was designed with U.S. citizens in mind, allowing them easy access to the cryptocurrency market. It is suitable for traders of all skill levels, offering a comprehensive range of features that make it easy to enter the crypto world and start trading coins quickly. Binance US has strong security protocols in place to protect its users' data, as well as an educated support team that can help users understand every aspect of the platform, so they can navigate it with confidence.
Whether you are looking to expand your current crypto portfolio or are just getting started in the decentralized space, Binance US offers an entry point that is secure and accessible – no matter your experience level.
Available assets
On Binance US users have access to a wide range of cryptos and other assets, including Bitcoin (BTC), Ethereum (ETH), Ripple (XRP), Litecoin (LTC), Tether (USDT), and many more. Additionally, users can buy, sell and send different types of cryptocurrencies as well as participate in token sales when they are available. In the table below, you can find a list of coins and trading pairs, available on the platform.
| | | |
| --- | --- | --- |
| For trading | For deposit | For withdrawal |
| Bitcoin/Tether | Bitcoin | Bitcoin |
| Ethereum/Tether | Ethereum | Ethereum |
| Shiba Inu/Tether | Dogecoin | Dogecoin |
| Fetch.ai/Tether | Cardano | Cardano |
| Bitcoin/USD Coin | Solana | Solana |
| Ethereum/Binance USD | Zcash | Zcash |
| Bitcoin/Binance USD | USD Coin | USD Coin |
| USD Coin/Tether | Tron | Tron |
| Kadena/Tether | Tether | Tether |
| Cardano/Tether | Sandbox | Sandbox |
| Ethereum/USD Coin | Polygon | Polygon |
| Fantom/Tether | Nano | Nano |
| Solana/Tether | Litecoin | Litecoin |
| Dogecoin/Tether | Dash | Dash |
Table 2. Binance US: available crypto coins
What is the Binance US best for?
Binance US is a great choice for US traders who are looking for spot trading. It has one of the lowest trading fees in the industry, making it a great choice from a cost-savings perspective. It is also one of the few platforms that feature many assets, including Binance US coins, so it provides diversified options to suit almost any trading strategy.
Not only that but users can also be assured of secure and efficient trading with their industry-leading technology and customer service offerings.
Additional options
Binance US has several additional features that make using its platform convenient and beneficial for crypto traders. With its rewards program, Binance Academy, and Tax Portal, users have access to valuable resources that help them stay informed about digital assets while earning rewards or preparing tax returns related to their trading activities on the platform.
Earn Rewards
The exchange offers an incentive to its users through its rewards program. By depositing or holding cryptocurrency on Binance US, you are eligible for rewards in different forms such as tokens, cash back, and discounts. These rewards can be used to offset trading fees or can be withdrawn in cash. The rewards program also allows you to earn more if you have larger deposits or hold more cryptocurrencies on the platform.
Binance Academy
Binance Academy is an educational resource that provides users with information about digital assets and blockchain technologies. It includes tutorials, courses, videos, and other materials that cover topics such as trading strategies and basic concepts related to blockchain technology.
The academy also helps users stay up-to-date with news related to digital assets by providing timely content updates. In addition, Binance Academy provides users with resources to help them become better traders by helping them understand technical analysis tools and chart patterns.
Tax Portal
Binance US's tax portal allows users to easily report their income from trading activities on the platform for tax purposes. The portal gathers data from all trades conducted on the exchange during a taxable period so that it can automatically generate reports in accordance with IRS guidelines for filing taxes related to cryptocurrency transactions. This feature makes it easier for taxpayers who trade frequently since they do not need to manually compile their trading data into a report format before filing their taxes.
Other features
Binance US offers a variety of features that make it stand out from other crypto exchanges in the United States – such as savings through low fees, locked staking opportunities with high APR rates, and secure storage options for their native token BNB – plus exclusive tokens available through the Launchpool feature. Let's take a look.
Cost-effective solutions
The company provides an array of features that allow users to save money while trading on the platform. For instance, they offer competitive transaction fees; depending on your monthly volume, you can pay as little as 0.1% per trade!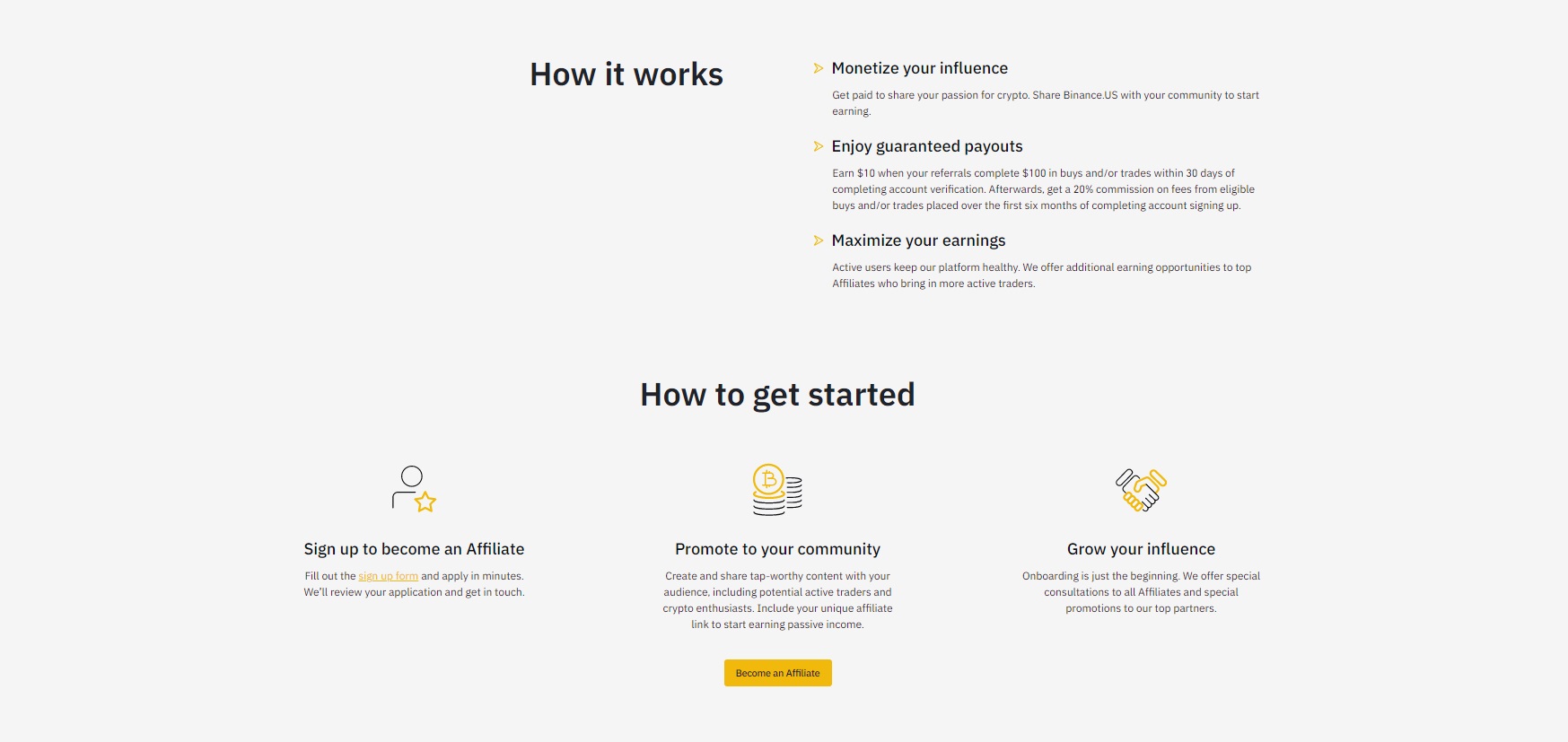 Additionally, they have zero deposit fees and no minimum deposit amount required when you first sign up. This makes it easier for new traders who don't want to invest a large sum right away.
Locked staking
The Locked Staking feature allows users to lock up their coins in order to earn rewards over time. When you stake your coins with Locked Staking, you can gain up to 8% APR (Annual Percentage Rate) on some coins without having to worry about market volatility or liquidation risk! This is great for those who are looking for more passive forms of earning rewards in the crypto space.
BNB Storage
The BNB storage feature allows users to store their BNB tokens in a secure wallet with enhanced security protocols in place. This means that your funds are safe and secure from hackers or malicious actors who could otherwise try to access your account and steal your funds. It also ensures that you will be able to access your funds whenever you need them without any delays or complications. Plus, this feature is completely free!
Launchpool
The Launchpool feature is an offering by Binance US that allows users to stake specific coins and earn rewards based on their staked amount.
This option gives users access to exclusive tokens which they wouldn't be able to get anywhere else – making it an attractive proposition for many investors looking for something different than just buying Bitcoin or Ethereum on other exchanges out there.
Registration
The process of setting up a Binance.US account is easy and straightforward. All you need to do is visit the website and click on the "Sign Up" button. You will then be asked to enter your email address and create a password for your account. After entering all the required information, you will receive an email with a link that allows you to verify your account and complete the sign-up process. Once you have verified your account, you can start trading right away!
Trading experience
The trading experience is user-friendly and secure. The exchange has integrated advanced security protocols into its platform in order to protect users' funds from any potential threats or attacks. It offers advanced charting tools that allow traders to analyze their stats more effectively before making decisions about when or where to buy or sell coins. There are several order types available for traders who want more flexibility when placing orders on the exchange such as market orders, limit orders, stop-limit orders, etc., allowing traders to customize their trading strategies according to their needs or preferences.
Customer Service
Binance US also offers excellent customer service support for its users which makes it even easier for users to use this crypto exchange without any worries or doubts about how it works or how they can get help if needed.
The customer service team is available 24/7 via live chat on the website as well as through email support so that customers can get assistance whenever they need it no matter what time of day it is or what issue they may be having with their accounts or transactions on the platform.
Customer satisfaction
The feedback from customers regarding their experience with Binance US has been overwhelmingly positive overall with many stating that they are satisfied with both the ease of use as well as its high-security standards which ensures funds remain safe at all times while using this crypto exchange platform for transactions or investment purposes. Many people commented positively about the customer service team's responsiveness in reviews.
Account management
Finally, another great feature offered by Binance in the United States is its advanced account management tools which allow users to access various features like checking their balance history as well as setting up two-factor authentication (2FA) in order to protect their accounts from unauthorized accesses or malicious activities online even further!
Commissions and fees
Binance US' fees schedule is presented in the table below:
| | | | |
| --- | --- | --- | --- |
| Deposit | Withdrawal | Tier 0 | Tier 1 |
| From 0% | From 0% | 0% both for makers and takers | From 0% for makersFrom 0.0375% for takers |
Table 3. Fees
Safety and reliability
Your Binance wallet can store your coins securely in a safe and private platform that meets U.S. regulations. Plus, you'll never have to worry about handling complex wallet addresses or taking part in complicated transactions. With a variety of customer-friendly features like the intuitive trading interface, multi-factor authentication, and secure encrypted storage of coins & passwords, Binance US allows you to invest confidently while making sure your assets remain securely protected. Rest assured that using Binance US' services means your safety is at the heart of all their practices and procedures.
Mobile app
The Binance US app has been designed with both novice users and experienced traders in mind, allowing you to easily buy and sell cryptocurrency from your smartphone or other mobile devices. The intuitive interface makes it easy to track prices, manage orders, and monitor your portfolio on the go.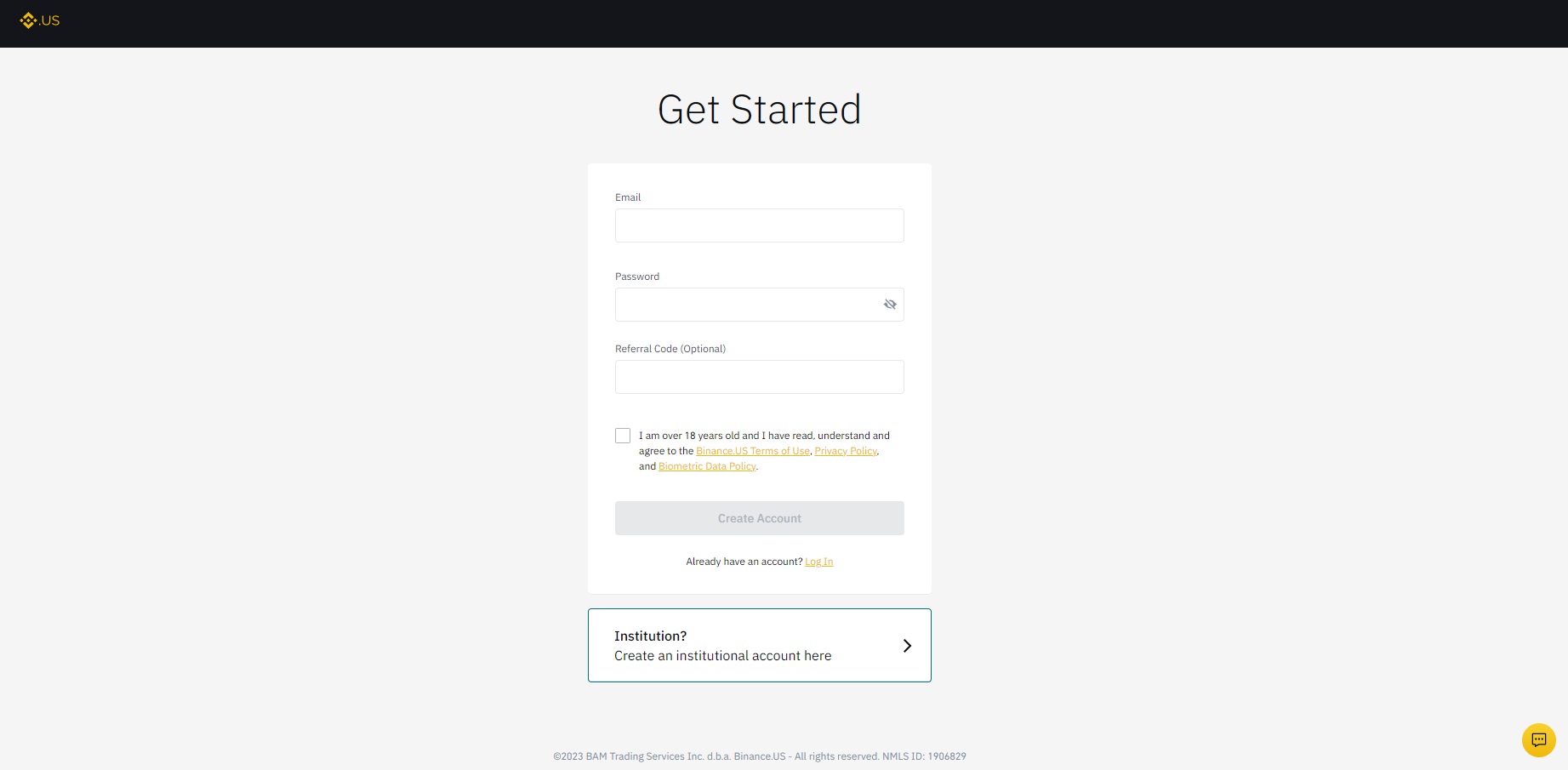 The app also includes a wide range of tools to help you make informed decisions about your investments, such as real-time price alerts and market news updates.
Comparison with other exchanges
When compared with other crypto exchanges serving US customers, Binance US stands out due to its specificity to the American market. It doesn't matter, are you compare Binance US vs Binance, or Binance vs Coinbase, consider that there is always more narrow functionality in specific solutions.
Conclusion
Access from the USA
Payment methods
Contacts
Deposit
Withdrawal
Yes
Debit cards,ACH,Wire transfer,Apple Pay
Debit cards,ACH,Wire transfer
https://www.binance.us/
Company information
Criteria
Information
Headquarters country
The USA
Foundation year
2017
Exchange type
Centralized
Trading is allowed
Yes
Frequently Asked Questions
Can I use Binance US in the USA?
Yes.
Where is Binance US located?
It's located in San Francisco, California.
Yes, it's safe.
Is Binance legal in the US?
Yes.
What are the alternatives to Binance US?
Binance Global, Coinbase, Kraken, etc.
Comments