What is KuCoin Crypto Exchange?
Kucoin is an international cryptocurrency platform produced by a group of experienced blockchain professionals. The main goal of creating the platform was to give users a safe and reliable way to trade cryptocurrencies.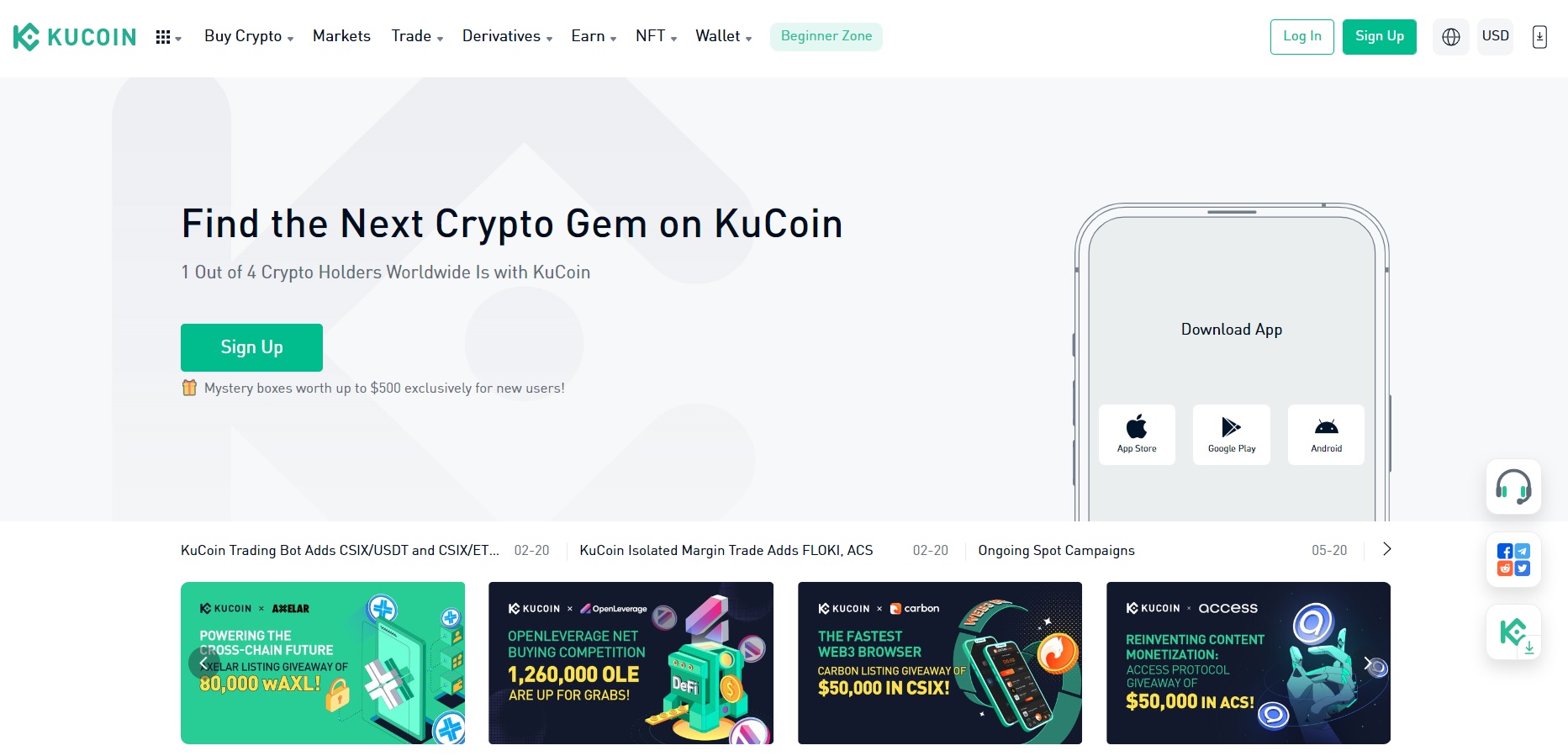 It is easy to buy, sell and exchange all of your digital assets on the Kucoin platform.
How Does it Work?
The Kucoin platform operates on an open-source protocol known as KCS (KuCoin Shares). This protocol enables users to securely store their funds in their wallets while also allowing them to make trades quickly and easily. To begin trading on Kucoin, all you need to do is sign up for an account and deposit your desired amount of cryptocurrency into your wallet. You can then use the intuitive interface to search for the asset you want to buy or sell, set up your order parameters (price, quantity, etc.), and execute your trade accordingly.
History and Background
Kucoin was established in 2017 by a group of blockchain developers from different countries who wanted to create an easy-to-use yet powerful cryptocurrency exchange platform that could be used by both experienced traders as well as newbies alike.
Since then, the company has grown exponentially with offices located in China, Singapore, South Korea, Thailand, Vietnam, and other countries across the Asia Pacific. As of 2021, they have over 5 million registered users worldwide making them one of the biggest crypto exchanges globally.
Kucoin Features That Make It Outstanding
Kucoin stands out from other crypto exchanges because of its comprehensive range of options. For example, low trading fees (as low as 0%), fast transaction speeds (typically just a few seconds), high liquidity (ensuring orders are executed quickly), 24/7 customer service support via multiple communication channels such as email or social media platforms like Twitter, Reddit or Telegram, and more than 400 different coins available for trading on their platform including Bitcoin (BTC), Ethereum (ETH), Ripple (XRP), and much more.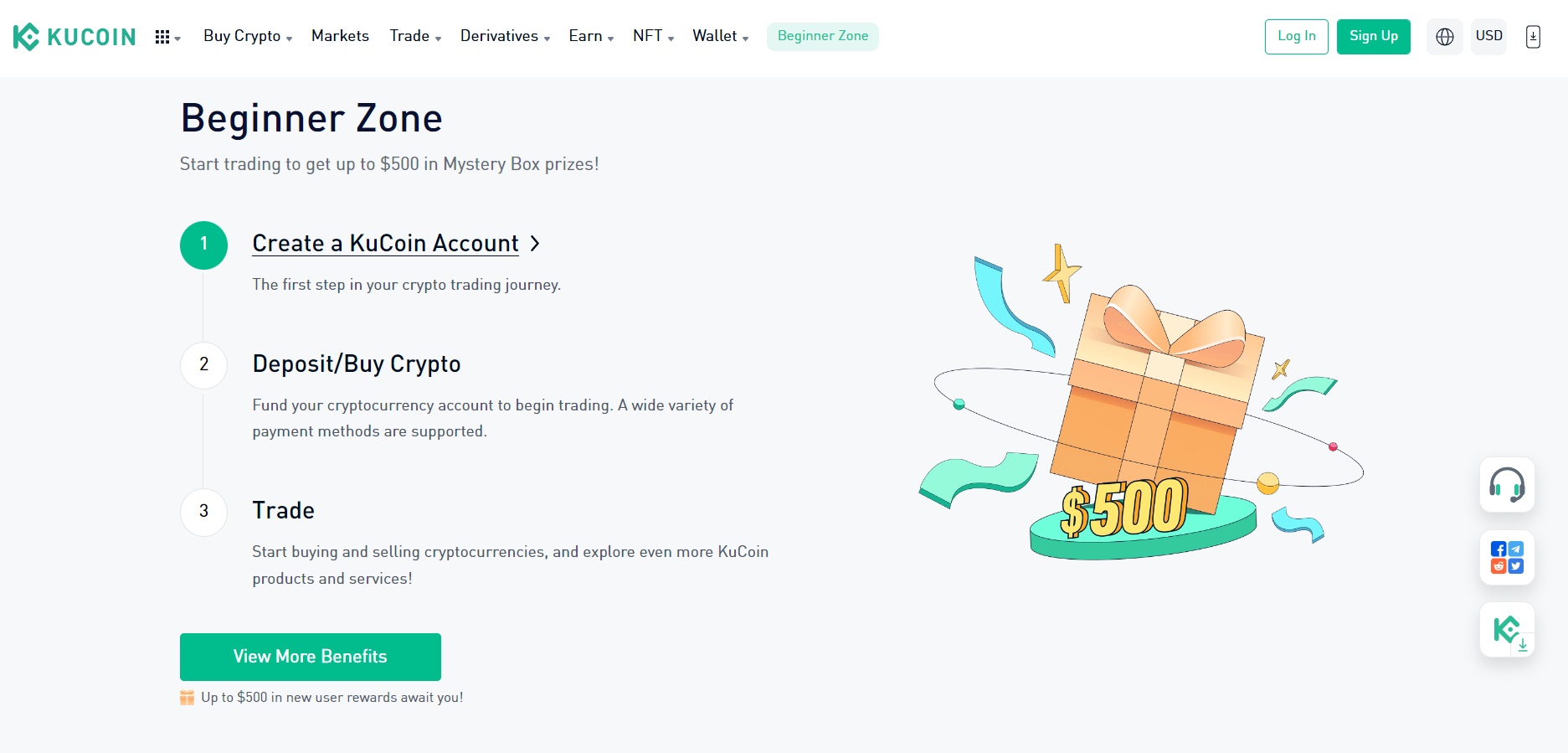 They also offer staking rewards types of coins, which allow you to earn a passive income simply by holding onto your coins for extended periods of time making it attractive for long-term investors looking for additional returns on their investments.
KuCoin: Best Features
Overall KuCoin offers excellent features compared to other exchanges out there making it an attractive option when choosing where you should store or trade your cryptocurrencies.
Whether you're just starting out or have years of experience under your belt – there's something that will appeal to everyone on this exchange!
Low Commissions
KuCoin favorably with its low commissions compared to other exchanges. It charges relatively low commissions (from 0%) for both buying and selling cryptocurrencies, thus attracting traders seeking to maximize their profits. Additionally, KuCoin's commission structure makes it easy to understand what you're paying for each transaction. Detailed information will be presented later in this article.
Strong User Base
Over 5 million registered users use KuCoin. Thus, there are always buyers and sellers on the platform, and you can always find someone who wants to take the other side in your transactions.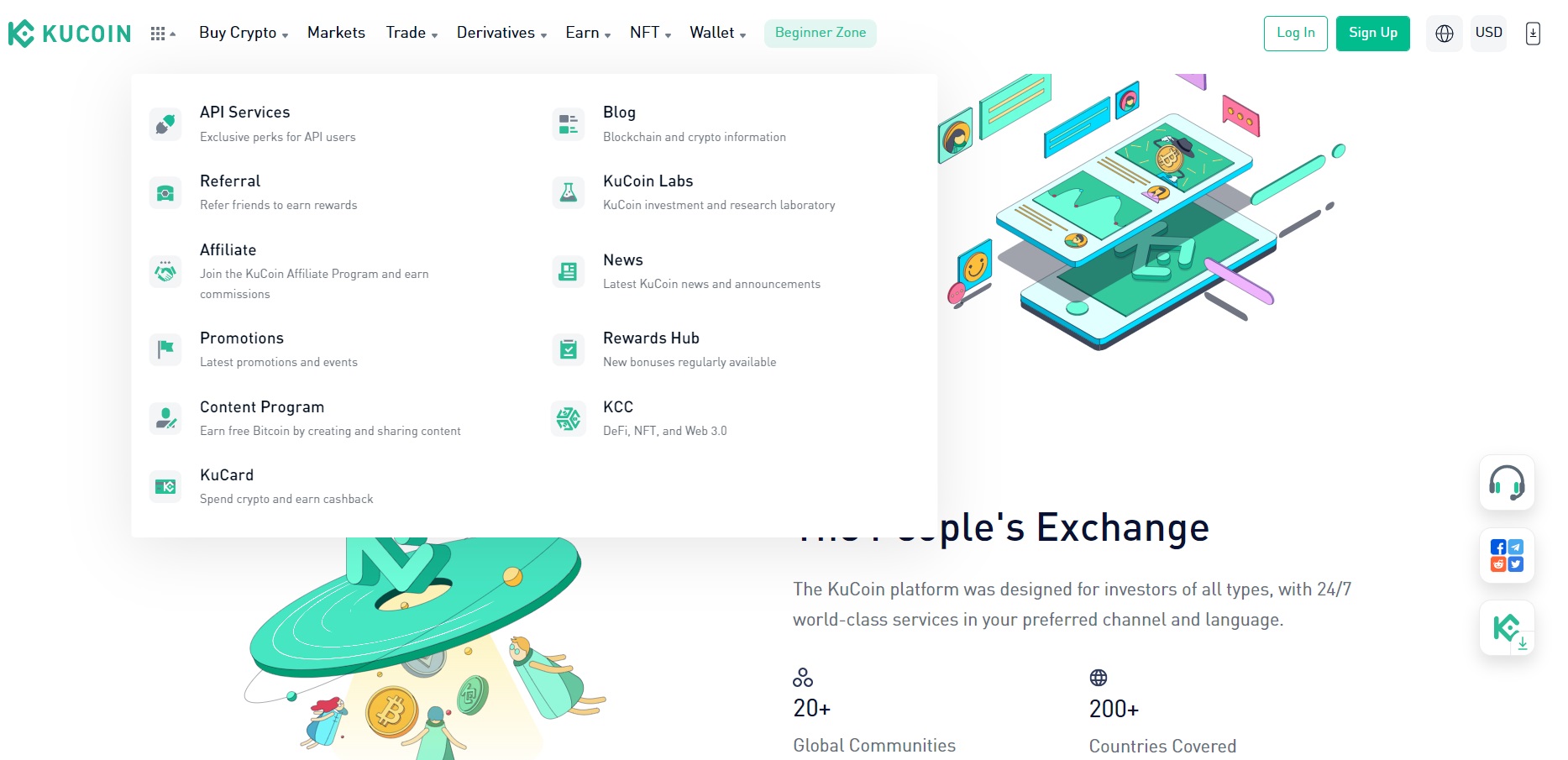 Moreover, having such a large user base also helps ensure liquidity on the exchange, which can lead to lower spreads and better prices for traders.
Wide Range of Coins
KuCoin offers support for a wide range of coins:
Bitcoin (BTC) of course;
Ethereum (ETH);
Binance Coin (BNB);
Monero (XMR);
Cardano (ADA);
Chainlink (LINK);
Polkadot (DOT);
and others.
This gives traders greater flexibility when it comes to diversifying their portfolios with different coins and tokens.
KuCoin Earn
Another great feature offered by KuCoin is its "Earn" program. Its meaning is that users get interest from their cryptocurrencies from the moment they deposit them into their wallets. Depending on the coin you choose, you can earn up to 10% annualized interest on your holdings without having to do anything else! We'll take a closer look at this feature below in this post.
Advanced Features
KuCoin recently launched its new "KCC Explorer" feature which provides users with access to detailed market analysis tools such as price charts, market cap information, news feeds, etc. This feature can give traders an edge when it comes time to make decisions about buying or selling cryptocurrencies as they have access to all the necessary data right at their fingertips.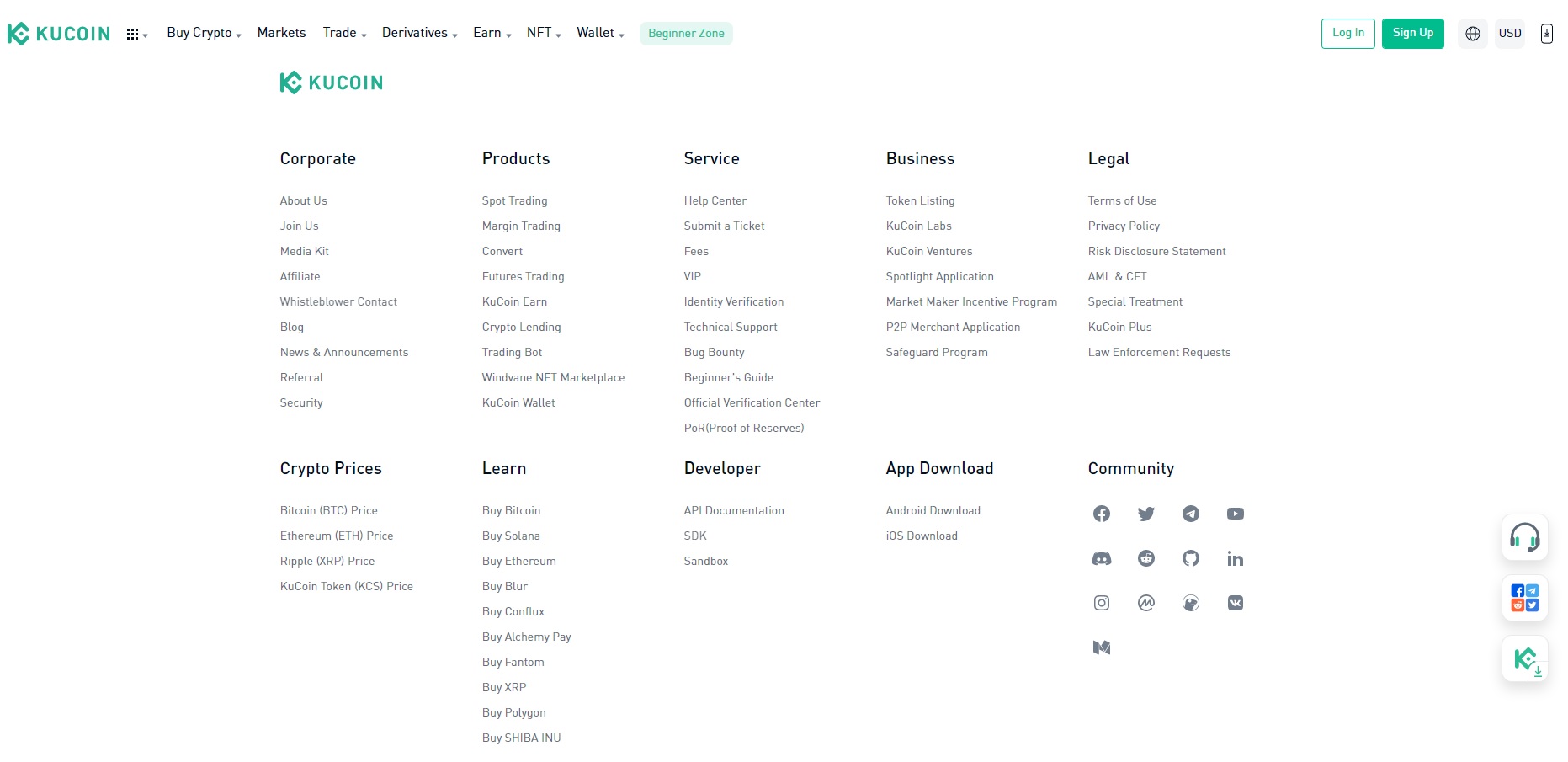 Other advanced features include:
API services;
referral program;
partner program;
rewards hub;
KuCoin Labs;
KuCard cashback system;
news and blog pages.
Understanding the Limitations
KuCoin is one of the most popular cryptocurrency exchanges in the world. It allows users to buy, sell, and trade a variety of digital currencies. However, along with offering competitive trading fees and a wide selection of coins, KuCoin has several narrow places that could be fixed.
Restrictions in the USA License
One of the biggest limitations when it comes to using the KuCoin exchange is that the platform does not currently offer expanded services to customers located in the USA. The exchange has a license to operate within the country, but it is not yet fully eligible. This means that US customers are unable to use KuCoin widely and must look elsewhere if they wish to trade cryptocurrency.
Losing Coins with Wrong Deposit
Another limitation associated with using KuCoin is its limited crypto deposit methods. If you deposit coins that are not supported by the platform, you probably won't be able to withdraw them back.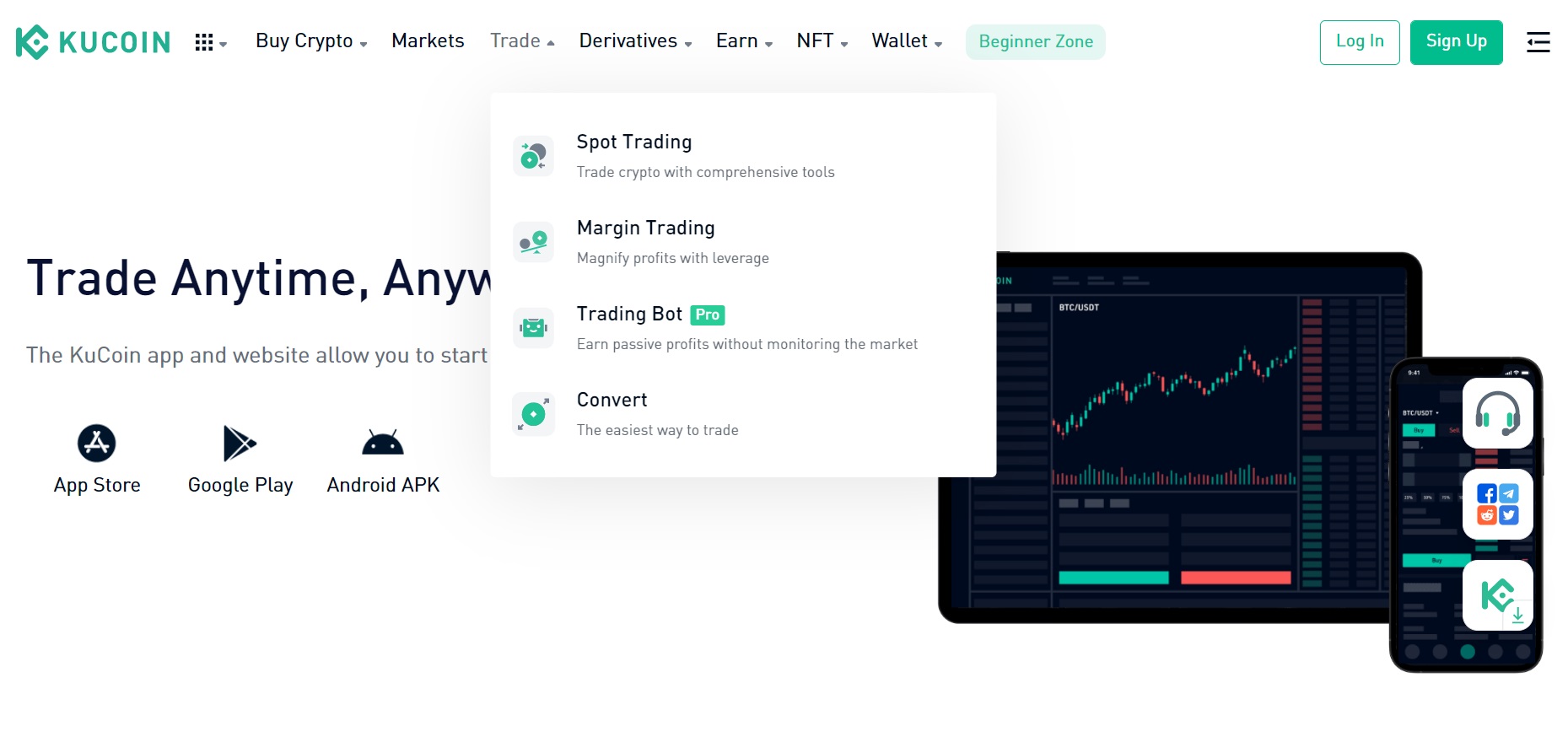 According to the official website, you can apply to the customer support center but there is no guarantee.
Confusing for New Traders
The platform is designed primarily for experienced traders who already know how to use its various features and tools effectively. New traders may find that navigating this platform can be difficult and confusing due to its complex user interface and lack of educational resources or guides available onsite. Additionally, there is no
Copy Trading
on KuCoin, and many new traders may be put off by some of the fees associated with making trades on this platform which can discourage them from continuing their trading journey here at all.
While there are certainly some drawbacks associated with using KuCoin, overall it remains one of the most popular exchanges among experienced cryptocurrency traders due to its wide selection of coins and tokens available for trading as well as its secure infrastructure which provides users with peace of mind when managing their investments on this platform.
All in all, understanding these limitations should help you make an informed decision about whether or not KuCoin is suitable for your specific needs as a trader before committing any funds.
KuCoin Overview
There are lots of great features offered by the KuCoin exchange that make it an attractive option for traders looking to buy or sell digital assets quickly and securely. With low fees, a strong user base, support for multiple coins and tokens including altcoins not found on most other exchanges as well as expanded features like
KuCoin Earn
which allow you to earn interest on your holdings without having to do anything else; there are plenty of reasons why so many people choose the service over other platforms in today's market! Let's see, what else does the platform offers.
Who Can Use It?
The company offers an easy-to-use platform for KuCoin users interested in trading. KuCoin is a great resource for experienced traders with the knowledge of the crypto markets, allowing them to stay up to date on their investments, research new opportunities, and make the most out of their trades. An advanced KuCoin trader can also use additional services such as trading bonuses, chart analysis tools, order books, and more.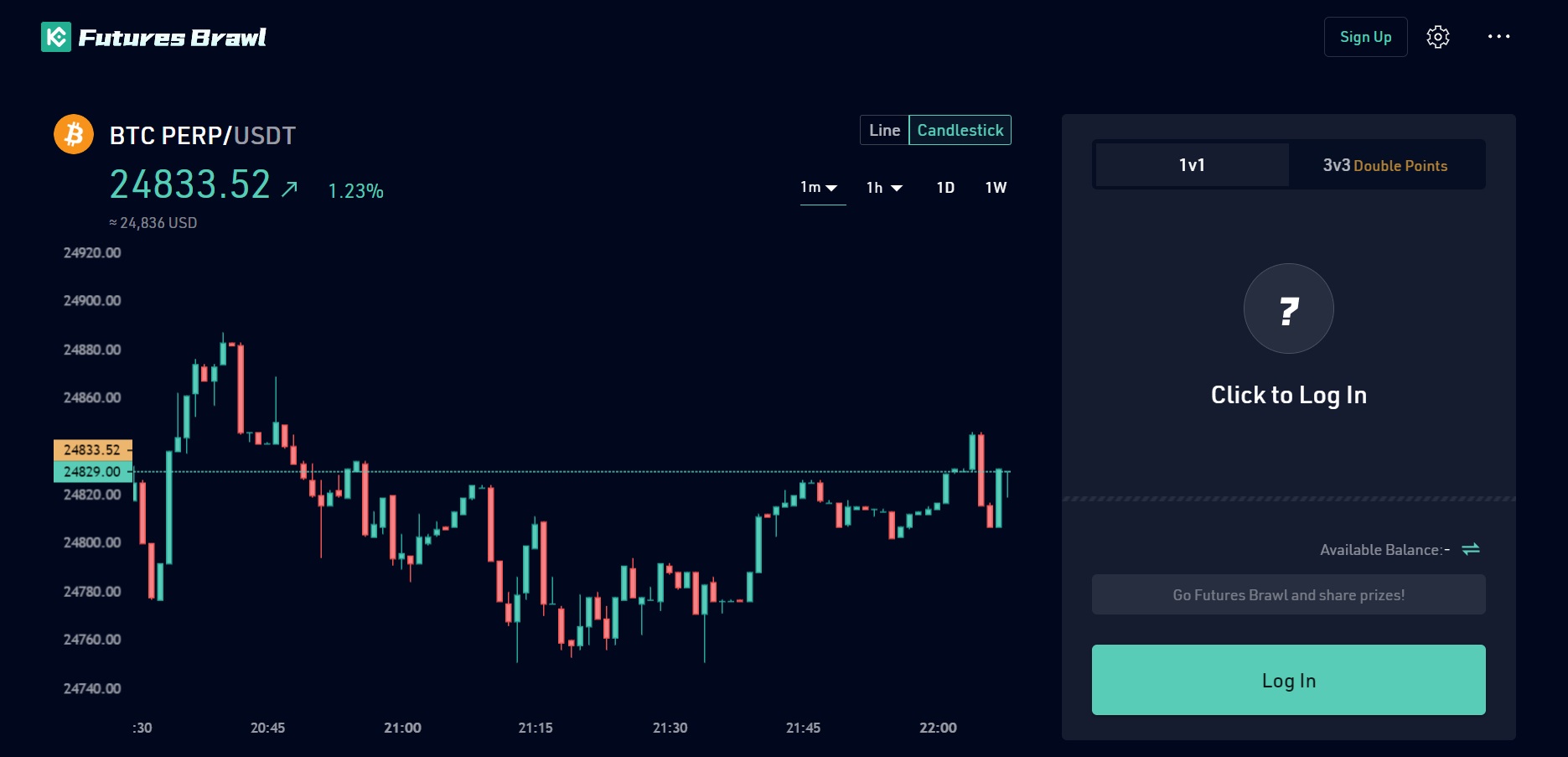 By taking advantage of various options and the platform's user-friendliness, traders can increase their chances of making successful trades.
Available Cryptocurrencies
KuCoin offers over 700 different types of digital currencies with access to industry-leading security systems in order to protect funds and confidential data. This makes KuCoin one of the best exchanges across the globe. By using smart blockchain technology on its platform, it enables traders to make quick transactions that can be monitored in real-time and ensures the accuracy of the data stored. In the table below, you can find the lists of the most popular coins available on the platform.
| | | |
| --- | --- | --- |
| For trading | For deposit | For withdrawal |
| Bitcoin (BTC) | Bitcoin (BTC) | Bitcoin (BTC) |
| Dogecoin (DOGE) | Dogecoin (DOGE) | Dogecoin (DOGE) |
| Ethereum (ETH) | Ethereum (ETH) | Ethereum (ETH) |
| Polkadot (DOT) | Polkadot (DOT) | Polkadot (DOT) |
| Shiba Inu (SHIB) | Shiba Inu (SHIB) | Shiba Inu (SHIB) |
| XRP (XRP) | XRP (XRP) | XRP (XRP) |
Table 1. KuCoin: available assets
Products and Services
KuCoin is an exchange platform that provides users with a wide range of trading options. From spot trading to margin trading, they have something for everyone. The platform also offers tokens with leverage and other derivatives trading, allowing customers to maximize their returns on investments. Let's take a look at each option.
Spot Trading
The most popular type of trading on the platform is spot trading. Spot trading involves buying and selling assets such as cryptocurrencies and other digital assets, without any leverage or margin requirements.
On the KuCoin platform, users can buy or sell any digital asset listed on the exchange at market prices. This type of trading is ideal for traders who are looking for quick gains from price fluctuations in the crypto markets.
Margin Trading
Margin trading is another popular option on KuCoin for traders who want to maximize their returns on investment by leveraging their funds to buy more coins than they otherwise could have with just their own capital. By borrowing funds from other lenders or brokers, traders can buy more coins and increase their profits if they make correct predictions about the markets' movements. However, margin trading also carries more risk because if you make incorrect predictions your losses will be magnified by the amount of leverage you use.
Trading Bot
KuCoin trading bot is one of the most effective tools to make crypto trading easy and seamless. It eliminates the need for manual crypto trading, as it takes care of research, analysis, and trades. Its automated system detects market trends and initiates orders in a timely manner even while you're sleeping. The trading bot on KuCoin enables efficient crypto transactions within minutes, making crypto transactions convenient and cost-effective.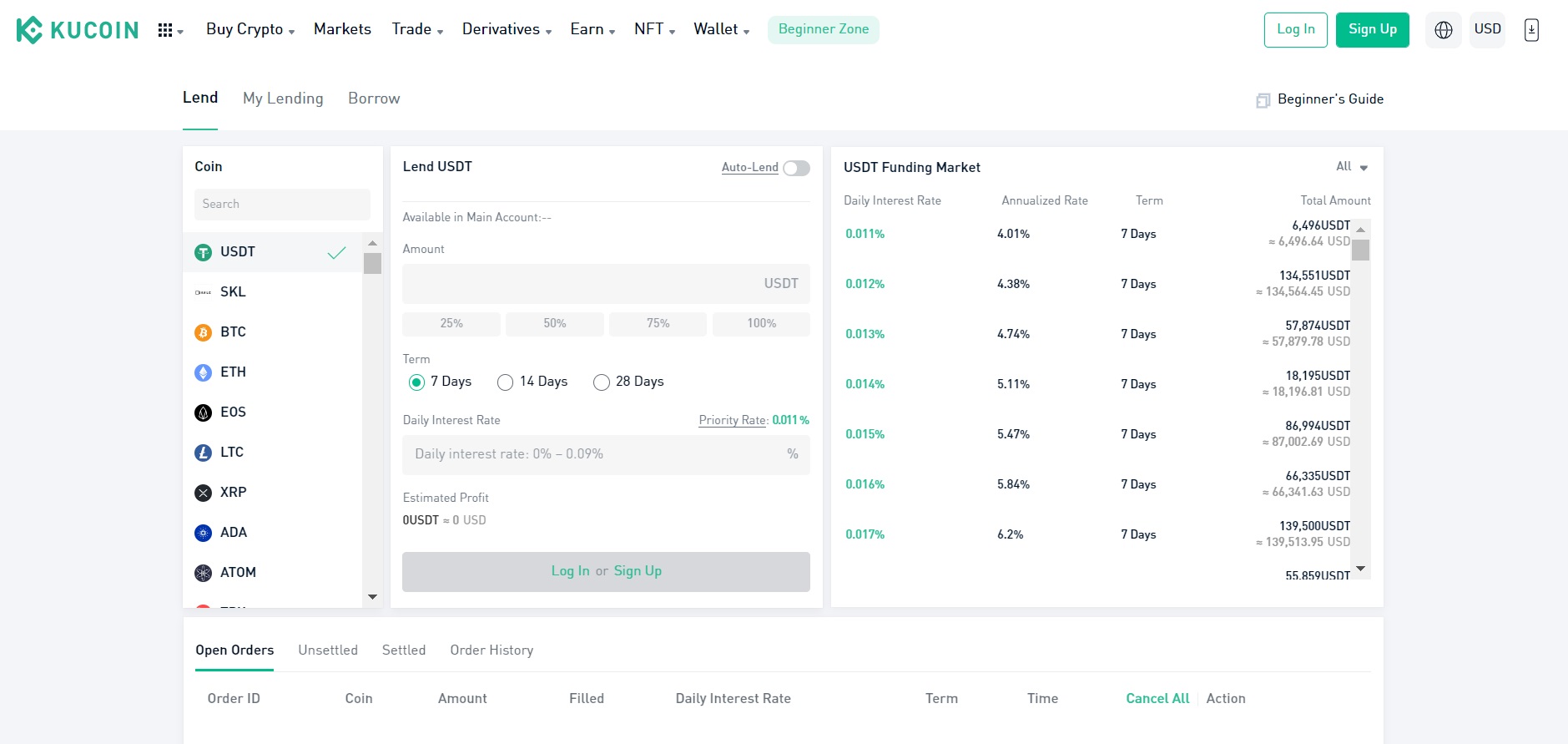 If you're curious about how to use the KuCoin trading bot, here is good news. To get started with KuCoin's crypto trading bot all that is required is an active KuCoin account and some basic coding knowledge. Ongoing customization and regular supervision will ensure one is getting the most out of the software they have chosen to use. By setting up the bot on multiple markets, you can also spread your investments across multiple crypto assets.
Derivatives Trading
KuCoin Derivatives, the futures trading platform of KuCoin Exchange, offers investors a unique opportunity to expand and diversify their portfolios beyond spot trading. With up to 100x leverage, users can access a wide range of crypto assets with minimal capital outlay. Additionally, the low fees and dividends system provides traders with an incentive to take advantage of this innovative form of asset management. The KuCoin futures trading platform also brings several benefits over other competitors, such as automated risk management to protect against excessive losses, customizable subscription plans to limit exposure, and real-time data collection to give the user full control over the market. With KuCoin derivatives trading, investors have a cost-effective way to manage risk while gaining more yield from their investments.
There are 4 main types of KuCoin derivatives: KuCoin Tokens with Leverage, Futures Classic, Futures Lite, and Futures Brawl. Each type has its own advantages and disadvantages that should be weighed before investing in any of them.
KuCoin Tokens With Leverage
KuCoin also offers its own token – KCS – which can be used to purchase other tokens and receive discounts when making trades on the exchange. Customers can use KCS with leverage to gain even greater returns on their investments. Leveraging KCS allows investors to multiply their returns while diversifying their portfolios and minimizing risk exposure in case of a market downturn.
However, it is important to remember that leveraged investing comes with higher risks than traditional spot trading as well as potentially higher rewards depending on how accurately investors read the markets' movements in real-time.
Futures Classic
Futures Classic is a traditional futures contract that allows traders to buy or sell a predetermined amount of an asset at a specific price and time in the future. The expiration date for these contracts can range from as little as 24 hours up to several months depending on the trader's preference. Traders can also choose between long (buying) or short (selling) positions when entering into a Futures Classic contract. These contracts offer leverage up to 100x for certain assets and provide traders with greater flexibility than other types of derivative contracts.
Futures Lite
Futures Lite is designed for more conservative traders who want to benefit from cryptocurrency movements without taking on too much risk. This type of derivative contract requires less capital upfront than Futures Classic because it does not offer any leverage, allowing traders to open smaller positions with lower amounts of capital required. Although there is no leverage provided by these contracts, they do provide access to potentially profitable trades without having to put large amounts of capital at risk upfront.
Futures Brawl                                                                                     
Futures Brawl is an innovative type of contract that combines aspects from both Futures Classic and Futures Lite contracts into one product offering maximum flexibility for traders looking for leveraged exposure in their trades while still limiting their risk exposure by not taking on too much leverage at once.
It's a kind of crypto game – traders can choose between long (buying) or short (selling) positions when entering into this type of contract, providing them with access to potentially profitable trades without having to put large amounts of capital at risk upfront like with other types of derivatives trading products such as margin trading or options trading products offered by other exchanges.
Earn with KuCoin
Below, we'll provide an overview of the various features that are intended to allow users to earn on KuCoin, including the KuCoin Earn feature, Crypto Loans, Spotlight, KuCoin Wealth, KCS Bonus, and KuCoin Pool. We'll also discuss how you can use Cloud Mining to earn more with KuCoin.
KuCoin Earn
The KuCoin Earn feature allows users to earn rewards by staking or locking their crypto assets. Users can choose from a wide range of cryptocurrencies and receive rewards in the same currency they stake or lock. The amount of rewards received depends on the amount of time users are willing to keep their funds locked up. This is an excellent way for investors to earn passive income without having to actively trade on the platform – you can earn up to 10% annually, depending on current market conditions and crypto industry trends.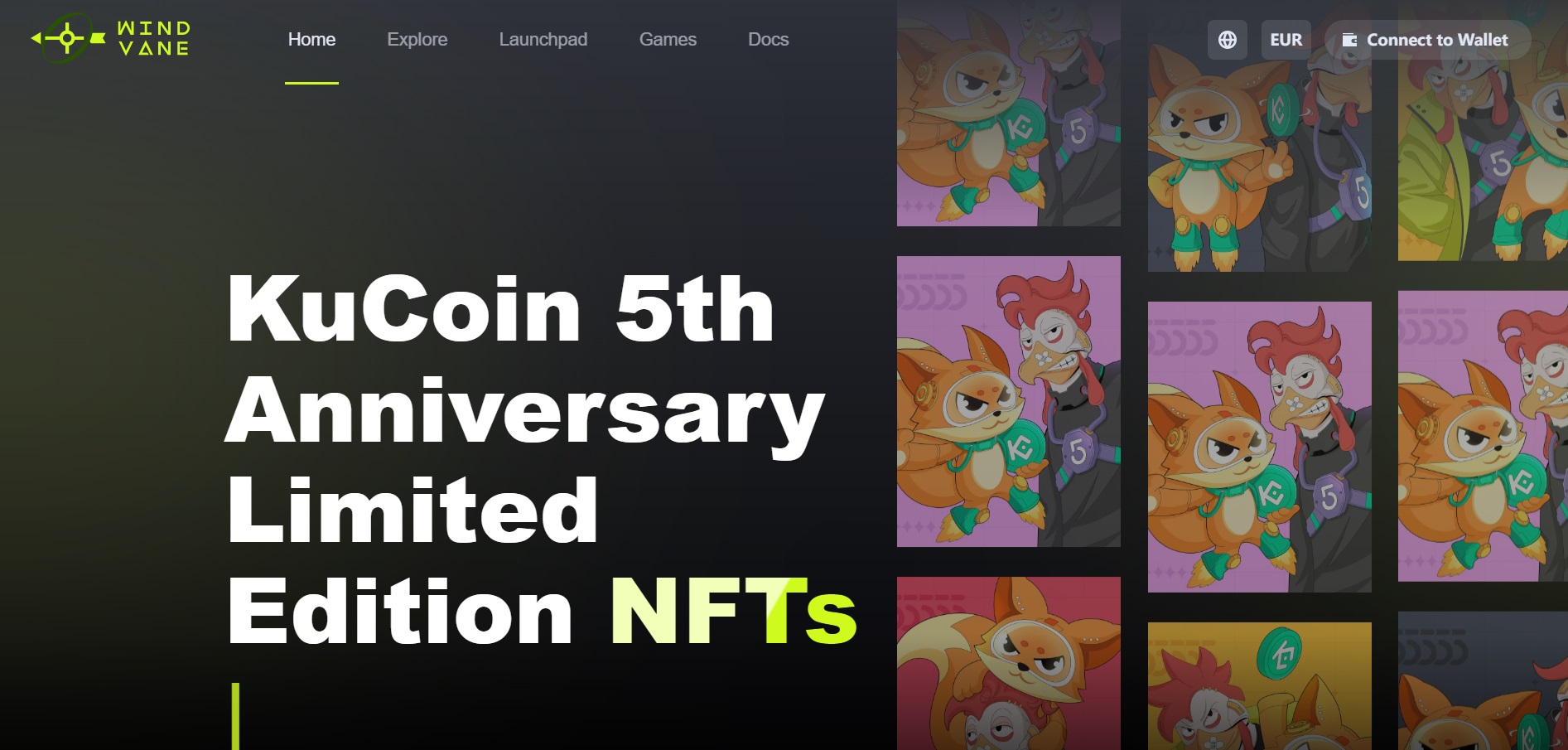 You can invest through:
dual currency investments;
shares;
Burning Drop option;
ETH 2.0;

Polkadot.
Crypto Loans
The Crypto Loans feature gives users access to cash by using their digital assets as collateral. Users can borrow up to 100% of their total asset value in US dollars at competitive interest rates and repayment terms are flexible. This makes it easier for investors who want quick access to cash without having to sell any of their crypto assets.
Spotlight
The Spotlight feature is the token launch platform that helps the initial token distribution process. It provides users with valuable insights into different aspects of cryptocurrency such as token metrics, market trends, and technical analysis tools.
This helps users make better decisions when investing in digital assets and stay informed about the latest developments in the crypto market. The Spotlight feature also provides real-time data and charts so that users can track their portfolio performance over time.
KuCoin Wealth
KuCoin Wealth is a new feature that allows investors to manage multiple portfolios within one single account on the platform. It is designed for professional investors who need advanced tools and features such as portfolio analysis, tax filing, and automated portfolio rebalancing options. Additionally, KuCoin Wealth offers risk management solutions so that investors can protect their portfolios from sudden changes in market conditions.
KCS Bonus
The KCS bonus program rewards holders of Kucoin Shares (KCS) with bonus tokens every month based on how much KCS they hold in their account balance at the end of each trading day. The bonus tokens are distributed according to a tiered system where higher tiers receive larger bonuses than lower tiers – making it more beneficial for large holders of KCS tokens than small ones. Moreover, this bonus program encourages long-term holding which helps stabilize the price of KCS tokens over time.
KuCoin Pool
KuCoin Pool is a cloud mining service that allows miners to rent out computing power from other miners around the world and earn based on hash rate. This makes it easier for miners who don't have access to powerful mining rigs or those who don't have time or resources for managing them themselves.
With this service, miners can maximize profits by distributing their hashing power across multiple pools while still enjoying all benefits associated with cloud mining services such as low fees, low latency, high uptime, and more. The fees are as low as 2%.
Buy&Sell with KuCoin
Finding reliable payment options when buying, selling, and trading digital assets can be difficult. Fortunately, KuCoin offers a wide variety of payment methods that make the process much easier. With more than 70 payment options, KuCoin makes it simple to purchase digital assets quickly and securely. Let's take a look at how KuCoin makes payments easier for users.
Quick Purchases
KuCoin allows customers to purchase digital assets using debit or credit cards from VISA and Mastercard. This is especially convenient for those who need to make quick purchases without having to wait for the funds to transfer into their accounts. Customers can make purchases up to a limit of $5,000 per transaction.
P2P Payments
KuCoin also offers peer-to-peer payments (P2P). P2P payments allow customers to buy digital assets directly from other users instead of relying on an intermediary service or platform like KuCoin itself.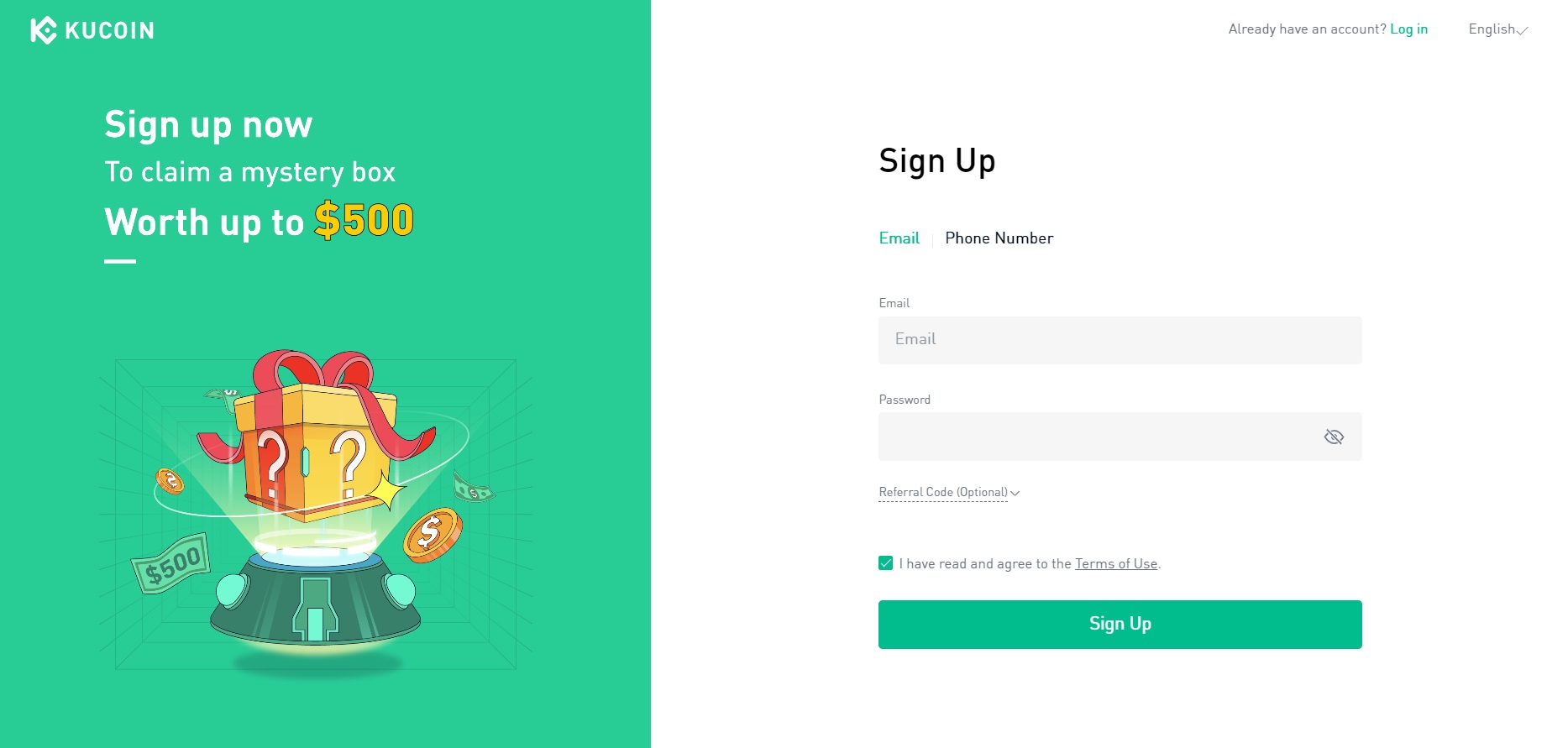 This makes it easier for customers in certain countries or regions where traditional payment methods aren't available or aren't widely accepted.
Third-Party Fiat Services
In addition, KuCoin offers third-party services such as Simplex, Banxa, and BTC Direct which allow customers to purchase digital assets using traditional payment methods like bank transfers or credit/debit cards. These services make it easy for customers to purchase digital assets quickly without having to rely on P2P payments or waiting for funds to transfer into their accounts before making a purchase.
Trading NFTs on KuCoin
Non-fungible tokens (NFTs) have taken the investment world by storm in recent months. NFTs are digital assets that represent a unique item or asset, such as art, music, or collectibles. There has been an explosion of interest in these new assets, and many investors are looking to capitalize on the potential of NFTs.
KuCoin is one of the leading platforms for trading NFTs, offering users access to three different markets: Windvane, Wonderland, and Fractional NFTs. Let's take a look at each market and what they offer.
Windvane
Windvane allows users to trade various rare and exclusive NFTs from popular creators. The platform provides access to exclusive art pieces from some of the most sought-after artists in the industry. It also allows users to participate in auctions for limited edition items and special collections from renowned designers.
Wonderland
Wonderland is another popular platform for trading NFTs on KuCoin. This platform specializes in virtual art collections such as digital paintings, animation clips, and 3D models. Users can purchase individual pieces or entire collections of artwork from various artists around the world.
Fractional NFTs
Finally, KuCoin offers a market for Fractional NFTs which allows users to invest in fractional protocols related to pieces of artwork or digital collectibles without having to purchase an entire piece outright. This makes it easier for smaller investors who may not have enough funds available to purchase an entire piece but still want exposure to this exciting asset class.
Fractional NFTs also allow investors to diversify their investments across multiple pieces of artwork or digital collectibles with just one transaction fee instead of paying multiple fees for each individual piece purchased separately.
KuCoin: Advantages and Disadvantages
KuCoin offers features such as staking, spot and margin trading, and many more which make it attractive for users not just in the US but also in other countries worldwide. However, while KuCoin may have an expansive user base from around the world, US-based participants need to be aware of its limitations when using the platform. Despite having some restrictions due to its limited availability in the United States, KuCoin still remains a reputable exchange option among users looking for security, convenience, and a wide selection of crypto assets. In the table below, you'll find a quick overview of the most important pros&cons of the platform.
| | |
| --- | --- |
| Pros | Cons |
| More than 700 coins are available | The limited license in the USA |
| More than 70 payment methods are available | Copy trading option is not available |
| Presented and legit in 200 countries worldwide | Deposit limit (5-5000$ per transaction) |
| Competitive fees | Withdrawal limits that depend on user level |
| Extended trading options | |
| Crypto loans opportunity | |
| Extended earning opportunities | |
| NFT trading feature | |
| Rewards and bonuses programs | |
| Non-custodial wallet system | |
Table 2. KuCoin: Pros&Cons
Account management
If you're an investor interested in taking advantage of KuCoin's innovative products and services, you first need to create an account. KuCoin credentials will be used to authenticate your KuCoin login when signing in to use the various features on their platform. Once logged in, users have access to a range of powerful trading tools that are designed for traders at any level – from beginner to advanced. For added convenience, KuCoin also offers mobile app versions for both iOS and Android users. Plus, as a KuCoin customer, you'll have the assurance of knowing that all transactions are carefully monitored for safety purposes.
Creating an Account
Creating an account on KuCoin is simple and straightforward. All you need to do is visit the official website, click "Sign Up," and fill out the form with your name, email address, and preferred password. You'll also be asked for a mobile number for two-factor authentication (2FA).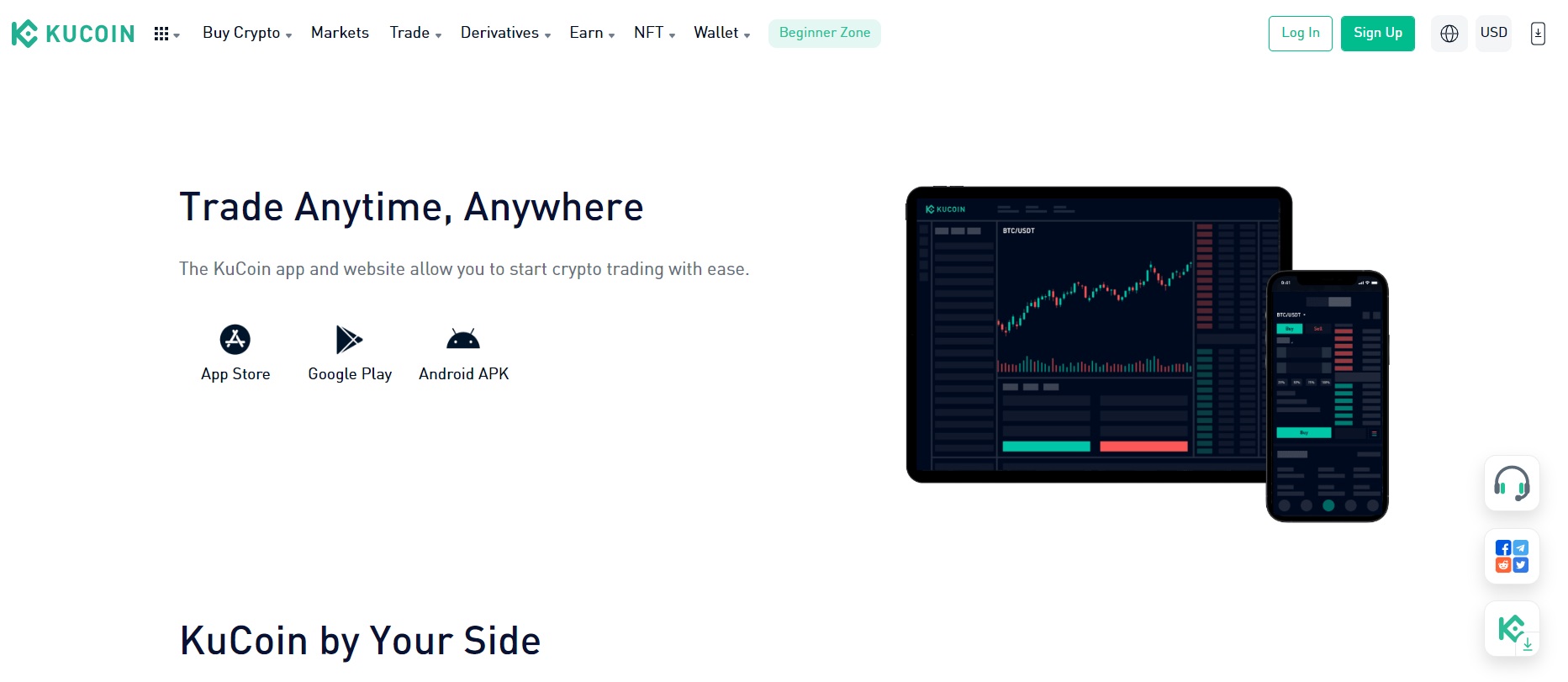 Once your information has been submitted, you'll receive an email with a link to verify your account. After verifying your account, you'll be able to access KuCoin's features.
KYC and Account Verification
One of the most important aspects of account management on any cryptocurrency exchange is KYC (Know Your Customer) and account verification. This process helps to protect both customers and the exchange itself by verifying a user's identity before allowing them to access certain features or trade with larger sums of money. On KuCoin, users can easily upload their documents to verify their identity in just a few simple steps. Once verified, they can enjoy higher trading limits as well as access to other services such as withdrawals in fiat currency or margin trading.
How to Buy on KuCoin: Short Step-By-Step Guide
Once you've created your account on KuCoin, here's how to buy digital currency:
Log into your account and select "Buy Crypto" from the menu bar on the left-hand side of the page.
Select which type of currency you'd like to purchase (e.g., Bitcoin or Ethereum).
Enter the amount of currency you'd like to purchase in either USD or its equivalent in another fiat currency (e.g., EUR or GBP).
Enter your wallet address where you want to receive your cryptocurrency after it has been purchased.
Choose a payment method from one of the options available (such as a credit card or bank account).
Click "Confirm Purchase" and wait for your transaction to be processed. Your funds should arrive in your wallet shortly after that!
Trading Experience
Once your funds have arrived in your wallet, you can start trading on KuCoin right away! The trading experience is quite intuitive; simply search for a specific asset in the search bar at the top of any page and select what action (buy/sell) you wish to perform in order to execute a trade accordingly.
If you'd like more information about an asset before making a decision regarding whether or not to buy/sell it, there are several resources available directly within each asset's page that can provide additional insights into price movements over time as well as news-related topics associated with them.
Payment Methods and Checkout    
The checkout process on KuCoin is secure and simple — all transactions are encrypted using high-level security protocols so that only authorized personnel can view them — and there are several payment methods available depending on which country or region you're located in. These payment methods include credit cards (Visa/Mastercard), PayPal, Apple Pay, Google Pay, bank transfers/wire transfers, etc. Additionally, there are several discounts available when purchasing certain types of digital assets via certain payment methods; these discounts vary depending upon each user's individual circumstances but can be significant when taken advantage of properly!
Design and Usability
The design and usability of any cryptocurrency exchange are key factors in determining its success. The KuCoin exchange platform has been designed for ease of use, making it easy for new users to find their way around quickly without becoming overwhelmed by too many options or complicated navigation menus.
The dashboard is intuitively organized, offering quick access to all necessary functions like deposits/withdrawals, portfolio tracking, market analysis tools, etc., making it simple for both novice and experienced traders alike to manage their accounts with ease.
Fees and Commissions
KuCoin is a trustworthy cryptocurrency trading platform with low fees and commissions. It has a range of competitive transaction fees and offers a 0-0.1% commission fee for each transaction (Taker) depending on the 24-hours trade volume of each user's account or group of accounts (VIP level). It also provides discounts for participants who use KCS tokens for transactions, Coin Exchange as well as Mining Pool services at zero cost. Below, you can find all the main types of commissions that the platform charges for each operation.
| | | | | |
| --- | --- | --- | --- | --- |
| Spot trading | Margin trading | Deposit | Withdrawal | Futures trading |
| From 0% for makers;From 0.1% for takers | From 0.1% | 0% | From 0%, depending on market trends | From 0% for makers;From 0.03% for takers |
Table 3. KuCoin fees
Security and Reliability
KuCoin is a reliable trading platform offering users safety and convenience when it comes to their finances. The exchange takes security very seriously, employing an advanced encryption system that requires two-factor authentication for login and transaction completion. This ensures all user data is kept safe and secure from malicious threats. The platform also employs a number of anti-fraudulent measures like regularly completing financial audits, and has logged zero cases of accidental withdrawals or hacks in its existence.
KuCoin also offers full coverage of digital asset losses if any issues occur within the system due to technical failures or hacker attacks. All in all, traders can be assured KuCoin review research shows that it's a trustworthy platform with multiple safety considerations in place to guard their data and funds.
KuCoin App
The KuCoin app is available on both iOS and Android devices, making it easy to securely manage your accounts anytime, anywhere. This app features real-time pricing data, currency conversion tools, portfolio tracking capabilities, and more. It also offers two-factor authentication for added security.
Apps Supported by KuCoin
KuCoin supports several popular apps such as MetaMask and MyEtherWallet that make it easier to store your cryptocurrencies safely while conveniently accessing them whenever you need to. This helps provide peace of mind knowing that your digital assets are safe and secure when using the platform.
KuCoin Customer Service
KuCoin provides its customers with 24/7 customer service support via email or live chat. Customers can also reach out to their team via Twitter or Reddit if they have any questions or concerns about their accounts or transactions on the platform. This level of support ensures that customers always have access to help should they ever encounter any issues while using the platform.
Comparison with Other Crypto Exchanges
When compared to other cryptocurrency exchanges like Coinbase and Binance, Kucoin offers some advantages such as low transaction fees (0.1%), a wide variety of coins (over 700), more than 70 payment methods, and wide derivatives trading options.
All these features combined make Kucoin one of the best options for those looking for a secure crypto exchange platform with low transaction fees and plenty of features to choose from, even when compared with well-known giants of the crypto industry.
Countries of presence
KuCoin is legit in 200 countries around the globe. Below, you can find the list of countries where it's available.
| | | |
| --- | --- | --- |
| Algeria | Andorra | Angola |
| Antigua and Barbuda | Argentina | Azerbaijan |
| Armenia | Austria | Australia |
| Bahamas | Bahrain | Bangladesh |
| Belarus | Belgium | Belize |
| Benin | Bhutan | Bolivia |
| Botswana | Brunei | Bulgaria |
| Brazil | Burkina Faso | Burundi |
| Cambodia | Cote d'Ivoire | Costa Rica |
| Czech Republic | Cyprus | Croatia |
| Denmark | Djibouti | Dominica |
| Dominican Republic | Ecuador | Egypt |
| Estonia | Ethiopia | Fiji |
| Faroe Islands | France | Finland |
| Comoros | Colombia | Chile |
| Cayman Islands | Cape Verde | Canada |
| Cameroon | Falkland Islands | Gabon |
| Gambia | Georgia | Germany |
| Isle of Man | Israel | Italy |
| Jersey | Japan | Kazakhstan |
| Kenya | Kiribati | Kuwait |
| Kyrgyzstan | Laos | Latvia |
| Lebanon | Lesotho | Liberia |
| Liechtenstein | Lithuania | Luxembourg |
| Macedonia (North Macedonia) | Madagascar | Malawi |
| Malaysia | Maldives | Marshall Islands |
| Mauritania | Mauritius | Mexico |
| Micronesia | Moldova | Monaco |
| Mongolia | Montenegro | Mozambique |
| Ghana | Gibraltar | Greece |
| Grenada | Guatemala | Guinea |
| Guinea-Bissau | Guyana | Guernsey |
| Guadeloupe | Iceland | Ireland |
| Indonesia | India | Honduras |
| Hungary | Hong Kong | Netherlands |
| Namibia | Nauru | Nepal |
| New Zealand | Niue | Niger |
| Nigeria | Norway | Romania |
| Qatar | Portugal | Poland |
| Philippines | Peru | Paraguay |
| Papua New Guinea | Palau | Pakistan |
| Oman | Russian Federation | Rwanda |
| Saint Kitts and Nevis | Saint Lucia | Saint Vincent and the Grenadines |
| Singapore | Slovakia | Slovenia |
| Solomon Islands | South Africa | South Korea |
| Spain | Sri Lanka | Suriname |
| Swaziland (Eswatini) | Sweden | Switzerland |
| Taiwan | Sierra Leone | Seychelles |
| Serbia | Saudi Arabia | Sao Tome and Principe |
| San Marino | Samoa | Tajikistan |
| Tanzania | Thailand | Timor-Leste |
| Togo | Tonga | Trinidad and Tobago |
| Tunisia | Turkey | Turks and Caicos |
| Turkmenistan | Tuvalu | United States (limited) |
| Ukraine | United Arab Emirates | United Kingdom |
| Uruguay | Uzbekistan | Vanuatu |
| Venezuela | Vietnam | Virgin Islands, British |
| Zambia | Zimbabwe | China |
Table 4. KuCoin: countries of presence
Conclusion
Access from the USA
Payment methods
Contacts
Deposit
Withdrawal
Limited
Debit and credit cards, Bank deposits,Apple Pay, Google Pay, 3rd party services
Bank transfer,PayPal,third-party services
https://www.kucoin.com/
Company information
Criteria
Information
Headquarters country
Victoria, Seychelles
Foundation year
2017
Exchange type
Centralized and Decentralized
Trading is allowed
Yes
 Frequently Asked Questions
Does KuCoin offer its own token?
Yes, KuCoin offers KCS tokens.
 Does KuCoin offer margin trading?
Yes, it's allowed.
 Does KuCoin offer cryptocurrency lending?
Yes, the option is available.
 What is a KuCoin trading bot?
A KuCoin trading bot is a program designed to autonomously purchase and sell digital assets on the KuCoin cryptocurrency.
Yes, it's legit in 200 countries.
Comments