What is BitMart?
BitMart is a cryptocurrency exchange that was launched in 2017. It has headquarters in the  Cayman Islands and offices in various countries, such as China and the United States.
The company works in over 180 countries, has over 9 million users (per the end of 2021), and features over 700 tokens and pairs available for trading. The platform aims for constant development, adding new features and assets all the time. It also invests in various technologies and markets.
Main Features
BitMart is a fully-fledged cryptocurrency exchange that provides everything the majority of traders and holders might want and need. It's a centralized one, so it's subject to regulations. The platform offers a long list of currencies one can buy, trade, and sell. Staking and an NFC market are also available. One can use all of the needed features, such as algorithmic trading, charting features and various order types.
Who's the Founder and CEO of BitMart?
BitMart was founded by Sheldon Xia in 2017. He also serves as the company's CEO.
Mike Shokin works as a CFA at the company, providing financial analytics. The company doesn't have many employers, with different sources providing the claims ranging from 60 to 78.
Functions and Services that BitMart Offers
BitMart is a fully functional cryptocurrency exchange, offering all of the features one can expect from such a platform. Here's a list of the things a user can do:
Buy currencies.
Sell currencies
Trade currencies.
Staking
An ability to exchange crypto for fiat money
Buy and sell NFTs
Trade futures
BMX Token
Many serious and popular cryptocurrency exchanges tend to create their own tokens. BitMart isn't an exception, so the company offers its own BMX token. It follows the ERC-20 standard, so it runs on the Ethereum blockchain. Obviously, there are also some bonuses for the traders that use the token on the platform. For example, there are zero transaction fees when trading BMX on BitMart.
BitMart App
The year is 2023, so offering applications for mobile users is crucial for any platform and service to succeed. Cryptocurrency exchanges aren't exceptions, and all of the big players on the market offer apps for iOS and Android. Moreover, the websites usually feature smartphone-optimized versions with a UI that's perfectly usable on mobile.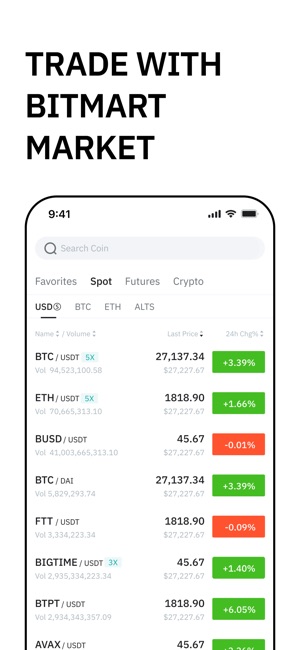 As is expected, BitMart offers the applications as well. There are versions for iOS and Android. Both feature modern UI, are easy to use, and have important functions that are accessible and just a few taps away. The picture3 below shows how the iOS version of the BitMart app looks.
What Cryptocurrencies Does Bitmart Offer?
If an exchange aims to stay competitive, then offering a long list of cryptocurrencies is crucial. Although, obviously, on some websites the options are more limited compared to others.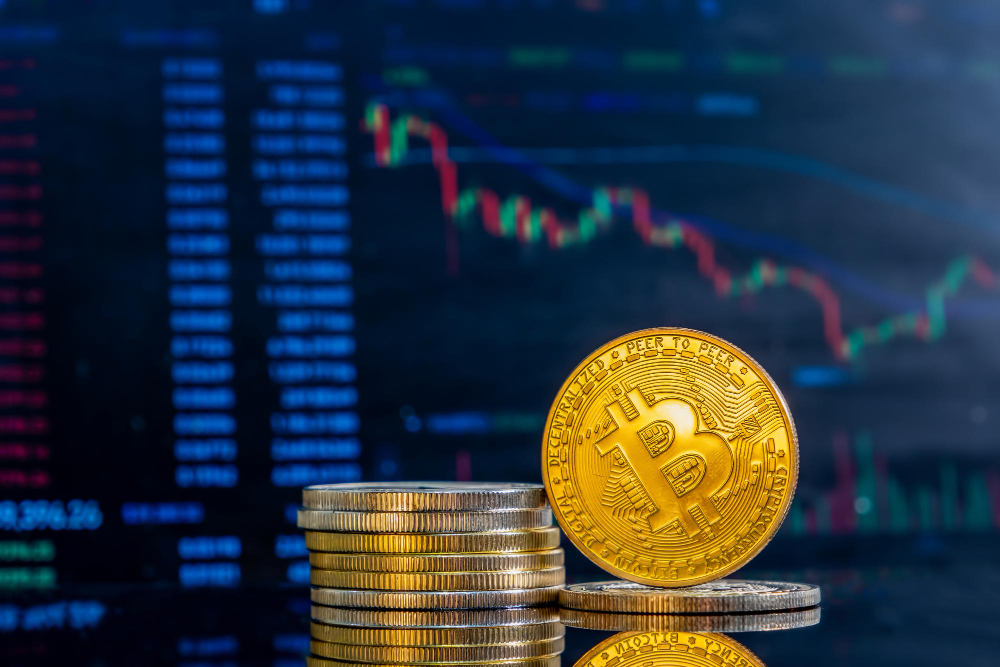 BitMart offers around 1,000 cryptocurrencies and a comparable number of trading pairs. The list includes all of the popular and trendy currencies, including:
Bitcoin (BTC)
Ethereum (ETH)
Litecoin
BitMart Coin (BMX) is also obviously included
Can US Citizens Use BitMart?
Yes, the platform is legal in the United States. It holds the country's MSB (Money Services Business) license. The citizens of the US can use the exchange for various purposes. But there are certain limitations. For example, a US citizen can't use the Earn and Lending products offered by BitMart.
BitMart Fees
BitMart offers incredibly low fees which are among the smallest in the cryptocurrency world. The exact numbers are subject for a change and differ depending on currency and blockchain conditions. For example, the withdrawal fees for Bitcoin are usually around 0.0005 BTC. The deposits are usually free for any currency.
Is BitMart Safe?
Yes, the platform is fully legal and has all of the needed licenses. Regarding its reputation, it's also quite good, although there are some complaints here and there, which is pretty much normal, since there's no service that can satisfy everybody.
Regarding the level of security, the platform had one serious breach in the past. It happened in 2021, and in the result around $200 million were stolen. The company compensated the losses in full. The losses only affected two hot wallets, all of the other users were safe.
BitMart User Interface
BitMart features a modern website with a UI that's simple to use. It's also quite demonstrative: there are graphs for each cryptocurrency, and the website's interface is quite accessible either way. The overall design is also quite nice and polished, although different users might have various opinions.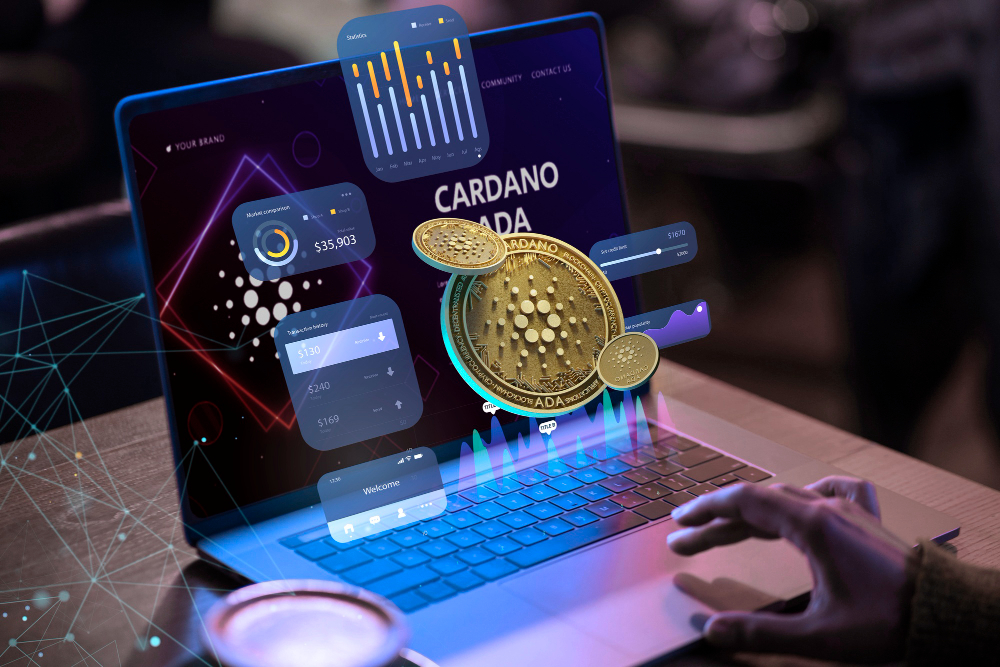 The mobile apps also look nice, having all of the functions easily accessible and following all of the modern guidelines for iOS and Android app design.
How to Open a BitMart Account
Explaining all of the features of the platform is useful, but this article wouldn't be complete without mentioning how exactly one can join the exchange. Thankfully, the process is straightforward and the steps can be completed quite quickly. Here they are:
Visit BitMart. Either navigate to the exchange's website or download an application from the App Store or Google Play, depending on the operating system of your smartphone.
Click or tap on the «Get Started» button.
Enter your email.
Come up with a password.
Confirm it by entering the code you've received.
Congratulations, you're now a new user of the platform. If you want to get access to all of the exchange's features, you have to go through the verification process.
How to Use a BitMart Account
After successfully joining the platform, a user can enjoy its features, although some will require going through the verification process. After completing it, you can even buy NFTs and trade futures.
How to Buy Cryptocurrency on BitMart?
Of course, if one wants to exchange fiat for a cryptocurrency, then there's everything needed for the process available at hand. The steps for doing so are quite straightforward:
Sign in.
Find the currency you want to buy and select it.
Choose the currency you will pay with.
Pick a provider.
Confirm everything that's needed and complete the transaction.
How Can I Contact BitMart's Customer Service?
If you ever run into issues on the platform or have any questions, you can enjoy the platform's customer care service that operates around the clock. First things first, there's a live chat feature that's offered both in the app and on the website. One can also leave their information and wait for the team to contact them.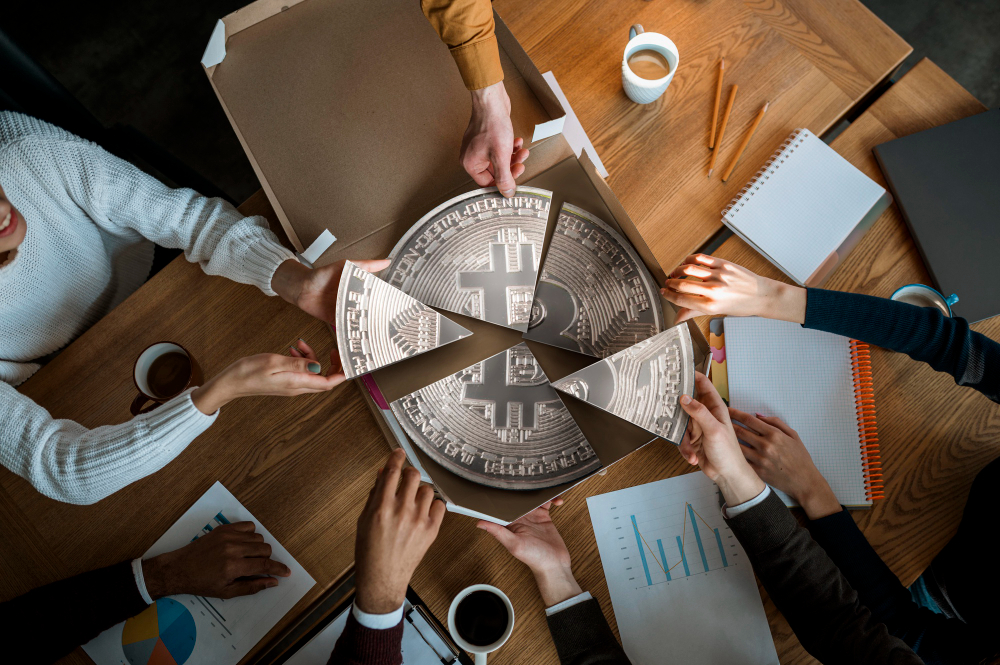 There are also additional channels:
Email: [email protected].
Instagram: https://www.instagram.com/bitmart_exchange/
Twitter: https://twitter.com/BitMartExchange
Pros and Cons of BitMart
BitMart offers plenty of features to enjoy, and our article covered quite a few of them in detail. But obviously, there are some limitations and drawbacks. The table below shows the advantages and disadvantages of using the platform.
| | |
| --- | --- |
| Pros | Cons |
| A long list of cryptocurrencies and trading pairs | Had one serious security breach in the past |
| Low withdrawal fees | Not all features are available for the U.S. citizens |
| No deposit fees | |
| Works in the U.S, although with some limitations | |
How Does Bitmart Differ from Other Cryptocurrency Exchanges?
BitMart features are mostly on par with what the majority of other exchanges offer. At least, if we include the high-level centralized ones. What makes BitMart stand out is a large list of currencies and trading pairs. The platform is also great at being an all-around solution with all of the functions available as one whole package, whether it's the desktop version or one of the mobile ones. Low fees (especially zero ones for depositing) are a nice addition as well.
Frequently Asked Questions
Is BitMart Safe and Legal?
Yes, the platform is perfectly legal and holds licenses in the countries where it operates. Of course, some places ban using cryptocurrencies completely and BitMart won't be legal over there.
The company is registered in the Cayman Islands.
Is BitMart better than Coinbase?
Both platforms are great all-around centralized exchanges. BitMart has more cryptocurrencies available and usually features lower fees.
Is BItMart legal in the U.S.?
Yes, but some features won't be accessible.
Comments