How does it work?
Bybit is a crypto exchange that offers users from all around the world innovative and secure services for trading digital currencies. It provides industry-leading technology that allows you to trade global crypto markets by leveraging multiple assets. The platform allows users to securely place and close orders with real-time data, making it one of the most reliable platforms of its kind.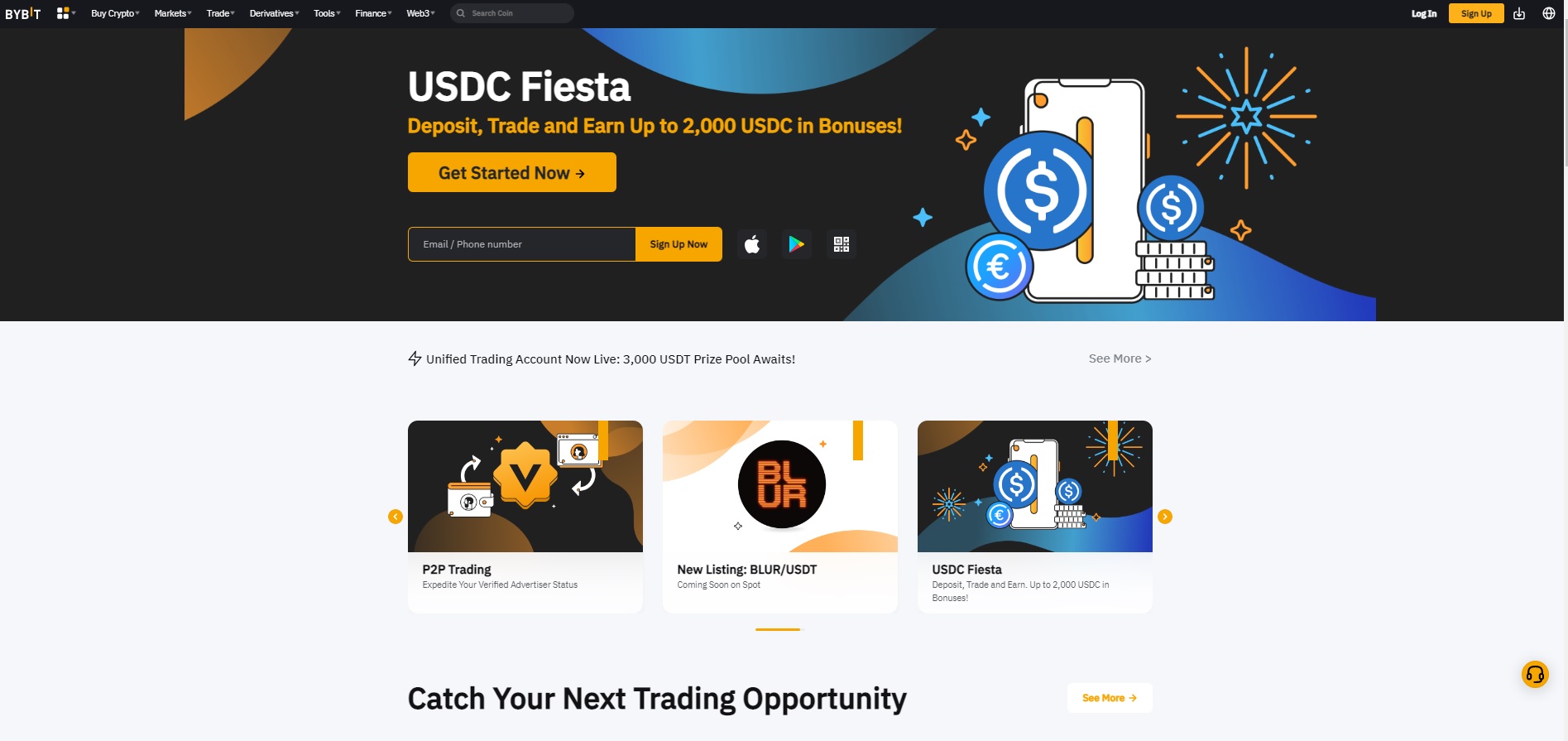 This combined with an excellent customer service team makes Bybit a leader in the digital currency exchange arena.
Short overview: Bybit's Features
The Bybit exchange is a cryptocurrency and derivatives exchange offering perpetual futures contracts, two-way pricing mechanisms, and advanced loss management systems. It also stands apart due to its advanced technology and trading tools, including order types such as Limit Orders and Stop Market orders, real-time charts powered by TradingView, and Trading Ladder for fast order execution. Below, we'll cover the basics of Bybit's features and services in order to give a comprehensive overview of the platform.
Trading opportunities
One of the most notable features of Bybit is its margin trading capabilities. Margin trading allows traders to open leveraged positions with up to 100x leverage – meaning they can amplify their profits (or losses) significantly when trading using margin.
Of course, this carries with it an increased risk of substantial losses if the market moves unfavorably — something all traders should be aware of before opening leverage trades on any platform.
Other trading options on Bybit include:
spot trading;
copy trading;
leverage tokens;
trading bot;
launchpad.
Derivatives trading
Additionally, Bybit offers derivatives contracts such as perpetual swaps and futures contracts — allowing traders even more options when looking for ways to capitalize on volatile markets. The platform also supports several trading pairs including BTC/USD and ETH/USD — giving users multiple options when navigating their portfolio allocation strategies. Bybit also utilizes a double price mechanism that allows traders to set both long and short positions simultaneously with no expiry. This helps traders manage their risk more effectively by allowing them to hedge against sudden market movements.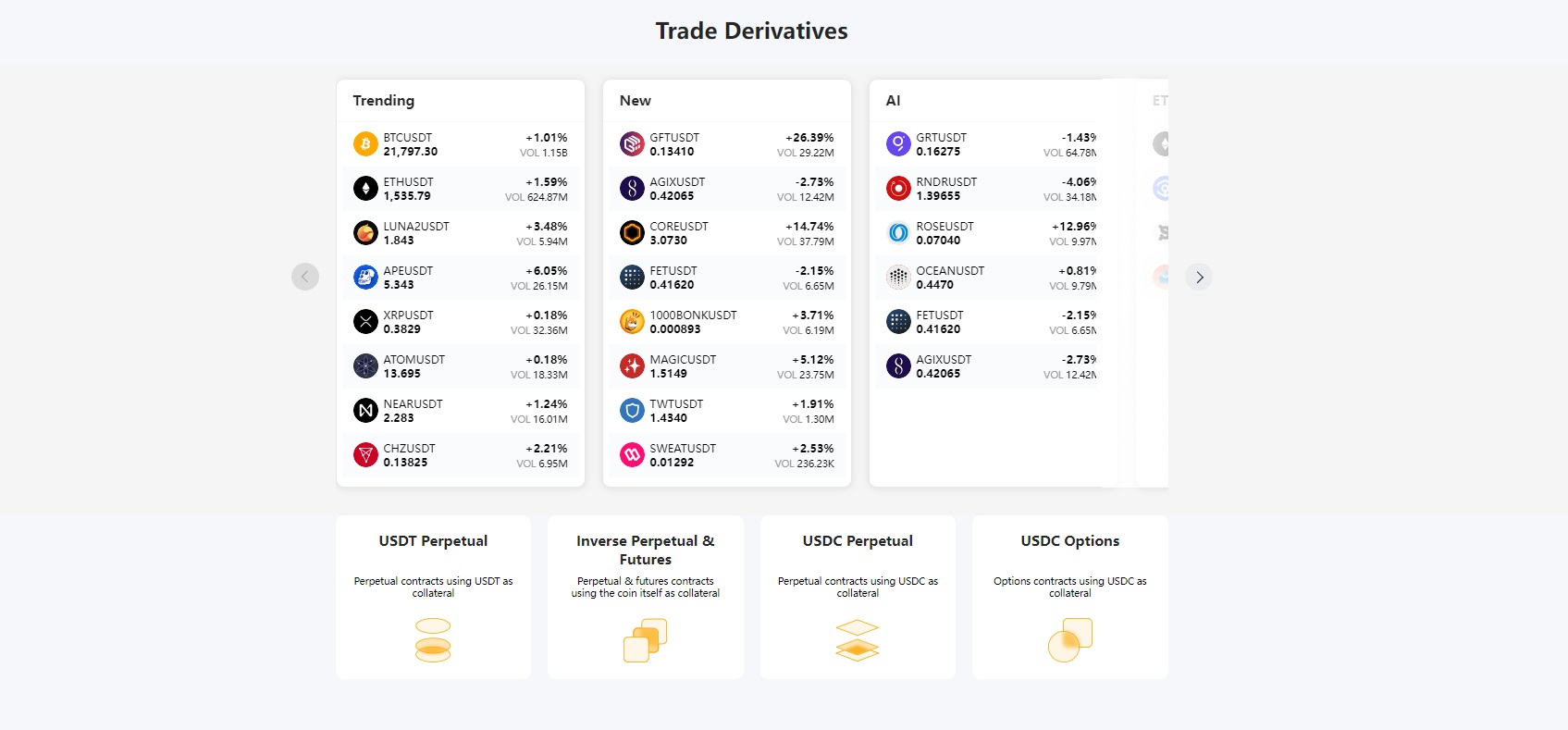 In addition to its double price mechanism, Bybit also offers "mark-to-market" pricing for its perpetual futures contracts. This means that the prices of these contracts are determined by their current market value rather than by their purchase price. This ensures that traders can always get an up-to-date view of their positions, even if there have been significant changes in the market since they opened them.
Derivatives Trading (Leveraged)
ByBit offers leveraged trading on both digital assets and cryptocurrencies. This means that traders can enter into positions with a fraction of the total asset value required to enter a traditional spot position. Leverage can help maximize returns but it also amplifies losses, so it's important to understand how leverage works before using it on ByBit.
Contract Loss Mechanism
Another advanced option is a contract loss system that helps users manage losses when trading on its platform. When a trader's position is liquidated due to a large market movement, they are automatically refunded up to 20% of their initial margin deposit if the liquidation caused them to lose more than 90% of their initial margin deposit.
This helps reduce losses incurred due to extreme market volatility, making it easier for traders to stay in control of their trades even during turbulent markets.
Social Loss System Versus Automatic Deleveraging (ADL)
The platform provides users with two different loss management systems: Social Loss System (SLS) and Automatic Deleveraging (ADL). The SLS allows traders who are facing losses from open positions to be saved from liquidation by another user who agrees to take on those losses at no extra cost; this helps reduce forced liquidations due to extreme volatility or unexpected events, allowing traders more time to manage their positions accordingly.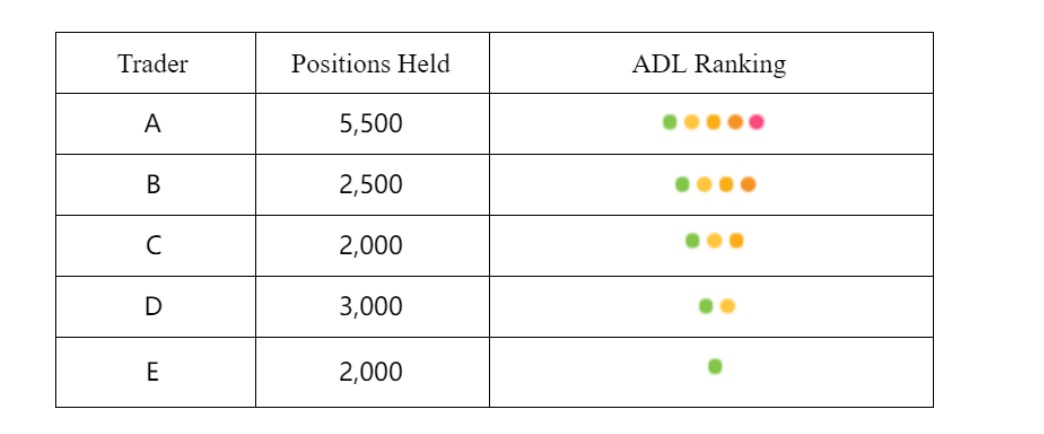 On the other hand, ADL automatically reduces any user's leveraged positions in order from the highest leverage ratio down until all losing positions have been closed out; this prevents users from incurring further losses beyond what was initially planned for their trades.
Security
Bybit takes security very seriously, which is why it has implemented several security measures to protect users' funds and data. All user data is encrypted and stored on multiple servers for added protection. Moreover, two-factor authentication (2FA) is also available for enhanced security. To ensure that all trades are conducted securely, Bybit also employs anti-manipulation measures such as market surveillance systems and price limiters to ensure fair trading practices are followed at all times.
In addition, Bybit has a demo account feature so users can practice their trading strategies on virtual money before making a real investment. This is great for those who are still new to cryptocurrency trading or want to test out different strategies without risking any of their own capital.
Fees & Orders
Bybit offers competitive fees for both makers and takers when compared to other cryptocurrency exchanges. Withdrawal fees are starting from 0.0005, and there are no deposit fees. There are also three different types of order types available on the platform: Limit orders, Market orders, and Stop Limit orders. These order types allow traders to customize their strategies according to their risk appetite and needs.
Customer Support & Education Center
Bybit also provides excellent customer support services through its 24/7 live chat service as well as its comprehensive FAQ page which can answer most common questions related to using the exchange platform. Customers can contact the support team through email or social media.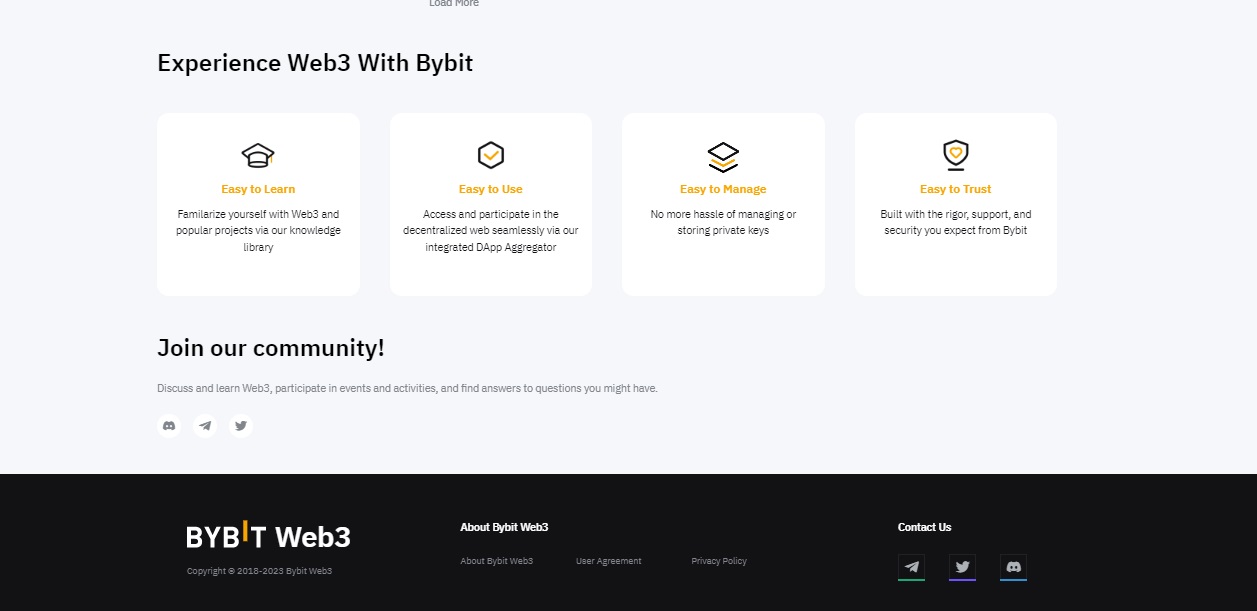 Agents are fast and helpful when responding to queries and typically resolve issues quickly—a testament to how seriously Bybit takes customer service standards across its entire organization. Furthermore, the exchange has an extensive education center that contains useful articles, tutorials, webinars, and videos designed to help new users get started with trading on Bybit quickly and easily.
What to consider for improvement?
For investors looking to use Bybit exchange, there are various things to consider. With the ever-evolving crypto derivatives industry, strategic trading plans are essential for success. Because Bybit is not currently available in the USA, investors may be limited by certain fees or trading opportunities that could otherwise by capitalizing on U. S. market trends.Investing can be risky and traders, especially those who want to run derivatives trading, need to understand the volatility of their investment and plan accordingly. Managing trades well should be at the core of any Bybit strategy. A well-rounded approach that includes understanding market movements, assessing risk tolerance, and setting a clear goal will help traders navigate potential volatility with care.
By taking such measures into account, users can better prepare themselves for potential income-generating moves while keeping risks in check.
Bybit: pros & cons
Today, Bybit is one of the leading derivatives exchanges in the cryptocurrency market. As individuals and investors consider it as a potential investment opportunity, it's important to understand both its advantages and disadvantages. Bybit reviews point to some of its key strengths, most notably its intuitive interface and fast trade execution speeds. However, the platform isn't without its shortcomings such as relatively low liquidity and high fees for certain types of transactions. In the table below, you can see all the important pros&cons to consider.
| | |
| --- | --- |
| Pros | Cons |
| Offers trading in Bitcoin, Ethereum, EOS, and XRP perpetual contracts with up to 100x leverage. | Not legit in the USA. |
| More than 50 fiat currencies are supported. | Taker fees start from 0.2%, while maker fees start from 0%. |
| A mobile app for iOS and Android. | No fiat withdrawals are allowed. |
| Has a Bybit referral program that allows users to earn commissions by inviting friends to trade on the platform. | |
| Wide range of trading options. | |
| Low fees. | |
Table 1. Bybit: pros&cons
Who is the platform for?
Bybit is a state-of-the-art platform that provides a secure and easy way to trade digital assets. It is suitable for both new traders who are just getting started as well as seasoned veterans in the trading world. Bybit options can help both novice and experienced traders navigate their way around the markets.
The platform also allows for instant deposits and withdrawals, as well as customizable order sizes, margin requirements, and order execution speed settings to help traders tailor their strategy to their own needs.
Whether you're just getting started with crypto trading or you're an experienced trader looking for an advanced platform with powerful features – Bybit could be the perfect fit for you!
Available assets
Bybit offers a number of trading opportunities with more than 100 coins, 300 trading pairs, and 50 fiat currencies. They include, but are not limited with:
| | | |
| --- | --- | --- |
| For trading | For deposit | For withdrawal |
| Bitcoin (BTC) | BTC/ETH/BIT/EOS/XRP | BTC/ETH/BIT/EOS/XRP |
| Ethereum (ETH) | GRT | GRT |
| Bitcoin Cash (BCH) | FIL | FIL |
| Litecoin (LTC) | SOL | SOL |
| Tezos (XTZ) | SRM | SRM |
| Chainlink (LINK) | USDC | USDC |
| Cardano (ADA) | TRIBE | TRIBE |
| Polkadot (DOT) | QNT | QNT |
| Uniswap (UNI) | OMG | OMG |
| Ripple (XRP) | BAT | BAT |
| NEM (XEM) | AGLD | AGLD |
| SushiSwap (SUSHI) | ANKR | ANKR |
| Aave (AAVE) | USDT(ERC-20) | USDT(ERC-20) |
| Dogecoin (DOGE) | USDT(TRC-20) | USDT(TRC-20) |
| Tether (USDT) | DOGE/CHZ | DOGE/CHZ |
Table 2. Bybit assets
Bybit: full overview
Bybit stands out among its competitors due to its ease-of-use and wide range of features available for both novice and experienced traders alike. Let's take a closer look at all its features.
Bybit's Interface
Bybit's user-friendly interface makes it easy for beginners to dive right in. The main page displays the current prices of all major cryptocurrencies, as well as their 24-hour price changes and market capitalization values. For more detailed information on specific coins, users can click on the coin name to access a graph containing historical price data.
The site also includes an extensive search function that allows users to quickly find coins based on market capitalization or ticker symbols. This feature is especially useful for experienced traders who are familiar with certain coins but don't have time to search through hundreds of listings.
Trading Volume and Liquidity
ByBit boasts high liquidity with millions of dollars worth of assets available for trading at any given time. The exchange also has a large number of active users, which contributes to the platform's overall liquidity and ensures that orders are filled quickly and efficiently.
ByBit Earn
ByBit Earn is one of the most popular features offered by the exchange. It allows users to earn rewards by staking their crypto and participating in yield farming activities. Rewards are paid out in USDT or BTC depending on what token is staked by the user. This feature makes it easier for traders to earn additional income without having to actively trade on the platform all day long.
Peer-to-Peer (P2P Exchange)
Bybit's P2P exchange feature allows users to buy and sell cryptocurrency directly from each other without having to go through a third-party intermediary such as an exchange or broker. This helps reduce transaction fees since there is no middleman taking a cut from each transaction.
It also makes it easier for users who don't have access to traditional banking services or credit cards to buy cryptocurrencies directly from other users with cash or bank transfer options such as WeChat Pay.
NFT Trading Platform
Bybit has recently launched its own NFT (non-fungible token) trading platform. The platform allows users to buy and sell non-fungible tokens, which are unique digital assets that are stored on blockchain networks. These tokens can be used for a variety of things, including gaming, art, music, and more.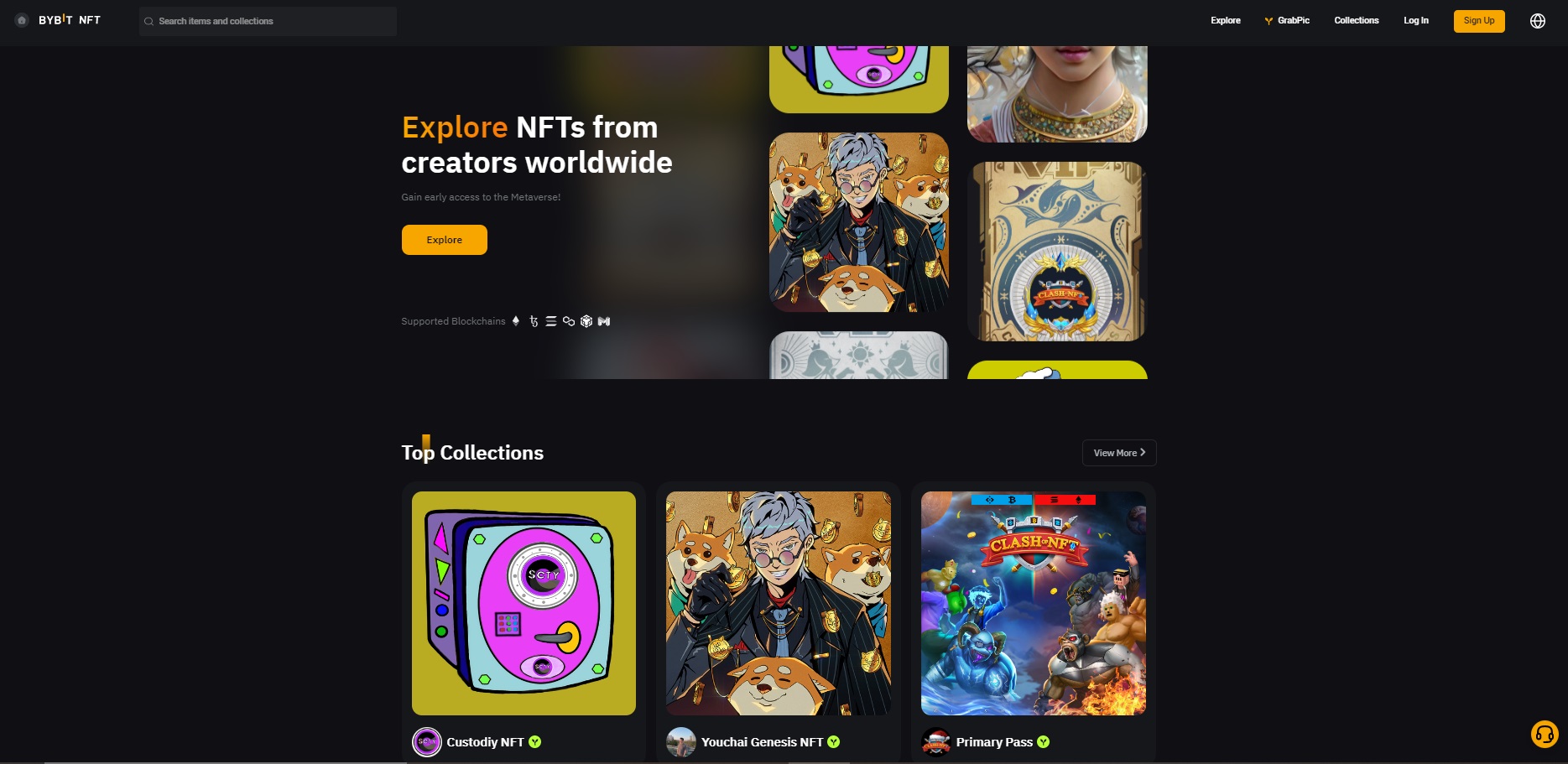 On Bybit's NFT trading platform, users can easily search for their desired non-fungible tokens and begin trading them.
Demo Trading
Bybit also offers a demo trading account for new traders who want to get familiar with the platform before committing real funds to it. This allows traders to practice making trades without risking any money or having any financial obligations while they get comfortable with the tools and features available on the site. The demo account also provides insight into how ByBit works so traders can gain confidence in their ability to successfully use the platform when they start trading with real funds.
Bybit Promotions
The exchange offers various promotions ranging from welcome bonuses to referral programs. As a new user, you can get a welcome bonus of up to $90 when you sign up for an account on the platform.
Additionally, you can take advantage of the Bybit referral program where you can earn up to 50% in commission fees when referring other traders to join the platform.
Rewards Hub
The Bybit Rewards Hub is a great way for users to earn additional rewards while they trade on the platform. You can earn points by completing tasks such as participating in competitions or sharing content on social media platforms. These points can be used to redeem rewards such as discounts on trading fees or access to exclusive events.
Affiliate and Referral Programs
The Bybit referral and affiliate programs allow users to earn commission fees by inviting their friends and family members to join the platform. This program has three tiers (20%, 25%, and 30%) with each tier offering higher commissions than the previous one. The tiers also provide additional benefits such as access to exclusive events and real-time data analytics tools.
When someone signs up with your unique link or code and deposits at least 0.2 BTC, you will receive an additional reward equivalent to 10% of their trading fees in BTC. Plus, when your referrals also refer to others, you will get 5% from their referrals as well as 1% from all subsequent levels!
Last Offer Programs
Bybit also offers last-offer programs where users can get discounts on trading fees by placing their orders at specific times during certain days of the week. These programs are designed for experienced traders who are looking for additional savings while trading on the platform.
Bybit Calculator
Another great feature that Bybit provides is its calculator tool. It can help traders predict their profits and losses based on market conditions before they enter into any trades. With this tool, users can simulate different scenarios before committing real money to a trade and determine how much they are likely to profit or lose in each situation.
For example, they can enter variables such as entry price, exit price, leverage level, margin size, etc., and instantly see how those factors could affect their profits or losses under different market conditions.
Bybit Trading Bot
In addition to its calculator tool, Bybit also has a built-in trading bot that helps users automate their trades and maximize their profits when markets move rapidly. The bot works by automatically executing orders according to the parameters set by the user such as entry price, exit price, etc., enabling them to take advantage of short-term trends without having to keep track of the market manually all day long.

The bot also allows users to set stop loss limits which will prevent them from losing too much money on any one trade if the market turns against them unexpectedly.
Bybit Testnet
Another option is a Bybit Testnet platform where users can practice using its services without risking real funds in live markets. Using this environment is a great way for beginner traders to learn how cryptocurrency derivatives work without having to worry about losing money due to inexperience or mistakes made during experimentation with real funds in live markets. The Testnet also enables experienced traders who want to try out new strategies without putting any capital at risk first before going "all-in" with real funds later on once they have fine-tuned their approach using virtual currency instead.
Registration Process
The first step in using Bybit is to create an account. You can do this by visiting the website and clicking on "Sign Up" at the top right corner of the page. From there, you will be prompted to fill out a form with your name, email address, and password.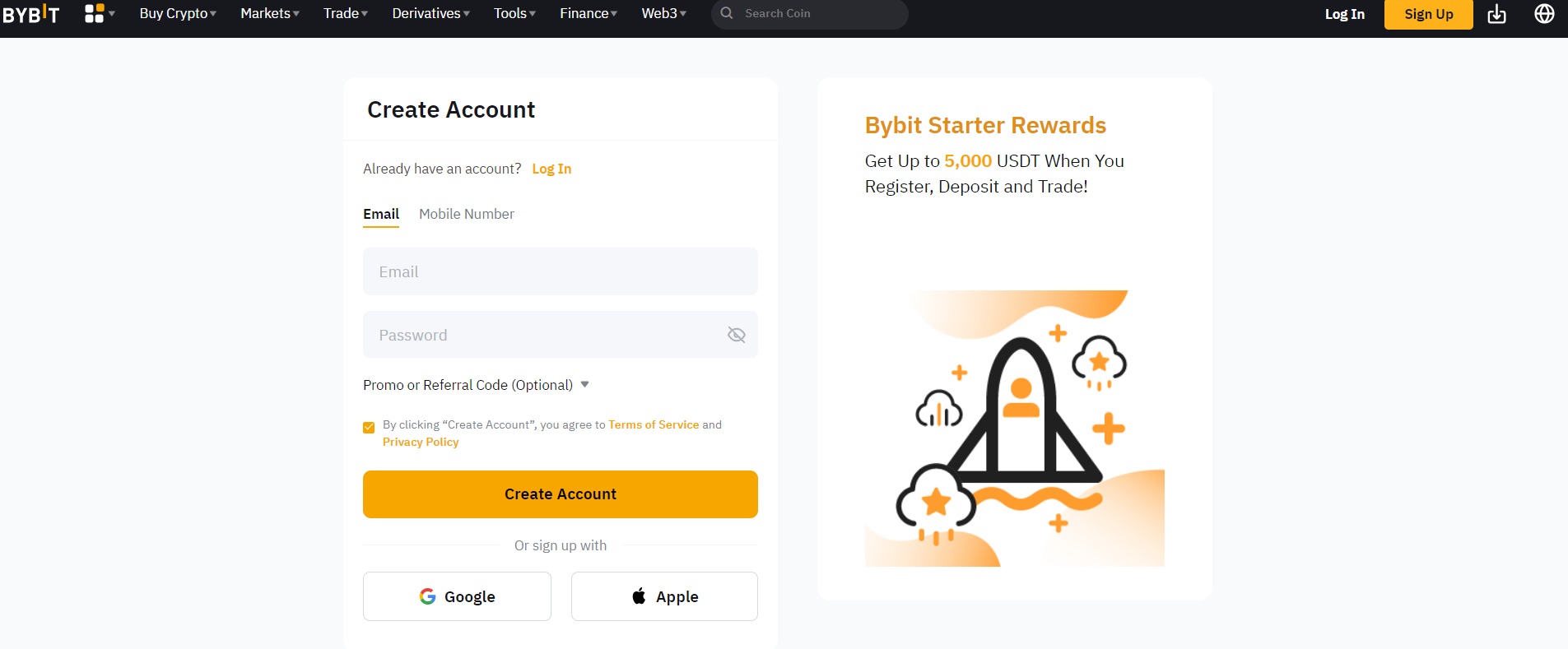 After verifying your email address, you can log in to Bybit and start trading! However, for advanced experience, KYC verification is required.
Payment Methods
According to the official website, there are more than 300 payment methods, available on Bybit. These include, but are not limited with:
debit/credit cards;
cash payments;
crypto deposits;
third-party services (Banxa, XanPool, MoonPay, Mercuryo, Paxful, and Simplex);
"One-click Buy" option.
For the methods available in your country, please contact your local support team.
Account Types and Limits
Bybit offers 3 different account levels based – KYC0, KYC1, and KYC2 – depending on your verification stage. Each account type has its own individual limit which can be adjusted depending on how much money you want to put into each trade. You can find the exact numbers in the table below:
KYC Level 0

(No verification required)

KYC Level 1
KYC Level 2
Daily Limit ≤ 20,000 USDT
Daily Limit ≤ 1,000,000 USDT
Daily Limit ≤ 2,000,000 USDT
Monthly Limit ≤ 100,000 USDT
No Monthly Limit
No Monthly Limit
Table 3. Bybit account levels
Why Bybit is Worth Choosing It?
Bybit is the perfect choice for those looking for an efficient and secure way to trade cryptocurrencies. It offers a user-friendly platform with a sleek interface and allows users to access crypto markets by exchanging BTC, ETH, EOS, and USDT in just seconds. Bybit wallet provides secure storage services with a high level of encryption and two-factor authentication systems protecting your trades even further.
On top of that, their customer service team is available around the clock to provide assistance with any issues you might have. With Bybit's top-notch features and great commitment to safety and security, it's no wonder why many traders are choosing Bybit as their go-to crypto trading platform.
Fees and commissions
There are several types of commissions that Bybit charges from traders and users. Detailed information is presented in the table below.
| | | | | |
| --- | --- | --- | --- | --- |
| Deposit | Withdrawal | Futures trading | Spot trading | Leverage |
| From 0% | From 0.0005 | From 0% for makersFrom 0.06% for takers | From 0% for makersFrom 0.02 for takers | Calculated individually |
Table 3. Fees on Bybit
Is your crypto protected with ByBit?
ByBit is a secure exchange that employs several security measures to ensure user funds remain safe. It has both cold wallet storage, which allows only a small portion of funds to be online at any given time, and hot wallet storage, which holds the majority of funds while they are in transit or being exchanged. All withdrawals are manually checked by ByBit's team of experienced blockchain engineers before they are approved—which helps to prevent fraud and hacking attempts.
Is Bybit legal or fraudulent?
Bybit is not a fraudulent service; rather, it is an established legit company with a long track record of providing secure trading services to millions of users around the world. The exchange is registered in Singapore and complies with all applicable laws and regulations in its jurisdictions.
As mentioned above, all transactions on the platform are monitored closely by experienced blockchain engineers who work tirelessly to ensure user funds and data remain secure at all times.
ByBit Mobile App & Feedback
The ByBit mobile app offers a simple yet comprehensive way for users to access their accounts from anywhere in the world. The app can be downloaded onto Android or iOS devices for free and provides access to real-time market data as well as a range of trading tools and features designed to enhance user experience on the platform.
User feedback has been overwhelmingly positive, indicating that Bybit app is one of the best available on the market today.
Countries of presence
Bybit is supported and legit in 207 countries. The list of restricted countries is presented below:
| | | |
| --- | --- | --- |
| The USA | China (Mainland) | Quebec (Canada) |
| Singapore | North Korea | Ontario (Canada) |
| Cuba | Iran | Crimea |
| Donetsk | Syria | Sevastopol |
| Luhansk | Sudan | Uzbekistan |
Table 4. Restricted countries
Conclusion
Access from the USA
Payment methods
Contacts
Deposit
Withdrawal
No
Debit and credit cards, third-party services,crypto deposits,cash,in-built "One-click Buy" option
No fiat withdrawals.Crypto withdrawals through other exchanges.
https://www.bybit.com/en-US/https://www.bybit.com/en-US/help-center/?language=en_US
Company information
Criteria
Information
Headquarters country
Singapore
Foundation year
2018
Exchange type
Centralized with decentralized options in process
Trading is allowed
Yes
 Frequently Asked Questions
Bybit is owned and operated by Bybit Fintech Limited, which has offices in Singapore, Taiwan, and the British Virgin Islands.
It is a fully legal service according to the regulations of each of the 207 countries it operates in and various industry certifications prove so.
How do I start using Bybit?
Joining is simple and takes minutes: just register with an email address or mobile phone number, submit some basic personal information, complete KYC processes, and begin trading.
Can US citizens use Bybit?
While Bybit currently doesn't accept US clients, non-US citizens are free to use it.
What kind of leverage does Bybit offer?
As for leverage, Bybit offers up to 100x on BTCUSD Perpetual Contracts.
Comments