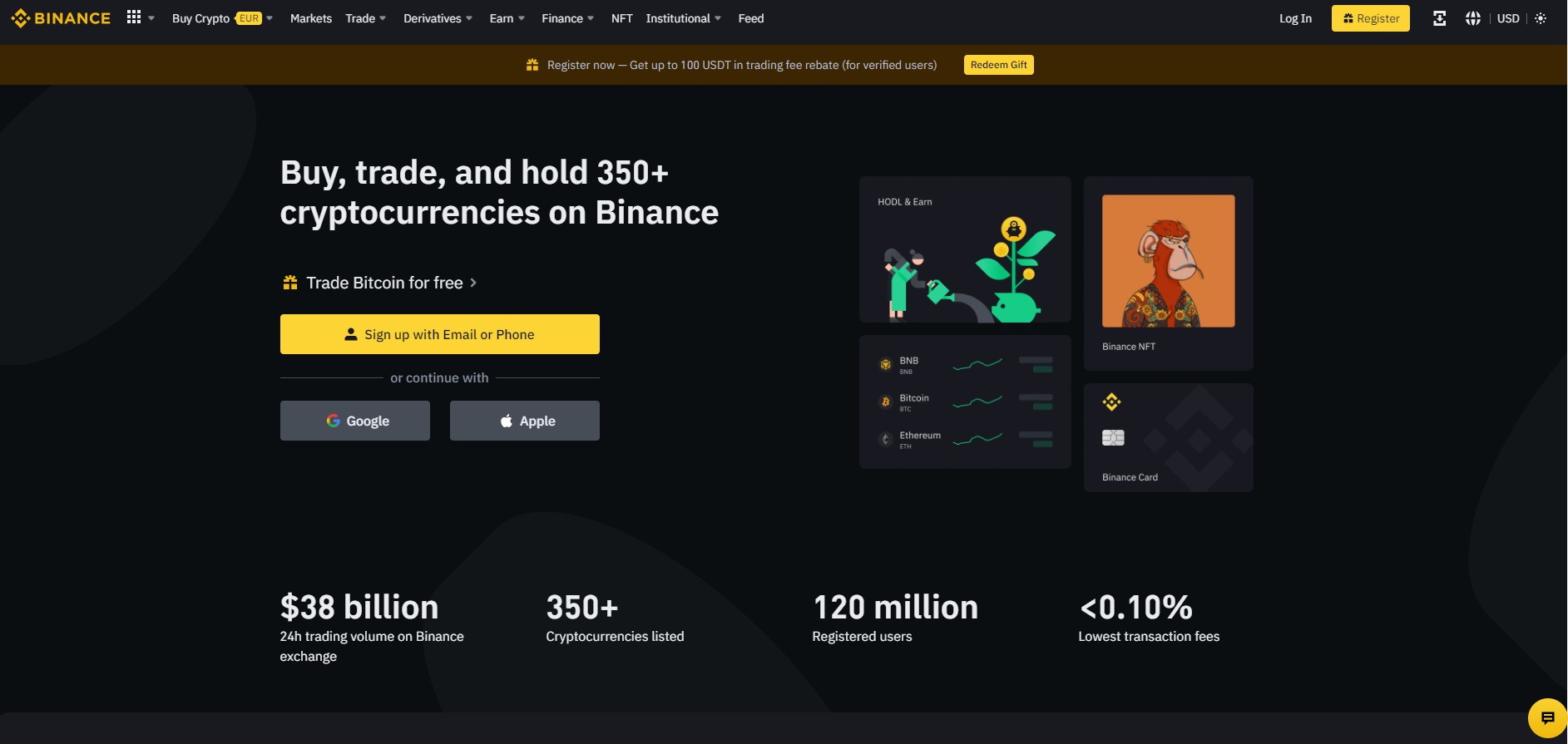 Binance offers two main platforms, Binance Spot and Binance Futures. Binance Spot lets traders buy digital currencies from other buyers at market prices that match supply and demand. Binance futures allows users to go long or short on prices for a variety of cryptocurrencies for speculative opportunities. Additionally, Binance provides accelerated order execution capabilities, margin trading options, and access to portfolios of cryptocurrencies chosen by the exchange's experienced traders.
In addition to its namesake crypto exchange platform, the service also owns several stakeholder subsidiaries such as Binance Labs and Binance X which focus on nurturing blockchain technologies startups and engaging talented entrepreneurs respectively. To aid crypto-adoption among newbies platform launched its own coin – Binance coin (BNB) – that can be used to pay transaction fees quickly, as well as allow users exclusive access to discounts when shopping at select vendors.
In sum, Binance is an innovative company that has changed the way people trade digital coins forever. With powerful trading tools and vast liquidity pools, it is easy for both novice investors and established traders alike can experience maximum trading efficiency through this global platform.
History
Binance Exchange is a leading crypto service founded in 2017 by Changpeng Zhao and Yi He. It was created with the intention of providing users with a fast, secure, reliable, and convenient platform to trade cryptocurrencies. Since its inception, the platform has made tremendous progress in becoming one of the world's most popular destinations for trading cryptos including Bitcoin, Ethereum, Ripple, and Litecoin.
By February 2021 Binance had established an official global presence with stock exchanges in 6 countries – Japan, the UK, the US, UAE, Malta, and Singapore. Binance's heightened security measures have been recognized as setting industry standards for protecting users' funds from hacker attacks and unlawful activities.
As a result of a combination of low fees, state-of-the-art technology, and professional customer service Binance continues to be favored by millions of users worldwide making them one of the biggest players in the crypto market.
Latest news
The world's largest cryptocurrency exchange is making headlines again with its previously launched (in 2021) spin-off Binance US which is available to all Americans. The platform offers access to a wide range of popular digital assets and the same easy-to-use interface that made the original Binance so successful. With more buying and selling options than ever before, users can purchase and trade Binance stock, Binance cryptos, Binance charting tools, and more. Other features include order types such as limit orders and market orders, margin trading with up to five times increased profits, and highly advanced security protocols. To ensure maximum security of user funds, Binance in the US complements powerful in-house defenses by using hardware wallet support.
How does Binance work?
Binance is a well-known cryptocurrency exchange platform, offering access to hundreds of crypto coins and tokens. It runs on the Binance Smart Chain blockchain system, a customized multi-chain process that provides secure transactions as well as fast processing speeds using 21 validators. To use this system users must first create a Binance account, which requires basic information such as name, email address, and payment method. Once they have passed security protocols and verifications they can start trading.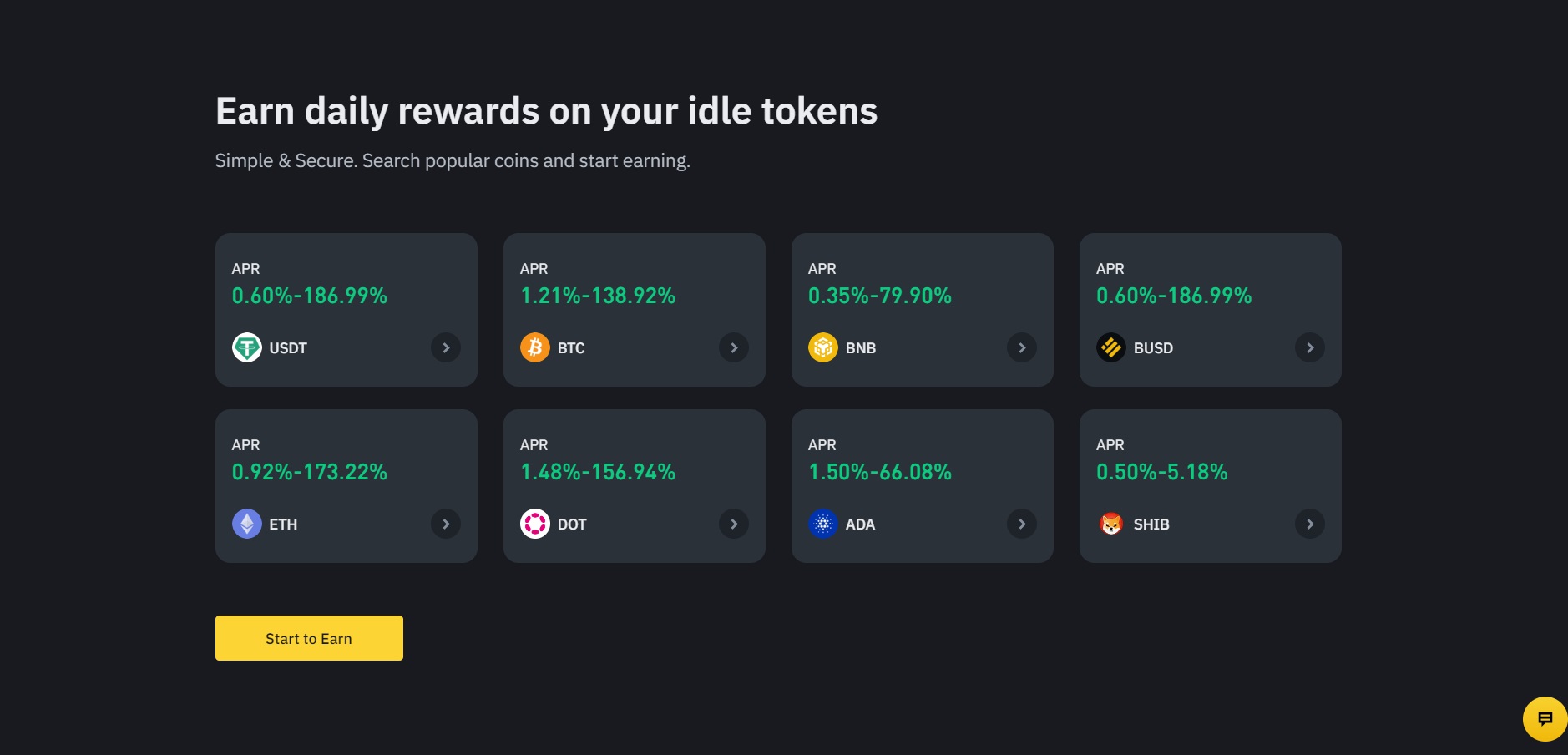 On the platform, users have access to an online dashboard where they can view their balances, view exchanges available, and open orders for buying or selling tokens. Additionally, it offers advanced features such as margin trading and algorithmic trading to experienced traders. The service also allows for buying crypto with fiat currency via payment gateways like bank transfers or credit cards making it one of the most versatile platforms available for individuals seeking to invest in digital assets.
Binance usage: advantages
With one of the lowest industry fees and numerous tokens to choose from, it's ideal for both novice and experienced traders. The Binance Smart Chain Metamask system allows users to store their digital tokens safely and securely, making sure their investments remain safe. The exchange has created its own set of tokens with competitive pricing, allowing users to benefit from potential profits. Finally, it offers customer service around the clock, meaning no matter when an issue or help is needed Binance can be reached quickly and effectively. The platform is an excellent choice for anyone looking to maximize their digital asset management experience. Let's take a closer look at its benefits.
Commissions and fees
Binance charges fees for withdrawals (from 0% both for crypto and fiat), deposits (0%), and trading (from 0%). Generally speaking, withdrawal fees tend to be low relative to other exchanges (for example, when comparing Binance vs. Coinbase). The exchange levies two main types of trading fees: maker fees and taker fees. Maker fees are charged when an order is placed but not filled immediately and taker fees are charged when an order gets filled immediately. It also has several payment options with different fee structures that can be adapted depending on the user's preferences. Moreover, fiat-to-crypto transactions are offered with a discount on the first purchase.
This special offer applies to all available currencies with USD conversion and is valid regardless of number of orders. All in all Binance's numerous features make it an attractive choice for traders looking for a wide range of tools and low trading fees.
Crypto choice
Choosing the right cryptocurrency to trade on Binance is an important decision. Before making any trades, it's essential to weigh out the pros and cons of each option available. First, consider Binance support for the asset you are considering trading. Ensure that the platform offers extensive customer support for this type of currency in case anything goes wrong. Also be sure to take into account Binance's trading fees, as these can vary depending on what type of currency you choose. Once you have evaluated all factors, you'll be ready to confidently make a decision about which cryptocurrency suits your own purposes best.
The good news is that you can do this on the official Binance website in a few minutes, as they provide all information needed.
Trading on Binance
Trading cryptocurrency on Binance is becoming more popular these days as it provides a wide range of options to investors. The platform offers easy trading with its advanced trading system, allowing users to access the markets 24/7. This makes processes faster and more enjoyable for traders. Trading options include:
spot trading;
margin trading;
strategy trading.
Furthermore, its trading fees are some of the lowest in the industry, and they don't require any minimum trading balance. Traders can also download a Binance trading bot that automates trading activities such as buying, selling, and monitoring coins. This allows for fast and efficient execution of trades at any time. Users get access to live chat support with experienced traders offering tips and advice to help maximize returns on their trading efforts.
With Binance trade, you can also trade fiat currencies (P2P); thus making trading easier for investors new to the crypto market landscape. Moreover, its secure wallet ensures all funds remain safe from hackers or fraudulent activities during trading activities or periods when coins are offline. All in all, Binance provides a powerful yet safe way for seasoned and novice traders alike to access financial markets across the world – day or night – leading to an enjoyable experience for everyone involved.
Staking Rewards System
Binance is one of the leading platforms for staking rewards. Through the platform, users can earn Binance bonus rewards and extra passive income by simply holding their cryptocurrency in a built-in wallet. The Binance staking process is extremely simple and straightforward; users just need to send the digital currency they want to stake to a Binance wallet, and then they will be eligible to receive the allocated staking reward. Depending on the cryptocurrency being staked, the service offers different types of rewards such as rewards from holding locks, sharing part of a node's dividend, or receiving profits from ongoing mining activity. With staking on Binance, US and worldwide, everyone can enjoy up to 10% annual return rates (APY)!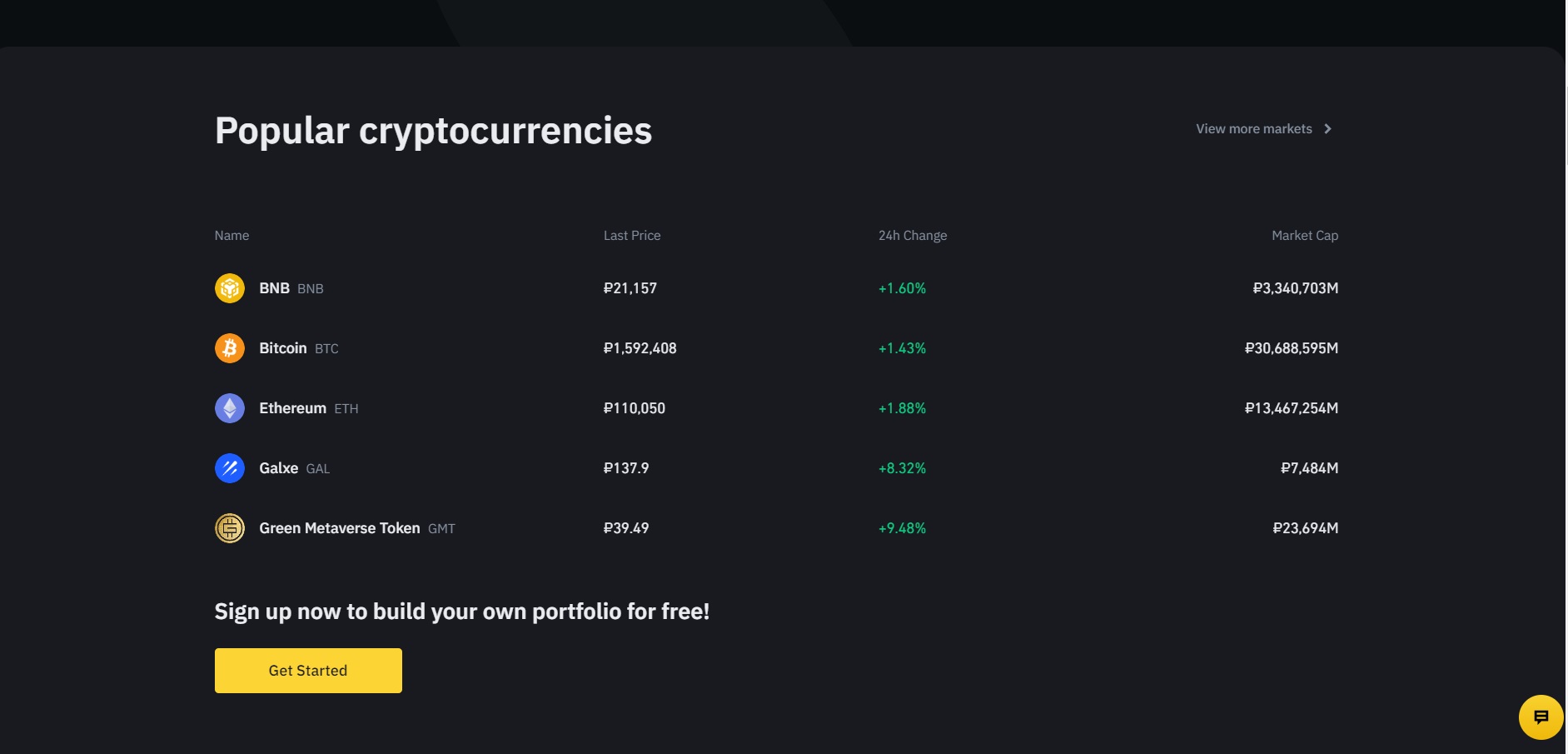 Additionally, Binance security is top-notch so you don't have to worry about your funds being taken away maliciously. Nowadays more and more people are getting involved with Binance US staking, as well as in other countries, for its undeniable benefits like higher return rates in comparison with other non-staking investments, denominated solid money wages and guaranteed divisible dividends distributed regularly.
Binance usage: disadvantages
Binance has become one of the most popular crypto exchanges around, but it may leave some experienced traders wishing for more features. While they offer Coinbase vs. Binance comparisons in terms of fees and coin selection, Binance lacks advanced trading features like stop-limits and algorithmic trading – features that some other crypto exchanges offer. Additionally, Binance reviews often point out that the platform fees are not always clear and transparent. As coin prices are also affected by the USD exchange rate, this can be a disadvantage for traders who prefer to track their profits in their native currency.
Since all coin values on Binance are based on the Binance price – as opposed to fiat rates – this can cause confusion for users coming from different coin markets.
In what way Binance can improve?
As the world's leading cryptocurrency exchange, Binance has certainly revolutionized the way we use cryptocurrencies. However, there are a few aspects that could be improved upon when it comes to their user experience. Firstly, their interface can seem overly complex and sometimes difficult to use or understand at first. This is especially true for Binance US reviews, as they tend to differ significantly from Binance apps. Navigating between different features on Binance API can also be a bit challenging and sometimes confusing. Secondly, Binance US customer support is not always readily available at all times which can make it hard to promptly address any arising issues. Therefore, while the platform is still the market leader when it comes to crypto exchanges, having a simplified and more intuitive interface would certainly add great value for those utilizing its services, especially for beginners.
Finally, expanding customer support of Binance in the US options would be highly beneficial in streamlining the process of verifying users now that more regulations have been adopted in this space. Below, we listed some other points to consider to make the platform more convenient and profitable.
Instant purchase fees
To facilitate buying and selling for US customers, Binance US offers an instant purchase feature. It works worldwide as well. However, this feature includes a standard fee of 0.5%. The Binance US fee is charged when the transaction is made and deducted from your bank account equity directly, this means that the amount you see displayed on your Binance account will be slightly less than what was actually taken from your bank account.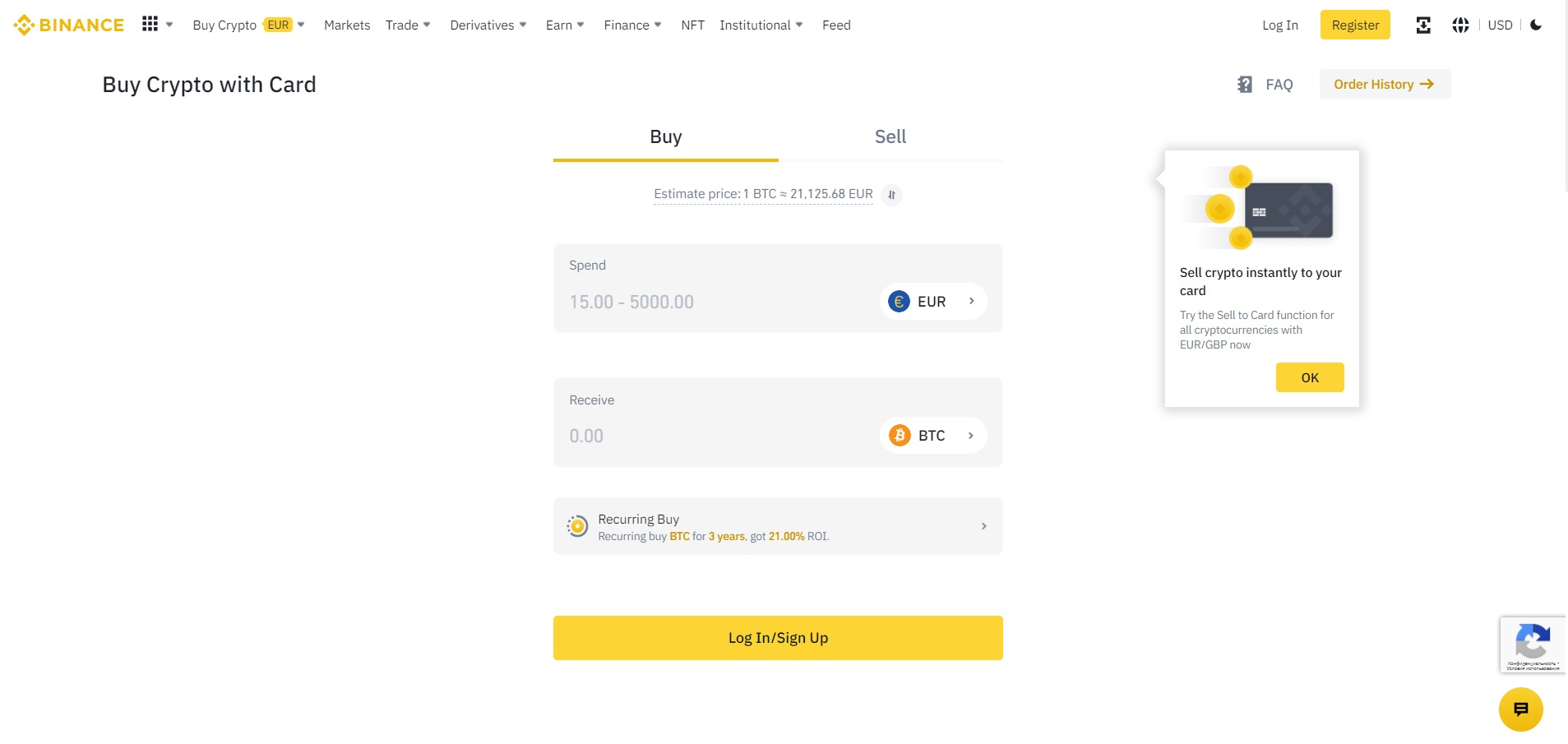 Binance fees vary depending on the type of transaction being done (trade/withdrawal/instant purchase), however when it comes to instant purchases the service applies a fixed rate depending on the currency (USD/CAD/GBP/EUR/AUD).
US limitations
Binance US has recently come under fire for not being available in many states across the United States. A number of interested investors have looked at Binance in hopes of trading digital assets but have been disappointed when they find out that their states do not offer access to the platform. While the reasons are unclear, this lack of access has significantly limited the number of customers that could potentially benefit from its services and added complications to those hoping to utilize the platform to make trades. As the crypto market experiences an influx of new customers, it will be up to the service to answer questions regarding why certain Binance US states are restricted from using its services.
Customer support
Binance is one of the most popular digital currency exchanges today. For this reason, it is no wonder that many people turn to Binance customer support for help with their financial transactions. On the plus side, Binance customer service provides quick and helpful responses that can assist customers when they are facing problems. They are known to be highly accommodating and available around the clock in as many as 20 languages.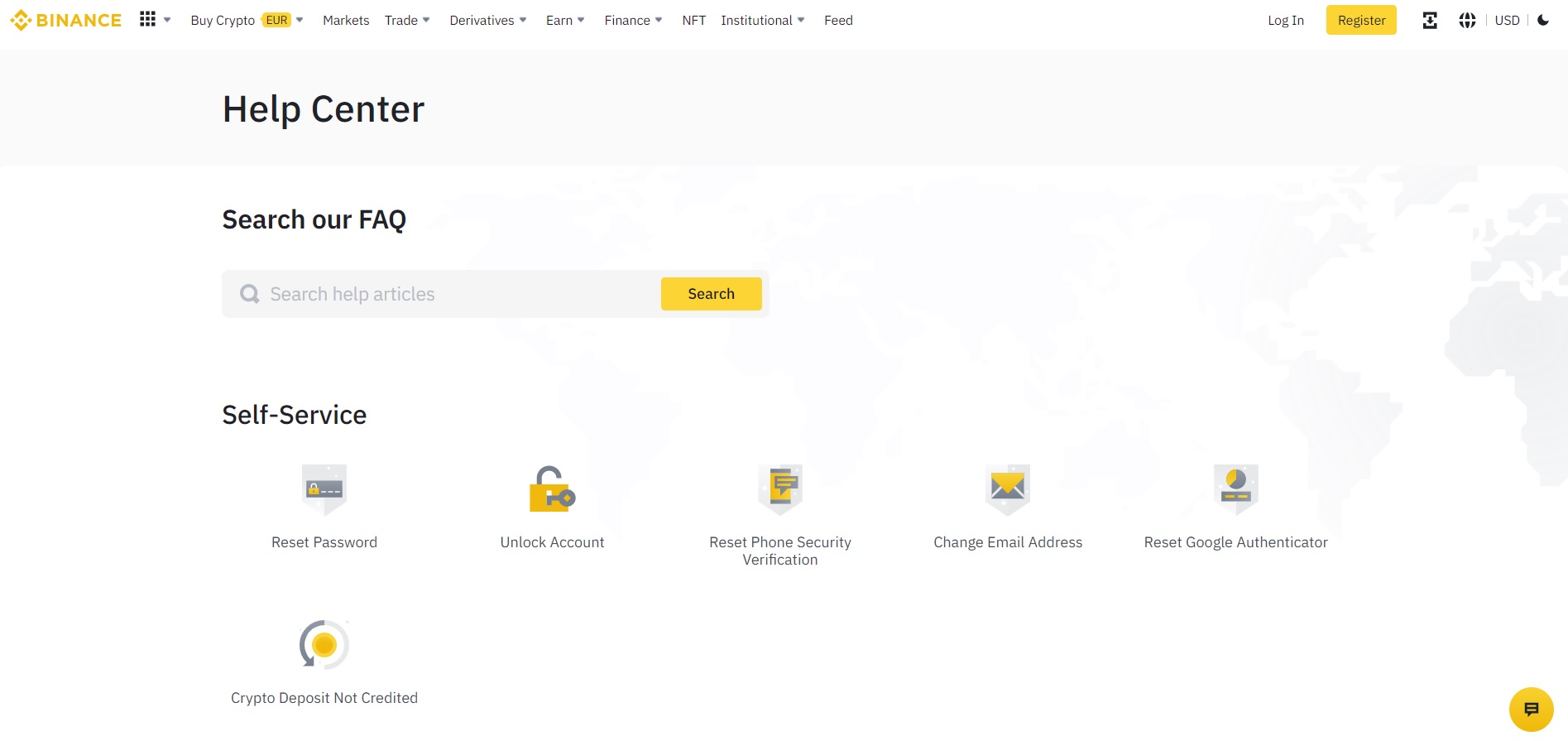 However, on the downside, it has been said that their support team doesn't always handle customer issues quickly or adequately enough.
Binance overview: pros and cons
Here we are to take a closer look at Binance's listed pros and cons table (Table 1), after analyzing the detailed information above. This table offers a comprehensive overview of the Binance chain by highlighting various aspects it is equipped with in regard to cryptocurrency trading. For instance, Binance crypto assets include Bitcoin, Ethereum, Ripple, Tron, and many more which allows users to trade different coins at once making Binance a reliable source for crypto traders, unlike other platforms. Even though the exchange can run transactions using debit or credit cards it cannot be considered an efficient and straightforward payment option due to its fees and long processing time (up to 60 minutes per transaction). Despite these drawbacks, Binance remains one of the favorite exchanges mainly because of its strong security features which make sure that precious data must remain confidential when dealing with financial transactions on the platform.
| | |
| --- | --- |
| Pros | Cons |
| Over 350 types of cryptocurrencies available for trading | Inconvenient mobile app for Android |
| More than 120 million active users | An integrated wallet is unavailable in some countries |
| The lowest commissions among cryptocurrency exchanges (from 0%) | Despite the advanced security system, there have been cases of accounts hacking and money theft within the exchange |
| An integrated rewards system for those who increase market liquidity | Complicated verification process |
| User-friendly interface | Low level of responsiveness of technical support |
| Quick registration process | Sometimes interruptions occur, and they stop the work |
| A mobile app is available for any OS | Limited functionality for unverified users |
| Wide range of markets and trading currencies | |
| Easy withdrawal process | |
Table 1. Binance: pros and cons
One of the other great features of the exchange is that it has its own token. Binance Token, or BNB, is a cryptocurrency created by the Binance platform which operates as both a digital currency and an exchange. It was first launched in 2017 and has since become one of the most widely used digital tokens on the market. The Binance token functions as a fee-reducing token on Binance's exchanges and provides users with discounts for different services such as trading fees, transaction fees, and other featured services.
In addition to its utility within the Binance ecosystem, BNB is also designed to act as a Binance Smart Chain Token which works alongside the Binance chain to allow users on Binance-based applications access to financial services such as borrowing, margin trading, payment, etc.
Who is the Binance for?
Binance is a cryptocurrency exchange tailored to a broad range of users, from those who are just beginning their journey with cryptocurrency to seasoned professionals. In addition to offering cryptocurrency trading services, they also provide access to a Binance referral program and Binance NFT marketplace which allows users to buy and sell digital artworks and non-fungible tokens (NFTs). Whether you're looking to get started with digital currency or want to expand the scope of your collections with NFT Binance, Binance makes it easy.
Types of users
Merchants trade on Binance with one of five types of user accounts. These vary according to the verification level, amount of funds they store, trade, and also specialized assets and products available to trade on Binance:
Verified user. The first is a basic level account, allowing traders access to trade regular assets as well as some features such as price alerts, trade history, and portfolio tracking. This type of account could be appropriate for casual traders.
Verified merchant. The next level up is enhanced user tier, driving the diversity of trading opportunities to come within reach; such as margin trading and futures contracts.
Cash merchant. Further-level merchants afford access to even more opportunities including cash trading, crypto credit lines, specialist OTC desk services, advanced order types with deep liquidity results, and maximum trade sizes increase significantly.
Block merchant. Users with big amounts in transaction lines. Instead of making deposits directly, they can privately negotiate trade options with other block merchants before starting.
Pro-merchant. Bigger businesses may opt for an institutional provider offering corporate-grade service models which provide professional support including direct access to blockchain data analytics tools along with tailored investment vehicle offerings. They can also benefit from using their account pages with their logos.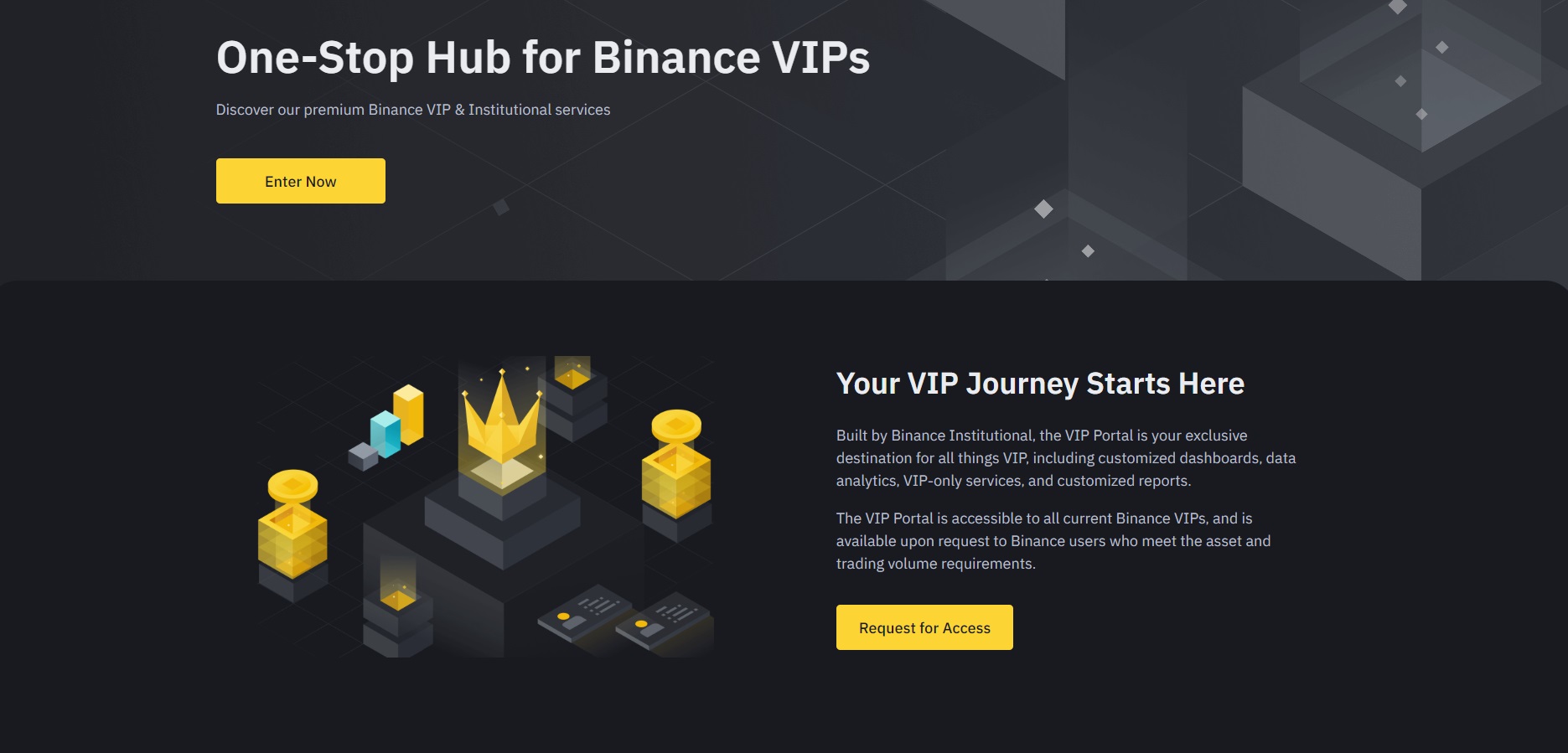 All these allow merchants the opportunity to use Binance in a variety of ways depending on their needs; basic traders can use it casually while those more experienced or running larger organizations are able to benefit from even more flexibility through higher-tier accounts.
Available cryptocurrencies
There are more than 350 cryptos available on Binance for trading, each of which has different up and down trends. They can be easily deposited and withdrawn — there are no barriers.
The only question is what is better to invest in, and what is worse. Some cryptocurrencies are better suited for active trading, others for long-term investments, while third is available for sale and sometimes it makes sense to sell them and invest in something else.
There are 4 types of altcoins available on Binance:
mining-based;
stable coins;
utility tokens;
security tokens.
In table 2, you can see which cryptocurrencies are better for long-term investing, active trading, and withdrawal.
| | | |
| --- | --- | --- |
| For trading | For deposit | For withdrawal |
| BTC/BUSD Bitcoin | NEO | Uniswap (UNI) |
| ETH/BUSD Ethereum | Cardan | Wrapped Bitcoin (WBTC) |
| XPR/BUSD XRP | NEM (XEM) | Cosmos (ATOM) |
| LTC/BUSD Litecoin | Tezos (XTZ) | Dogecoin (DOGE) |
| DASH/BUSD Dash | TRON (TRX) | Polygon (MATIC) |
| ADA/BUSD ADA | QTUM | Shiba INU (SHIB) |
| TRX/BUSD TRON | eOS | Polkadot (DOT) |
| CRV/BUSD Curve | Frax Share (FXS) | BitTorrent (BTTC) |
| CHZ/BUSD Ghiliz | The Graph (GRT) | ZCash (ZEC) |
| LUNC/BUSD Terra Classic | VeChain (VET) | Theta Token (THETA) |
Table 2. Available cryptocurrencies and pairs on Binance
Registration process
Registering on Binance is a great way to quickly get involved in cryptocurrency trading. Despite the complexity of the process, it is really simple once you go through each step carefully. Even if you are not particularly tech-savvy, you can still navigate the platform and get your account set up without any issues hopefully.
In-app registration
To start, begin by downloading the Binance app into your device if you haven't already done so. The app allows for easy and convenient access to the service at all times, both near and far from your computer. It also provides great security measures given its two-factor authentication system – an added bonus when taking part in a financial marketplace such as Binance.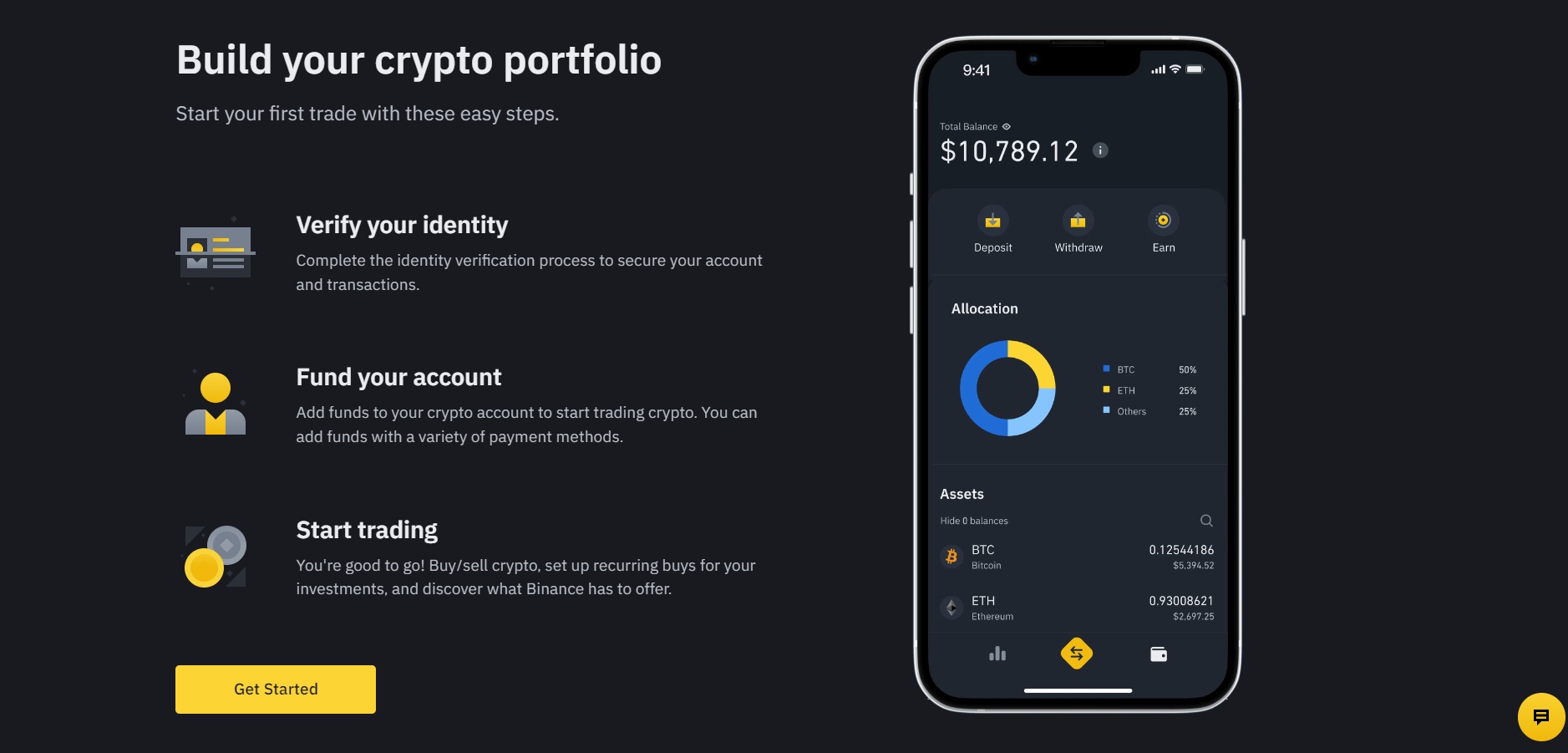 Once downloaded, open the app and set up a Binance login page by entering your email address, password and Binance wallet number – these items allow for secure money transfers between your personal bank account and the platform's respective accounts safely due to their encryption process of its API keys used for encryption.  Following this registration process are more formal steps that the exchange requires in order to understand its users better; including providing your country and phone number which allows them to provide helpful customer service virtually with its dedicated technical support team on hand 24/7 ready to answer any questions that arise no matter what time zone you are located in or have different Binance phone numbers depending on an individual's country of origin.
Finally, after these basic entries are completed, complete verification according to Binance's request (they may ask for identity documents). This is typically done as a double-check security measure so that identity theft does not occur as well as other internal concerns related to business practice.
Note:
they take these issues seriously but will be respectful while conducting such client reviews thoroughly but efficiently. Once finished with everything successfully entered and checked off accordingly, congratulations! You should now have registered smoothly on Binance until next time when the cycle starts over again from logging in using your new credentials.
Online registration
Making an account on Binance online is relatively straightforward.
First, you need to navigate to binance.com and select 'Log In.'
Enter your personal details including your email address and also create a secure password.
You will be asked to enter a verification code sent to you in an email.
Once done, you have logged in to Binance successfully and can now set up two-factor authentication for additional security.
You are now ready to make transactions on Binance! Just make sure that when logging in to Binance US, the information entered matches the details used for registration purposes in other countries – this will further help safeguard your account.
Customer service
Among all crypto exchanges, Binance has gained attention in the cryptocurrency arena for its customer service. The major benefit of Binance is that it offers 24/7 customer service to its users; any cryptocurrency questions and doubts are quickly solved by its team of crypto advisors through live chat. Despite its advantages, some cons come with Binance's customer service, mostly in promptness due to the large volume of queries they receive. They also don't offer phone support, making communication through e-mail or live chat a bit exhausting if clients require immediate assistance. Nevertheless, the quality of their crypto exchange services gives more weight to its pro column.
Customer satisfaction
Binance network is one of the top cryptocurrency ecosystems in the world, and customer satisfaction is a key metric for its success. Reviews on platforms such as Trustpilot provide insight into how customers feel about their experience with the network.
From these reviews, it is clear that Binance customers tend to trust and remain loyal to the brand, despite low rates of evaluation (2.0). Overall, these stories suggest that the solution has established itself as one of the leading digital trading services in terms of customer satisfaction.
Account management
Binance offers a range of features to help manage accounts effectively. Binance US offers the same features as the main Binance exchange with additional features to support the users in the United States. It has a simplified account opening process and it supports various types of payment instruments, such as debit cards and domestic bank transfers. There are also provisions for advanced security options such as two-factor authentication to protect user data and funds. The platform also facilitates risk management through tools such as margin calls, alert settings, trade limits, stop losses, and price alerts.
Deposit methods
Binance provides a variety of deposit methods for those looking to get involved in crypto trading. Whether you're buying on Binance with a debit card or credit card, deposits are quick, easy, and secure. If you don't have an appropriate payment method, the exchange also accepts deposits through:
peer-to-peer marketplaces;
other cryptocurrency exchanges;
bank transfers (SEPA);
bank payments;
online banking (giropay);
 Advcash.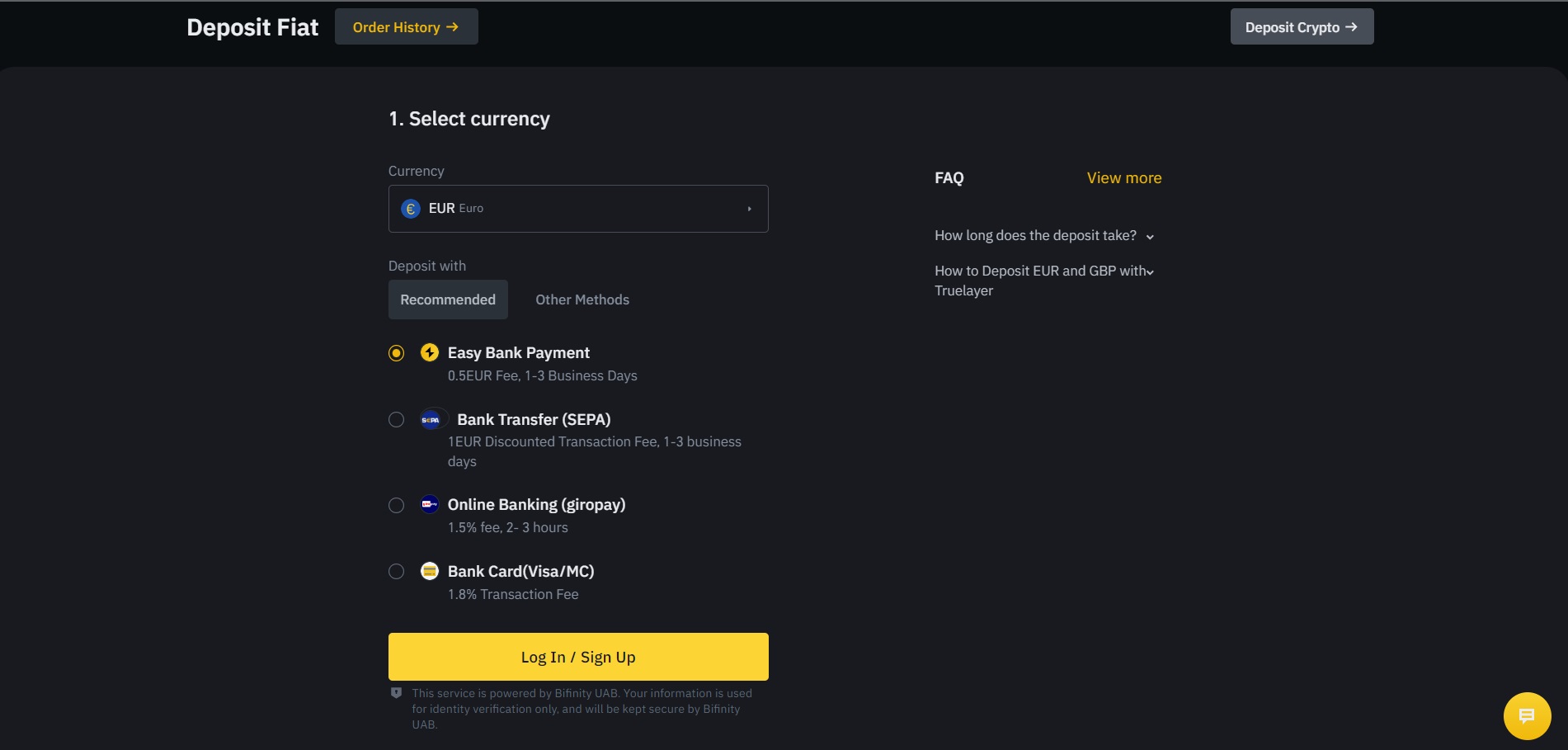 You can deposit both crypto and fiat currencies.
Binance: best features
One of its best features is its comprehensive suite of products which enable users to make payments and purchases with Binance cards or Binance Pay. The Binance card works just like a regular debit or credit card, allowing users to conveniently utility funds stored in Binance crypto wallet accounts. What's more, Binance US offers options for ordering a Binance US-branded credit card provided by Evolve Bank & Trust, without any ongoing fees and with no minimum balance required.
Moreover, the platform also provides crypto loans so you can leverage your holdings to increase your buying power, as well as Binance Gift Cards that are great for presenting cryptocurrency to loved ones who may not be familiar with trading digital assets yet. Combined, these features are what make Binance stand out from the competition in terms of providing quick and easy access to cryptocurrency resources.
Other useful options
In addition to its comprehensive trading services, the company has developed advanced features to maximize its potential. This includes:
Binance charity. Was launched to provide an easy way for individuals around the world to donate towards non-profit initiatives. The platform leverages blockchain technology to cut out the middlemen and make sure your donations are going where they are supposed to go.
Binance labs. Binance Labs is a cryptocurrency and blockchain technology incubator that offers mentorship and resources to aspiring projects with big ideas. It also offers its "Flagship Accelerator Program," in which experienced entrepreneurs can receive guidance from industry giants as well as a direct investment of up to $500,000. Binance pool provides users with an easy-to-use platform for pooled mining and staking, enabling them to seamlessly diversify their portfolios without worrying about excessive fees or technical complexity. With great liquidity and integrated maintenance services, users can benefit from maximum security while enjoying the highest profits from their investments.
Trust Wallet by Binance. It's an Ethereum wallet that allows users to store multiple cryptocurrencies safely and securely with the latest security features such as two-factor authentication.
Binance BABT. BABT stands for Binance Account Bound Token. It's an advanced security feature for users. It uses a public and private key system to securely tie your account to an internal token within the Binance Web3 system that can be used across its platform of services. The Binance token is useful in two main areas: to increase access security, allowing only verified users on the official website, and to further enhance user authentication while participating in certain activities within the platform.
Binance Academy. Provides guided educational content on cryptocurrency topics.
Binance Cloud. With Binance cloud use, Businesses can benefit from the full range of services, including the Binance chain wallet, Binance DEX, and Binance Smart Chain Network. This will enable companies to access other major exchanges and securely store their assets with confidence, allowing them to maximize their profits through improved liquidity options and access to a wide variety of tokens. Furthermore, the Binance cloud removes the stress associated with managing multiple secure wallets across many different blockchains by providing one all-inclusive solution that securely stores, trades and processes digital assets in all environments.
Binance launchpad. It's a unique service that enables public blockchain projects to raise funds from private and public investors.
Binance research. Digests relevant news as well as third-party research reports into an actionable format so users can invest confidently with the most up-to-date data at their fingertips
Binance Live. Offers traders access to exclusive market data insights and regular updates on the performance of their portfolio.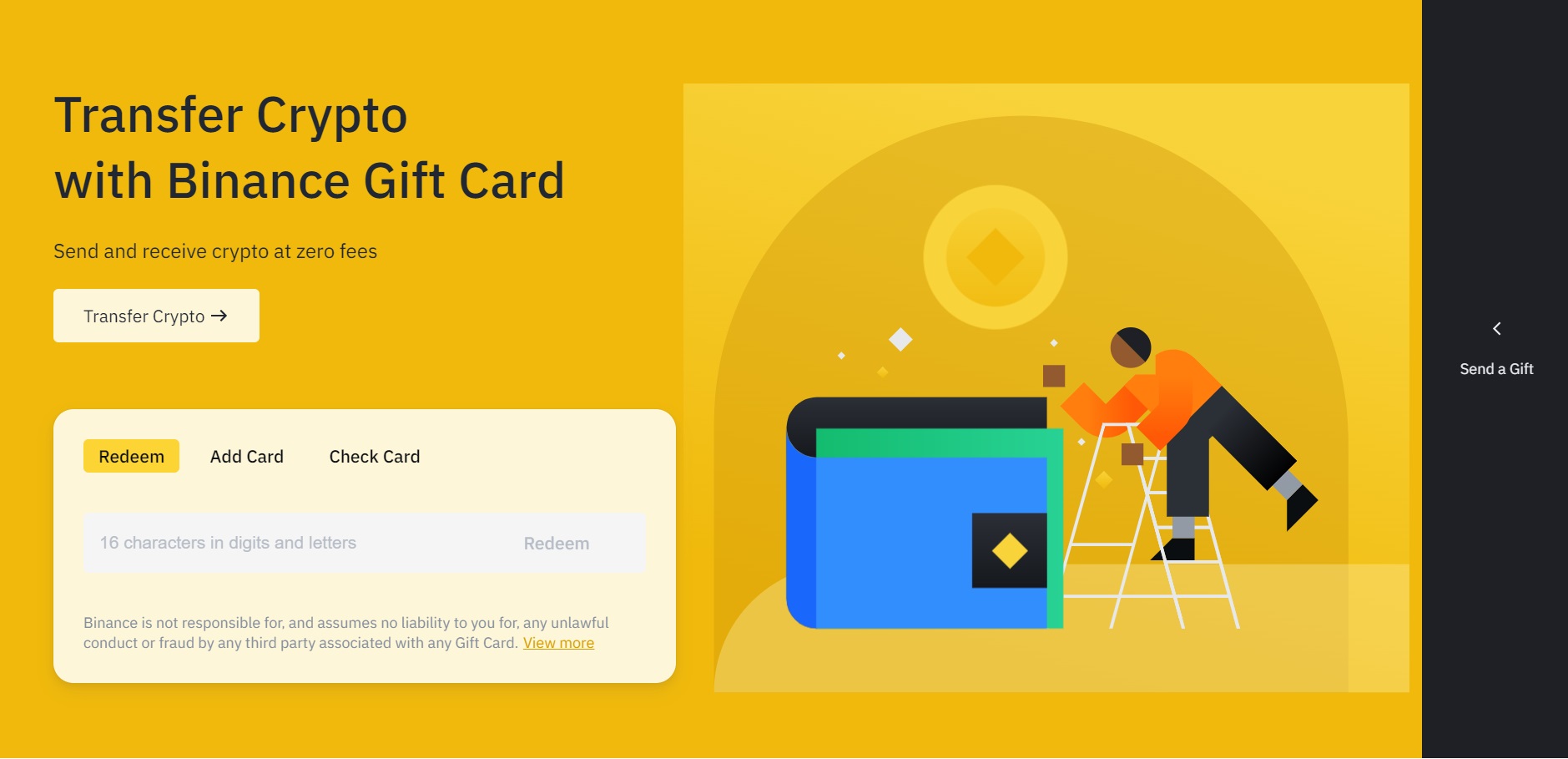 Consequently, all these additional services have positioned the platform as one of the most preferred crypto exchanges in the world giving it not only a competitive advantage over its peers but also strengthening its reputation as a global leader in cryptocurrency trading.
Basic Binance Trading (Spot trading): what is it and why to choose
Binance has a spot trading feature that allows you to trade cryptocurrencies against each other. When you use the spot trading feature, you pay nothing for 13 pairs (see below). The fee for other pairs is based on the amount of currency that you are trading. 0% are applicable for:
BTC/AUD
BTC/BIDR
BTC/BRL
BTC/BUSD
BTC/EUR
BTC/GBP
BTC/RUB
BTC/TRY
BTC/TUSD
BTC/UAH
BTC/USDC
BTC/USDP
BTC/USDT
Deciding between spot and margin trading is one of the most important decisions to make when it comes to utilizing the exchange. With spot trading, trades are executed almost immediately, whereas margin trading requires significantly more in terms of setup. Beyond just convenience, choosing Binance trading fees also has a financial benefit since users can take advantage of completely free transactions.
Margin trading
Binance Margin Trading enables users to borrow funds from other participants to purchase even more cryptocurrencies than just their balances would allow. This can be done with two times the balance that's available in your account both long and short, providing potential wealth-building opportunities. To use margin trading, you'd need to be in possession of at least three Binance bridge tokens and add Binance smart chain to your Metamasks wallet. Once Binance smart chain wallet is set up, you can begin trading. Approved users will gain access to margin trading features such as loanable funds, margin trading pairs, and collateral options.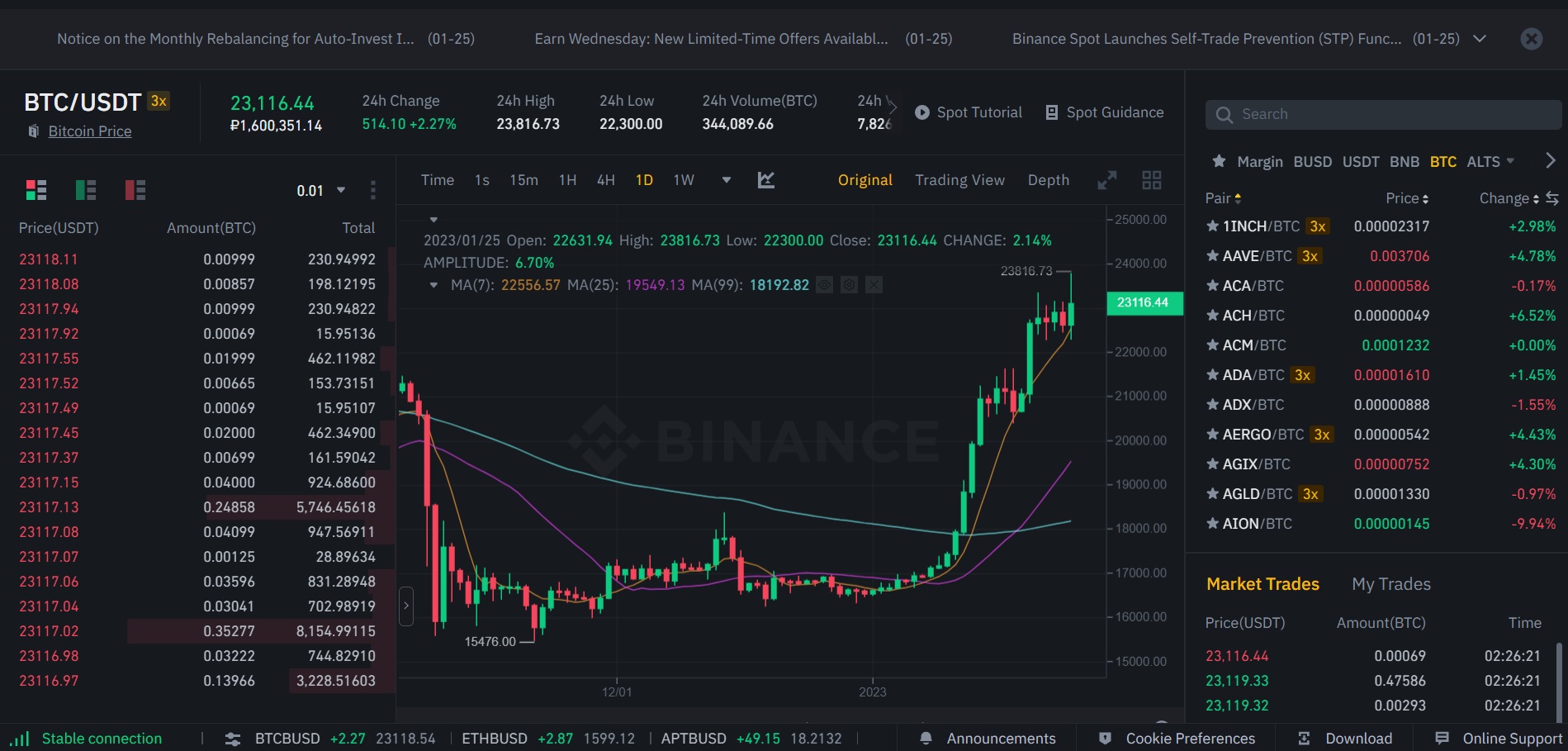 When using this feature one has to bear in mind a few important points such as enhanced risk due to high leverage, price fluctuations, rate changes, etc. On the plus side, legally leveraged positions are secured by Binance's clearing operation which adds a level of security and trust. While this feature may benefit short-term traders or those who have adequate liquidity for margin trading, others may want to exercise caution when considering taking advantage of this recourse due to its risky nature. Following standard safety precautions, traders should familiarize themselves with the different details of each asset before proceeding with a margin transaction. Leveraged trades can then be made on that asset allowing investors access to a variety of speculative opportunities in digital markets today.
OTC trading
The Binance over-the-counter (OTC) trading feature is a great way for experienced crypto traders to securely and anonymously buy and sell large amounts of digital assets. It enables users to place direct trades with a trusted partner without needing to worry about the impact on market liquidity or price changes.
This is especially helpful when the trade size is greater than any single order book fund, where it can quickly affect the volatility of the trading pair. Furthermore, Binance OTC comes with neither minimum trade amounts nor Maker/Taker fees, so traders can globalize their investments more efficiently and effectively than ever before.
Strategy trading
Binance offers a powerful tool for investors to maximize their returns: the strategy trading feature. This transferable, multi-market feature allows users to make more informed decisions through a range of features that enable efficient asset management like automated order placement and advanced risk management. The intuitive interface empowers users to design high-performance strategies that are suited to their specific needs and goals.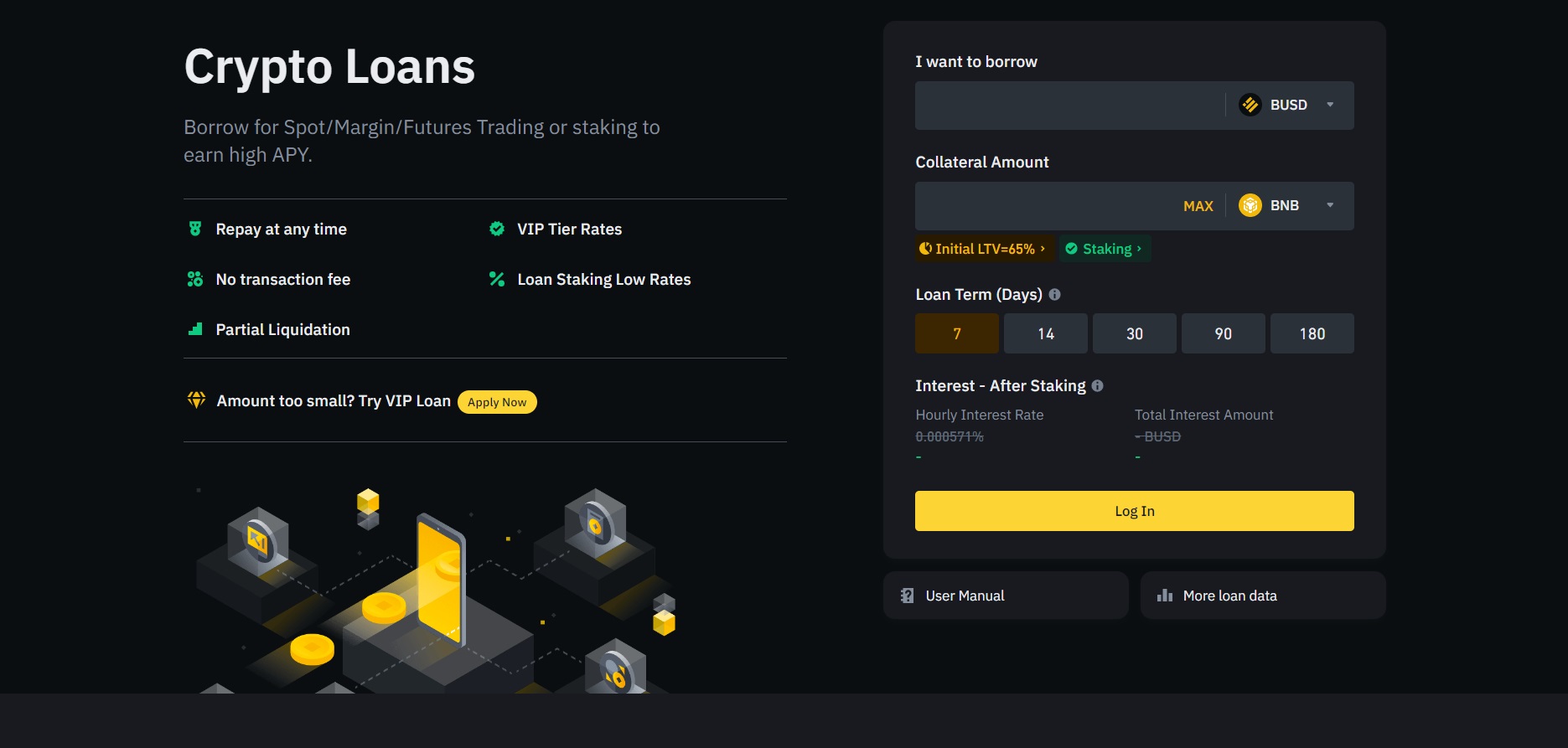 Leveraging the in-house TradingView charting package with access to more than 140 technical indicators, this strategy trading feature is an invaluable resource for traders who want to stay one step ahead of the market and significantly increase ROI on their assets.
Loan opportunities
Binance Cryptocurrency Exchange's loan feature promises to open up exciting opportunities for investors. It allows users to borrow money against their cryptocurrency holdings and can provide access to funds without the need for selling the underlying asset. In addition, Binance also offers interest-bearing savings accounts with competitive APYs on several cryptocurrencies. However, investors should be aware of potential limitations such as minimum loan duration and maximum utilization limits that are applicable in this system. It is important to consider these factors before embarking on a loan or savings plan as they would affect your ability to achieve financial goals.
Derivatives
Binance futures trading is a cutting-edge offering that offers sophisticated investors the opportunity to trade futures on any of a variety of trading pairs leveraging seasoned futures contract technology. The futures contracts are derived from the underlying spot markets and they allow traders to speculate on the future prices of their chosen asset. The futures market is driven by leveraged trades, where margin and leverage amounts can be adjusted depending on the trader's strategy. With Binance futures, investors can speculate without having to own or invest in the asset itself, as transactions are settled according to futures prices and not real-time spot prices.
Trading fees are extremely competitive (from 0.05% commissions and up to 25% of discount), with lower fees available for higher volume trades. Derivatives include USD-M and COIN-M options.
Commissions and fees
Binance is well-known for its low-commission plans. You can see the minimum amounts for each operation type in the table below:
| | | | | | |
| --- | --- | --- | --- | --- | --- |
| Deposit | Withdrawal | Futures trading | Spot trading | Margin trading | Buy/Sell |
| From 0% | From 0% | From 0.05% | From 0% | Hourly calculated | From 0.5% |
Table 3. Fees on Binance
Safety and reliability
With hackers constantly trying to get their hands on innocent users' tied finances, it is essential to understand that Binance Global and Binance US are safe. Binance is an international exchange with a wide user base that is capable of connecting buyers and sellers from all over the world. On top of its built-in security measures such as multi-step verification, two-factor authentication, and email confirmation, the Binance team is constantly safeguarding against any potential threats or scams. It is also reassuring to note that each member has been carefully vetted before entering the platform – making it one of the most secure exchanges on the market. Therefore, by taking extra steps to monitor transfers and safety protocols, consumers can rest assured that the Binance platform is a reliable exchange that is safe from any cause for concern.
Compliance and regulation
The company has come under a Binance lawsuit in some countries in the past, mainly due to a lack of appropriate security measures or clear policies on users' finances. In response, Binance has reported increasing its efforts to obtain regulatory licenses from multiple jurisdictions. The company also works closely with local governments and law enforcement to prevent illegal activity and remain transparent about its operations so as to foster trust with users.
All these measures show that the exchange is earnestly attempting to adhere to global standards and make sure Binance is a legit business operation. You can also check your country's licenses before starting trading.
Two-factor authentication on Binance
Binance's two-factor authentication feature is designed to keep user accounts and data secure. This added layer of security requires users to enter a one-time code generated by an outside app or sent via email or SMS when they log in. This extra step is intended to prevent unauthorized access, thereby avoiding any loss of important information. Additionally, two-factor authentication helps protect financial transactions, allowing users to trust that their money is securely protected when making transfers.
Mobile app
Binance offers a complete mobile trading experience for anyone looking to invest in crypto markets. Their Binance US app, Binance Wallet app, and Binance app (for both Android and iOS) are free to download and accessible on their homepage, making the process of getting set up on either the Binance iOS app or its Google Play equivalent easy and straightforward. Its feature-rich interface allows users to monitor assets in real-time, and trade using advanced order types, while its fiat gateway system allows you to easily switch between different digital and physical currencies.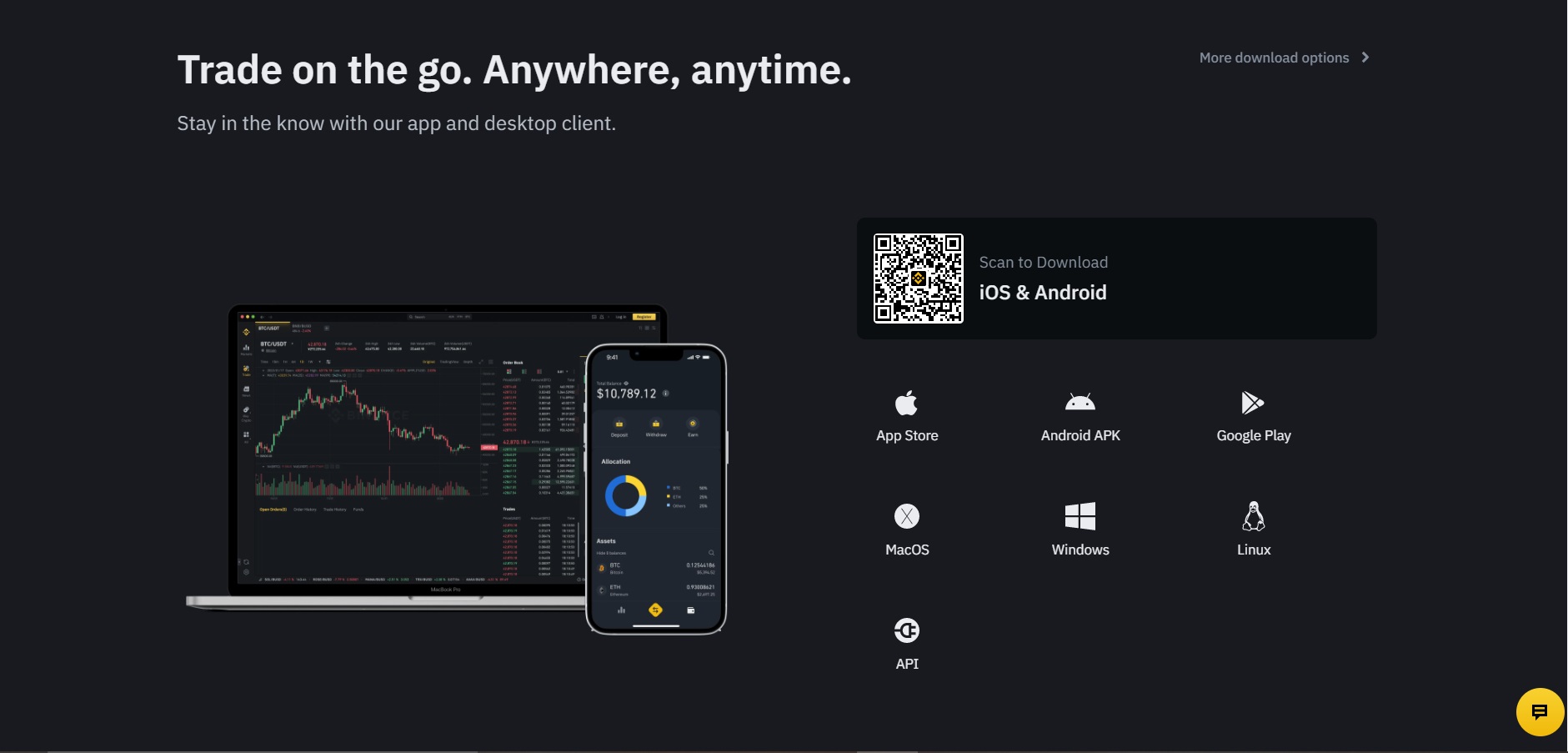 Benefits include greater security through a seamless handle verification process; top-tier liquidity; theoretical access to hundreds of established digital asset markets; and cost-efficient trading through low spreads. While cons remain few, some users have noted experiencing occasional lags in their order processing due to the platforms' high daily volume.
Comparison
Cryptocurrency exchanges are quickly becoming an integral part of the global economy, with more and more investors turning to digital currencies as a source of growth. Binance is one platform that stands out as a leader in the crypto-exchange arena; offering competitive services and benefits for its users. The company has proven itself to be a trusted partner for investors throughout the years. To highlight this, it's interesting to consider the FTX vs Binance comparison, or even look at Kraken vs Binance measures.
In FTX vs Binance, both platforms offer high levels of liquidity when it comes to trading pairs and it is clear that both have secured their place as top contenders in the industry. Similarly, when looking at Binance vs Kraken, many similarities can be seen between them.
Both platforms boast strong security protocols and allow access to hundreds of currency pairs on a fully transparent interface. However, perhaps most importantly of all, it is interesting to look at Binance versus Coinbase, where Binance secures the lead due to its advanced features such as margin trading services, charting tools, and 24/7 customer support offerings which Coinbase currently cannot match. Depending on individual requirements, either platform could be suitable – but there can be little doubt that Binance offers a superior user experience in comparison.
Countries of presence
Binance is available and legit in more than 180 countries all over the world. The full list is presented in the table below:
| | | |
| --- | --- | --- |
| India | China | US |
| Indonesia | Pakistan | Nigeria |
| Brazil | Bangladesh | Russia |
| Mexico | Ethiopia | Japan |
| Philippines | Egypt | Dr Congo |
| Vietnam | Iran | Turkey |
| Germany | Thailand | UK |
| Tanzania | France | South Africa |
| Italy | Kenya | Myanmar |
| Colombia | South Korea | Uganda |
| Sudan | Spain | Argentina |
| Algeria | Iraq | Afghanistan |
| Poland | Canada | Morocco |
| Saudi Arabia | Ukraine | Angola |
| Uzbekistan | Yemen | Peru |
| Honduras | Czech Republic | Azerbaijan |
| Cuba | South Sudan | Sweden |
| Belgium | Jordan | Dominican Republic |
| Tunisia | Bolivia | Haiti |
| Rwanda | Benin | Burundi |
| Cambodia | Zimbabwe | Guinea |
| Guatemala | Senegal | Netherlands |
| Chad | Ecuador | Somalia |
| Romania | Chile | Kazakhstan |
| Sri Lanka | Malawi | Zambia |
| Mali | Burkina Faso | Syria |
| Australia | North Korea | Taiwan |
| Venezuela | Cameroon | Niger |
| Nepal | Madagascar | Ivory Coast |
| Malaysia | Ghana | Mozambique |
| Mongolia | Moldova | Uruguay |
| Croatia | Eritrea | Georgia |
| Oman | Panama | Kuwait |
| Costa Rica | Ireland | Mauritania |
| Palestine | Lebanon | New Zealand |
| Finland | Norway | Liberia |
| Denmark | Slovakia | Central African Republic |
| El Salvador | Republic of the Congo | Singapore |
| Kyrgyzstan | Bulgaria | Turkmenistan |
| Nicaragua | Libya | Paraguay |
| Laos | Hong Kong | Serbia |
| Austria | Switzerland | Sierra Leone |
| Belarus | Israel | Togo |
| Hungary | Tajikistan | UAE |
| Greece | Papua New Guinea | Portugal |
| Puerto Rico | Bosnia And Herzegovina | Albania |
| Jamaica | Armenia | Gambia |
| Lithuania | Qatar | Botswana |
| Namibia | Gabon | Lesotho |
| Guinea Bissau | Slovenia | North Macedonia |
| Latvia | Equatorial Guinea | Trinidad And Tobago |
| Bahrain | Timor Leste | Estonia |
| Mauritius | Cyprus | Eswatini |
| Djibouti | Reunion | Fiji |
| Comoros | Guyana | Bhutan |
| Solomon Islands | Macau | Luxembourg |
| Montenegro | Suriname | Cape Verde |
| Western Sahara | Malta | Maldives |
| Brunei | Bahamas | Belize |
| Guadeloupe | Iceland | Martinique |
| Cook Islands | Anguilla | Nauru |
| Saint Martin | British Virgin Islands | Palau |
| Monaco | San Marino | Gibraltar |
| American Samoa | Marshall Islands | Liechtenstein |
| Saint Kitts And Nevis | Turks And Caicos Islands | Sint Maarten |
| Greenland | Faroe Islands | Northern Mariana Islands |
| Cayman Islands | Bermuda | Guernsey |
| Isle Of Man | Andorra | Dominica |
| Saint Vincent And The Grenadines | United States Virgin Islands | Antigua And Barbuda |
| Tonga | Seychelles | Aruba |
| Grenada | Micronesia | Jersey |
| Saint Lucia | Guam | Kiribati |
| Samoa | Curacao | Sao Tome And Principe |
| Barbados | New Caledonia | French Polynesia |
| Mayotte | Vanuatu | French Guiana |
| Wallis And Futuna | Tuvalu | Saint Barthelemy |
| Saint Pierre And Miquelon | Montserrat | Falkland Islands |
| Niue | Tokelau | Vatican City |
Table 4. Binance: countries of presence
Conclusion
Access from the USA
Payment methods
Contacts
Deposit
Withdrawal
Yes
Debit and credit cards, Bank deposits,SEPA, giropay, PayID, SWIFT, crypto
Bank transfer,debit and credit cards
https://www.binance.com/https://www.binance.com/en/support
Company information
Criteria
Information
Headquarters country
Malta
Foundation year
2017
Exchange type
Centralized with DeFi options
Trading is allowed
Yes
Frequently Asked Questions
What is the identity verification process on Binance?
It helps confirm user identities, thereby ensuring that users can use their purchased crypto securely. After signing up on Binance, users have to complete the KYC process — they need to provide a valid ID or passport and some other information related to their place of residence.
Can I buy cryptocurrency on Binance P2P?
Binance P2P allows users to buy cryptocurrencies through direct peer-to-peer exchanges with other users without any intermediaries. For instance, one user may wish to purchase cryptocurrency using local fiat currency and another user may be able to accept payment in the chosen local currency with no added fees involved.
What is the minimum qualification for a user to get a Binance loan?
To qualify for a Binance loan, you have to prove that you are of legal age and have your own bank account or debit/credit card available.
How long does it take Binance to verify a user?
Normally, identity verification takes only a few minutes; however, it may sometimes take up to two hours.
How to withdraw money from Binance?
As for withdrawing money from Binance, you first need to link your bank account to the platform via a secure third-party transfer service such as Simplex or MoonPay. Follow this by verifying your bank details and submitting the withdrawal request form including information about the withdrawal amount and the recipient wallet address.
Comments