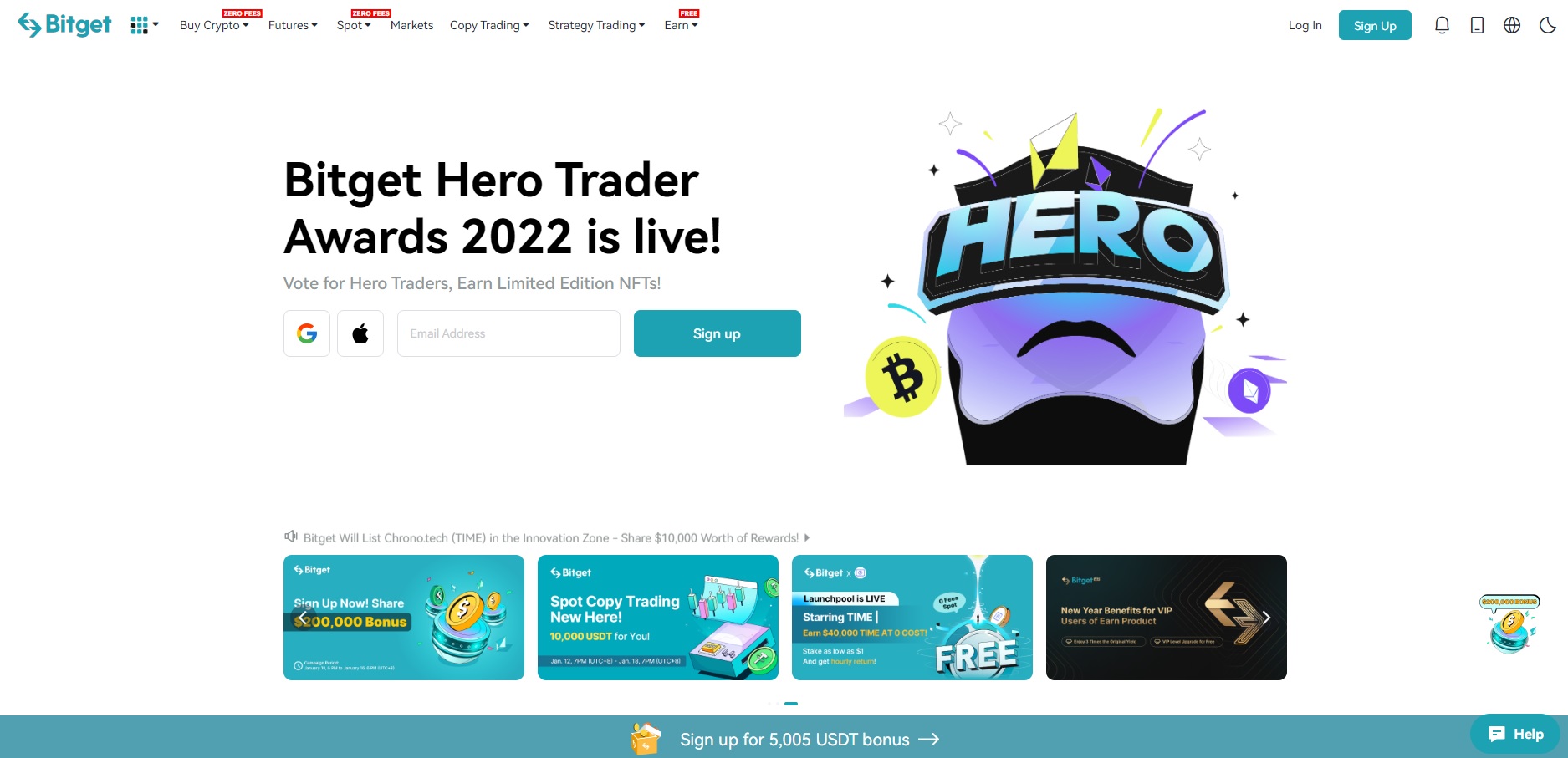 Trustworthy customer service adds up as a bonus, allowing users to always get help when needed. Bitget's unique features make it one of the most popular crypto exchanges today, providing unbeatable comfort and convenience for its traders.
What does Bitget offer?
With over 200 cryptocurrencies, Bitget crypto exchange offers traders the most comprehensive selection of trading pairs and provides access to exclusive opportunities to trade a variety of top-tier tokens and platforms. Bitget's trading platform is suitable for traders of all levels, featuring strong risk management tools with advanced pricing technologies that ensure accurate real-time execution of orders at competitive market prices. A diverse range of offers includes low fees, secure technology infrastructure, 24/7 customer support, and a wide range of incentives and promotions.
The solution also facilitates quick deposits and withdrawals across multiple fiat currencies, making it hassle-free to move funds into the Bitget ecosystem. This cutting-edge exchange is an ideal choice for experienced traders seeking high-quality services at competitive rates.
What are the best Bitget features?
Bitget crypto solution offers a secure platform for all of your cryptocurrency needs. It includes a variety of features such as two-factor authentication, cold storage, and an advanced settlement system, making the product one of the most secure exchanges presently in the market. It also incorporates advanced charting tools and real-time trading data to facilitate better-informed decision-making processes. The list of all Bitget exchange features is pretty long, so we'll take a closer look at each of them below.
Key features
Futures
Among the arsenal of tools of the exchange is the ability to trade futures. With Bitget, you can open positions, set stop losses and take profits, set conditional orders, and more. Not only does this provide traders with the flexibility they need to customize their strategies according to risk/volatility levels, but also allows them to hedge their exposure in multiple markets in order to optimize their results with speculative exposure. Bitget's futures trading provides all traders with a larger scope of opportunities while giving small-scale and retail traders accessibility not usually found in highly competitive markets.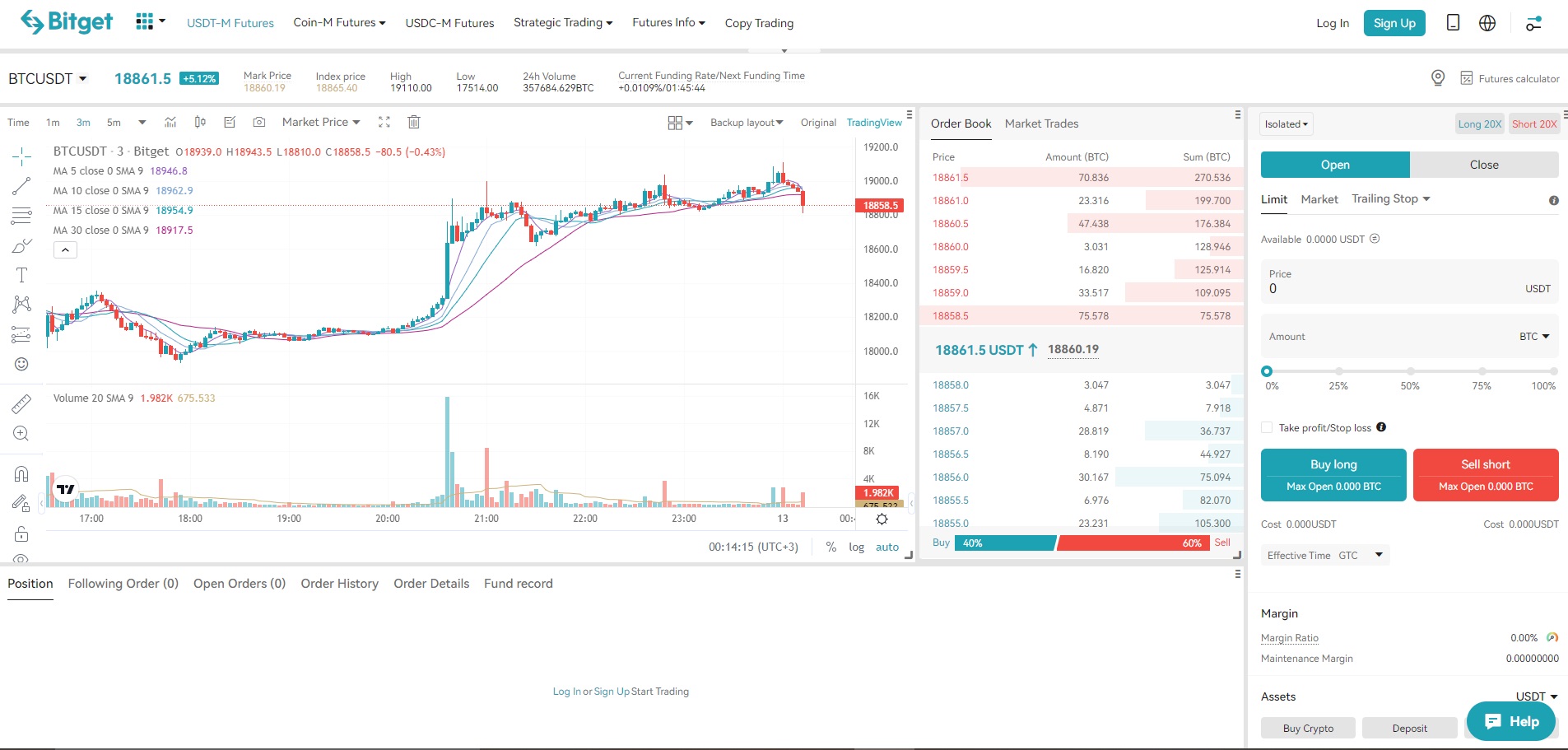 Trading futures on Bitget can be an excellent option for those interested in the stock market. Futures trading is a leveraged type of trading that comes with both greater opportunities and risks, so it's important to look at all the possible factors before investing.
On Bitget there are several types of futures contracts available, however, all of them are cryptocurrency-related futures. They include:
USDT-M Futures;
USDT-M Demo;
Coin-M Futures;
Coin-M Futures Demo;
USDC Futures;
Simulated USDC Futures.
Those new to trading should begin by researching each of these to understand which one may best suit their needs. It's also important to consider market conditions before investing as well as how much capital is dedicated to trading futures and when taking profits or losses may be beneficial. Additionally, it's wise to familiarize yourself with margin requirements and leverage so that you can properly manage risk when necessary.
For starters looking for an easy entry point into the stock market may consider a basic futures contract offered on Bitget for safe exposure until they gain a better feel for the market.
Leverage
One of the features that many platforms now provide is leverage trading. This can be a powerful tool to increase profits from trading digital assets, but there are also a number of risks associated with it. In short, leverage trading allows investors to gain more exposure to their chosen asset than would otherwise be possible by depositing only their own funds. With leverage, traders can borrow large amounts of money to buy or sell cryptocurrency at higher stakes than normally allowed. By using Bitget crypto exchange leverage, investors are essentially able to enter larger positions without fully utilizing all the funds they possess. For example, it offers up to x125 leverage, which is a pretty high number.
While this offers substantial potential gains with only limited capital outlay, it is important to remember that magnified losses are also possible – especially with high levels of risk involved. Leverage trading carries its own set of rules and regulations which must be adhered to in order for the trader's capital to remain intact.
Therefore, potential users should ensure they understand how leverage works and consider the principles behind the concept before entering into any type of arrangement for trades on this platform. Moreover, traders need to be aware that margin calls may come into play depending on market conditions; margin calls require a certain amount of equity within an account which is not always easy for inexperienced leveraged traders to maintain. With Bitget leverage, however, some brokers offer stop-loss orders as part of the package so that risks can be better managed in volatile markets.
Copy trading
Bitget's copy trading feature is setting the crypto exchange market abuzz; it has been designed to make crypto trading easier and more accessible for all. With Bitget copy trade, even novice traders can maximize their profits in a relatively short time, as they are given access to experienced professionals who have achieved success in the past. The essence is that you "copy" the way other traders earn.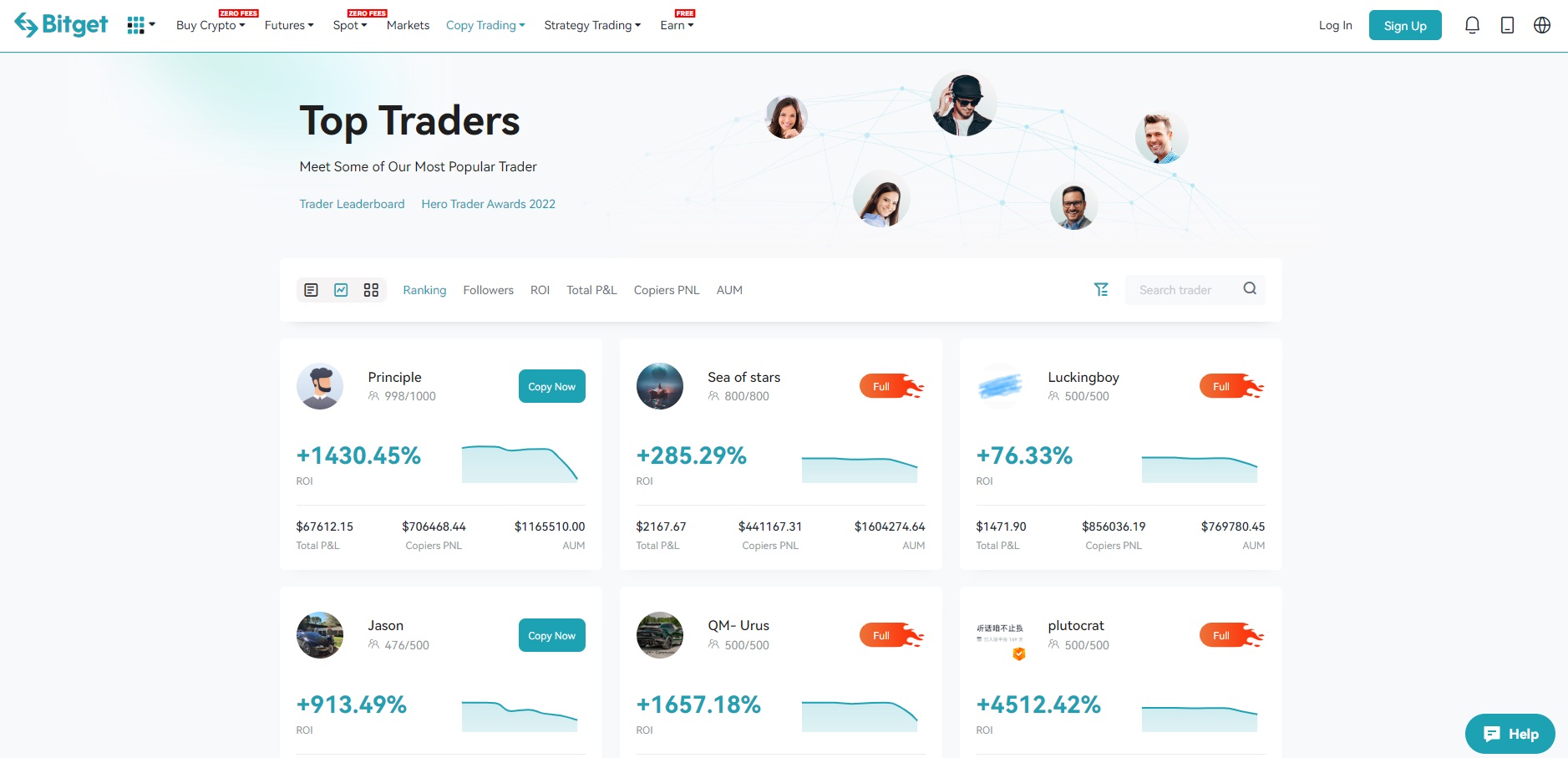 Bitget copy trade has broken down all of the traditional barriers that arise when engaging in the cryptocurrency market – gone are the days of needing to have extensive knowledge and technical expertise before you can become involved in the market. It also comes with an array of tools and features that were unavailable to traders of old, such as AI technology that can alert users when certain indicators may be shifting, offering greater control over any trades being made. This feature has completely revolutionized how traders access the markets, allowing them to experience greater success without having in-depth knowledge or significant technical capability.
To start copy trading on Bitget, you have to follow a few steps
:
Sign in to your account.
Select among the 20.000 traders to follow.
Set up parameters, such as leverage mode, margin, order placement method, etc.
Follow the signals to see and manage opened and closed positions.
The commission is about 8% and you can start for free.
Quanto Swap contracts
Quanto Swap contracts on the Bitget exchange are a great way to gain exposure to the cryptocurrency markets with leverage. Quanto Swap, also known as a perpetual swap contract, is based on a Futures Contract and allows users to go both long and short on supported tokens without being exposed to any foreign currency risk. It enables users to trade with up to 500x leverage for maximum profits, as well as keeping their capital safe by setting stop loss limits.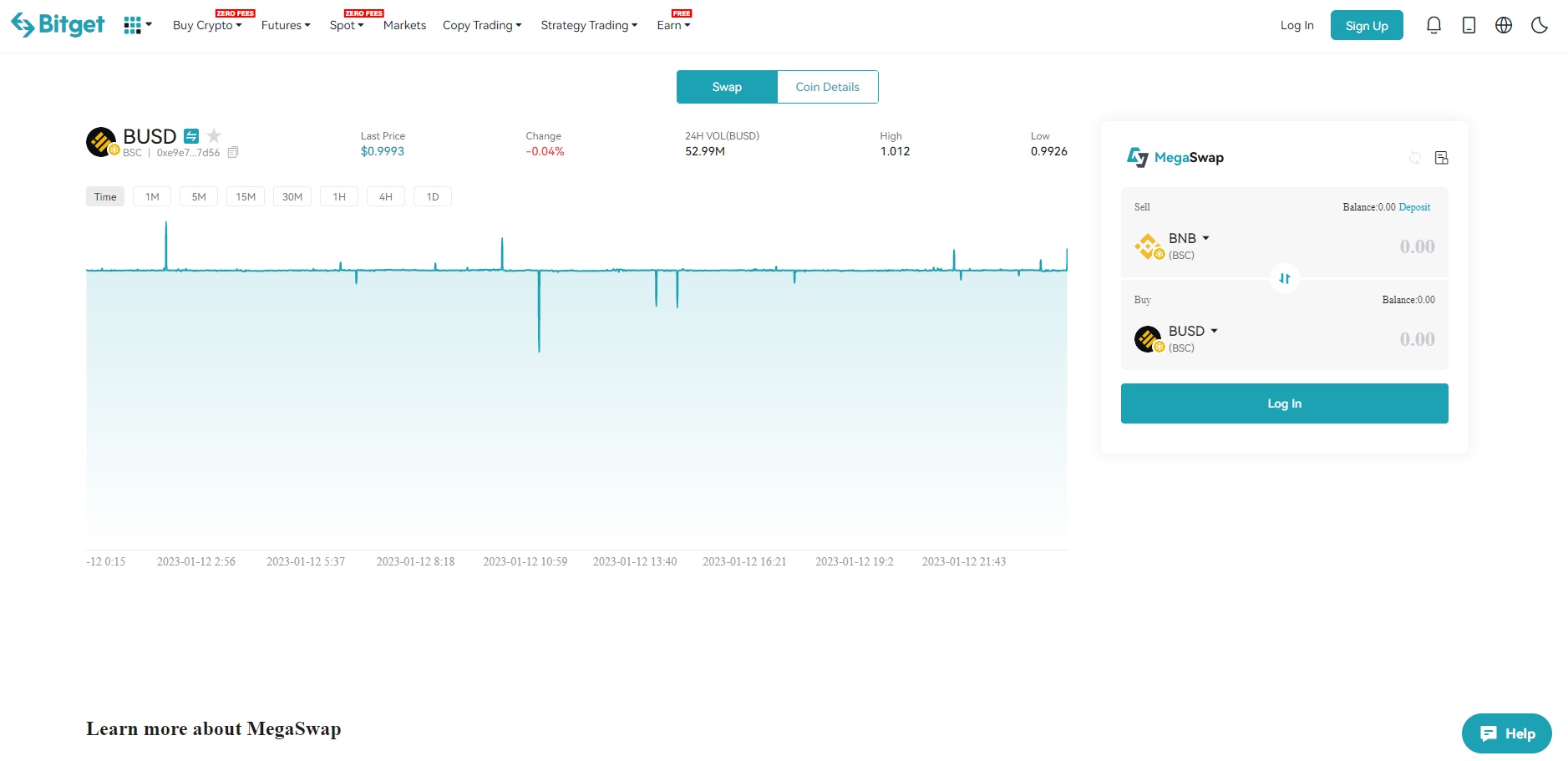 Bitget also offers customizable modes for automated trading strategies such as AMM (automated market-making) and grant bonuses like negative fee trading when traders reach certain performance thresholds. Quanto Swap is an attractive option for experienced traders looking for high liquidity and low fees.
Derivatives trading
Derivatives trading options enable traders to conduct leveraged funding on several digital assets like Bitcoin, Ethereum, and Litecoin. One can open long positions regardless of the current market trend or short trades when the markets are bearish. Thus, allowing traders to take advantage of both scenarios, whether prices are heading up or coming down. Derivatives trading feature comes with high-level tools that enable one to customize their investment strategy as per their risk appetite. Bitget also provides a wide range of contracts that can be used for hedging and speculative purposes such as Contracts for Difference (CFD), Options, and Futures. Furthermore, these derivatives have leverage multipliers up to 100x in BTC contracts for flexibility in trades and portfolio optimization using different strategies like swing trading, scalping, or day trading based upon market conditions.
To ensure user safety Bitget utilizes multiple tiers of security measures like encrypted cold storage wallets to store funds from any losses due to various external factors such as hacking.
Perpetual contracts
Perpetual contracts allow traders to speculate on rising or falling prices without requiring them to take delivery of the asset. It has many advantages over traditional futures trading, such as allowing buyers and sellers to place orders with the intention of creating positions that can be held for long durations and significantly larger deposit requirements. With perpetual contracts from Bitget, traders are able to make use of a number of factors to their benefit, including robust user accounts that offer margin leverage up to 125x and deep liquidation levels down to 0.010%. It also offers risk management tools such as adjustable stop loss or take profit functions as well as negative balance protection features.
Additionally, Bitget users can benefit from insurance funds which help offset any potential losses in case of extreme market volatility. This way traders have an added layer of security when engaging in perpetual contracts trading on the platform. To illustrate a real-world example, consider an investor who is looking to hedge their portfolio against the price fluctuations of Bitcoin.
By opening a long position in a BTCUSD pair via a perpetual contract on Bitget, they would be benefiting from leverage and exposure without needing any additional capital beyond their initial margin requirement for the trade in question.
Launchpad
The high-tech launchpad of the exchange encompasses the most advanced blockchain technology and includes features such as face recognition, security hardware integration, and fingerprint scanning to ensure secure transactions.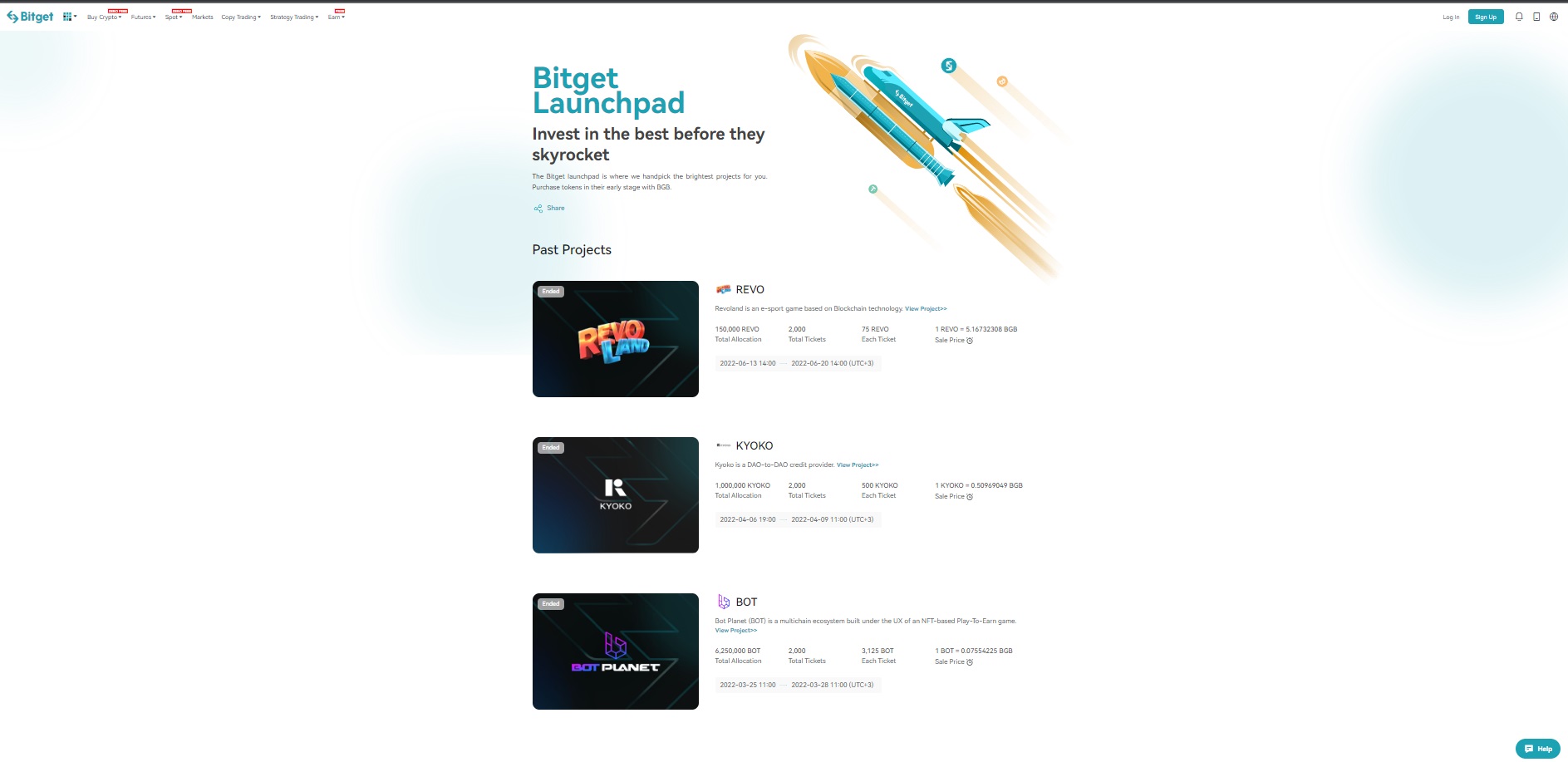 It also has deep liquidity support to enable seamless transfer of funds and provide users with liquidity assurance without having to take excessive risks. The panel comes with a variety of account management options such as quick and easy onboarding or withdrawal application enabling customers to manage their accounts more conveniently.
Interface and design
With its polished design and easy-to-use interface, Bitget has quickly become a favorite among traders. Customers can execute orders via web browsers, mobile application, or API interfaces with lightning-fast speed. It also provides real-time data, 24/7 customer support service, and a variety of advanced trading tools.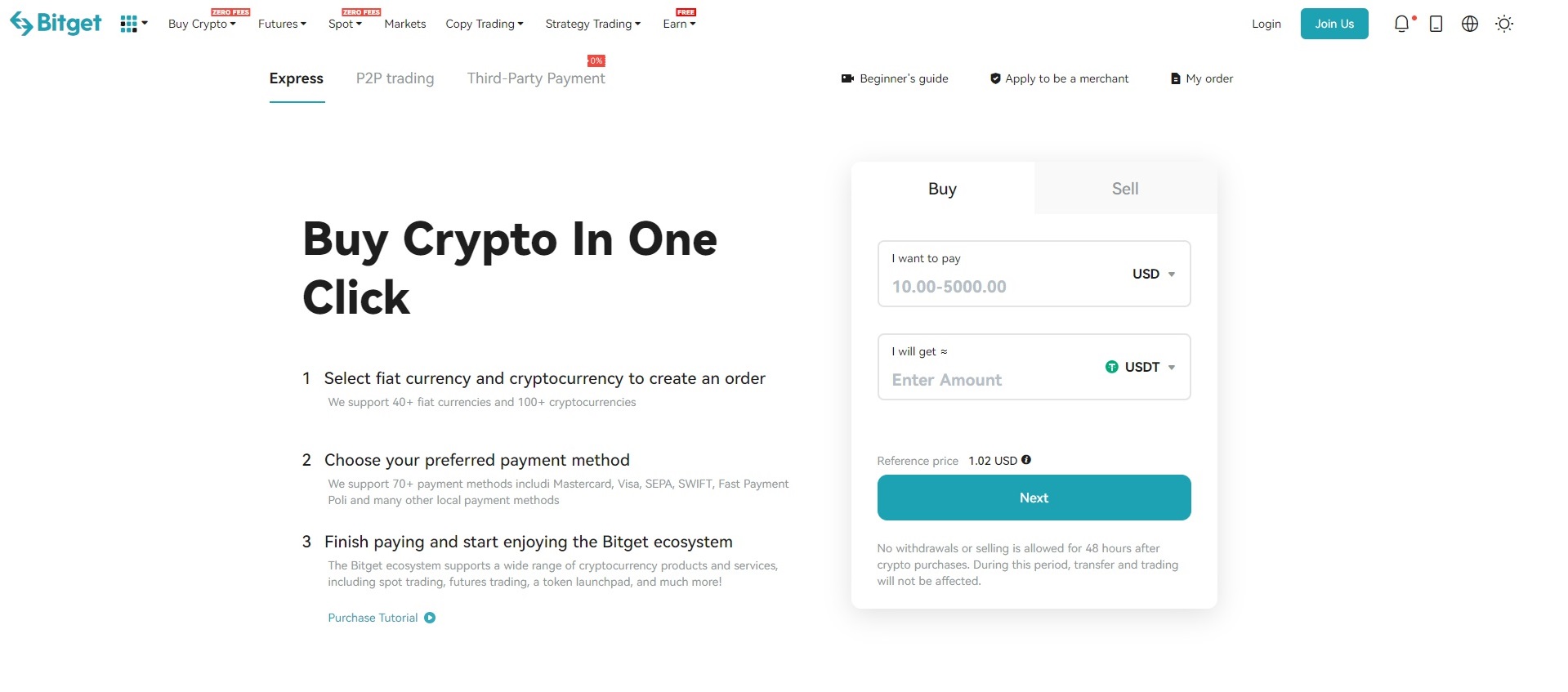 All in all, Bitget is an attractive choice for those who wish to start trading digital assets: its stylish design, user-friendly features, and reliable security make it one of the best exchanges around.
Quanto Swap contracts in action
Quanto Swap contracts on the Bitget crypto exchange are a bit intimidating, especially if you're new to the world of cryptocurrency trading. However, it can become an intuitive trading experience. To begin, follow a few steps:
Register for an account on the official website or mobile app and complete the Bitget login
After logging in, transfer funds from your bank account or another wallet into your Bitget account.
You will then select which pair of tokens to trade, be it USDT or any other crypto asset depending on regulations in your jurisdiction.
Next, select whether you want to go short or long and enter a price at which you would like to open your position.
Finally, set the amount of time for which you would like for the swap contract to last and wait until it is filled before executing the trade.
Bitget token (BGB)
Bitget token (BGB) is a digital asset released by the exchange. The token is mainly used for Bitget's global rewards system, allowing users to engage in activities such as generating new partner referrals and collecting rewards for their sponsored contests. It offers an array of unique features like Trade Mining, Smart Investing, Contraction Trading and Investment Analysis. To use the token, traders need to acquire it by registering either with external exchanges or directly from the Bitget Platform.
Once registered, holders can participate in Coin Lockers which allow them to gain 50% profit from their lock-in time plus a percentage of trading fees generated by the platform. Moreover, they can enter into contracts leveraging leverage ratios up to 1000x with 20+ digital assets such as Bitcoin (BTC), Ethereum (ETH), Litecoin (LTC), and more. Token also has its own wallet which allows users to back up their funds securely and make transactions with other holders.
King's Cup Global Invitation (KCGI)
The King's Cup Global Invitation (KCGI) on Bitget is a thrilling and unique competition, featuring the best traders from around the world. It provides participants with exclusive opportunities to experience trading, compete for rewards, and gain valuable insights into market analysis and trading strategies. Aspiring traders who want to level up their trading skills can participate in this event as it offers an exciting arena to face off against each other.
KCGI on Bitget promises a vibrant network of globally renowned experts sharing insights as well as professional judges giving prompt feedback on all entrants' submissions.
Participating in the King's Cup Global Invitation (KCGI) on Bitget is simple and straightforward. All one needs to do is open an account. There 2 types of participants: single users and captains. If you choose to be a captain, create a team with up to 20 people, and then begin trading with a virtual fund of more than 500.000 USDT provided by Bitget. Each team is allowed to trade freely and execute strategies according to market trends and their own insights. At the close of each round, teams can review their gains or losses compared to other virtual traders, bringing more excitement and competition into the process.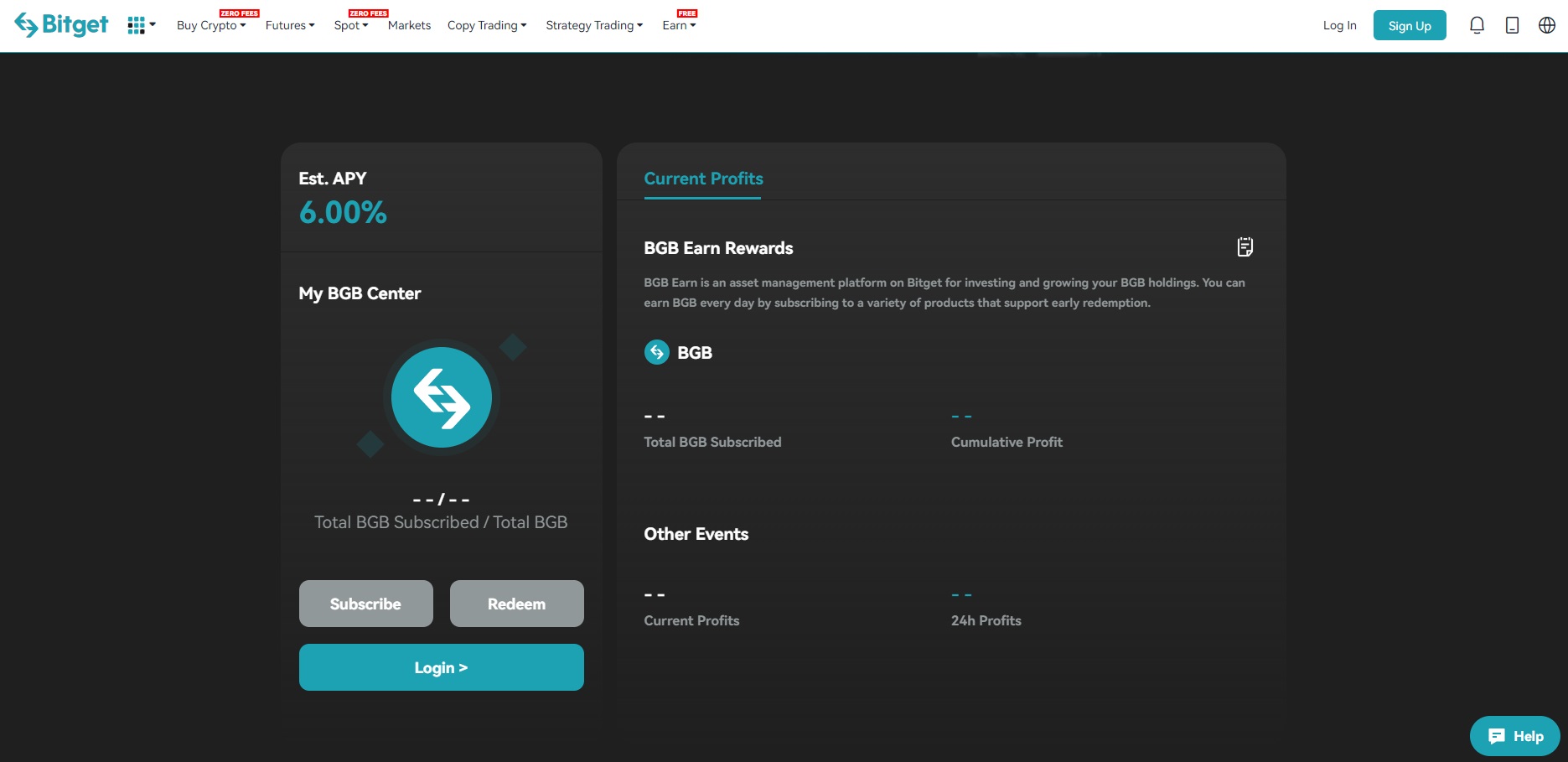 Participants must use their skills in market analysis and asset management, as well as working together as a team, to earn maximum rewards from the game. For those looking for an entertaining way to gain some understanding of cryptocurrency trading while simultaneously earning individual or group prizes, KCGI on Bitget is surely worth a try!
Advantages and disadvantages of Bitget
Bitget is a popular cryptocurrency exchange, providing users with a fast and secure way to trade cryptocurrencies. It allows traders to buy and sell some of the world's most popular coins, including Bitcoin, Ethereum, Ripple, BCH, and EOS. While there are many advantages of using Bitget as your cryptocurrency exchange, there are also potential downsides to take into consideration before signing up.
One of the major benefits of using Bitget is its low fees. Compared to other exchanges such as Coinbase, the fee rates are quite competitive which can provide users with significant cost savings over time. Additionally, Bitget's user-friendly website features an intuitive interface that even first-time traders will be able to use quickly and easily.
On the downside, Bitget does not support all exchanges within its platform and therefore users may not be able to find the best prices available for their trades. The lack of customer service options provided by Bitget could be seen as a disadvantage since support from customer service representatives can help significantly when an issue arises during trade execution or operations on the platform.
Ultimately whether or not Bitget is suitable for trading depends on each individual's risk appetite and personal preference. Its cost-effectiveness makes it attractive for low-volume traders but those looking for more sophisticated trading strategies might prefer going elsewhere. For traders seeking a reliable yet efficient crypto exchange experience, they may want to try out Bitget before making any decisions about their long-term investment strategy.
| | |
| --- | --- |
| Pros | Cons |
| Free to start | Slow customer support |
| 0% fees for crypto deposits | Some fee plans are higher when compared with other services, for example, Bitmake |
| Suitable for new traders | Dynamic withdrawal fees |
| Multiple-language support | Fiat currencies are limited to USD, EUR, and GBP for deposit only |
| Different trading options, including Copy Trading | Lack of educational materials |
| Contests to earn (KCGI) | Withdrawal through third-party services only |
| More than 250 coins are available | |
| Free deposit for cryptocurrencies | |
| Low withdrawal threshold | |
| Discounts for BGB users | |
Table 1. Bitget's pros and cons
Who is this exchange for?
Bitget crypto exchange is an ideal choice for those who want a reliable platform for trading digital assets. It features a secure, user-friendly interface with advanced tools designed to facilitate easy cryptocurrency trading. Bitget provides 24/7 customer support.
The exchange has competitive pricing, low transaction fees, and a range of Charting Tools that enable deeper insight into the market. Therefore, Bitget is suitable for many traders including beginners all the way up to experienced professionals who are looking for a powerful trading platform.
Available crypto coins
On Bitget, you can trade using more than 250 coins and pairs. Some of them are presented in the table below.
Available coins
For trading
For deposit
For withdrawal

Adventure Gold Coin,
Bitcoin Cash,
Cardano Coin,
ChainLink Coin,
EOS Token,
Ethereum Classic,
Ethereum, Filecoin,
KNCL Token,
Litecoin,
Polkadot Coin,
Ripple,
SushiSwap Token,
Tether,
Tezos,
TRON Coin,
Uniswap Token,
yearn.finance Token,
Yield Guild Games Token.
Table 2. Available cryptocurrencies
Registration process
Registering on the Bitget cryptocurrency exchange is simple and straightforward. To begin, visit the Bitget website to start your registration process. You will be asked for personal information, including your name, email address, password, and valid forms of identification to get verified. After verifying your ID, you can fund your account with any supported means such as a bank wire transfer or using cryptocurrency wallets like ETH and BTC. Once funded, you are ready to start trading on this secure online platform.
Follow these steps
:
Create an account.
Pass the verification wall.
Deposit an amount you want to start with using your bank account, Apple Pay, Google Pay, crypto wallets, or SEPA.
Choose one of the available trading options (see above).
Start earning.
For unverified accounts withdrawal limit is $50.000 equivalent per day, while for verified ones – $3.000.000 equivalent per day. You can withdraw funds through third-party services, such as Simplex, Banxa, and Mercuryo.
Setting up your account
Setting up your Bitget crypto exchange account is easy and only takes a few moments. First, you will need to download and install the app, then register for an account by providing basic information and creating an ID/password combo. Once that's done, you can start making trades! However, for extra security purposes, you must complete the KYC (Know Your Customer) verification process before using several features and functions of the exchange platform.
KYC verification
This verification will require you to provide government-issued identification documents verifying your identity prior to continuing with full access. The time needed to finish the KYC process may vary depending on other factors like jurisdiction or response time.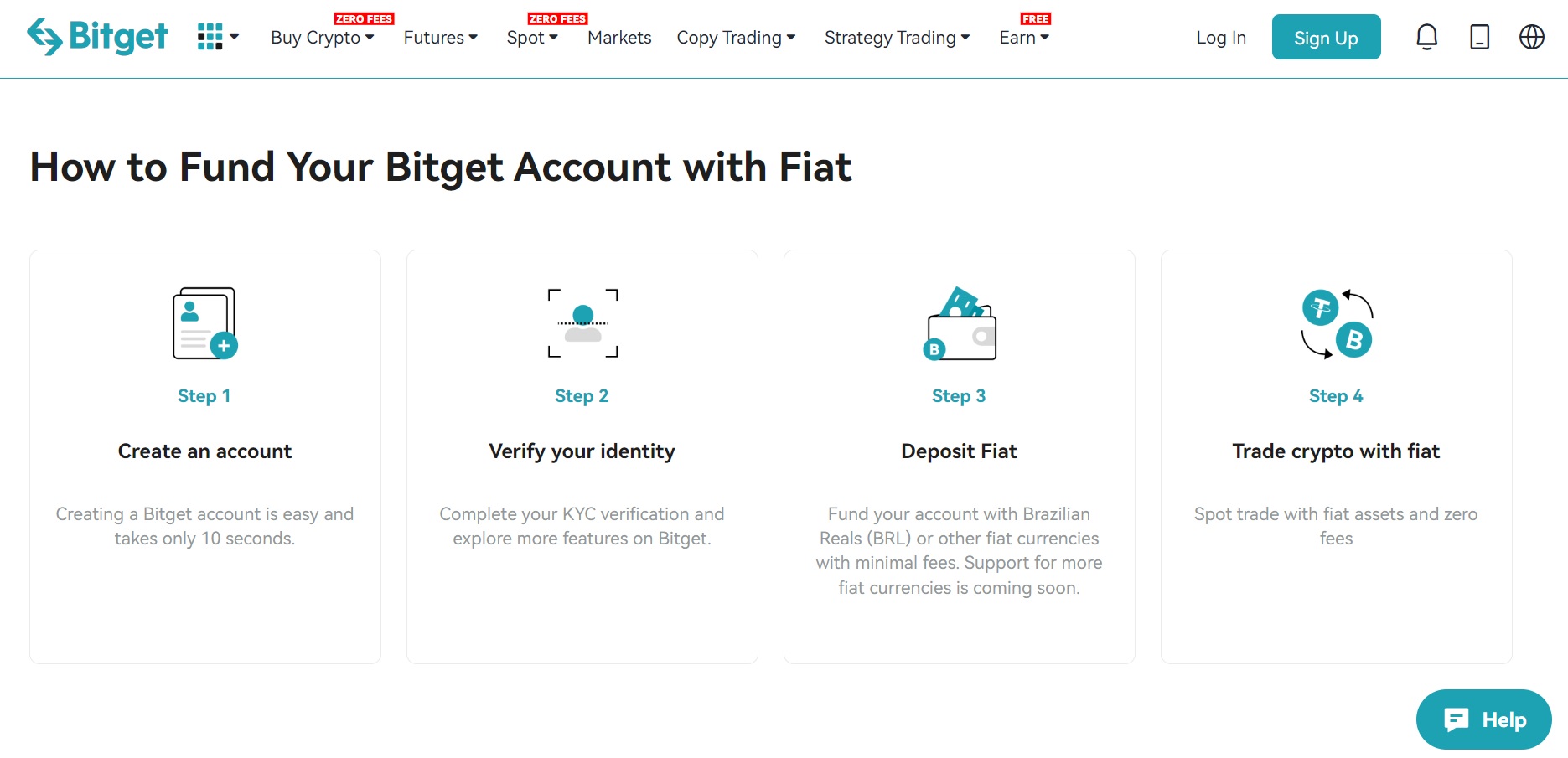 The audits are conducted in search of potential malicious intent behind a user's account such as fraud or money laundering activities. Once all these steps are completed successfully your account will be verified and you can proceed to trade on Bitget without any hassle.
Payment methods
Bitget crypto exchange provides users with a range of payment methods to choose from when it comes to purchasing and trading cryptocurrencies. They accept wire transfers in various currencies, as well as major credit cards, including Visa and MasterCard, within most countries. Bitget also supports e-wallets such as Apple Pay, Google Pay, and crypto wallets for secure and efficient payments. All transactions on the platform are done quickly and securely; Bitget ensures that all personal information is kept private and stored on encrypted servers so users can always trust in their security. Furthermore, vigorous anti-fraud measures are taken to secure each transaction and user account. When it comes to payouts, third-party services are the only method available at the moment (Simplex, Banxa, and Mercuryo).
Affiliate and referral programs
Bitget is an exciting crypto exchange platform that has added an affiliate and referral program to its features. With this program, you can earn rewards and bonuses for each successful new member you refer. To get started, simply log into your account and copy your referral link. Then, share it with friends who are interested in buying crypto so they can sign up and complete Bitget's buy order forms with ease. Upon completion of their Bitget crypto buy order, you will be rewarded with bonuses and coins that can be used to purchase crypto on the platform. In addition, you can earn rewards with every transaction these people do on the exchange.
Bitget offers up to 50% daily commission, up to a $3000 monthly bonus from every referral sign-up, and up to 3000 USDT for inviting a friend.
Commissions and fees
Bitget provides users with innovative features and low commissions, making it one of the most sought-after exchanges among digital currency traders. The commission for trading on the platform is 0.1% for makers and 0.2% for takers, which is lower than what conventional exchanges offer. This is beneficial for active traders who desire to maximize their trading profits. Bitget also ensures that users pay zero fees when depositing or withdrawing funds (in crypto) from their account – this makes it attractive especially to experienced investors as well as novice traders alike.Detailed information is presented in the table below.
Commissions and fees
For makers
For takers
Deposit
Withdrawal
Spot trading – 0.1%Futures trading – 0.02%
Spot trading – 0.1%Futures trading – 0.06%
0%
Vary for other currencies depending on the asset and third party chosen.The minimum is 0%.The maximum is 8%.Usually 0.0006 BTC.
Table 3. Bitget's fees
Safety and reliability
Bitget is a reputable crypto exchange, and one of its most important goals is to ensure the safety and reliability of its users. To achieve this goal, Bitget has several features in place that make it one of the most secure exchanges on the market. These measures include:
two-factor authentication for user login;
an anti-fraud system to detect suspicious activity;
multi-signature wallets for increased account security;
KYC verification to prevent sign-in issues;
password-protected private keys to save user funds from theft;
regular auditing of smart contract systems by external third parties.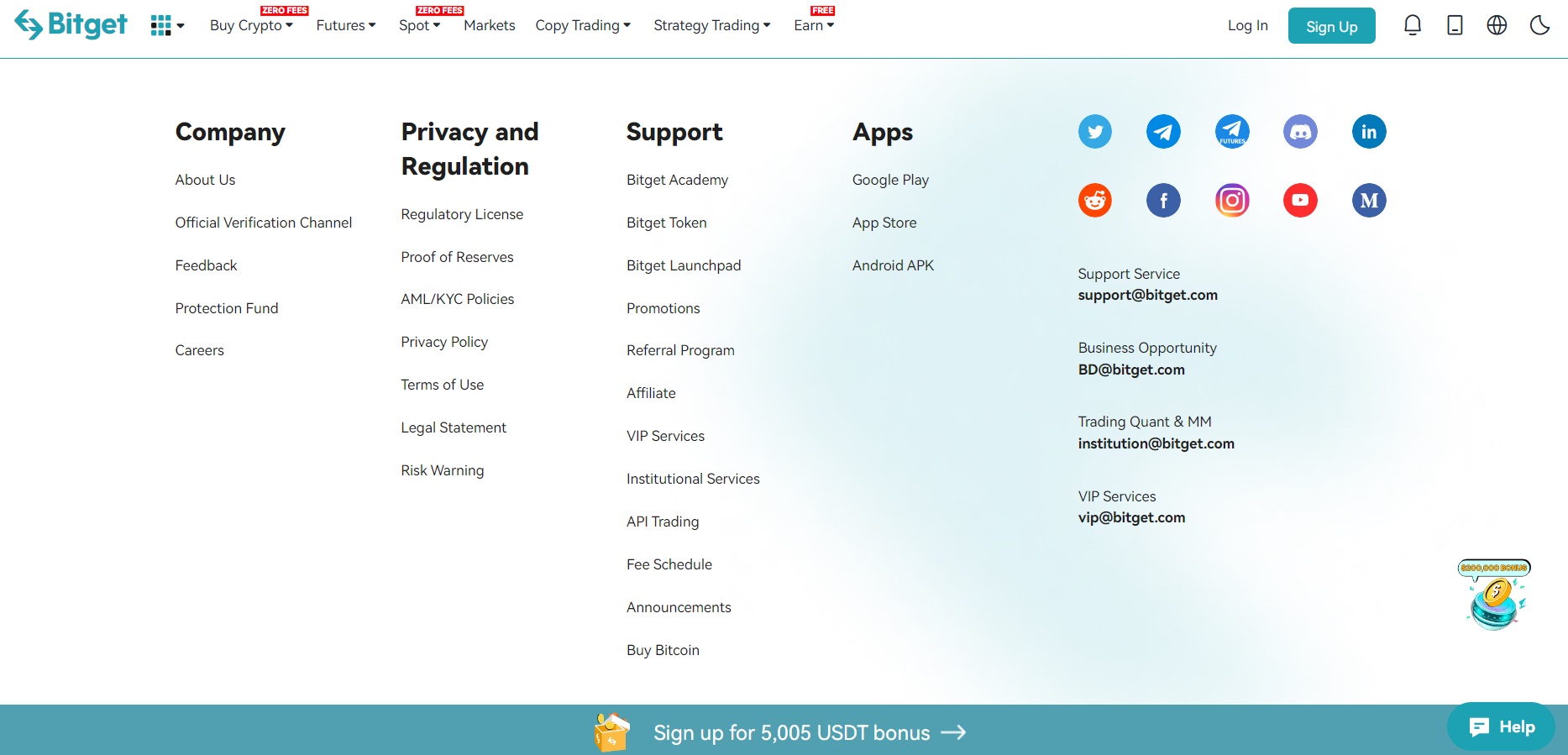 Through these comprehensive layers of protection along with its record of delivering secure transaction processing times and reporting the highest liquidity rates amongst industry competitors, Bitget stands out from other crypto exchanges as being a highly secure option for users looking to buy and sell cryptocurrencies.
Mobile app
Everything one needs to start their journey of investing with cryptocurrencies can be found in the innovative and comprehensive Bitget mobile app. Its advanced features allow users to trade with ease from anywhere around the world. With real-time staking and borrowing capabilities all within one platform, users no longer need to search for alternative sources for their trading needs but rather take advantage of everything the app has to offer. The design and layout are organized for easy navigation that helps even novice traders get up and running quickly.
Users can access timely market trend analytics provided by trusted industry experts or join multiple conversations in chatroom discussions – all of these come together to give traders an unparalleled insight into the volatile markets of cryptocurrency.
Customer support
Many trading platforms currently lack efficient customer service, but Bitget bucks this trend and offers a great user experience. Their customer support team is available 24/7 through email and live chats and they regularly respond quickly, often within minutes. Also, they provide a wealth of knowledge on their website to assist customers before reaching out for further help. One downside is that customers do not have the option of self-service when communicating with the team, which slows down problem resolution time for minor queries that could otherwise be resolved quickly with the right resources. Nevertheless, overall the customer support features provided by Bitget crypto exchange are quite efficient and reliable that exceed many competitors in the market today.
Eligible countries
Bitget is legit and available in 50 countries. They include:
| | | |
| --- | --- | --- |
| European countries | The USA | Singapore |
| LATAM countries | Canada | Australia |
| South East Asia countries | Nigeria | Ghana |
| South Africa | Brazil | Russia |
| India | Vietnam | Philippines |
| Japan | Korea | |
Conclusion
Access from the USA
Payment methods
Contacts
Deposit
Withdrawal
Yes
Debit and credit cards, Google Pay, Apple Pay, crypto wallets, SEPA
Third-party services (Simplex, Banxa, and Mercuryo), crypto wallets
https://www.bitget.com/en/[email protected]
Company information
Criteria
Information
Headquarters country
Singapore
Foundation year
2018
Exchange type
Centralized with DeFi support
Trading is allowed
Yes
Frequently Asked Questions
Can I use Bitget in the US?
Yes, it is possible to use Bitget in the United States.
Where is Bitget located?
Although it was registered in Seychelles, its located in Singapore.
How do I get a Bitget Token (BGB)?
To acquire a Bitget Token (BGB) users must register with Bitget first, complete identity verification, and then purchase BGB with a supported payment method (credit/debit card or online wallet).
What are the benefits of Bitget Token for users?
The token enjoys a number of benefits for users including discounted transaction fees on the platform, reduced risk of data manipulation, and increased system capabilities following staking rewards offering users the chance to earn account credits and free coins when they lock up certain amounts of their BGET to receive periodical rewards.
Are fiat currencies accepted?
Bitget does not currently accept fiat payments but allows deposits of supported cryptos only.
What types of trading are available?
Spot trading, grid trading, copy trading, futures trading, and derivatives trading are among the available types.
Comments