About Gemini Company Background
The Gemini cryptocurrency exchange was created in 2014 by the Winklevoss brothers Cameron and Tyler. Some people have already heard something about these people. The fact is that they were the ones who filed the multi-billion dollar lawsuit against Mark Zuckerberg. The brothers claimed that the owner of the corporation had simply stolen their idea when he created Facebook. The whole process is shown in detail in the movie The Social Network.
Interesting! The Winklevoss brothers invested $11 million in BTC (Bitcoin) back in 2013.
In the U.S., the first exchange transactions were made only in 2015. Until then, Gemini was not available to individuals. Later, the exchange began to officially operate in several large countries in the Asian region.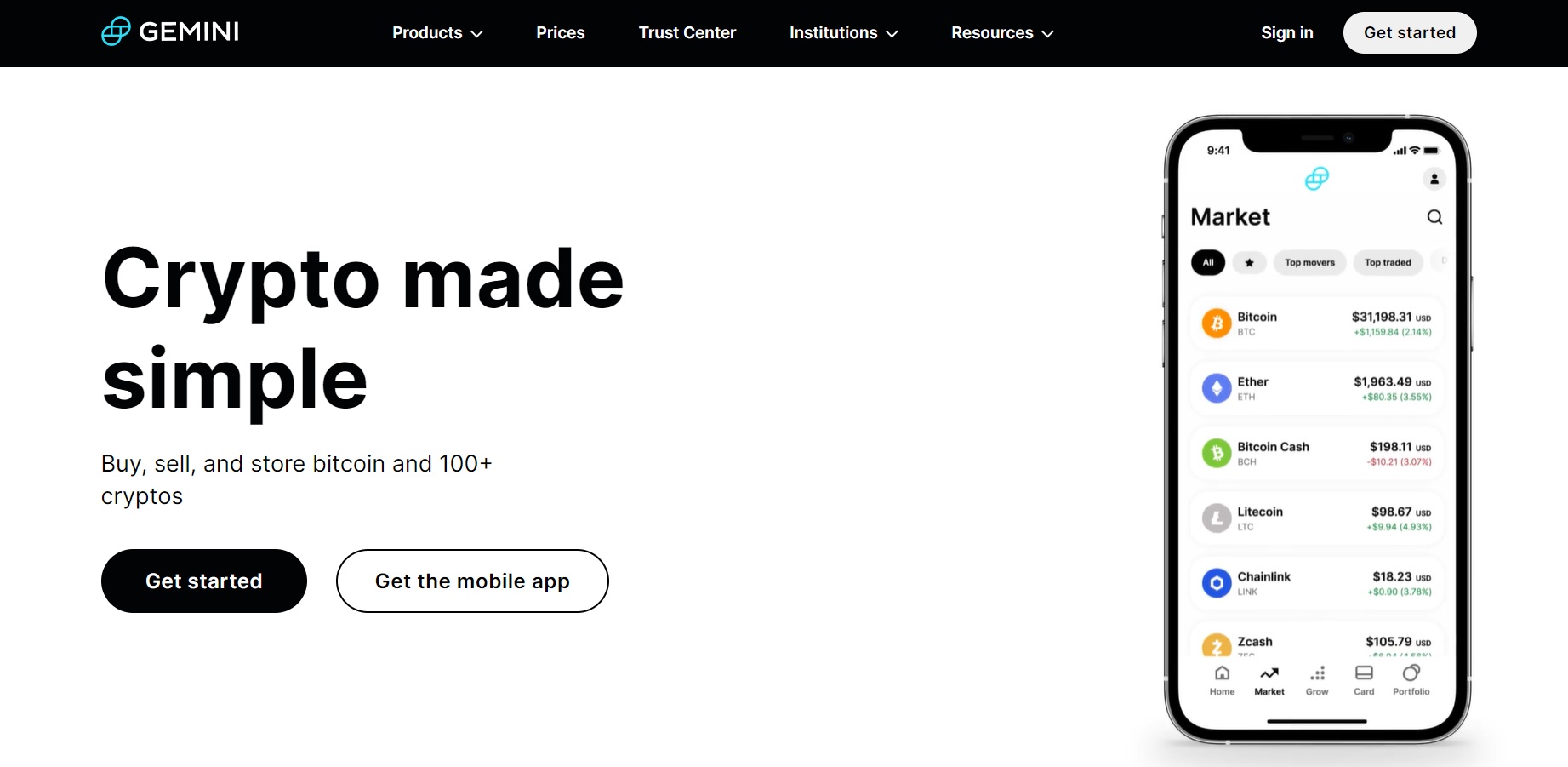 It was on Gemini that the auction format was first implemented. Today it is used in all popular exchanges.
Key features
Physically, the company's general headquarters is located in New York. Gemini is famous for being the first company in the world to receive licensed status. There are several interface options for trading here. Thanks to this, a person with any knowledge of cryptocurrency and blockchain can find the best option for themselves.
Important! The platform has its own stablecoin. It's called GUSD or Gemini USD. Its value is pegged to the U.S. dollar at a ratio of 1 to 1. It works on the Ethereum blockchain.
Gemini crypto exchange can be used either through a browser on a computer or phone or through a mobile app. Their quality and simplicity are often appreciated by beginners. Experienced token traders pay attention to ActiveTrader professional tools. You can only determine the quality of the platform and whether the service is right for you after analyzing each section. Let us have a quick run through the main features and tools Gemini offers to its clients.
Extended trading platform
The ActiveTrader section provides complete freedom for cryptocurrency trading enthusiasts.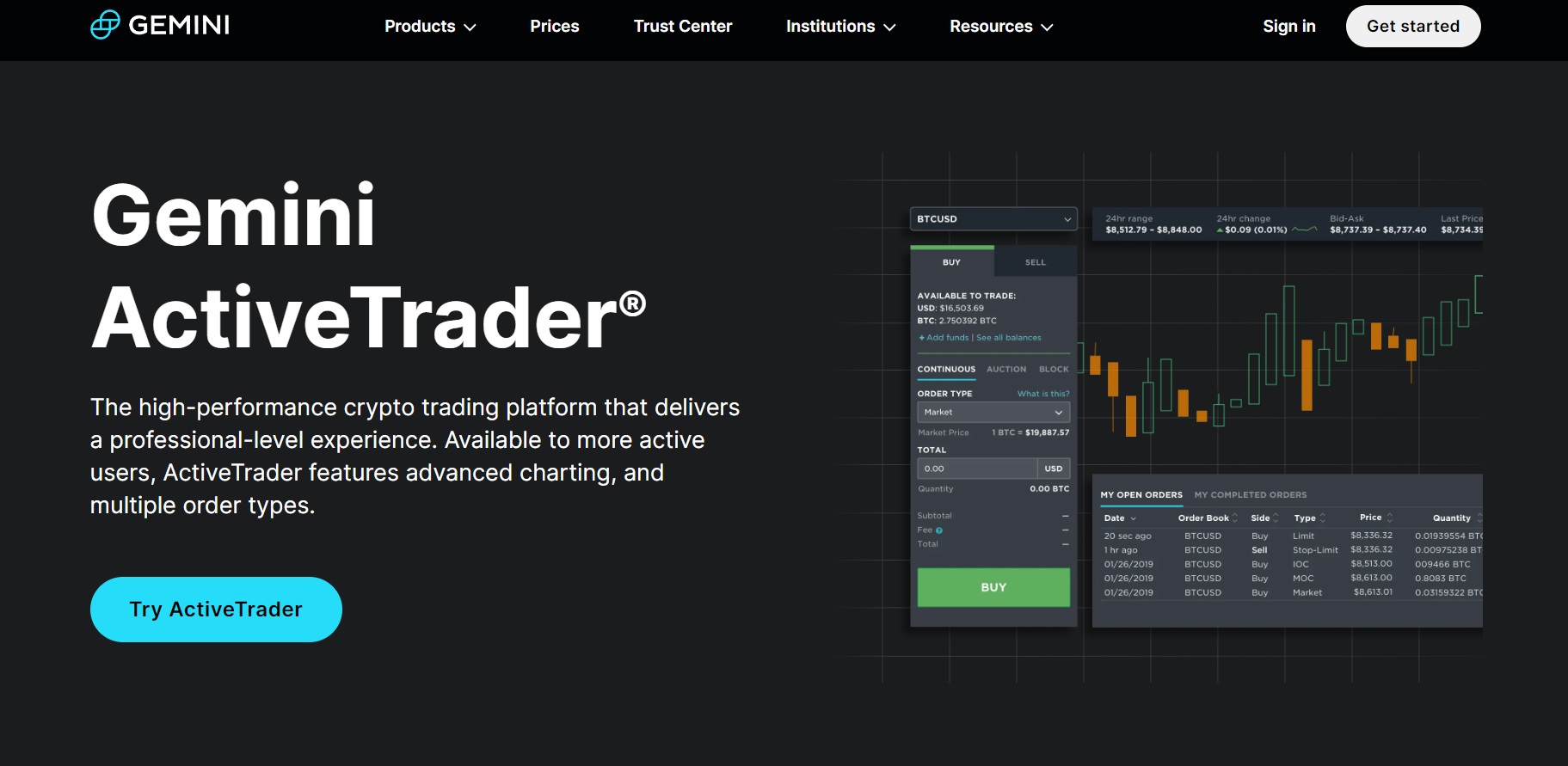 All the tools that may be required are immediately open to the client.
Gemini Earn
The program was unveiled in 2021. With it, you can get returns of up to 7.4 percent per year. At the end of 2022, a decision was made to suspend withdrawals for clients due to the FTX crash incident. About $175 million has been frozen on the site so far.
Gemini Pay
The service allows you to spend cryptocurrency at 30,000+ retail stores in the U.S. It makes paying for services and goods much easier. All you have to do is open the exchange's mobile app and make a transaction.
Educational Resources
More than 201 webinars are available to users, allowing newcomers to learn the difference between Bitcoin and Ethereum, what mining is and how it works, and much more. There's even a special section for girls to talk to, who can also pump up their skills.
Mobile App
The official app is created for both Android and iOS. The functionality allows you to spend money, exchange cryptocurrency and use all the other tools to earn and use tokens.
Credit Card
Spend your cryptocurrency savings in offline stores. All you have to do is attach your Gemini crypto credit card with Mastercard and then confirm the transaction. Nothing complicated, just make a swipe, and everything is the same as with a regular bank card. The biggest advantage is that there are no transaction fees.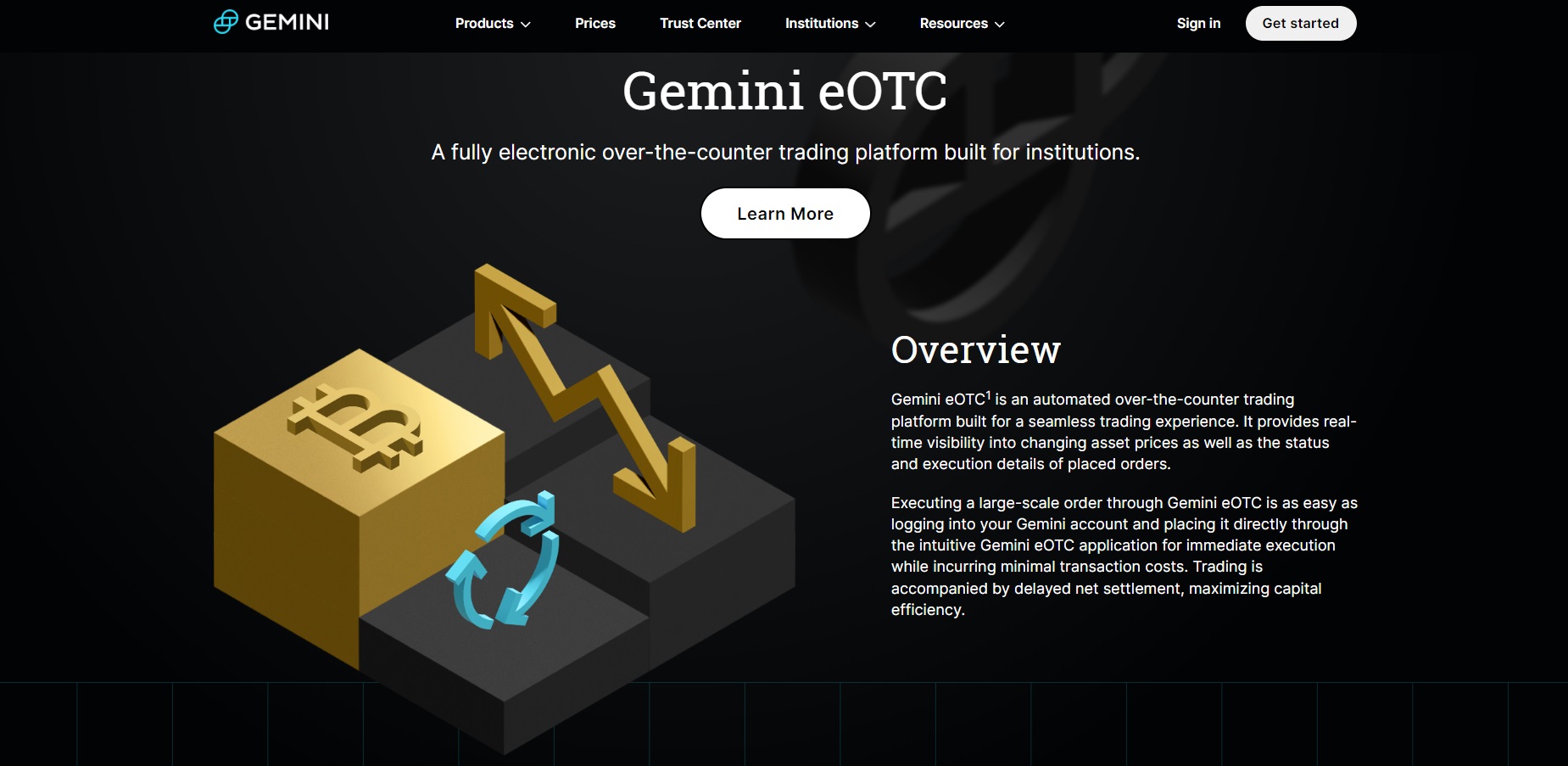 Important! Just like any other modern bank card, there is a cashback of up to 3%.
Available in all states of the US
Officially you can use the Gemini platform in any of the 50 US states. Even modern Coinbase couldn't get permission to trade in the state of Hawaii. Gemini, on the other hand, has succeeded.
What to consider to make Gemini work better
If the company wants to become one of the leaders in the global market, they are also advised to translate the website and the app into many more languages. There are only 4 available at the moment, including Portuguese and English. At the same time, the company makes a lot of right decisions. This is what allows it to become one of the most popular crypto exchanges in the US.
Fee schedule
Gemini currently charges several types of commissions and fees. Even a deposit will already need to be paid, but not in all cases, but only when depositing with a debit card – 3.49%. You'll also need to pay 1.49% if you want to convert one cryptocurrency to another. And you'll have to pay 0.5% of the market price for each transaction.
Note. Plans are not different in the mobile app and on the website.
The amount of commission in spot trading will be affected by the size of the transaction:
| | | |
| --- | --- | --- |
| The minimum amount, USD | The maximum amount, USD | Commission, USD |
| 0 | 10 | 0.99 |
| 10 | 25 | 1.49 |
| 25 | 50 | 1.99 |
| 50 | 200 | 2.99 |
| 2000 | Undefined | 1.49 |
 Table 1. Commissions
Important! You can reduce the cost of commissions by activating the ActiveTrader interface. There are more forgiving fees.
If you do not want to pay a withdrawal fee, every user has that option. The 0% fee applies only to the first 10 deposits. For the 11th withdrawal, you will already be charged a commission, the amount of which will depend on the selected cryptocurrency.
Important! Gemini does not charge any commissions for withdrawing USD as a fiat currency.
Improve customer service
The most obvious thing that Gemini needs today is to connect affiliate programs for private investors. This would increase the number of users on the exchange.
Add the availability of high-end coins
Available cryptocurrencies are not enough for some users. But often this disadvantage is associated with the fact that there is not enough trading volume. This problem is solved by the recommendations listed above.
Gemini review: pros and cons
Like any office, Gemini has its advantages and disadvantages. Most of the disadvantages that can be noted are related to regional restrictions. But for customers from the U.S., the number of disadvantages is reduced by a few points.
| | |
| --- | --- |
| Pros | Cons |
| The creators are experienced entrepreneurs | A limited number of cryptocurrencies (just over 100) |
| Educational materials are available | The card order option is only available in a number of countries |
| Opportunity to order a plastic card and pay for purchases in cryptocurrency in any offline store | Deposits from the Earn program have been frozen |
| All depositors' funds are kept in cold wallets | The exchange does not work in many countries |
| User-friendly mobile app | Limited interface languages number |
| No cases of fraud, theft, or burglary have been reported | Limited countries list |
| High level of security | No margin trading |
| Paying for services and goods directly from the Gemini app | No derivatives trading |
 Table 2. Gemini: pros&cons
Gemini is right for you if…
You are willing to put up with the current commissions and want to trade on a site that is legal in one of the toughest markets, the United States. There is a high probability that the company can become one of the market leaders. After all, even today they offer interesting options for their customers, including a debit card to pay for services and goods offline.
Note. Gemini is American and European oriented, so the exchange is guaranteed to be right for you if you live in those regions.
Is Gemini suitable for beginners?
As soon as you log on to the Gemini website or the Gemini App, you will come across an extremely simple chart. It will be easy to read for those who are new to cryptocurrency. No candlesticks or other data that can be confusing. Many other exchanges immediately include a full trading interface. Gemini understands that an experienced user can easily activate the full-fledged version of the interface.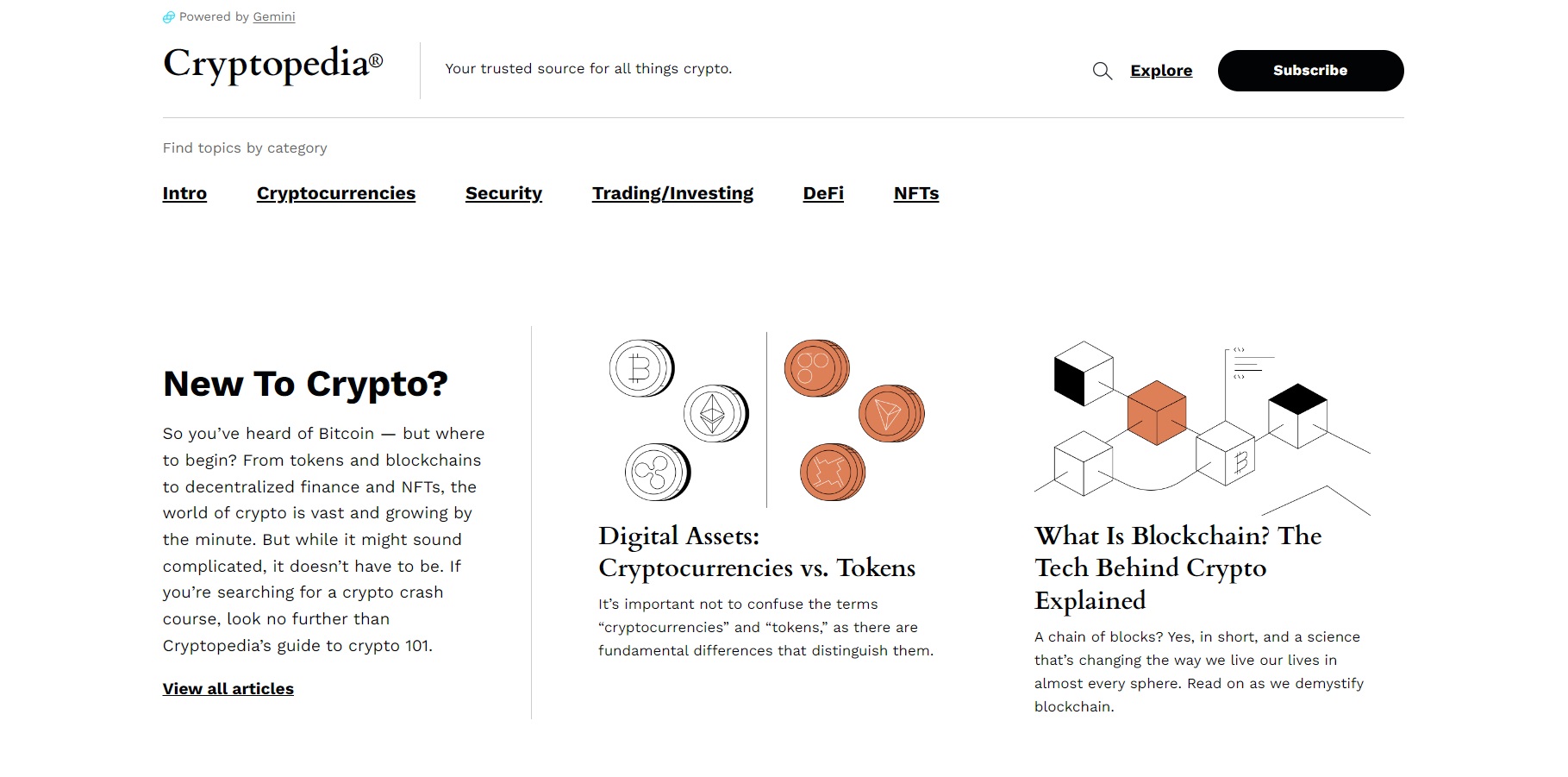 That's why it initially welcomes the client with a stripped-down and extremely simple format. This version of the interface is called Gemini Exchange. The maximum simple procedure of buying and selling cryptocurrency. If the user just wants to make purchases of tokens in a certain amount in a certain period of time, you can use the How often? Plan your investments with a handy calendar.
How about advanced traders?
For those who have been in the crypto industry for a long time, Gemini's tools seem to be a great solution. Take ActiveTrader exchange service with extended functionality. Here, the user will already find a full set of tools that are available in many other trading platforms – candlesticks, different order types, order books, depth charts, and so on.
Cryptocurrencies available on Gemini
As of January 2023, more than 141 trading pairs and more than 100 cryptocurrencies are available on Gemini Exchange. The most popular BTC, ETH, LTC, USDT, USDC, DOGE, and so on can be found here. There are also less common tokens that are just starting to be actively introduced into the ecosystem.
Available crypto coins
For trading
For deposit
For withdrawal
BTC/USD
BTC
BTC
ETH/USD
ETH
ETH
LTC/USD
GUSD
GUSD
SOL/USD
USDC
USDC
MATIC/USD
USDT
USDT
USDC/USD
DOGE
DOGE
BTC/SGD
BUSD
BUSD
FTM/USD
GMT
GMT
GALA/USD
ORCA
ORCA
SHIB/USD
SOL
SOL
MANA/USD
SAMO
SAMO
RNDR/USD
RAY
RAY
BCH/USD
ZBC
ZBC
DOGE/USD
SBR
SBR
BTC/GBP
LTC
LTC
ETH/SGD
FIL
FIL
LINK/USD
DOT
DOT
ETH/BTC
AVAX
AVAX
GISD/SGD
ATOM
ATOM
BTC/EUR
ZRX
ZRX
UNI/USD
1INCH
1INCH
ELON/USD
AAVE
AAVE
USDT/USD
APE
APE
DAI/USD
ALCX
ALCX
FET/USD
ALI
ALI
UMA/USD
AMP
AMP
APE/USD
ANKR
ANKR
LTC/ETH
API3
API3
SUSHI/USD
AUDIO
AUDIO
BTC/GUSD
AXS
AXS
LDO/USD
BAL
BAL
LTC/BTC
BICO
BICO
FIL/USD
BNT
BNT
ALI/USD
BOND
BOND
ETH/GBP
BAT
BAT
AXS/USD
CHZ
CHZ
AMP/USD
ASH
ASH
LRC/USD
LDO
LDO
CRV/USD
LINK
LINK
OXT/USD
CVC
CVC
ZEC/USD
COMP
COMP
AAVE/USD
CTX
CTX
LUNA/USD
CRV
CRV
DOT/USD
DPI
DPI
SAND/USD
MANA
MANA
REN/USD
ELON
ELON
XTZ/USD
FIDA
FIDA
SAMO/USD
DAI
DAI
COMP/USD
MASK
MASK
Table 3. Crypto available on Gemini
Gemini trading and staking opportunities
Gemini is an online trading platform that allows users to easily access crypto markets. It offers plenty of tools and transaction types to make trades more efficient, including Gemini crypto price tracking. Through this feature, traders can customize their alerts and monitor prices across all the major crypto assets in real-time, helping them make more informed decisions more quickly. Among the other features available on Gemini are paper trading, integrated risk, market data analysis, automated order management, and end-of-day reporting.
All these features combined enable traders to pursue multiple strategies with ease and convenience in a secure environment built for advanced traders.
Investors can stake their coins and earn rewards while helping to secure the underlying networks by contributing computing power. With Gemini, users have access to a carefully curated Gemini exchange crypto list that includes Bitcoin, Ethereum, Ripple, Dogecoin, and several other prominent coins. Staking from Gemini is incredibly simple – all investors need do is deposit their coins into the exchange's virtual wallets. From there, Gemini handles all the technical nuances as well as allowing for easy withdrawals when users desire to cash out their earnings. Furthermore, the platform offers a wonderful online dashboard that allows investors to rapidly monitor staking progress and yields in real-time.
Cryptocurrency Storage Options
Gemini offers two types of cryptocurrency storage options: hot wallets and cold wallets. Hot wallets are connected to the internet and can be used for fast transactions. Cold wallets are stored offline, making them more secure but also slower to execute transactions. Both hot and cold wallets can be used to store Bitcoin (BTC) and Ethereum (ETH), as well as other cryptocurrencies supported by Gemini.
NFT Marketplace
Gemini recently launched its NFT Marketplace, allowing users to buy, sell, or trade non-fungible tokens (NFTs). NFTs are digital assets that represent real-world or virtual items such as artworks or collectibles.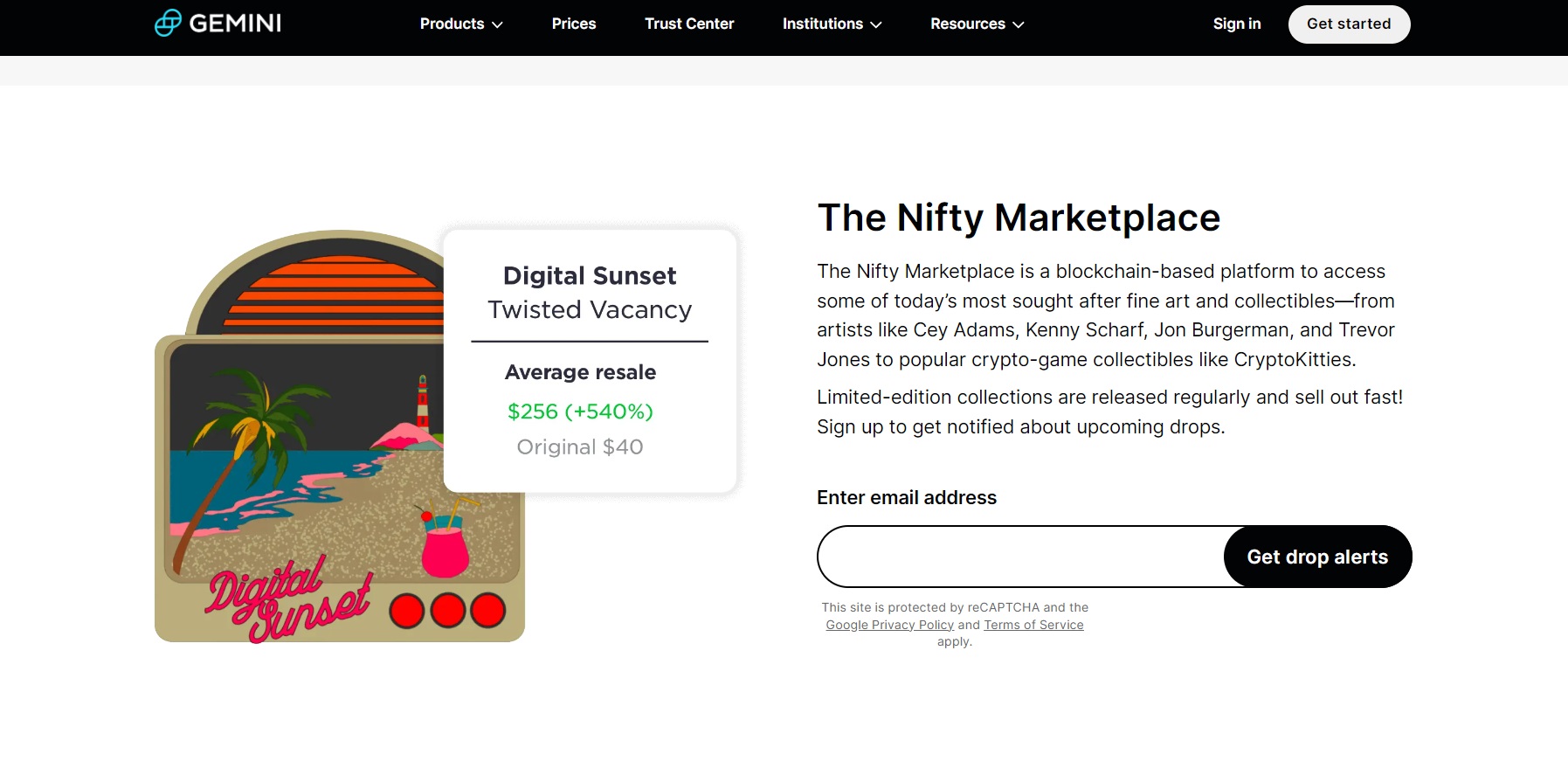 By using blockchain technology, these unique digital assets can be sold securely on the blockchain without fear of duplication or fraud.
Deposit and Withdrawal Options
Gemini supports deposits via bank transfer (ACH) as well as debit/credit cards through Simplex (for U.S.-based customers only). Withdrawals are processed via ACH bank transfer (U.S.-based customers only) or wire transfer (international customers). Customers can also withdraw their funds in the form of cryptocurrencies supported by Gemini.
Registration process
Opening an account with Gemini is free and easy—all you need is an email address and a valid government ID such as a driver's license or passport. Once your identity is verified, you'll have access to all of the features offered by the exchange including buying/selling cryptos, trading NFTs, depositing/withdrawing funds, etc.
Customer Service
As part of its commitment to customer service excellence, Gemini provides 24/7 customer support via phone, email, and social media channels such as Facebook or Twitter, as well as a comprehensive help center where users can find answers to common questions about using the platform.
Customer Satisfaction
Ratings according to Gemini crypto reviews on Trustpilot, users give the exchange an average rating of 4 out of 5 stars for its user-friendly platform and excellent customer service team members who go above and beyond in solving issues quickly and efficiently when they arise – something that many other exchanges lack!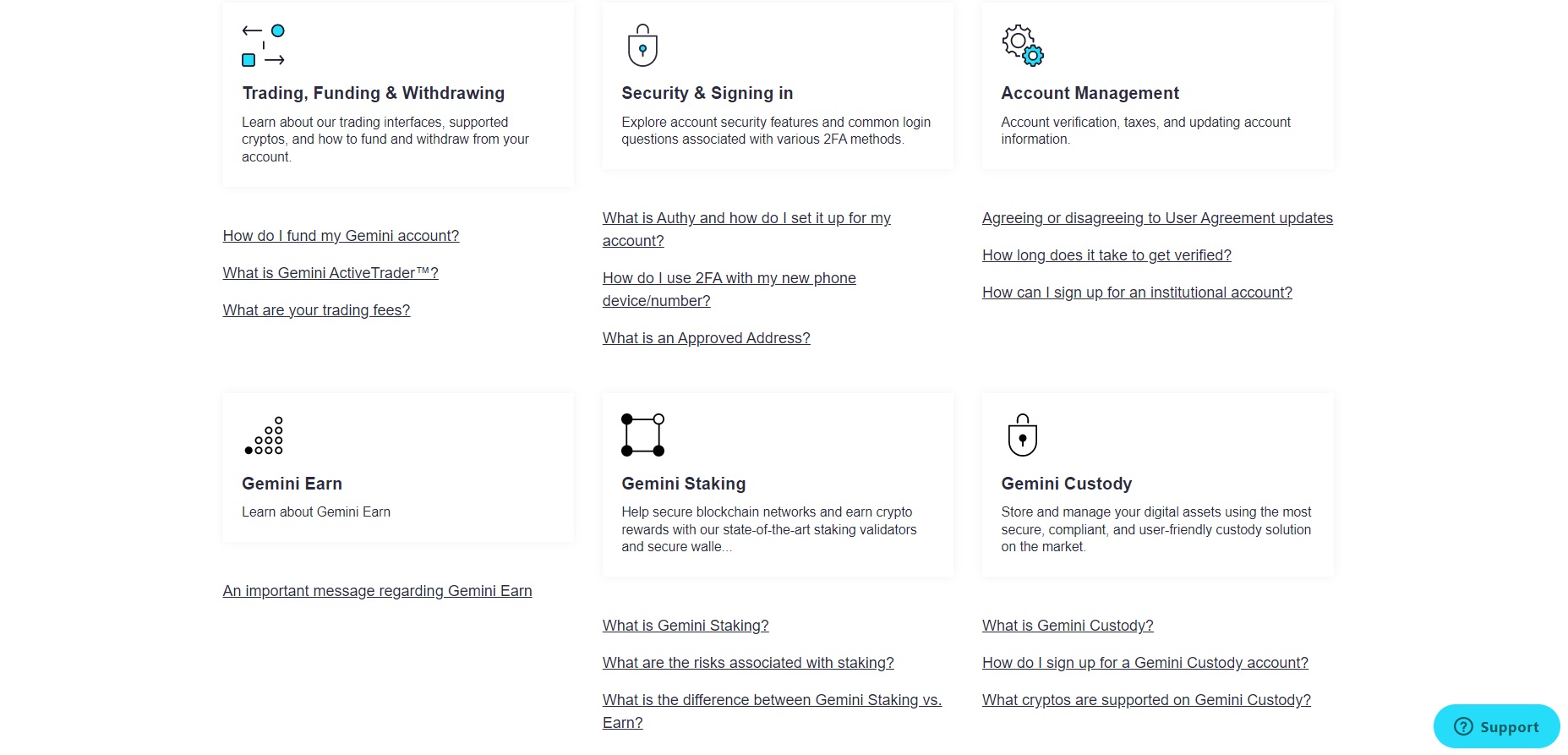 Account Management
Users can manage their accounts via the website's user dashboard where they will find all their account details including deposit/withdrawal history, as well as information about recent trades and their portfolio performance over time. They can also set up notifications for crypto price alerts so they don't miss any potential trading opportunities.
How to trade using Gemini services
1. Account creation
The first step is creating an account on Gemini. You can do this by visiting their website and clicking "Sign Up" on the top right portion of the screen. You will then be prompted to enter your name, email address, and a secure password. After entering your information, click "Create Account" and you will be taken to the next page where you will need to enter more personal information such as your address and phone number. Once you have entered all the required information, click "Create Account" again and you will be taken to a verification page where you will need to verify your identity with government-issued identification such as a driver's license or passport. Once that is complete, your account is now ready for trading!
2. Funding your account
Once your account is set up, it's time to fund it so that you can begin trading cryptocurrencies on Gemini. To do this, click "Deposit Funds" from the menu on the left side of your screen. You can then choose which currency (USD or cryptocurrency) you would like to deposit into your account. For example, if you wanted to deposit USD into your account, select USD from the dropdown menu and click "Deposit Now"; if you wanted to deposit Ethereum into your account, select Ethereum from the dropdown menu and click "Deposit Now". From there, follow the instructions provided by Gemini regarding how to fund your account with the desired currency.
3. Verifying your account
To start trading cryptocurrency on Gemini, it's important to verify your account. In order to do this, you'll need to sign up for an account and provide some basic information including your name, date of birth, address, and phone number.
Once you've filled out all the required fields and submitted your application, you'll need to wait for Gemini's verification process which can take anywhere from 2-10 days. The verification process involves confirming your identity and ensuring that all provided information is accurate.
Commissions and fees
When it comes to trading cryptocurrency on Gemini, it's important to understand the fees associated with each transaction. Every time you buy or sell a digital asset (such as Bitcoin or Ethereum), you'll be charged a fee; these fees vary depending on your payment method as well as the size of your order. For example, if you're using a debit/credit card or bank transfer as your payment method then there may be additional fees associated with those particular methods. Additionally, if you're placing a large order then the fee structure may be different than that for smaller orders. It's important to note that all fees are subject to change without notice so make sure to double-check any fee structures before executing any trades on Gemini. In the table below, you'll find all types of commissions and operations they are charged for.
| | | | | | |
| --- | --- | --- | --- | --- | --- |
| Deposit | Withdrawal | API fee | Spot trading | Stablecoin fee | Buy/Sell |
| From 0% | From 0% | From 0% for makersFrom 0.03% for takers | From 0% | From 0% for makersFrom 0.01% for takers | Depends on the transaction amount |
Table 4. Gemini operation types and fees
 Are your assets safe with Gemini?
If you are considering Gemini as your go-to platform for trading cryptocurrency, rest assured that Gemini crypto safe is a resounding yes. Gemini is a trusted name in the world of digital currency exchanges, offering top-notch security protocols, an intuitive user experience, and robust customer support. To further bolster its security measures, Gemini is both SOC 2 Type 2 and ISO 27001 certified, assuring that your cryptocurrencies have the utmost protection while being stored on their platform.
The company has also been audited in accordance with CryptoCurrency Security Standard (CCSS) and is compliant with both GFSC and NIST cybersecurity framework requirements. With such stellar security in place, you can confidently trade on Gemini knowing that your investments are safe.
Comparison with other crypto exchanges
As both offer competitive advantages for different types of users, it may be difficult to decide which exchange is the best option for individual needs. Gemini, with a wide range of services in New York, offers some unique features tailored towards institutional investors such as its OTC desk and high-security standards. On the other hand, Coinbase and other well-established platforms allow traders more convenience with a wide range of payment methods and support a variety of cryptocurrencies in more than 180 countries.
Countries of presence
Gemini currently works and is legit in less than 65 countries in North and South America, Africa, Oceania, Asia, and Europe. For the current list visit the official website.
Conclusion
Access from the USA
Payment methods
Contacts
Deposit
Withdrawal
Yes
Bank transfers, PayPal, ACH, wire transfer
Bank transfers, ACH, wire transfer
https://www.gemini.com/
Company information
Criteria
Information
Headquarters country
The USA
Foundation year
2014
Exchange type
Centralized
Trading is allowed
Yes
 Frequently Asked Questions
 What is Gemini ActiveTrader?
Gemini ActiveTrader is an online trading platform allowing users to access crypto markets. With a streamlined user experience, complex order types, futures, and all major order types – Gemini ActiveTrader enables professional traders to manage risk more effectively while also helping new users familiarize themselves with the world of trading. Gemini ActiveTrader features low fees, competitive spreads, and fast execution times that are hard to beat in the competitive market.
 Is Gemini a good crypto exchange?
With high user satisfaction rates, it can be considered a good choice.
 Is Gemini better than Coinbase?
It can be better for US users, but not for international traders. In general, Coinbase has more opportunities for users.
 Is Gemini safe?
Yes, with its security protocols, Gemini is considered a safe exchange.
What cryptocurrencies are available on Gemini?
Gemini offers more than 100 crypto coins to operate with, including Bitcoin, Ethereum, ELON, and others.
Comments