About LBank
L Bank provides an advanced trading system that offers users a secure, efficient, and user-friendly experience. It allows users to trade various digital assets, such as Bitcoin, Ethereum, Litecoin, Ripple, and many more. The platform also supports multiple trading pairs, offering users a wide variety of options when it comes to trading.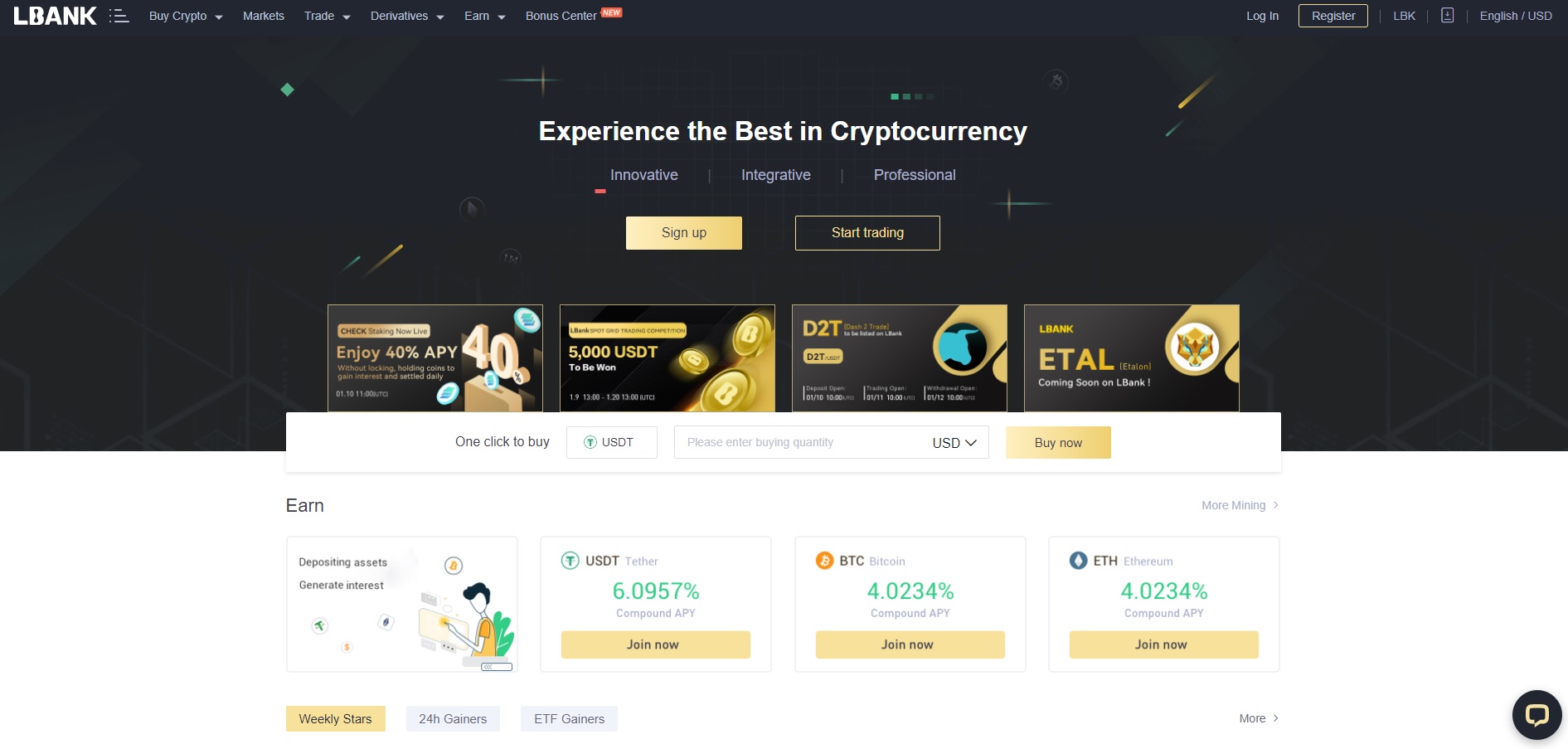 The platform is built with a high level of security, offering users two-factor authentication, anti-phishing protection, and encrypted data transmission. Additionally, LBank adheres to strict KYC (Know Your Customer) policies, protecting both the platform and its users.
The LBank Foundation is a non-profit organization dedicated to promoting the development of the blockchain industry and the adoption of digital assets in the global economy. The Foundation is funded mainly by the profits from the LBank exchange, as well as private donations from users, supporters, and other industry stakeholders.
The platform offers a variety of features, such as a multi-language trading interface, a comprehensive API, and a mobile app. Additionally, the platform also provides support for a variety of trading strategies, such as margin trading, futures, and spot trading.
How does LBank work?
LBank is a digital asset exchange platform that enables users to buy, sell, and exchange cryptocurrencies. The platform provides users with access to a wide range of digital asset trading services, including spot trading, margin trading, and futures trading.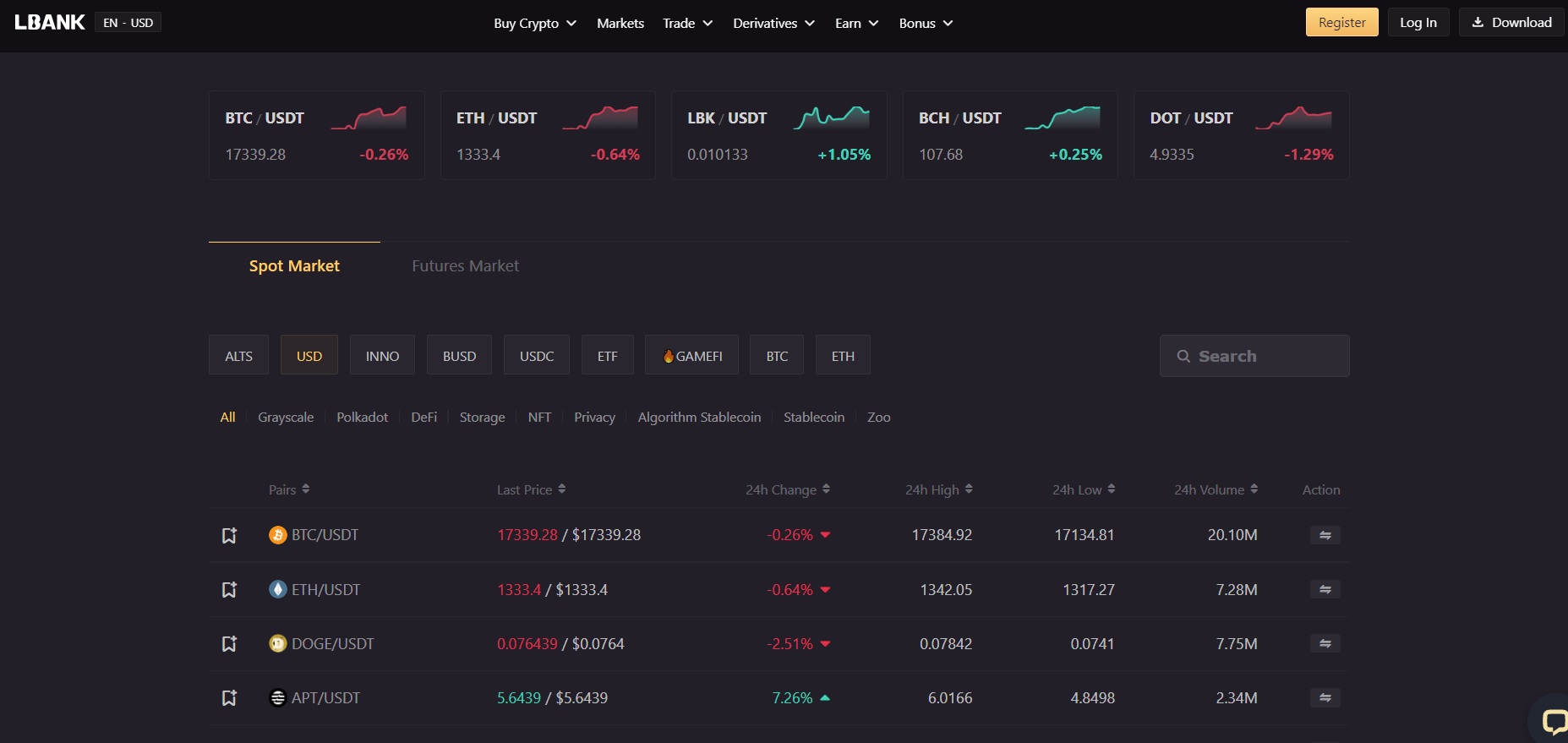 LBank's spot trading platform supports multiple trading pairs and allows users to buy, sell, and exchange cryptocurrencies without having to go through a third-party custodian. The platform also offers margin trading, which allows users to borrow funds from LBank to increase their buying power and maximize their profits. Furthermore, LBank's futures trading platform allows users to trade cryptocurrencies using leverage, allowing them to take advantage of price movements without having to own the underlying asset.
LBank also provides users with a secure and reliable transaction environment. The platform utilizes advanced encryption technology to protect user data and funds, and its servers are protected by multiple layers of firewalls. Additionally, LBank offers a variety of order types, such as limit orders, market orders, and trailing orders, which allow users to customize their trading strategies.
Overall, LBank is a comprehensive and reliable digital asset exchange platform that provides users with access to a wide range of trading services and a secure and reliable transaction environment. The platform's user-friendly interface, advanced security features, and wide selection of trading pairs make it an ideal platform for both novice and experienced traders.
What does LBank offer?
LBank is a one-stop digital asset service platform dedicated to providing comprehensive and convenient services for the digital asset community. It offers users a variety of opportunities to get the most out of their crypto trading.
LBank's features enable users to access a wide range of services including digital asset trading, asset management, and digital asset information services. On the trading side, LBank offers spot trading, margin trading, perpetual contracts, and futures trading for a variety of currencies, including BTC, ETH, USDT, and XRP. It also offers a number of advanced trading options, such as stop-loss and take-profit orders, and leveraged assets with up to 15 times leverage.
In terms of asset management, LBank offers a variety of services that enable users to efficiently manage their assets. This includes margin lending and borrowing, asset securitization, and asset management services. It also provides a variety of investment products, such as index funds, that are designed to provide users with a diversified portfolio.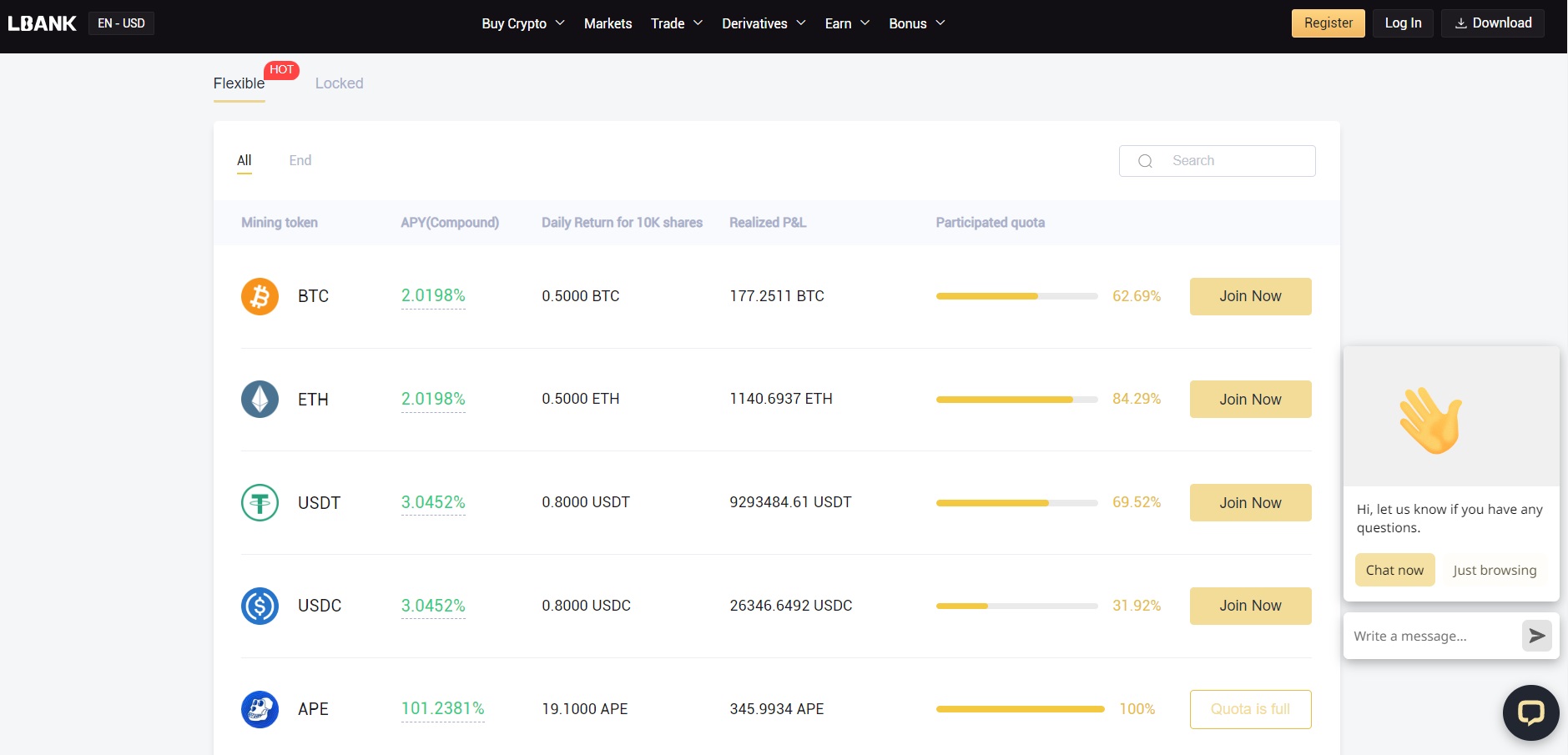 LBank also offers a wide range of digital asset info services. This includes news, market analysis, trading signals, and portfolio tracking services. This enables users to stay informed and make better trading decisions.
LBank also offers a number of attractive offers and promotions. This includes a referral program that rewards users for referring their friends and family, as well as discounts on trading fees.
Overall, LBank provides users with a comprehensive suite of services that enable them to get the most out of their digital asset trading. With a wide range of trading options, asset management services, and digital asset information services, LBank offers users a variety of opportunities to maximize their profits.
Key features
Services and options
In terms of services and features, users can benefit from buying crypto, spot trading, grid trading, futures trading, and options trading. Users can purchase cryptocurrency directly on the platform, and trade and access spot trading markets with LBank token (LBK). Plus, LBank offers derivatives such as futures, ETFs, and options along with grid trading making it a competitive crypto exchange compared to others worldwide. It has been posted highly frequently in LBank crypto exchange rankings both nationally and around the world. It also provides an API feature for deeper quantitative analysis which speaks to its position in the industry as one of the best exchanges for trading most cryptos available in today's market.
Buy crypto with LBank
Are you interested in buying crypto with LBank? It's becoming a popular choice for investors, and joining the global crypto exchange market can open up a world of possibilities.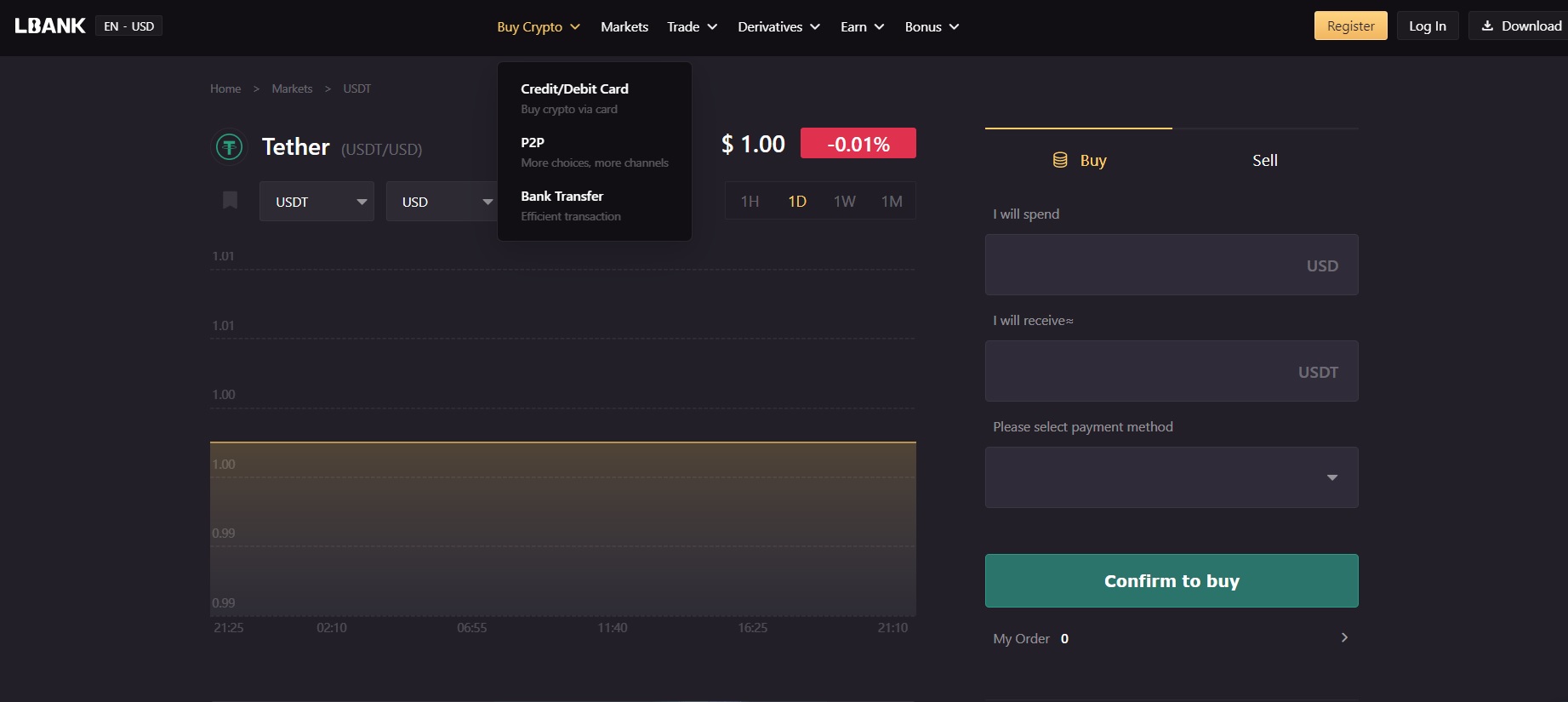 This platform offers low transaction fees as well as an easy-to-understand account setup that makes onboarding new investors simple. Here's how to get started.
Registration and trading process
First, find out if the LBank blockchain is available in your country by checking the LBank exchange location
Next, create an LBank exchange login
Once you have been verified, select a cryptocurrency that is based on LBank crypto technology that you want to buy using a Stablecoin or through bank transfers. Withdrawal and deposits can both take up to one hour in total, depending on the crypto type you selected and the transfer types.
Next, place an order in the LBank exchange once the funds are made accessible in your LBank wallet. You will have access to a bank-level encryption system which adds an extra layer of security while making transactions inside the network.
Finally, you need to be vigilant with LBank changes before investing as each cryptocurrency may have its own inherent risks. Take precautions where possible and protect yourself from potential scams by keeping track of updates related to services and any tokens listed on their platform.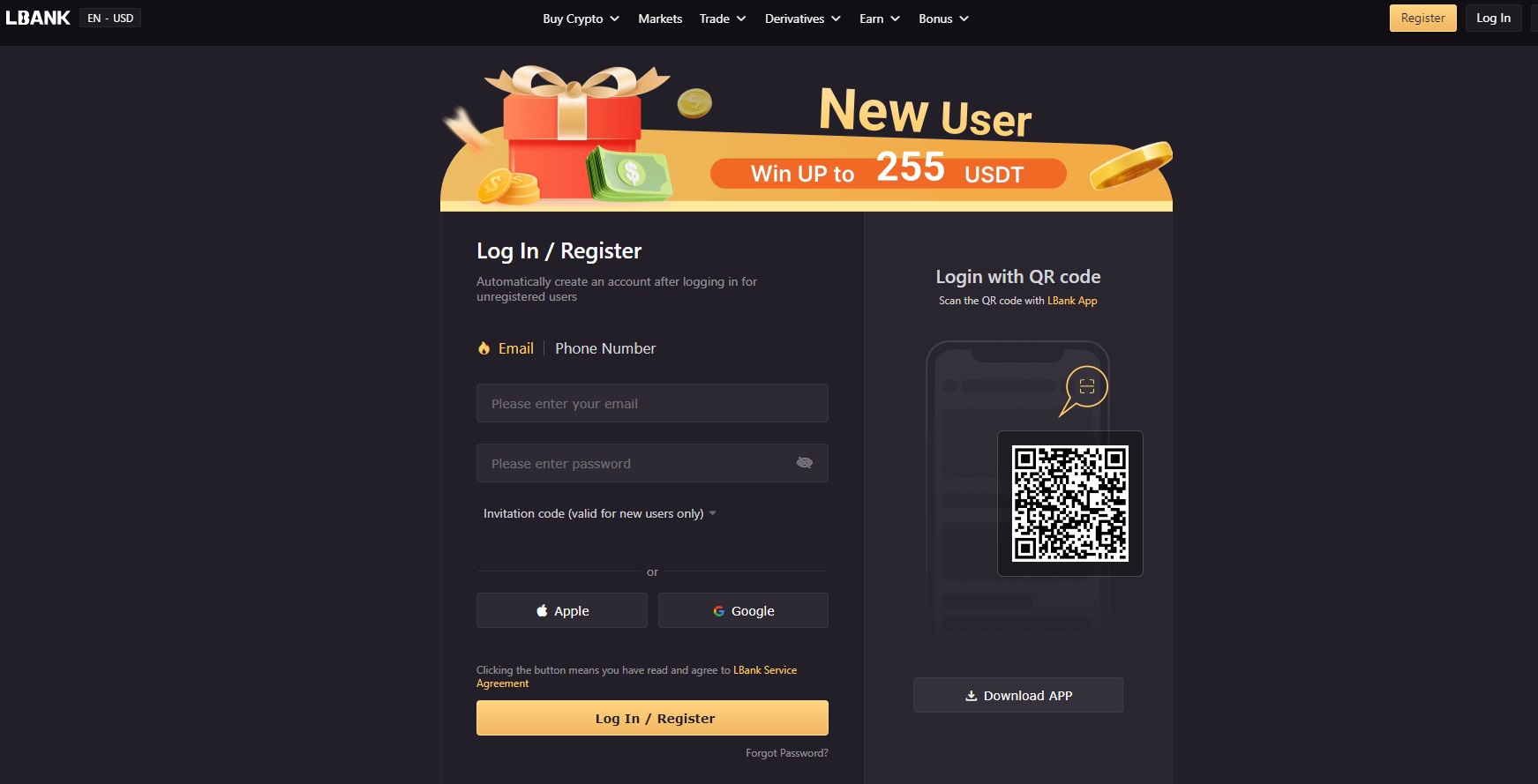 After completing the registration process, you'll need to complete an LBank Exchange review and then log in on LBank.io with your user ID and password.
Once logged in, you can select "Snapshot" or "Real-Time" transactions, depending on your own preferences when it comes to trading frequency and liquidity.
After that, you will be prompted with a list of cryptocurrencies supported by the exchange where you can buy crypto with confidence knowing that LBank crypto deals have been authenticated without any chances of fraudulent activity taking place.
Trading
As explained above, in order to start trading on L Bank, you will need an l bank email account along with several other documents for identity verification. It's important for potential traders to do their research before signing up: LBank reviews can provide useful insight into the pros and cons of the platform as well as offer useful advice from experienced traders.
With access to over 70 virtual currencies, LBank provides its users with an opportunity to purchase a range of digital assets at competitive prices. Furthermore, it ensures an extra layer of security with two-factor authentication that can safely store funds and help protect against malicious actors who may be looking to gain access to sensitive data or funds.
While LBank exchange fees tend to be overall quite low compared to other exchanges, there may be some instances where fees could be higher than expected so it's always a good idea to check l bank fees before committing yourself. Ultimately, the service is an incredibly convenient way of trading digital assets with plenty of advanced features built in – it's clear why so many people are turning towards LBank to get started in cryptocurrency investing.
Spot trading
Spot trading is an activity in which the investor can buy or sell crypto assets immediately with either the fiat currency of their choice or with other digital coins. The exchange works like a stock exchange: buyers and sellers come together in a market to determine the current pricing and availability of various different cryptos.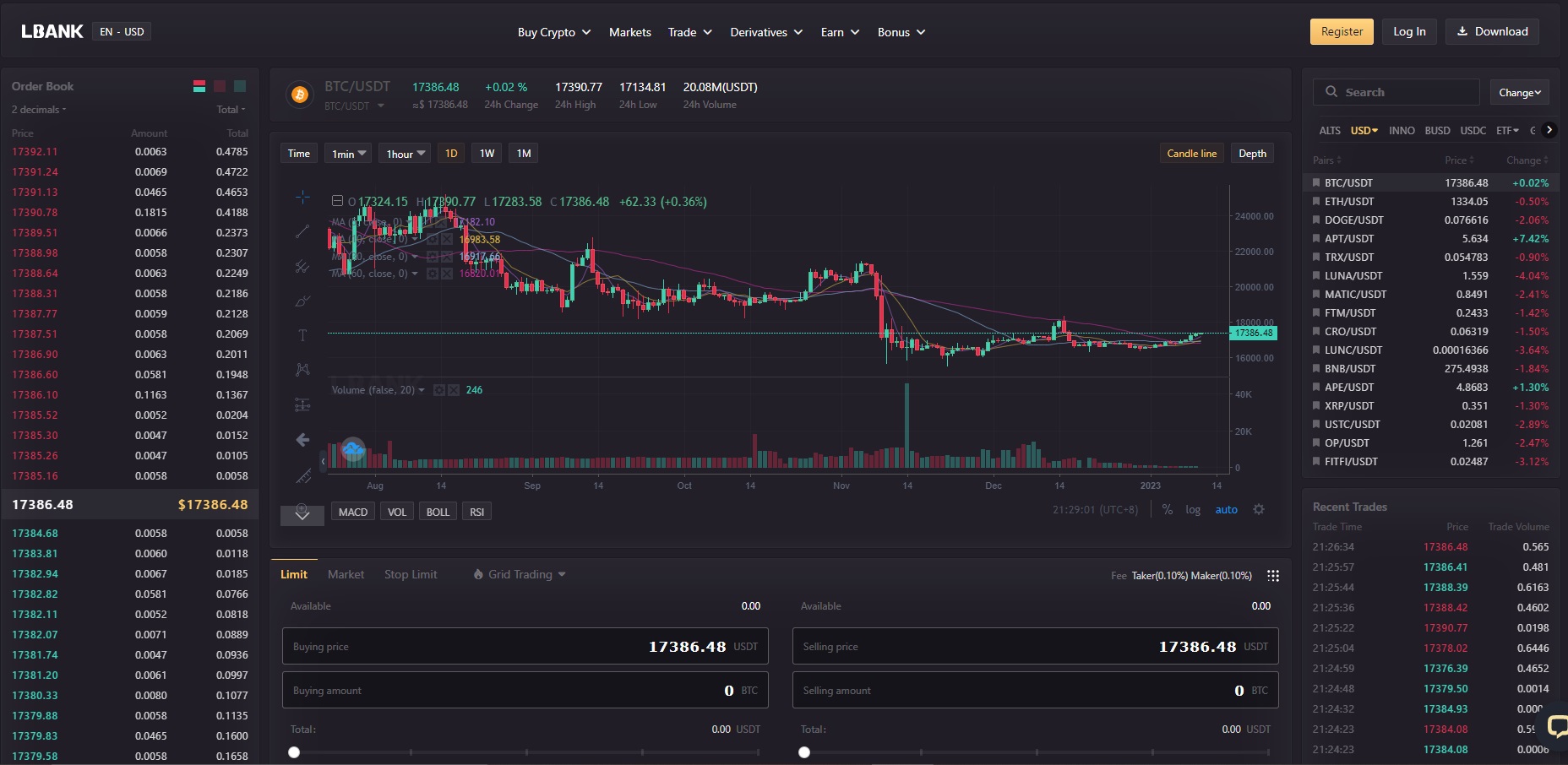 Using LBank's spot trading services can be one of the most rewarding experiences a trader can have. On LBank, investors can keep their assets secure and make smart decisions with real-time market insights. All your withdrawals and deposits are only limited to LBank's exchange withdrawal limit policy for the given coin or token you are interested in.
The LBank crypto exchange currently lists over 400 different digital coins, making it one of the largest exchanges available today. From Bitcoin to BCH, ETH, and XRP all the way through to NULS and MIOTA, users have a wide array of options at their fingertips. They can access the service through its website or through an easy-to-use mobile app, making it an ideal option for anyone looking to get into the world of cryptocurrencies.  As LBank operates globally, there are no restrictions on which countries users must be from in order to take part in spot trading activities.
To ensure users are protected, the exchange follows stringent safety protocols such as two-factor authentication (2FA) and cold storage for all customer funds. Furthermore, LBank puts customer service high on its priority list; customer service representatives are available 24/7 to assist with any queries or technical support issues users might have. In addition to spot trading, the LBank crypto exchange also offers OTC trading (trading directly between two parties without intermediaries) as well as financial services such as borrowing and lending opportunities.
Many traders take advantage of LBank's spot trading service because the process is quick, reliable, and secure. With its spot trading platform, you can buy or sell cryptocurrencies for other tokens or fiat currencies in real time with no hidden costs or fees.
Given its range of features and advantages it offers, LBank's spot trading makes it a great choice for beginners entering the world of cryptocurrencies just as much as seasoned traders looking for more options when they trade digital assets. It offers both safety and convenience giving users access to many of the most popular cryptocurrencies out there both quickly and securely.
Grid trading
If you are looking for an easy way to start grid trading on LBank, you need to know a few things. This type of trading is based on the idea that an asset's price moves in trend lines and offers traders the opportunity to buy low and sell high when prices move up and down in waves. It is important to understand that grid trading involves some risks and it is essential to understand all related guidelines before starting.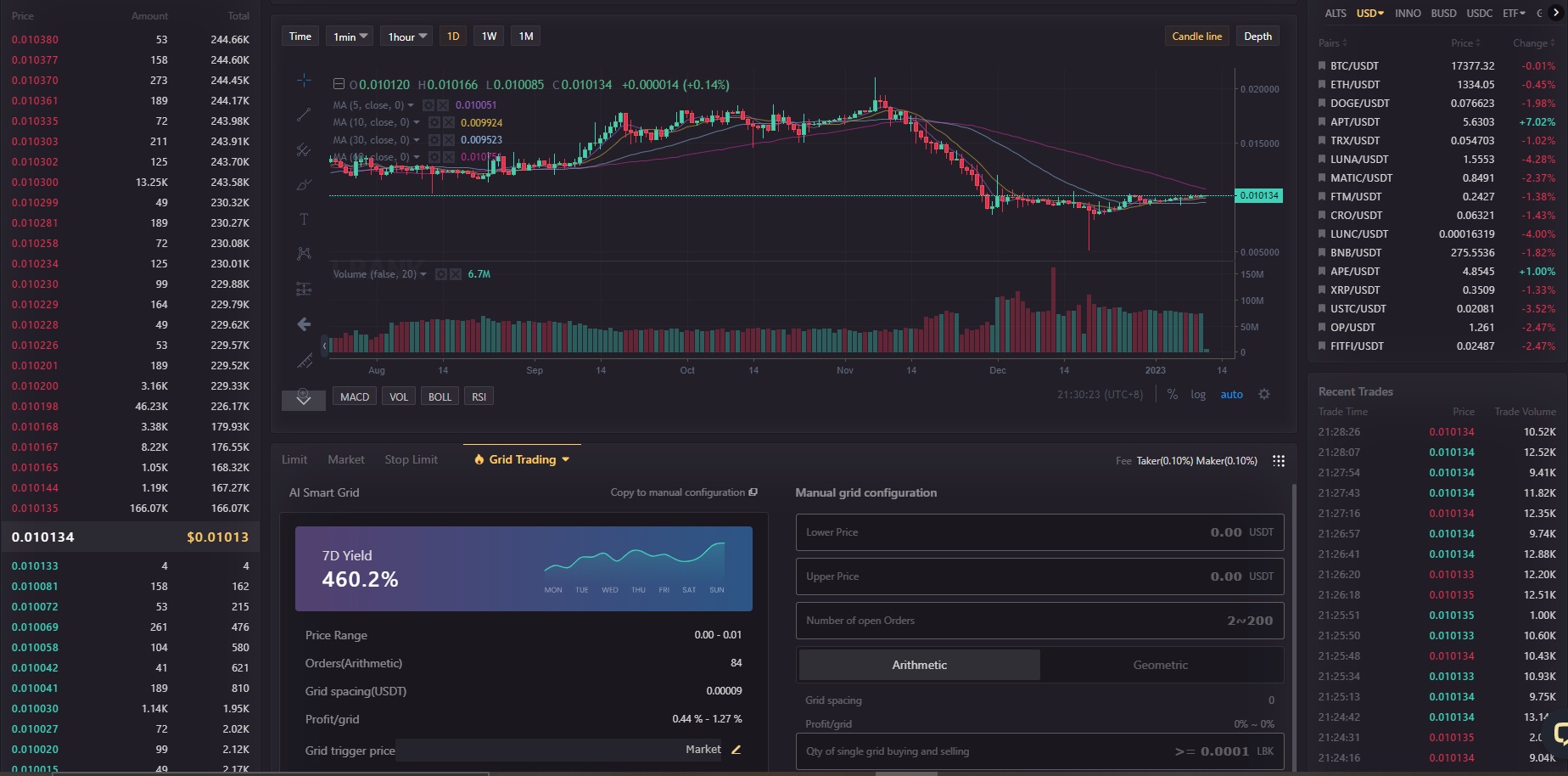 In order to start LBank grid trading, you first need to create an account on LBank. Once your account has been activated, you can begin setting up parameters for your trades such as; purchase price, stop loss order rate, lot size, size of the position, and exit plan for each trade that you execute.
Before taking part in this feature, it's important to understand what it entails and what restrictions are in place. Grid Trading works like a pendulum that automatically adjusts its buy/sell prices based on the changes in the market price during a certain period of time. As such, there are not many restrictions on how much or how often one can trade – they simply have to ensure they meet LBank's minimal capital requirements. Additionally, certain restrictions are in place depending on the currency being used so it is important to keep these in mind before starting. Generally speaking, however, LBank does have some minimum deposit requirements as well as limits on withdrawal amounts (if applicable).
Overall LBank grid trading provides users with an easy and potentially profitable system for capitalizing upon market trends. It's an automated system, so it eliminates manual work and allows users to implement particular strategies with ease.
LBank's derivatives
LBank is an exchange that offers its users three types of derivatives: futures, ETFs, and options. With LBank's derivatives, users can gain exposure to major cryptocurrencies with up to 200x leverage, allowing traders to multiply their returns. As the LBank exchange Reddit attests, these innovative products have enhanced users' trading experience and rewarded them for relying on this platform.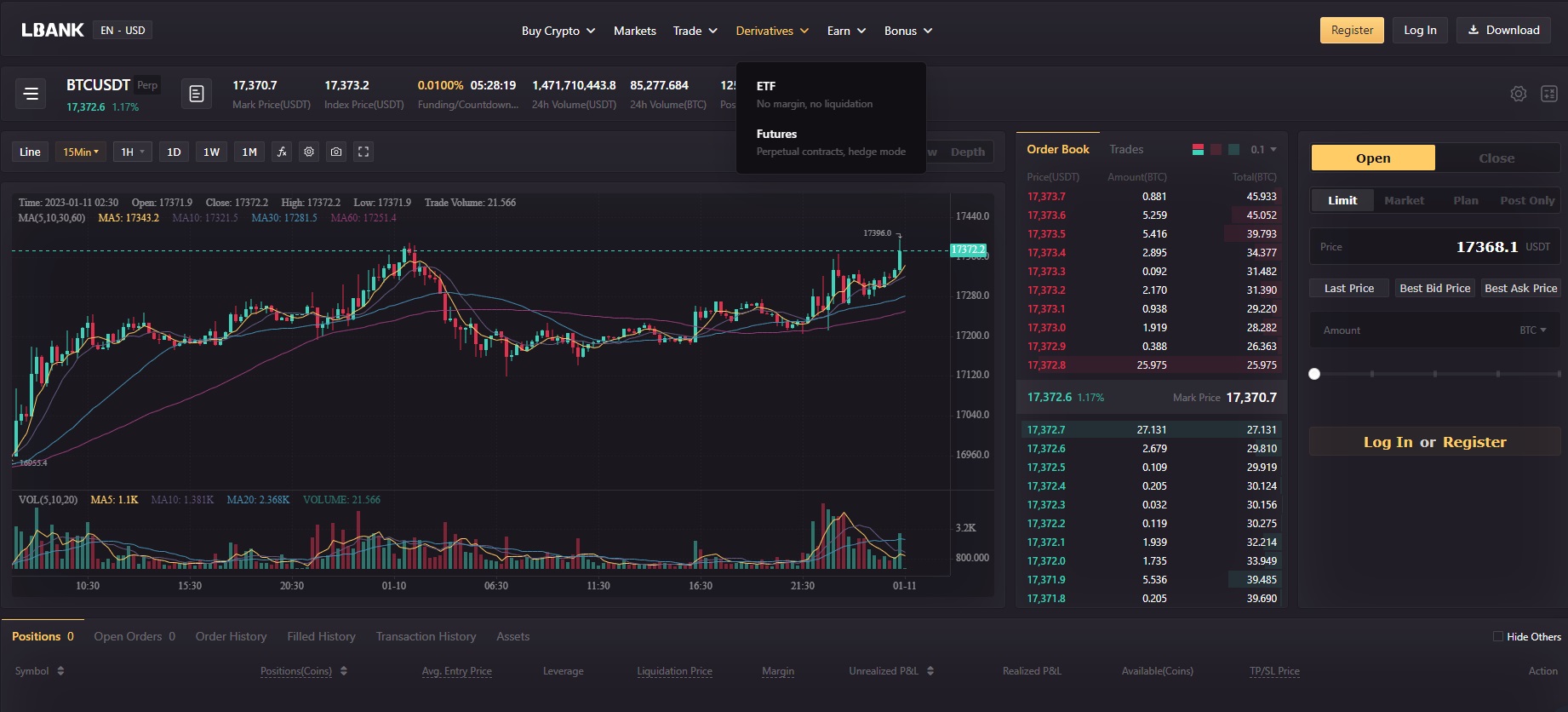 Furthermore, the intuitive trading interface allows for a no-hassles experience who want to take full advantage of these features.
Payment methods
LBank offers a large selection of payment methods, making it easily accessible to those who want to make transactions. There are Visa and Mastercard payouts available, as well as digital wallet services like PayPal, Apple Pay, and Google Pay making deposits and withdrawals more convenient. Customers can also use payment processors like Skrill, Neteller, and even Bitcoin payments if they wish. In addition, to keep their money secure, LBank uses blockchain technology software to reduce fraudulent payments that could impact customers' accounts.
Partnerships and bonuses
LBank Exchange is the biggest international digital asset exchange platform operating from Asia and its partnership base continues to grow. Currently, users can access LBank Exchange from various countries such as China, Taiwan, Indonesia, Thailand, Japan, and more. With that in mind, LBank provides top-tier customer support in local languages.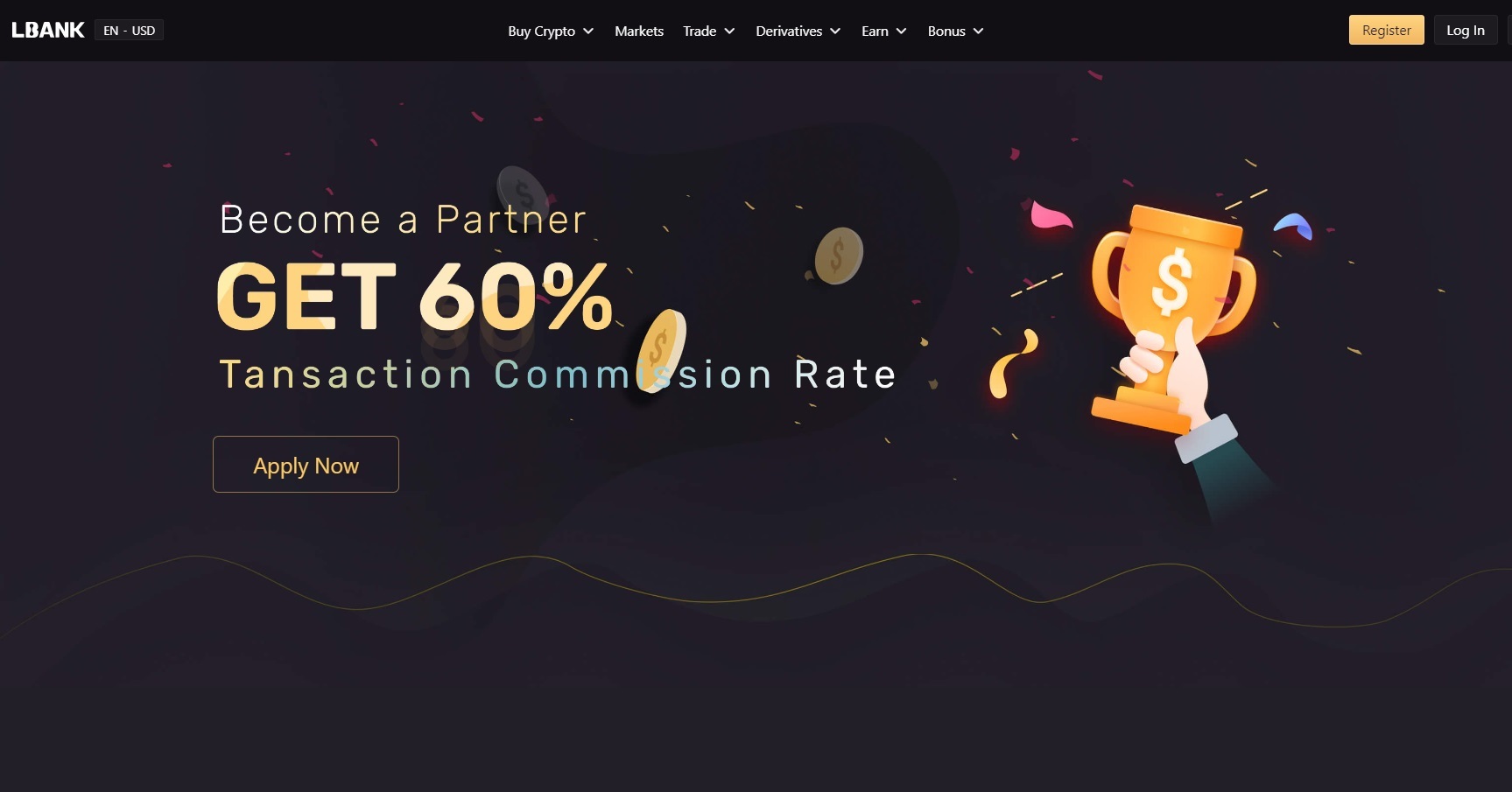 In addition, users benefit from a wide range of bonuses like discounts on trading fees when paying with certain crypto tokens and amazing referral bonus packages. All these advantages make using LBank's partnership for digital asset trading a profitable option for cryptocurrency traders around the world.
Advantages and Disadvantages
Although LBank has a wide range of features, it has its own set of advantages and disadvantages that should be considered before investing.
One of the main advantages of LBank is its high liquidity. The platform often has a high trading volume, which means that users can buy and sell their assets quickly and easily. This is especially beneficial for traders who need to make quick trades. Additionally, LBank offers low trading fees, which can make it a cost-effective option for traders who are working with smaller budgets.
LBank also has a wide range of trading options, including spot trading, margin trading, futures trading, and asset management. This can be beneficial for investors who are looking for a wide range of trading options. Additionally, LBank allows users to deposit and withdraw a variety of cryptocurrencies, including Bitcoin, Ethereum, and Litecoin.
Although LBank has a variety of advantages, it also has some drawbacks. One of the main drawbacks is the lack of customer support. Although the platform has a customer support team, they often take a long time to respond to inquiries. LBank does not offer any insurance or protection in the event that funds are lost or stolen. This can be a major risk for investors as there is no guarantee that their funds will be safe.
Overall, LBank is a reputable exchange platform that offers a variety of features and services for investors. However, users should be aware of the potential risks associated with investing on the platform and should always do their own research before investing.
| | |
| --- | --- |
| Advantages | Disadvantages |
| Wide range of cryptocurrencies and tokens for trading | Lack of liquidity |
| A user-friendly interface that is suitable for both experienced and novice traders | Some fee plans can be higher than in some other exchanges. |
| A variety of features make it an attractive option for traders, such as low fees, high security, and a wide range of supported currencies | Lack of customer support |
| A mobile app that allows users to trade on the go | Poor translation for some languages |
| The exchange is constantly adding new features and improving its platform to provide an even better experience for its users | |
| High-level security | |
| Presence in more than 200 countries | |
| Suitable for new traders and investors | |
Table 1. LBank's advantages and disadvantages
Available crypto assets
LBank offers a vast selection of cryptocurrencies for online trading, making it one of the premier digital asset exchanges in the cryptocurrency space.
LBank enables customers to trade leading crypto coins including Bitcoin, Ethereum, Litecoin, Ripple, EOS, Stellar Lumens, and its own LBK token. As well as top crypto-to-crypto pairs, LBank also offers fiat-to-crypto pairs such as USDT/USD and BTC/KRW.
All of LBank's listed digital assets can be traded directly or via POA or C2C transactions. Besides possessing many digital assets of its own, LBank also regularly supports other projects so that users can access a diverse range of tokens and coins. Among them:
LBank exchange dari mana coins;
LBank exchange saitama coins;
LBank exchange adalah
In table 2 below, you can find detailed information about available crypto assets for different needs.
Available cryptocurrencies
For trading
For deposit
For withdrawal

Tether (USDT): 8 pairs
Bitcoin (BTC): 22 pairs
Ethereum (ETH): 36 pairs
Qtum (QTUM): 7 pairs
Bitshares (BTS): 2 pairs
Neo (NEO): 3 pairs

Bitcoin
Ethereum
Bitcoin Gold
Litecoin
NEO
Bitcoin Cash
Qtum
Zcash
Ethereum Classic
Siacoin
Bitshares
Bitcoin-diamond
VeChain

Bitcoin
Ethereum
Bitcoin Gold
Litecoin
NEO
Bitcoin Cash
Qtum
Zcash
Ethereum Classic
Siacoin
Bitshares
Bitcoin-diamond
VeChain
Table 2. Cryptocurrencies available on LBank
Commissions and fees
LBank offers a variety of commission and fee structures depending on each individual's needs. These include standard trading commissions, real-time bidding commissions, market maker fees, and market taker fees.
The standard trading commission is a set fee based on the amount of your transaction order that is enforced by LBank.
Real-time-bidding commission consists of extra fees for inputting an order into the exchange.
Market makers are provided with an incentive to provide liquidity in the market through a discounted commission structure.
Market takers receive their trades executed immediately at a slightly higher cost compared to market makers due to the additional liquidity they require.
In table 3 below, you can find the fees for each operation.
| | | | |
| --- | --- | --- | --- |
| Maker fee | Taker fee | Transfer fee (internal) | Withdraw fee |
| +0.1% | +0.1% | 0 for all coins | Min 0.00005 for PLCU / and0.2% for KISC |
| | | | Max 5200000000000 for BABYSAITAMA / and 17% for DOGEBACK |
Table 3. LBank's fees
Safety and reliability
LBank provides an array of sophisticated security measures to protect user data and privacy. All user-connected data, including the exchange of funds, is secured via SSL encryption and other cutting-edge technologies that abide by global banking standards. Additionally, user accounts are protected with two-factor authentication (2FA) and identity verification, further enhancing overall safety for our users. On top of this, LBank takes proactive steps to keep all of our systems up to date with industry best practices in deference to the latest emerging cyber threats. With a dedicated team working around the clock to detect anomalies and respond quickly to any potential issues, customers can trust that their data is safe at LBank.
LBank mobile app
The LBank exchange app is a great tool for those interested in cryptocurrency trading and storage. Through the application, users can access all LBank-related products and services on their mobile devices. The experience is streamlined, as traders can take advantage of 24/7 open markets and customized asset management tools to stay on top of their investments.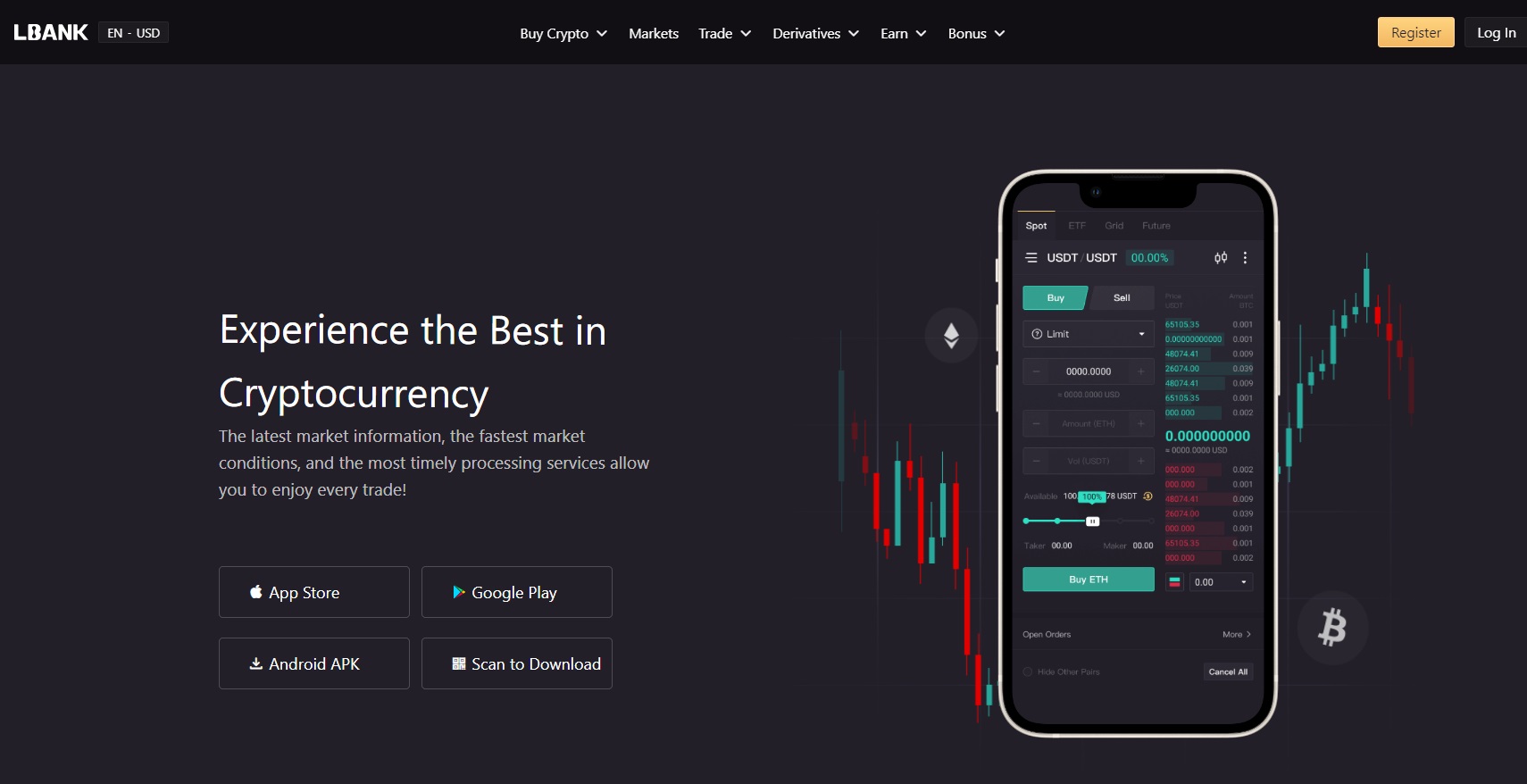 With the mobile app, traders can also access many offers from LBank that are not available elsewhere. This includes access to long-term technical support and superior customer service. Furthermore, additional features such as competitive interest rates and fast deposits/withdrawals enable customers to make knowledgeable decisions with ease.
Customer support
LBank customer support is known for being proficient and comprehensive in its services. Customers receive 24/7 access to live support, enabling them to quickly get their queries addressed. Their platform also provides plenty of helpful tutorials and FAQs which serve as resources for common issues.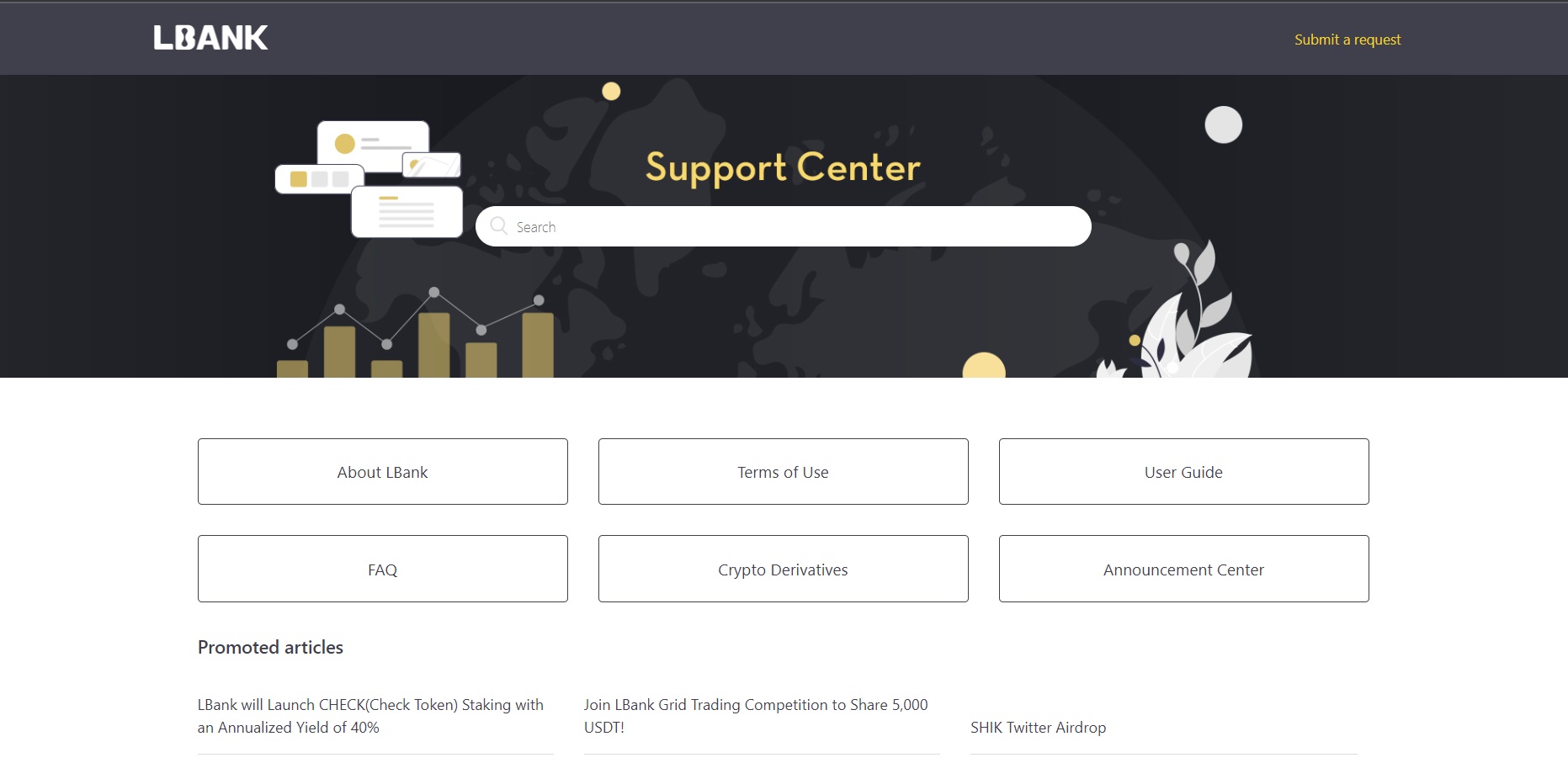 On the flip side, it has been noted that the actual execution of the customer service team's services can be slow at times, leading to frustration and making customers feel unsupported. Additionally, translation errors from telephone support systems have been experienced on occasion which can make efficient communication difficult.
Countries where LBank is available and legit
LBank is available in more than 200 countries, including:
| | | |
| --- | --- | --- |
| India | US | Australia |
| Canada | China | North Korea |
| Germany | New Zealand | Egypt |
| Portugal | Turkey | Qatar |
| France | Denmark | Cameroon |
| Dominica | Greece | Haiti |
| Iceland | Mexico | Libya |
| Nepal | Belize | Romania |
| Cape Verde | Senegal | Sri Lanka |
| United Kingdom | Isle of Man | Kosovo |
| Ukraine | Turkmenistan | South Africa |
| Seychelles | Micronesia | Latvia |
| Jordan | Israel | Hungary |
| Georgia | El Salvador | Costa Rica |
| China, Hong Kong | Brunei | Brazil |
| Azerbaijan | Somalia | Singapore |
| Nicaragua | Mauritius | Iraq |
| Honduras | Guatemala | Tajikistan |
| Switzerland | Suriname | Spain |
| San Marino | Paraguay | Norway |
| Central African Republic | Lesotho | Kazakhstan |
| Guyana | Argentina | Croatia |
| Antigua and Barbuda | Zimbabwe | Togo |
| Venezuela | Uzbekistan | Pakistan |
| Mozambique | Monaco | Marshall Islands |
| Luxembourg | Liechtenstein | Liberia |
| Ecuador | United Arab Emirates | Thailand |
| Czech Republic | Slovakia | Sao Tome and Principe |
| Rwanda | Niger | Myanmar |
| Cayman Islands | Mongolia | Bhutan |
| Belgium | Lithuania | Kiribati |
| Bangladesh | Armenia | Guinea |
| Iran | Burundi | Albania |
| Timor-Leste | Saudi Arabia | Samoa |
| Panama | Vanuatu | Sierra Leone |
| Madagascar | Poland | Macedonia |
| Philippines | Italy | Ireland |
| Ethiopia | Mali | Fiji |
| Estonia | Comoros | Equatorial Guinea |
| Djibouti | Bosnia and Herzegovina | Barbados |
| Austria | Vietnam | Swaziland |
| Nigeria | Uganda | Morocco |
| Egypt | Gabon | Mauritania |
| Dominican Republic | Laos | Cote d'Ivoire |
| Afghanistan | Congo | Papua New Guinea |
| Bolivia | Andorra | Zambia |
| Nauru | Moldova | Malaysia |
| Uruguay | Vatican City | Tuvalu |
| Saint Vincent and the Grenadines | Sudan | Taiwan |
| Saint Kitts and Nevis | Slovenia | Botswana |
| Netherlands | Maldives | Malawi |
| South Korea | Japan | Virgin Islands, British |
| Tanzania | South Sudan | Saint Lucia |
| Russian Federation | Kuwait | Cambodia |
| Burkina Faso | Algeria | Cyprus |
| Colombia | Cuba | Belarus |
| Yemen | Bulgaria | Bahrain |
| Trinidad and Tobago | Peru | Sweden |
| Montenegro | Solomon Islands | Tunisia |
| Kyrgyzstan | Finland | Palau |
| Jamaica | Oman | Namibia |
| Serbia | Kenya | Tonga |
| Syria | Guinea-Bissau | Gibraltar |
| Grenada | Chile | Ghana |
| Malta | Bahamas | Benin |
| Lebanon | Angola | Eritrea |
| Gambia | Indonesia | |
In countries with restrictions, LBank provides customer support so before applying check for your region and contact with LBank's team through the official website, if needed.
Conclusion
Access from the USA
Payment methods
Contacts
Deposit
Withdrawal
Yes
Debit and credit cards, Google Pay, Apple Pay,
Bank transfer, debit and credit cards
https://www.LBank.info/[email protected]
Company information
Criteria
Information
Headquarters country
China
Foundation year
2015
Exchange type
Centralized
Trading is allowed
Yes
Frequently Asked Questions
What is LBank?
LBank is a digital asset exchange that offers a secure and reliable trading platform for users to buy, sell, and trade digital assets, including cryptocurrencies such as Bitcoin, Ethereum, Litecoin, and many more.
Is the LBank exchange legal?
Yes, it's legit in more than 200 countries.
What countries can access LBank?
LBank is available to users from all over the world, except for those living in countries and regions that are subject to OFAC sanctions.
What fees does LBank charge?
LBank charges a 0.2% trading fee for spot trading and a 0.1% trading fee for derivatives trading.
What payment methods does LBank accept?
LBank supports payments via bank transfer, credit/debit cards, and digital wallets.
What is LBank's KYC policy?
In order to comply with AML and CFT regulations, LBank requires its customers to complete KYC (Know Your Customer) verification.
What is LBank's security policy?
LBank implements a multi-layer security system to protect user accounts, wallets, and funds. This includes multi-factor authentication, cold storage, and risk management systems.
Is it safe?
Yes, it's safe.
Does LBank offer account insurance?
Yes, LBank offers a comprehensive account insurance policy for all users.
What customer support does LBank provide?
LBank provides 24/7 customer support via email, phone, and live chat.
Does LBank offer margin trading?
Yes, LBank offers margin trading with up to 10x leverage.
Does LBank have a mobile app?
Yes, LBank has a mobile app available for both Android and iOS devices.
Can I trade using LBank mobile app?
Yes, you can start in-app trading.
How does LBank make money?
LBank makes money on transaction fees. They include deposit, withdrawal, and exchange fees.
How to deposit and withdraw money on LBank?
You can use a number of methods, such as debit and/or credit cards, Apple Pay, Google Pay, and bank transfer.
How many cryptocurrencies can I trade on LBank?
You can trade more than 400 coins, more than 140 fiat currencies, and 180 pairs, including BTC, ETH, LUNA, MATIC, FTM, CRO, DOGE, and more.
Comments