About MEXC Exchange
MEXC or MXC, which was put in motion in 2018, operates as a centralized platform. It proposes access to spot, margin plus futures trading, along with quantitative trading, leveraged, and index ETFs.
It serves the clients with trading and P2P services. The major trade specialization of the exchange service is to grant customers trading services with such currencies as Bitcoin (BTC), Ethereum (ETH), and Tether USD (USDT). An indisputable strength of the service is its access to cryptocurrency ETFs.
Products available within MEXC Earn include Launchpad, M-day airdrop, MX-DeFi, Stacking, ETH 2.0 Stacking, and more. Members may acquire cryptocurrencies via credit or debit cards, international bank transfers, P2P trading, and third-party payment systems such as Simplex, Banxa, and Mercuryo.
As of December 2022, it operates in over 200 countries and regions, catering to more than 10 million clients. The exchange features 1504 cryptocurrencies, with BTC/USDT being the top active trading pair. The service founders promise that this is just the beginning of an ambitious plan to develop the platform.
Some trading pairs include BTC, Ether, innovative сoins, and the proprietary MXC token. Among the best-selling currency pairs on the spot market, the next pairs are the most favored:
SWM / USDT – 2.3%;
BTC / USDT – 1.2%;
ETH/USDT – 1%;
DOGE / USDT – 1%;
BNB / USDT – 0.7%.
MXC tends to be extremely favored in Asia because of the MEXC listing for Chinese projects such as UTI and Dapp.com. The exchange also proposes margin trading utilizing 10x leverage with highly popular assets such as Bitcoin and Ethereum. MXC appears to be primarily backed by Chinese Blockchain investment funds such as FBG Capital, Genesis Group, and Block Capital.
Volume and Liquidity
As of December 20, 2022, Spot Trading volume in the last 24 hours reached $1,256,246,382.01, with the liquidity and abundant resources on the platform provided by over 10 million traders and partners of MEXC Global.
Regulations
According to its website, the company has obtained the following licenses as of 2019:
Australian compliance license;
Estonian Financial Institution (FIU);
Swiss VQF;
MSB License in the U.S.
Overall, since its establishment, the MEXC crypto exchange has been granted licenses to operate in 5 jurisdictions, including the U.S., Canada, Switzerland, and Australia.
Funding and Limits
The funding rate mechanism is MEXC's underlying transactional framework for futures, which allows long and short traders to swap funding fees on a regular basis according to the gap between the market price of perpetual futures and the spot price.
The fundamental objective of the funding rate mechanism is to permit the market to readjust itself by engaging in a regular exchange of funding fees between long and short positions to ensure that the market price of perpetual futures may be applied as an anchor to the spot price.
MEXC exchange crypto does not impose a funding fee on participants. Funding charges are collected among counterparty members who hold positions on opposite sides. Each virtual currency comes with its individual withdrawal fee. There are also limits for withdrawals. For instance, it is prohibited to take out anything under 0.001 BTC, while the commission for the transaction is 0.0005 BTC. Keep an eye on the official website for up-to-date information.
History of MEXC
The corporate HQ is situated on the Seychelles Islands. This platform accounted for 5% of the global digital asset trading market share by the turn of 2019. The originators of MEXC aspire to deliver a handy and trustworthy online portal for both novice and seasoned investors.
The initial title of the business was MXC. Its launch implementation was supervised by an international team - a technician Metin Mehmet Durgon and a trader John Chen Ju. Three months later, they rolled out an MXC exchange token available for purchase on any reputable exchange.
The company's current CEO is Mr. John Chen. He holds a bachelor's degree in computer science from the National University of Singapore and a master's degree from Nanyang Technological University. Originally a mass entrepreneur, he founded Accufind Technologies in 2013 and eBeeCare in 2015.
The rebranding took place in June 2021. The brand name was changed to MEXC Group. Apparently, as the co-founders explain, the change was undertaken in order to draw clients from developing countries into the project.
Features of the exchange MEXC
Among the features of the stock exchange is the ability to deposit by means of Loop Alliance (the third tab in the assets section). MEXC exchange became one of the first exchanges, which participated in experimenting with this function. Loop Alliance deals with blockchain overload, delays, and higher fees by adopting settlement and liquidation approaches adopted among traditional financial institutions.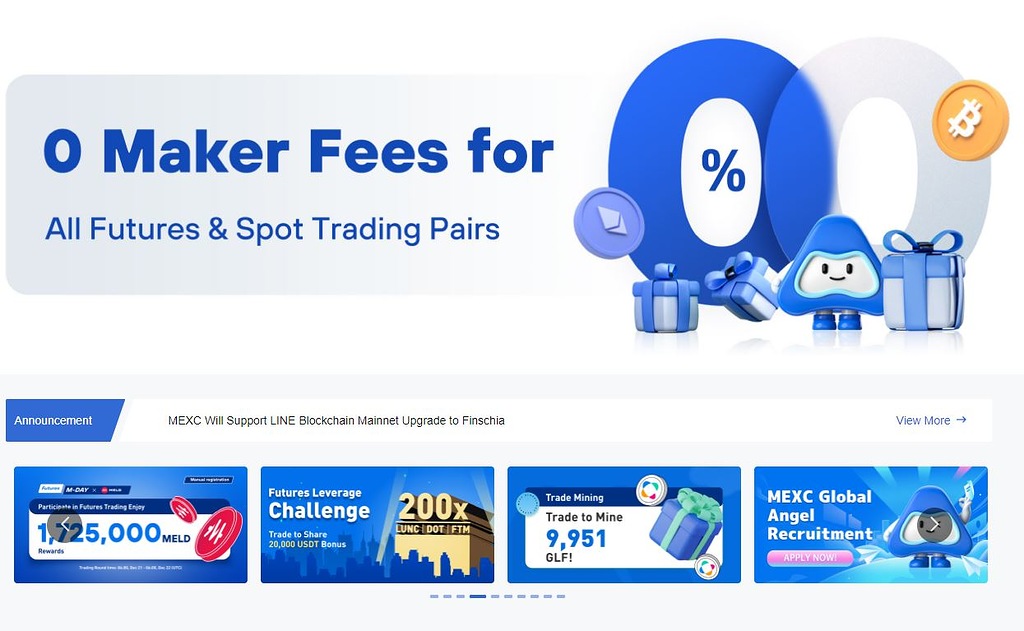 Presently, all Alliance members may deposit cryptocurrencies on the MEXC platform with 0% service fees and speedy delivery. BTC, CRV, ETH, USDT, and selected other assets are supported.
MEXC Global happens to represent one of the few exchanges that are GDPR and Fincen compliant. The market is employed in countless countries plus it has attained major licenses in states such as Estonia, Australia, and the United States.
Another exciting feature of the exchange is that you may receive perks on MEXC for inviting friends. The person who Invites gets at least 30% of each referral's transaction fee. The interest is increased further depending on the number of MX tokens held on the balance. If the tokens are less than 10,000, you'll get a rate of 30%, if up to 100,000 you'll get 40%, and if over 100,000 you'll get 50%.
Pros and cons of MEXC
Mostly among the positive factors, customers indicate a broad selection of trading pairs, the possibility of purchasing cryptocurrencies via card, convenient card transfer, handy ETF-tokens exchange with leverage, and many more. Yet there are things the crew still has some work to do. In particular, members complain about the fact that the transaction fee is too high.Here are some pros and cons of the MEXC trading platform:
| | |
| --- | --- |
| MEXC's strengths over its competitors are | MEXC's weaknesses |
| Multipurpose cryptocurrency exchange with withdrawal to your card | 0.2% commissions per transaction |
| Multicurrency: 120+ cryptocurrencies for trading | lack of fiat currency support for trading |
| Extra yield via stacking and holding | No demo account |
| Affiliate program to earn up to 80% of invited trader's deposit | No MAM/PAMM accounts |
| Fiat support (USD, EUR, GBP, JPY, etc.) | Mandatory verification |
| Multiple trading types: spot, margin, purchase/sale of cryptocurrency via card, Push, derivatives | |
| Both basic and advanced versions of the trading terminal | |
| Diverse order types | |
| privileges for VIP clients | |
| Multilingual 24/7 client support | |
| Affiliate Program | |
| API support | |
| Mobile Application | |
MEXC is best suited for:
Spot trading;
OTC trading (P2P);
futures purchase;
staking;
voting for token listings.
How is MEXC different from all other exchanges?
There is an easy-to-use trading terminal, 1500+ cryptocurrencies, and over 2000 trading pairs. The exchange is ideal for converting MXC cryptocurrency. The members mention the dependability of the company, as most customers have not faced a single delay in the withdrawal of funds or other mishaps.

The MEXC global crypto exchange acts responsibly towards the safety of their client's funds so they have never had their accounts hacked.
Supported crypto assets
Another factor in the exchange's wide appeal is the abundance of cryptocurrencies it offers. At MEXC, you may invest in over a thousand virtual currencies: Stablecoins, Altcoins, Memcoins, DeFi Coins, Metaverse Coins, and GameFi Coins. MEXC new listings happen frequently, it offers a Launchpad feature to support emerging cryptocurrencies. All in all, the exchange supports over 1,500 cryptocurrencies and over 2,000 trading pairs. Some of them are:
| | | |
| --- | --- | --- |
| Trading | Deposit | Withdrawal |
| BTC | USDT | USDT |
| ETH | USDC | BTC |
| BNB | BTC | ETH |
| XRP | ETH | EOS |
| ADA | EOS | LUNA |
| ADAX | XRP | XRP |
| PAXG | TRX | TRX |
| SHIBAINU SHIB | TUSD | TUSD |
| WDOGE | AME | USDC |
| MX Token MX | | AME |
| AMPL | | DOGE |
| TRX | | LTC |
| SOL | | BUSD |
| DOGE | | |
| EOS | | |
| AVAX | | |
| LUNA | | |
| BCH | | |
| OCEAN | | |
| LTC | | |
Basic features
Trading
Exchange clients have a variety of trading pairs on the spot market with BTC, innovative coins, ether, and the exchange's own MXC token. To select the desired pair, customers will have to type in the information in the search field to locate the token they are interested in.Trading on MEXC is available in the "Trade" menu, where the basic or advanced terminal may be picked. The latter carries a larger selection of advanced tools, incorporating margin trading. More than 1500 virtual coins are accessible for trading at the finest pricing.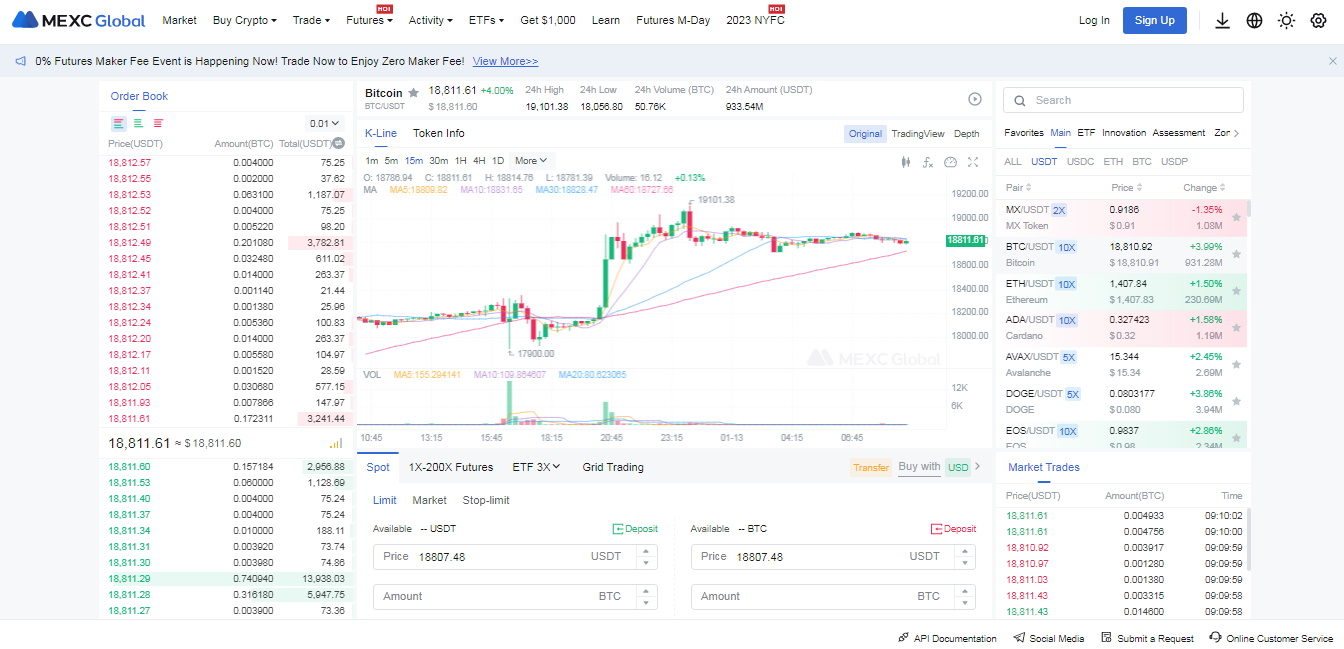 The spot trading UI overall is basic and comprises:
Price change chart for the selected currency pair;
The right side of the chart lets the user pick its type: proprietary by MEXC, TradingView, or Depth;
All open-limit buy and sell orders are on the lefthand side;
Accessible currency pairs at the top right;
Recent trade records on the bottom right;
Order creation features under the chart.
Three main order types are provided on the exchange: limit, market, and trigger. The 1st one assumes that you specify the price and quantity of the currency to be bought/sold, whereupon the order enters the general list to wait until a counter-match order at the same value emerges.
A trigger order serves to generate a scheduled limit order at the instant a determined price of an asset is achieved. A market order enables only the quantity to be indicated, and the purchase price is then automatically fixed by the market. No waiting is involved; the order is settled immediately.
Buying fiat
In the P2P segment of the exchange, the next steps are essential to acquire traditional currency, such as dollars or euros.Dealing with fiat funds on MEXC P2P is as follows:
Step 1. Create a login & choose a payment type with your bank details (e.g.: Bank Transfer)

Once you have properly logged in to MEXC Global, hit "Buy Cryptocurrency" followed by "Settings";
After that, you may proceed to customize your account name as well as add a Collection method.

Step 2. Buy USDT

Press "P2P Markets" then pick a currency. Afterward, you can choose your offer from the list displayed;
From there, select the number of tokens you prefer to buy, otherwise, enter the amount in the currency you would like to spend;
Finalize the deal by pushing the "Buy" button.

Step 3. Selling USDT

Select "P2P Markets" then choose a trading currency. Next, select your listing from the displayed bids.
Thereafter, choose the number of tokens you would like to sell, or indicate the amount in the currency you would like to receive;
Conclude the operation by pushing the "Order" button.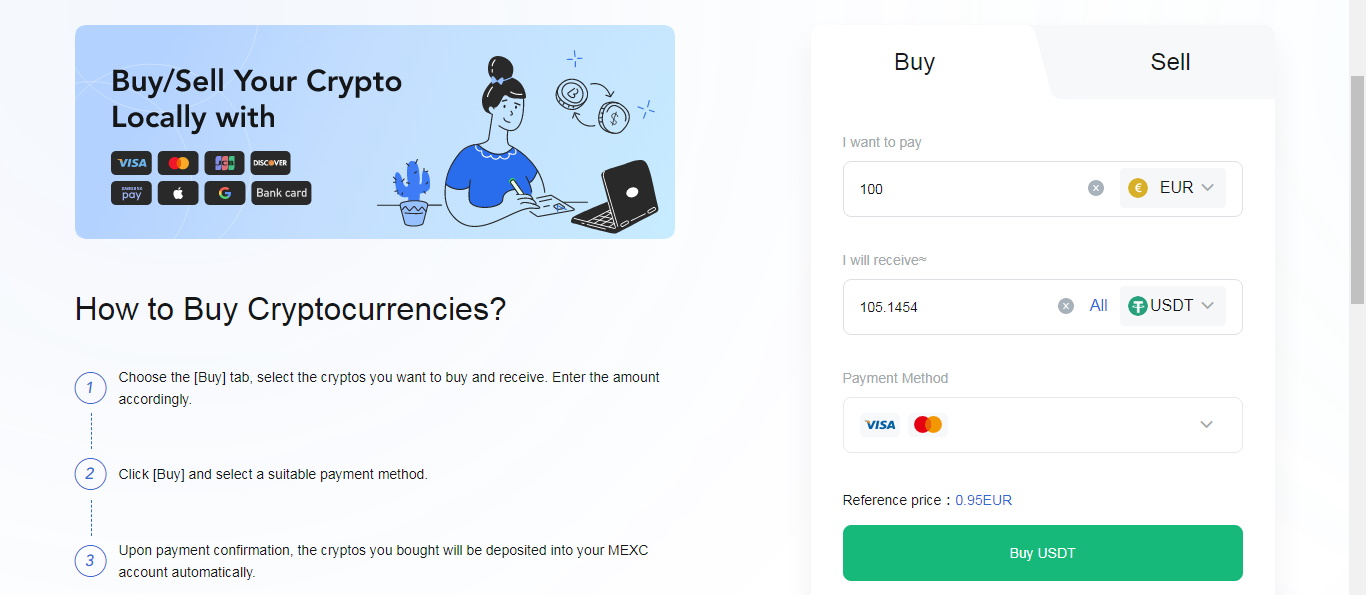 Provide time for the seller to pay. Expect a transfer of funds. However, if you have not received payment within the given time, the seller should be approached directly. Alternatively, you can file an appeal to resolve the situation. Be advised that funds can only be collected with a verified bank account.
Futures
Any client can benefit from borrowed funds - perpetual contracts. The leverage can be up to x200. Futures represent an agreement for the obligatory purchase/sale of an asset at a predetermined price at a certain time in the future.
To engage in futures trading, a customer needs to first establish a futures account with MEXC. Leverage of up to x200 is available to merchants, which is freely adjustable with greater depth and smaller spreads.
Token MX
The MEXC exchange token goes by the name of MX and permits owners to enjoy discounts on fees of up to 20%, enhanced referral rates, as well as participation in voting on the development of the project. The token has unlimited issuance. Its performance as of December 2022:
The exchange rate is $0.8169;
Market capitalization is $81,586,633;
The current issue is 100,000,000 MX;
24-hour trading volume is $1,068,480;
Most actively traded in the pair MX/USDT.
Is the MEXC exchange legal and safe
MEXC swap offer is entirely legal since it is authorized in multiple countries worldwide. Certain countries, though, forbid the purchase, sale, utilization, and retention of virtual currencies. All violations will be subject to the applicable laws and regulations of the country of which you are a citizen. Therefore, please make sure to check the regulations of your home country before registering with the exchange. Surely, if you are situated in the MEXC exchange location there will be no issues.
MEXC has put in place a variety of measures to safeguard its users' funds, which include two-factor authentication, a cold storage system for all digital assets, and rigorous policies.
Actions that protect the integrity of the resource are as follows:
a newsletter, to prevent possible threats or weaknesses in the system, emailed to the individual immediately after logging into the network;
entering the self-generated password as well as the generated code, which is sent in the sms-message;
verification is a confirmation that the person is real;
anti-phishing code, allowing you to precisely distinguish the real e-mails from the exchanger;
instant reaction to unauthorized approach and blocking of your account.
MEXC registration process
If you want to be eligible to trade on the MEXC exchange, login to the system, but before that, you need to complete the signup process. Verification is also essential to make withdrawals of funds from the exchange. However, such an approach should not be regarded as a shortcoming, but rather as an expression of the platform's commitment to the protection of its clientele. After all, unauthorized access to the individual account of the customer is the major threat when dealing with cryptocurrency.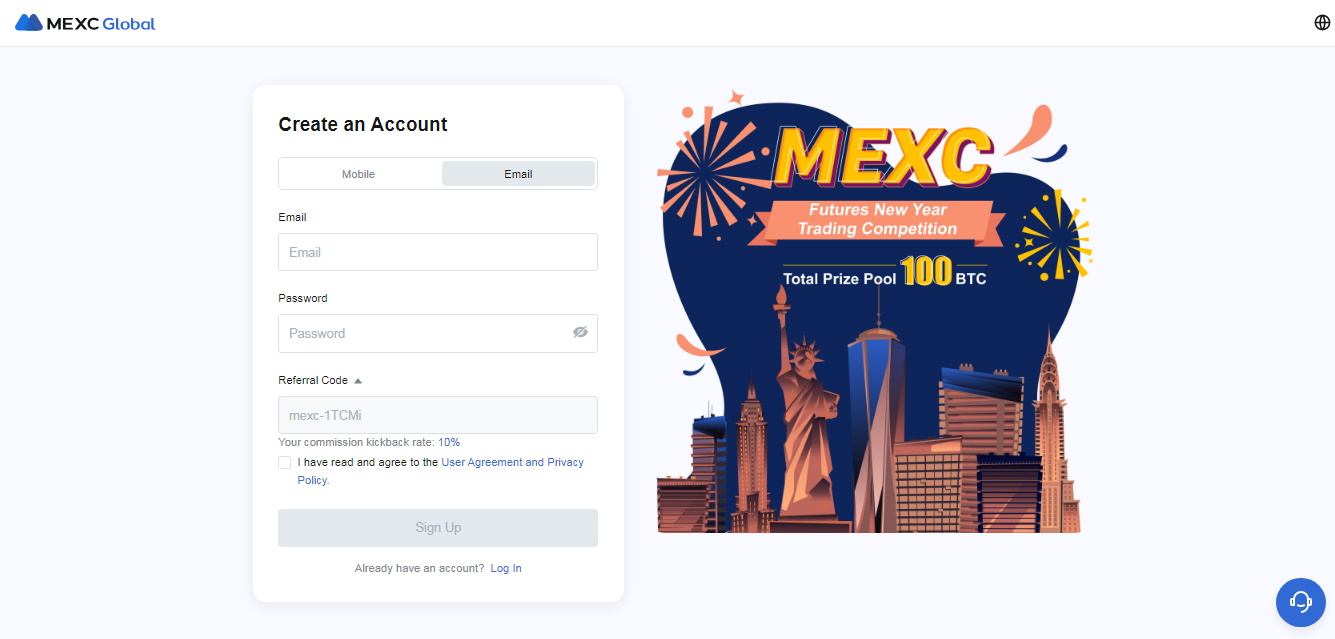 Part One is fairly straightforward:
Push the "Registration" link, which is conventionally found in the upper right corner of the page.
Complete all the required fields:
e-mail address;
password;
password validation;
confirmation code (will be sent to the specified e-mail address);
referral code (if any).
The registration procedure provides immediate account access, and the user is prompted to set new security settings. Namely, it is essential to be verified in order to finalize the identity verification thereby increasing the security degree of the account as well as the withdrawal limit.
For this purpose, you should pick the appropriate section in the profile and state the following personal data:
Citizenship;
Full name;
The type of document you plan to specify to verify your identity (passport, residence permit, or another document with photo);
Number/series of the document.
Account tiers and restrictions
Once you are able to perform a MEXC login, try writing to
[email protected]
. It is a method a member may arrange to be assigned VIP status on MEXC. Prerequisites include a defined daily volume of trades. The exchange possesses two types of VIP statuses, with a varying set of benefits.
Gold (trading volume of more than 200 000 USDT per day):
Exclusive commission rates;
Superior insurance for the user's account;
Exclusive outlet for over-the-counter trades;
Investment advisor services from MEXC crypto exchange;
Private manager;
Community partnerships within the MEXC network;
Member VIP Icon;
Offline event invitations;
Exclusive Support Services;
Announcements of upcoming features;
Platinum (trading volume of more than 500 000 USDT per day):
All previously mentioned benefits;
Enhanced API connectivity;
Beta-testing access to new features;
Maximized speed of deposit and withdrawal processing;
Three times higher withdrawal limits;
Private workshops.
How do I buy and sell cryptocurrencies on MEXC?
To be able to purchase cryptocurrencies on the MEXC exchange, it is essential to proceed through the following steps: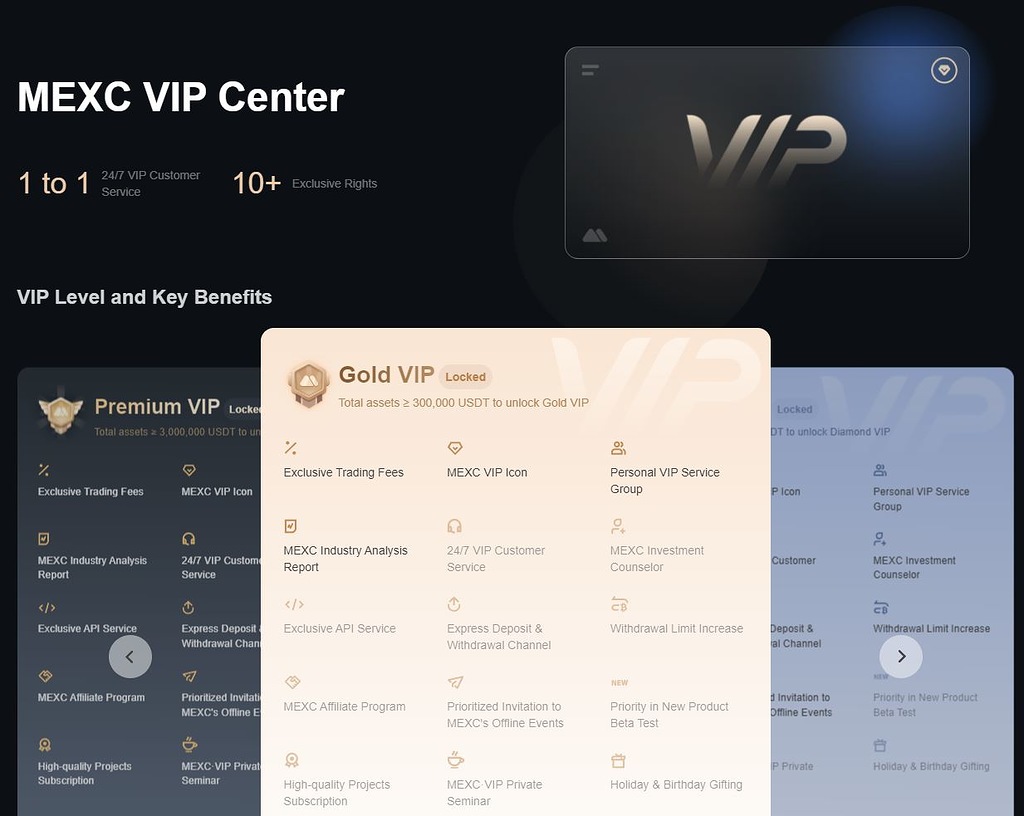 Sign up online at a crypto exchange site or MEXC Mobile App;
Verify your account;
Deposit funds to your account
Purchase Cryptocurrency
Keep or spend your coins on MEXC.
Payment methods
Purchase the cryptocurrency via one of the payment methods below:
Credit/Debit Card Purchase: the fastest and most convenient route for acquiring coins;
P2P/Over-the-Counter (OTC) trading: buying directly from other members;
International Wire Transfer: deposit currency instantaneously via international wire transfer systems with no MEXC exchange fees;
Third-Party Payment: MEXC hosts a variety of third-party payment services.
MEXC Trading and Usability
MEXC is equipped with its native trading platform (section "Trading" - "Spot"). It contains a graph in the central part of the screen featuring an overview of quotes of the specified trading pair.
The settings include a choice of any time frame - starting from 1 min up to 1 month. In addition, it is also possible to browse the daily minimum and maximum in the MEXC chart of quotes.
The right side of the terminal hosts a panel with cryptocurrency pairs. USDT, USDC, ETH, BTC, and USDP are all available to choose from. Clicking on all, it is easy to review all of the available coins. For instance, DOGE, EOS, DATA, SOL, TRX, SHIB, etc. Within the quotes list, it is easy to check out the actual price of an asset plus the value index for the last twenty-four hours. A search box is included to quickly discover a trading pair or ETF.
If you want to apply for purchasing or selling cryptocurrency, specify the number of coins you wish to buy or sell. It will automatically calculate the resulting value.
MEXC commission
A single MEXC exchange fee is valid for buyers and sellers. Its value is 0.2% of the transaction amount. It may be reduced by means of payment in MX tokens ( a 20% reduction) as well as by upgrading to VIP status.
Depositing the account doesn't require any commission, however, a minimal sum of 5 USDT is a must. It is worth bearing in mind that each cryptocurrency is imposed its individual extra commission, therefore, it is advisable to clarify in advance what % will be charged for coin withdrawal.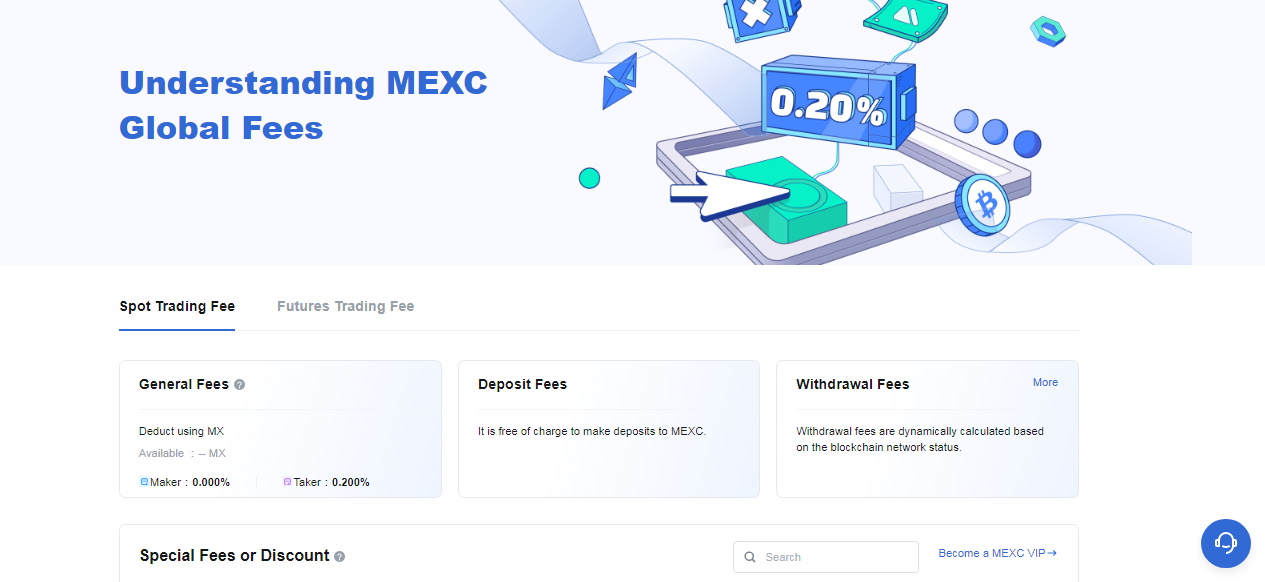 The types of commission charged by the exchange:
| | |
| --- | --- |
| Fees | Amount |
| Deposit fee | There are no fees for deposits |
| Withdrawal fees | The withdrawal fee is determined dynamically according to the status of the blockchain network |
| Trading fees | Up to 0.2% |
In the table below, some withdrawal fees are presented:
| | |
| --- | --- |
| Crypto | Withdrawal fee |
| 1INCH | 5 |
| 1MIL | 15 |
| 2CRZ | 202 |
| 3AIR | 11 |
| BTC | 0.0003 |
| AVAX | 0.05 |
| OCEAN | 46 |
| SCY | 0 |
| ETHS | 1 |
| ATOM | 0.05 |
| CREO | 52 |
| ARPA | 100 |
| DUCKER | 704 |
| MARS | 0 |
| COINGHOST | 0 |
| DNXC | 22 |
| RPC | 993 |
| NANO | 0 |
| ACH | 404 |
| AUTO | 0.002683 |
| ETHW | 0.1 |
| AKRO | 3834 |
| API3 | 2 |
| GSTBSC | 9 |
| KOIN | 1 |
| AKITA | 24668268 |
| AUCTION | 1.27 |
| GMX | 0.05 |
| DOGE | 5 |
| LITH | 4984 |
| ALEPH | 41 |
| GTCOIN | 1 |
Security
Regarding safety, the MEXC team consists of highly qualified professionals who deploy top-notch security measures to completely safeguard users' funds. To date, there have not been any instances of security breaches on the MEXC exchange.The security of crypto exchange users is sustained by anti-phishing encryptions and two-factor authentication. Two-factor authentication at MEXC requires an additional code provided by SMS, email, or Google Authenticator application, instead of a single password to enter your account. The latter scenario is the safest:
Have Google Authenticator installed on your phone;
Press "Open" near "Google Verification" in your MEXC account settings;
A QR symbol will appear on your phone;
Scan it with Google Auth;
Continue by entering your account password, followed by the six-digit key from the app.
The keys switch every few seconds, so, unlike a permanently generated password, they can't be hijacked. Therefore, the highest degree of security of this method is explained by this fact.
Since the Exchange treats illegal operations with digital assets in a highly serious manner, it will provide the officials with all the required details in case of an official request from the law enforcement authorities.
Unregistered anonymous players are not allowed to conduct P2P exchanges or withdraw sums exceeding 0.7 BTC per day on the exchange platform. Any operations deemed suspicious will immediately lead to the blocking of the account.
Supported countries
MEXC maintains a presence on major continents & is regulated, directly or through affiliates, by several of the world's most prominent jurisdictions. MEXC Global additionally provides localized language support for international investors, facilitating their ability to trade. MEXC operates in well over 170 regions and countries. MEXC exchange country include the United States, as well as Japan, Turkey, Sudan, Russia, India, Qatar, and so on.
Mobile application
Trading on the MEXC exchange is possible not only from a PC but also from a smartphone. To make trading convenient on your phone it is worthwhile to upload the mobile version of the exchange to your device. MEXC mobile app has a simple and intuitive interface that is easy to use for beginners and experienced traders alike. It is available for Android and iOS devices.
MEXC customer support service
The Exchange proposes the following options for communicating with technical support specialists:
Live chat on the website;
E-mail: [email protected];
A MEXC support center, which contains news and announcements of the exchange, guides on products, and FAQs.

Alternatively, a support request may be sent by pre-selecting the type of problem and describing it in detail.
Countries of presence
The geography of the exchange clients is very wide. The following countries dominate the clientele of the exchange:
| | | |
| --- | --- | --- |
| Japan | Sudan | Vietnam |
| India | Russia | Qatar |
| United States | Turkey | South Korea |
| United Kingdom | Thailand | |
| Philippines | Canada | |
| Malaysia | Australia | |
Most MEXC exchange reviews from users claim that the platform is trustworthy. It is reliable and safe, as no cases of customers ever losing their money due to gaps in the system's security have been encountered. The support team is readily available to assist with detailed consultations, which can be demanded by both newcomers and experienced traders.
Frequently Asked Questions
Are MEXC and MXC identical?
Yes, the MEXC exchange is also known as MXC. MXC is a former name for the exchange, but sometimes it is still in use.
What services does the platform provide?
Spot, margin, futures trading, leveraged ETFs, P2P trading, decentralized finance.
Is it possible to deposit fiat currency to MEXC?
Deposits may be made in cryptocurrency or fiat currency (using Visa/Mastercard, for example).
Do I need verification?
Yes, no withdrawals are possible unless you are verified.
Conclusion
About company
Criteria
Information
Headquarters country
South Korea
Foundation year
2013
Exchange type
Exchange
Trading permission
Allowed
The USA clients' access
Payment methods
Contacts
Deposit payment
Funds withdrawal
Active
Wire transfer
Wire transfer
[email protected]
Comments