Prices fell to $26,160 soon before press time, reaching the lowest since March 17.Bitcoin (BTC) has been on a downward trend as CoinDesk's Bitcoin Trend Indicator loses its bullish stance for the first time in three weeks. The leading cryptocurrency by market cap dropped to $26,160 before the news broke, hitting its lowest point since March 17, as per CoinDesk data. Since May 6, prices have fallen by over 12%, deviating from the rise in traditional risk assets such as Nasdaq.
The BTI indicator, which gauges the momentum and strength of Bitcoin's price direction, shifted from bullish to neutral on Thursday. The indicator has consistently shown an upward trend since January 13, except for a brief downward signal in mid-March and a neutral reading on April 24.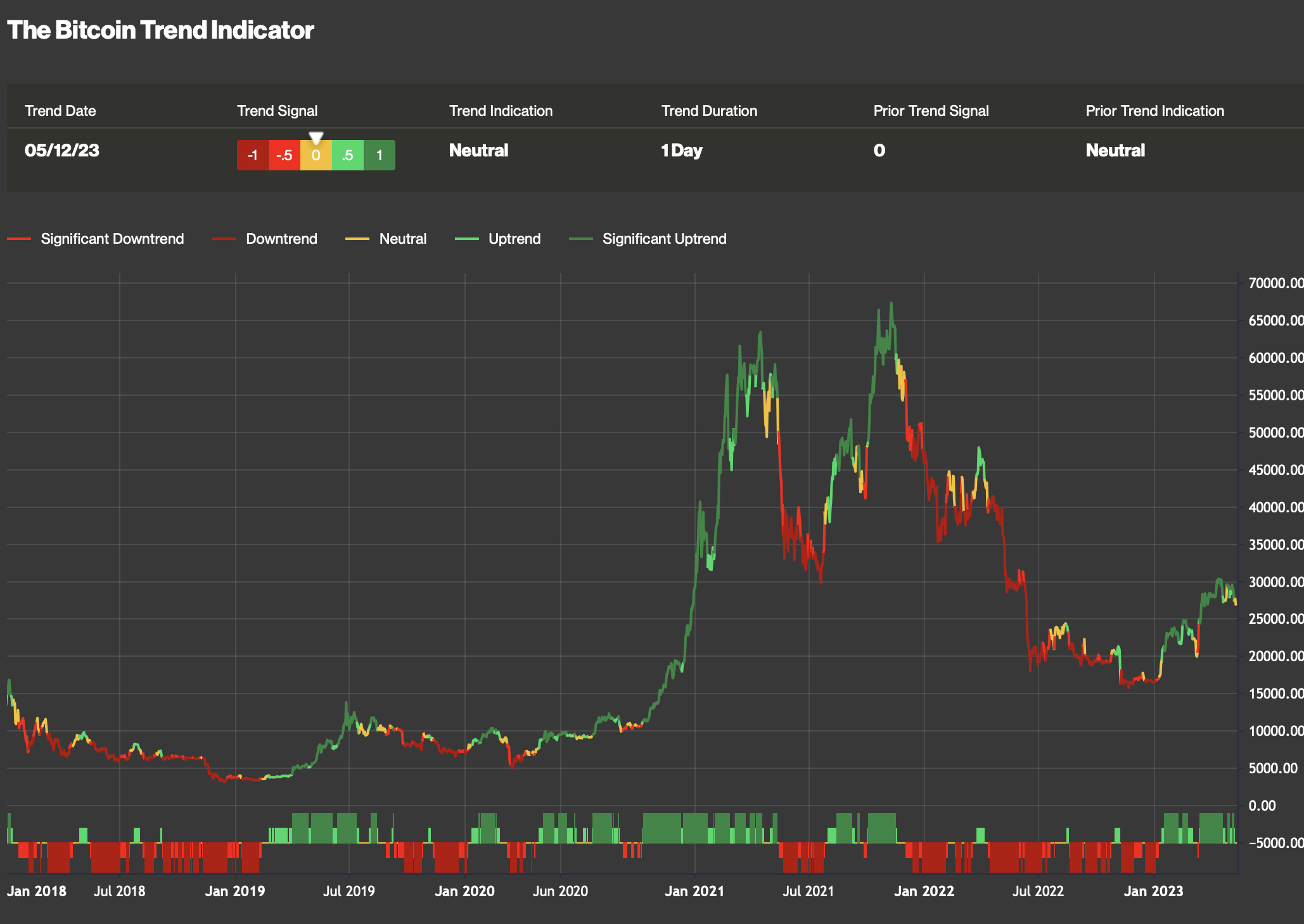 Matthew Dibb, the Chief Investment Officer at Astronaut Capital, suggests that the recent drop in Bitcoin prices has been aided by low liquidity, allowing a few sellers to drive the market downwards. He states, "There seems to be 'paper thin' liquidity right now, even across majors such as BTC. We cannot pinpoint a direct reason for the weakness, but any medium to large offers are driving the market down."
Liquidity or market depth on major exchanges, including Binance, has recently deteriorated. This condition makes it challenging for traders to carry out large transactions without affecting prices.
Dick Lo, the founder and CEO of TDX Strategies, a quant-driven crypto trading firm, indicated that the downward trend could intensify if traditional risk assets also start declining. Lo told CoinDesk, "We could see a faster drop IF U.S. equities also start to decline. For BTC, $25,200 is a critical support level, followed by $23,100 if the downward trend accelerates."
He further mentioned that this bearish trend would be invalidated if prices rise above $28,500.
As predicted by analysts last week, Bitcoin's fall to two-month lows has confirmed a bearish reversal pattern known as a head-and-shoulders on technical charts. This downturn has paved the way for a potential further fall towards the $25,000 support level.
Comments