America's largest crypto exchange is trying to increase its customer base with the lure of zero-fee trading but all is not what it seems.
On May 18, the firm revealed enhancements to Coinbase One, a membership plan that offers trading without fees, increased staking rewards, and priority assistance.
The caveat, however, is that customers must pay a monthly fee of $30 for these benefits.
Coinbase has frequently been the target of criticism for its relatively high trading fees in the sector. The majority of its profits stem from these often excessive charges, indicating the success of this model.
The provision to pay a recurring fee to eliminate these charges would mainly appeal to large-volume investors and frequent traders. Moreover, those who trade extensively are unlikely to use Coinbase, preferring decentralized exchanges (DEXs) where the charges are significantly lower.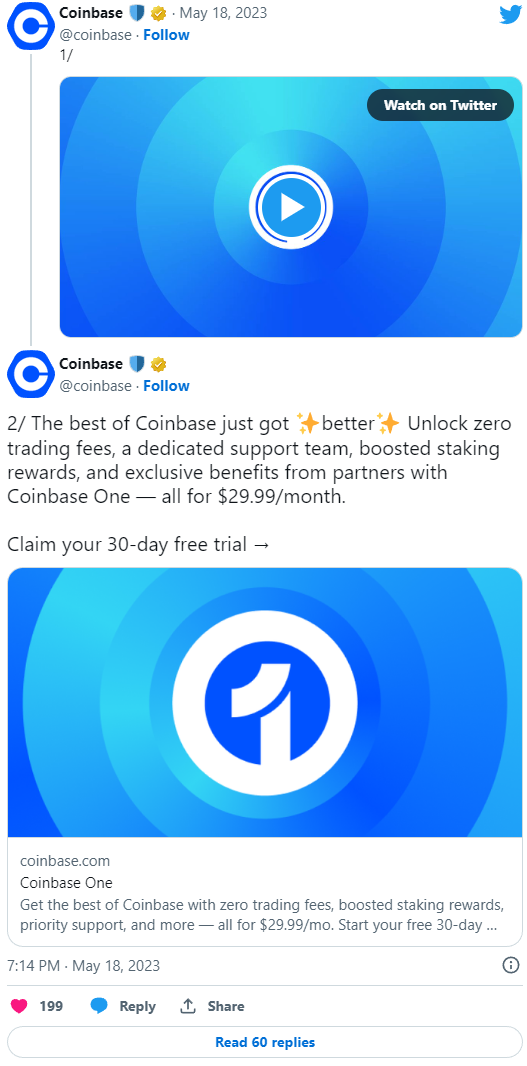 Coinbase One Catches
Coinbase is offering a 30-day complimentary trial for its new service, which includes priority customer service. The company has faced a lot of criticism not just for its high fees, but also for its inadequate customer service.It seems that now Coinbase clients have to pay to receive prompt responses via their support channels. Additionally, members will have access to assistance with crypto tax filing,
the company stated
.
Coinbase announced it was extending the availability of Coinbase One to the United Kingdom, Germany, and Ireland, alongside the United States.
The company is also providing benefits through collaborations with partners such as Messari, CoinTracker, and Lemonade.
Coinbase already provides premium accounts and clarified that the no trading fee offer is not applicable to Advanced Trade, Coinbase Pro, or Coinbase Prime.
Reactions from the crypto community to this announcement were mixed, with a considerable amount of skepticism about the service. A user by the name "Nebraskangooner" shared his views with his 300,000 followers:
"Your support team told me to cancel my membership because the zero trading fees is misleading and only for up to $10,000 worth of trading a month and you still take advantage of people with slippage on basic trading anyway."
COIN shares experienced a 1.28% decrease during the day, dropping to $60.35 in after-hours trading.
Crypto Market Outlook
Cryptocurrency markets saw a 1.5% decline on the day, with the total market capitalization decreasing to $1.16 trillion.
Bitcoin saw a 2% decrease, dropping to $26,782, while Ethereum fell by 1.3%, hovering just below $1,800 at the time of writing.
The markets have been largely stagnant for the past few months and continue to stabilize after reaching their peak for the year in mid-April.
Comments