Bitcoin price is down today as Binance, record high fees and a full mempool render on-chain transacting slow and expensive.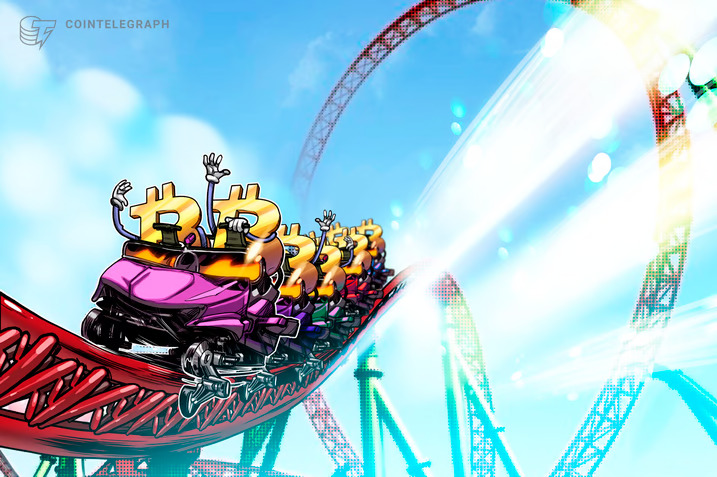 The value of Bitcoin has dropped today due to persistent "congestion" issues, which are causing frustration among traders and negatively impacting market sentiment.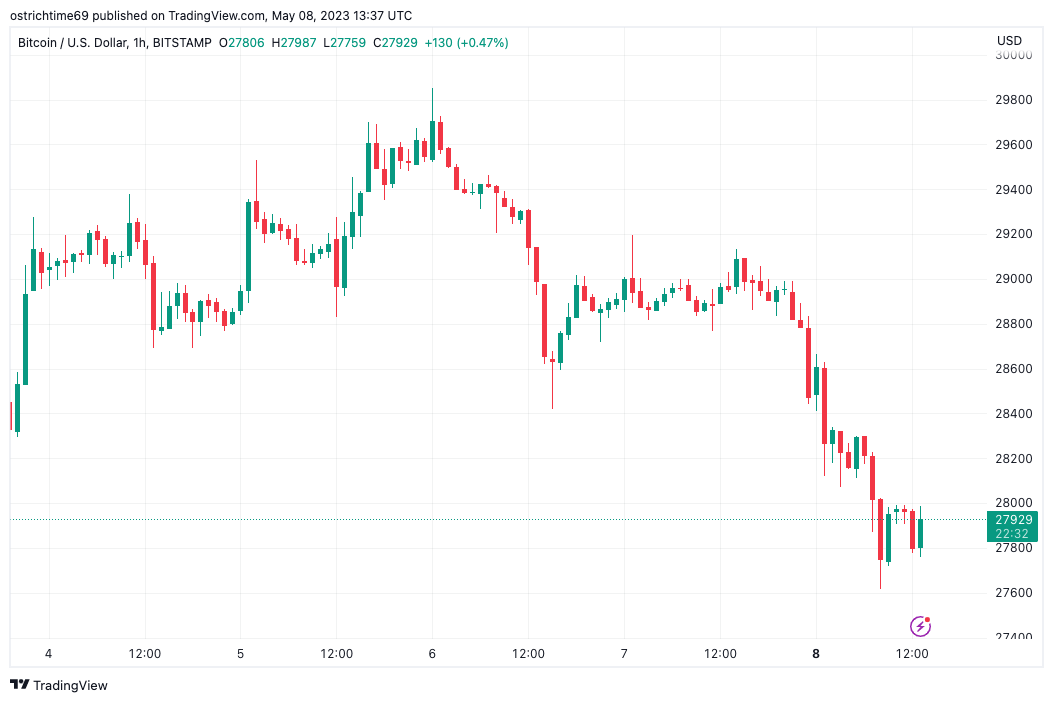 Binance "FUD" drags Bitcoin down
Information from
Cointelegraph Markets Pro
and
TradingView
reveals that Bitcoin was trading below $28,000 as Wall Street opened on May 8th.The leading digital currency continues to face a decline in sentiment as transaction fees reach all-time highs and the mempool nears 98% capacity.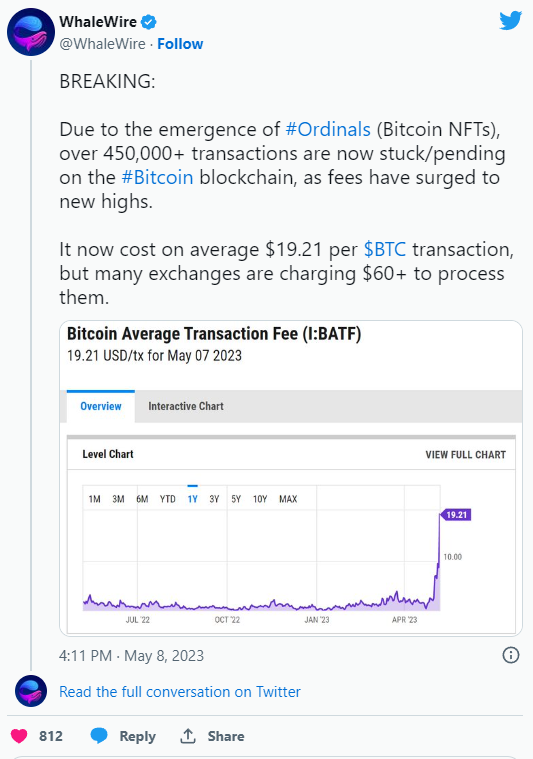 Market participants believe that the core issue lies in mass transactions "spamming" the Bitcoin network. The situation was further exacerbated when the largest global exchange, Binance, repeatedly suspended BTC withdrawals.
Binance attributed the outages to "congestion," which led to a backlog of withdrawal requests, further intensifying the already anxious market sentiment. A later tweet confirmed that the backlog had been resolved.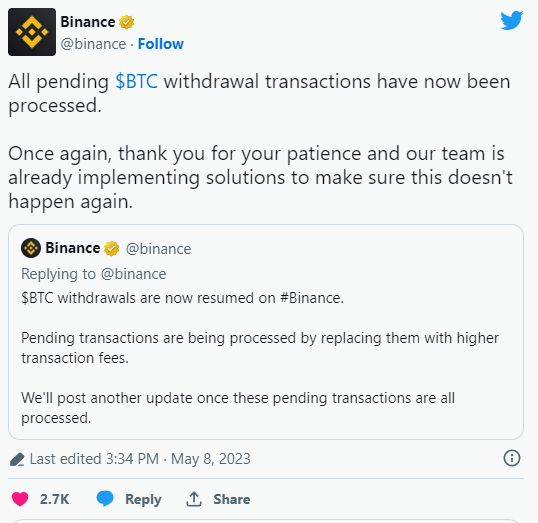 Despite this, BTC/USD remained subdued, with the day's low at $27,617 at the time of writing, representing a 7.4% decline compared to the local highs observed over the weekend.
Binance's native token, Binance Coin, mirrored Bitcoin's 24-hour losses, dropping approximately 2.4% to trade close to $315.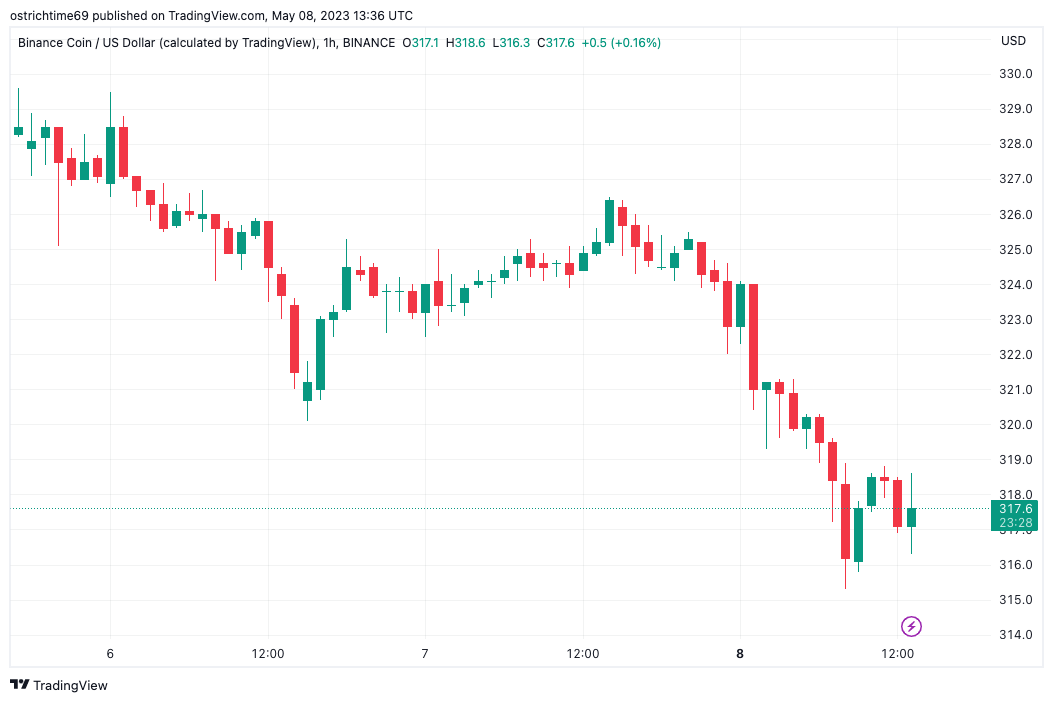 Traders were swift to concur with Binance CEO Changpeng Zhao, whether they were supportive or not, when he characterized the market's
response
to the withdrawal suspensions as "FUD" (Fear, Uncertainty, and Doubt).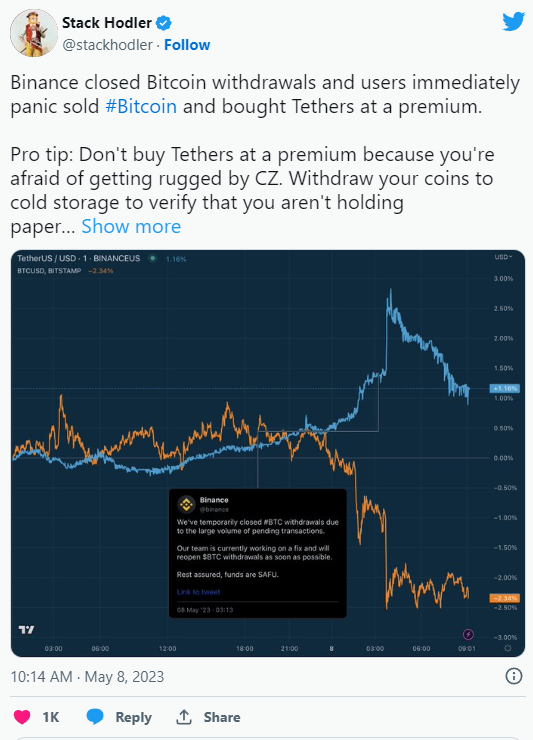 "Apparently, Bitcoin doesn't work again. Best sell it all and move on," quipped Filbfilb,
CEO of trading suite Decentrader
.
This isn't the first instance of Binance being at the heart of a BTC price controversy. In late March, other news, also dubbed "FUD" by Zhao, had comparable effects.
Watch these BTC price support levels
As a result, Bitcoin traders are now considering potential targets for a long entry amidst an ongoing downtrend.Michaël van de Poppe, founder and CEO of trading firm Eight, identified $27,400 and $26,800 as his targets.
"Previously mentioned that $29.2K was the key level for Bitcoin to break. We did see a bounce toward it, but no break. Additionally, some FUD regarding Binance doesn't help," a portion of a tweet
stated
.
Van de Poppe also observed that the disparity between the weekend's opening and closing prices had created a "gap" in CME Group Bitcoin futures markets. This implies that a classic-style "filling" of the gap might now occur with an upward price movement.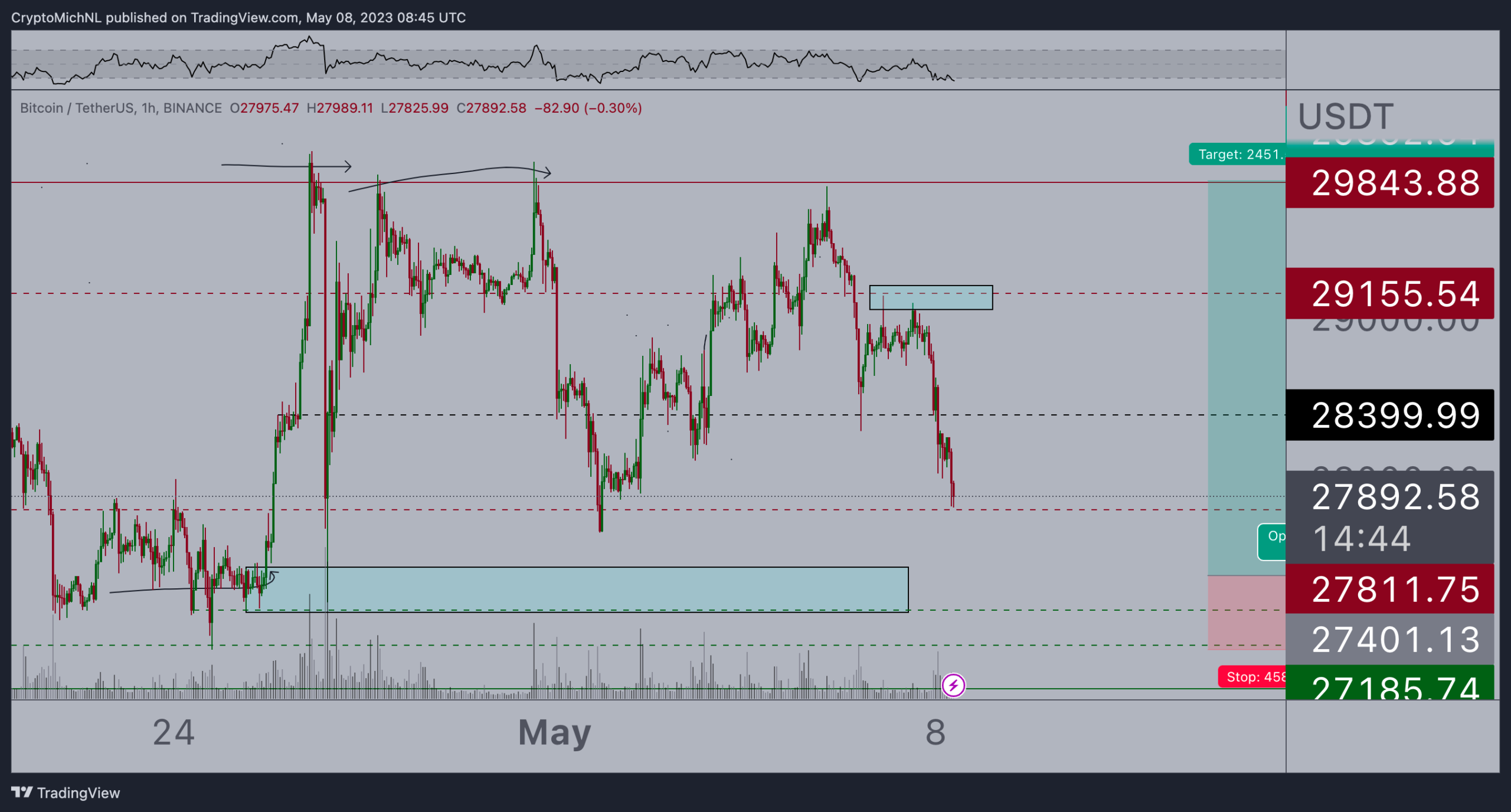 Other traders, such as the well-known CrypNuevo, were looking at targets closer to the current spot price.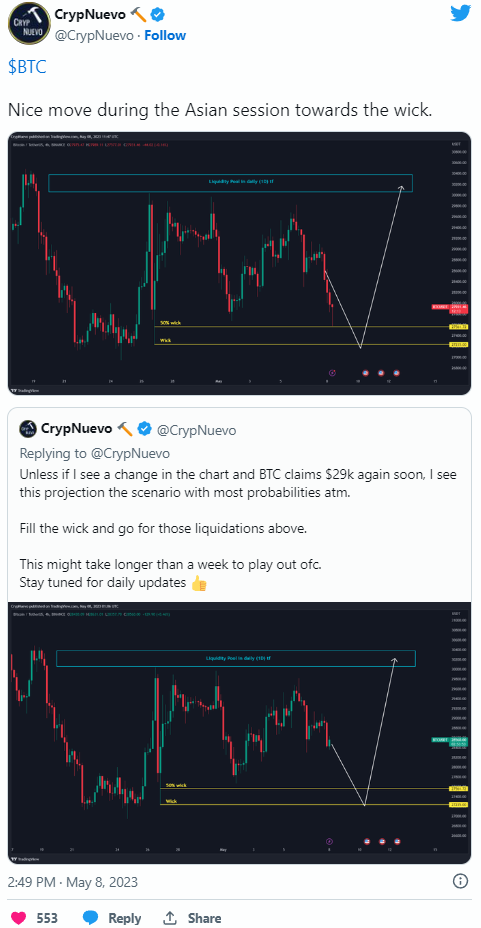 Daan Crypto Trades also commented,
"Still ranging in this $27-30K region. Now trading back below the mid-range again."
"No trade zone on BTC for me until we see a proper break or sweep of either of these range extremes."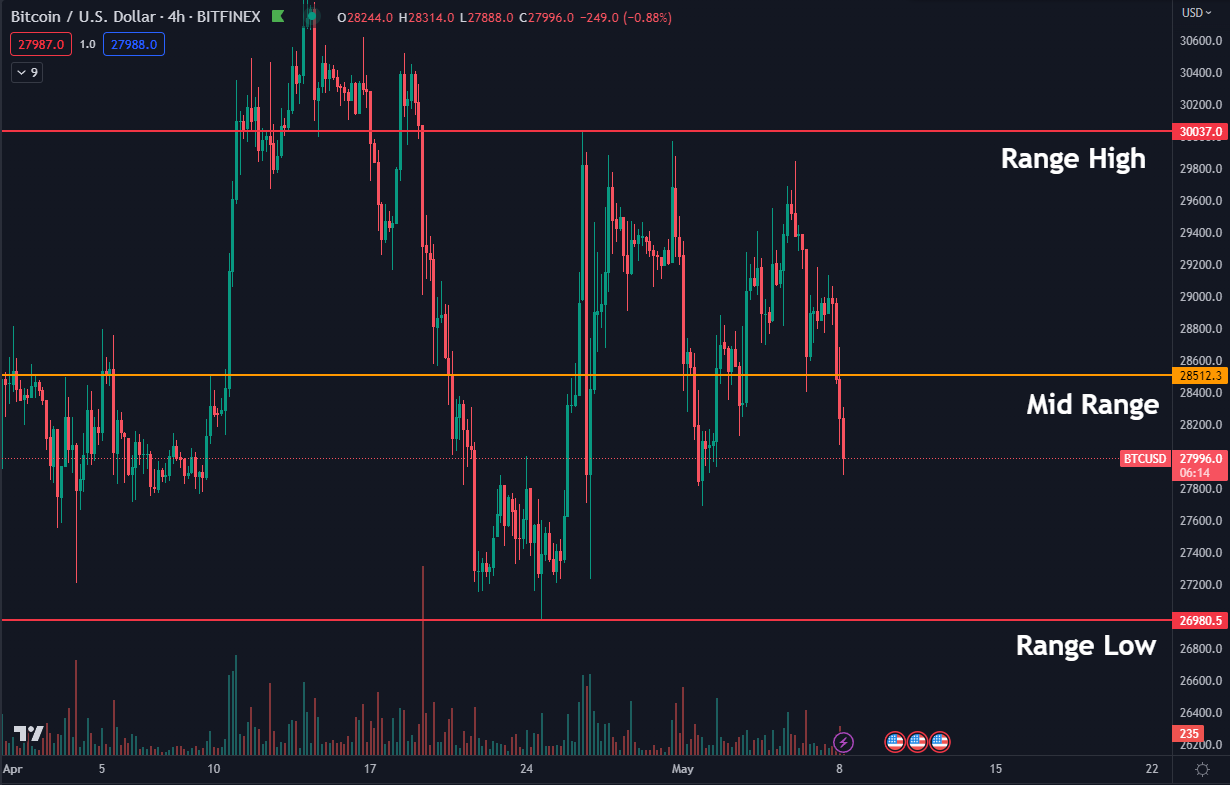 Source:
https://cointelegraph.com/news/why-is-bitcoin-price-down-today
Comments