Research cautions that Bitcoin investors have a significant task ahead to maintain the recently acquired support, but if they fail, it could result in a steep decline in the price of BTC below $20,000.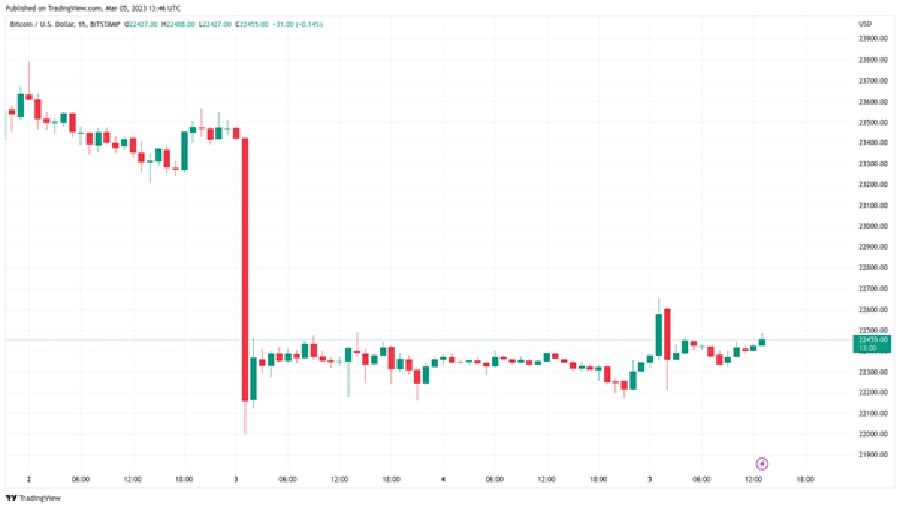 Bitcoin remained close to a critical support level on March 5 as the weekly candle close raised new concerns of a potential decline.
Analyst warns over fate of $20,000
Data from Cointelegraph Markets Pro and TradingView followed BTC/USD as it continued to move in a tight range over the weekend.The pair had remained practically stationary since its abrupt fall on March 3, triggered by a margin call amid uncertainty over  Silvergate Bank.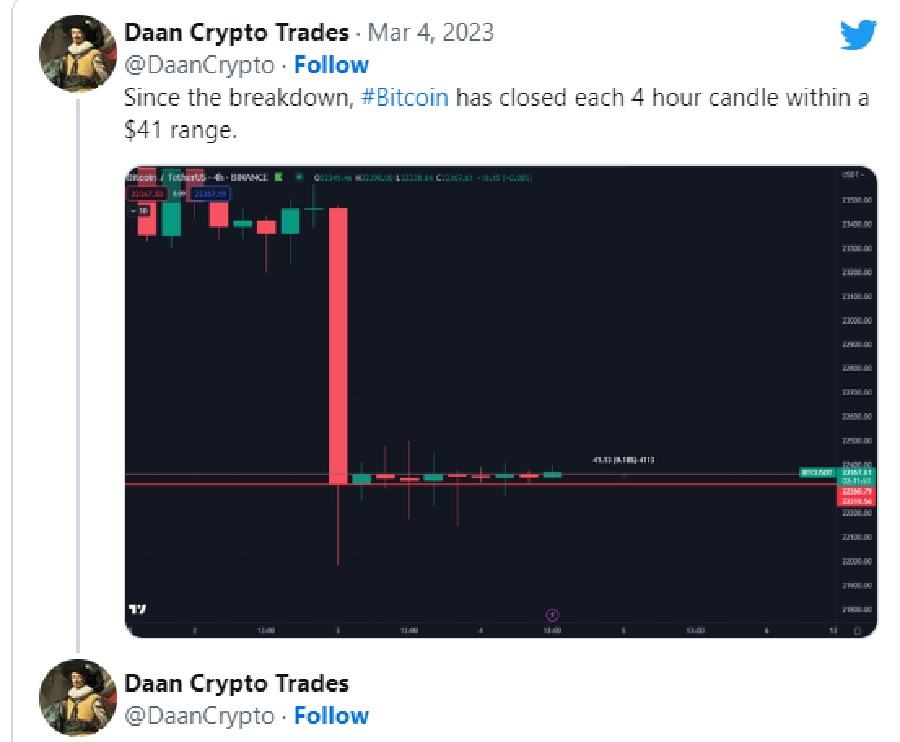 Despite avoiding additional losses, analysis warned that Bitcoin could still experience a significant drop if the nearby support level is not sustained.Material Indicators, a market monitoring resource, stated that the price of BTC had lost crucial technical support and that $22,000, which was previously a resistance-turned-support level, was now the only remaining support for the bulls to cling to.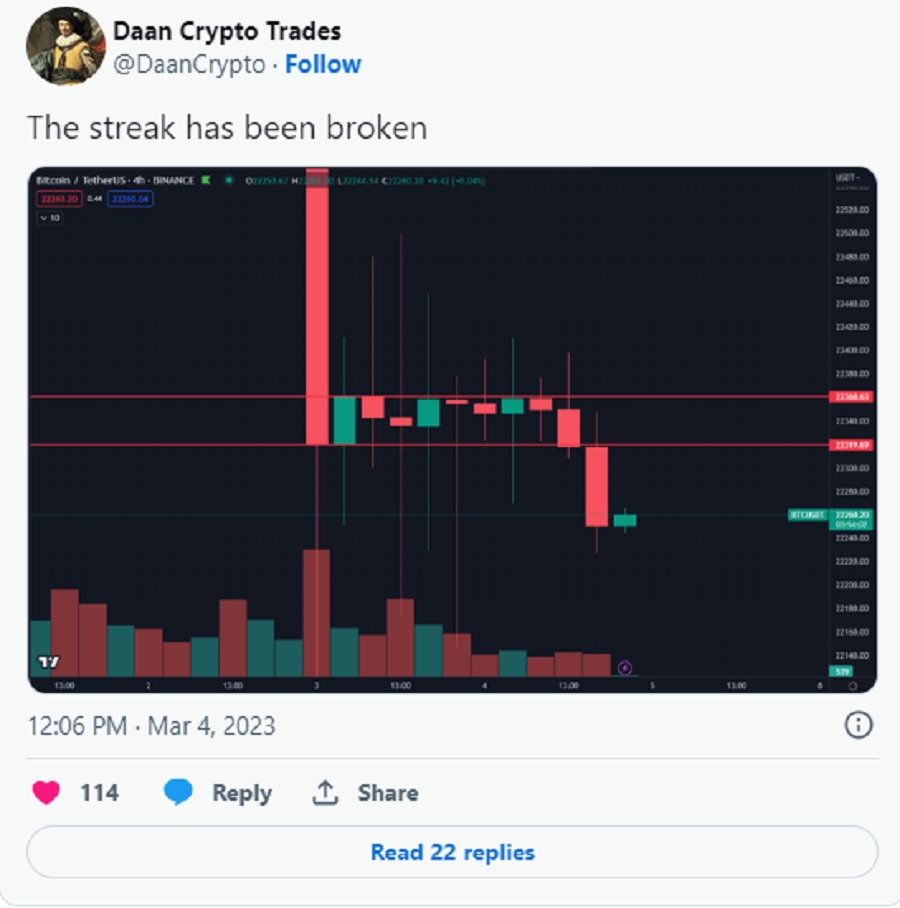 "The local R/S Flip zone is the last stand between a retest at the trend line. Meanwhile, Trend Precognition is indicating a downtrend," it wrote in part of a Twitter update on the day.
 "Will see if that changes after the W close."
The accompanying charts displayed the trend line and the order book for BTC/USD on Binance, with bid liquidity concentrated at $22,000."Michaël van de Poppe, founder and CEO of trading firm Eight and a contributor to Cointelegraph, warned that if $21,300 fails to hold as a support level, it is possible that even $20,000 may not be enough to prevent a further decline in price."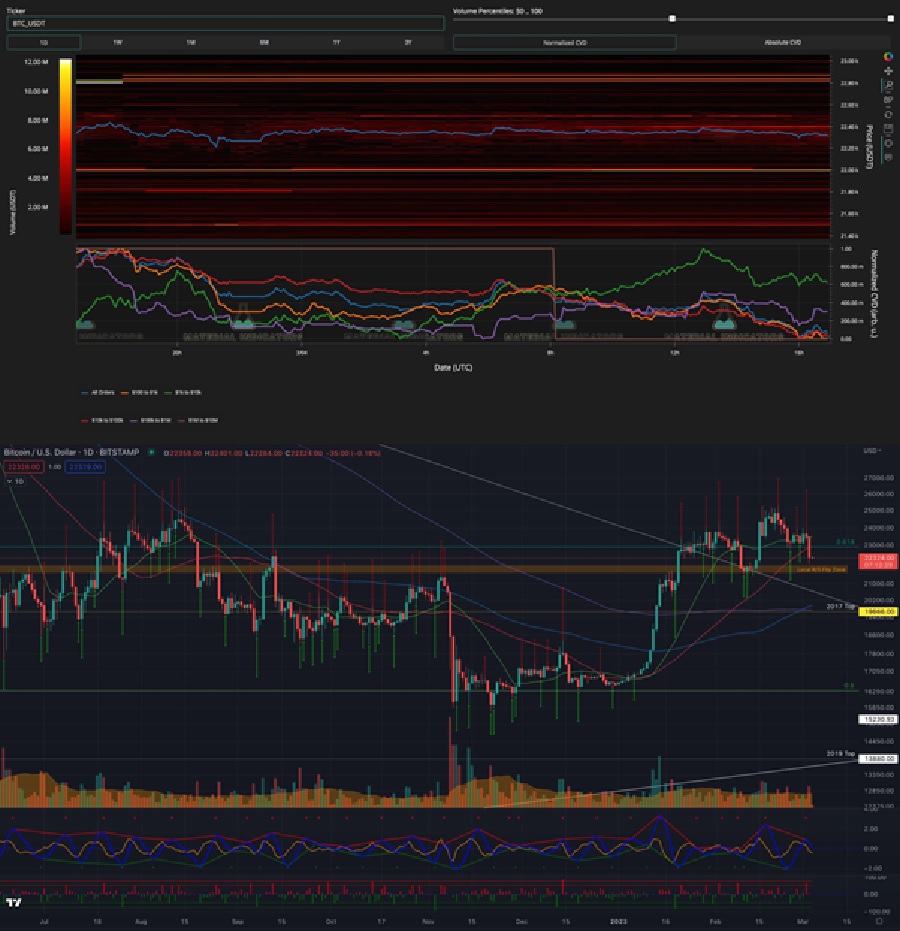 "Crucial area for #Bitcoin is to hold the $21.3K area. Losing that, and we'll see another sweep toward $19.5Kish and altcoins dropping 15-25%," he predicted on March 4.Despite this, van de Poppe maintained a positive outlook, suggesting that it is possible to see a price of $40,000 within a few months.
"Moral of the story: Dollar-Cost Average and have balls to buy when you don't feel confident," he advised in part of a subsequent post.
"Overwhelmingly bearish sentiment"
As the potential bankruptcy of Silvergate continues to be a topic of discussion, research firm Santiment has questioned the intense market reaction to the news.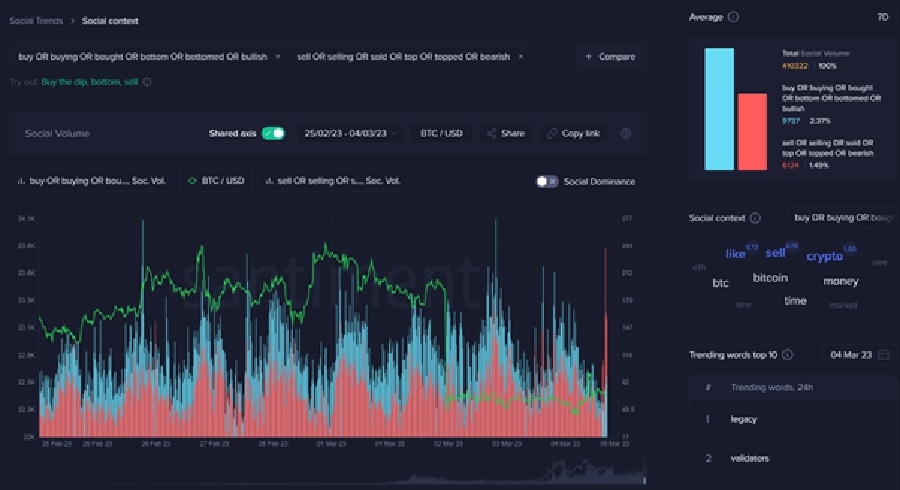 In a dedicated analysis of the situation, Santiment analysts noted an "unusually high amount of negative commentary about the markets" on social media.
"It is noteworthy that the hashtag #cryptocrash has been a recurrent trending topic on the platform, even though Bitcoin's modest 5% dip happened more than three days ago," the analysis added, referring to the behavior of Twitter users.
"Typically, you can capitalize on this level of negativity on the markets, and this kind of overwhelmingly bearish sentiment can lead to a nice bounce to silence the critics."
Comments