Yuga Labs' Initial Bitcoin NFT Release Faces Criticism from Crypto Community for Deficiencies in Auction Methodology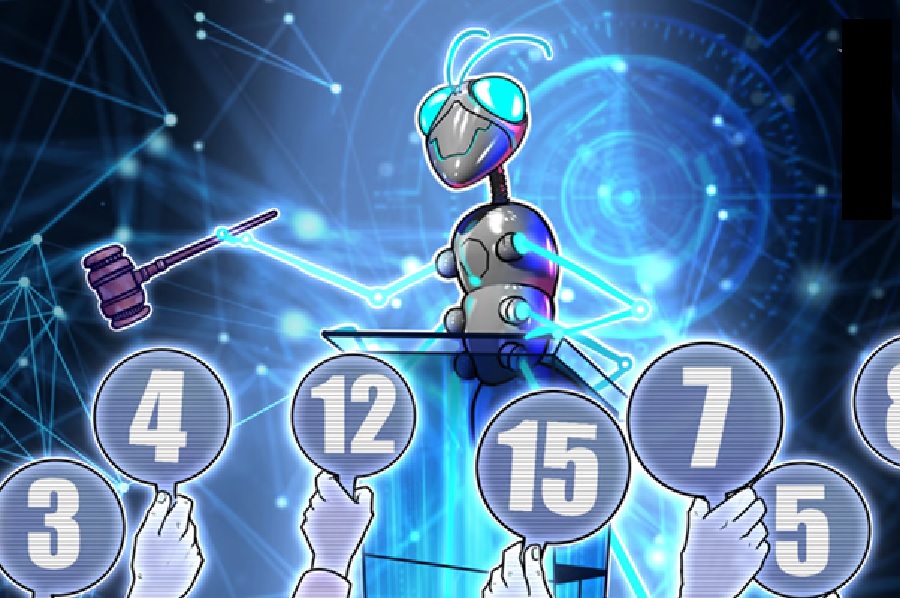 Yuga Labs' Bitcoin NFT Auction Draws Scrutiny from Crypto Community, Including Creator of Bitcoin Ordinals, Over Controversial Sale Method.
On March 5, Yuga opened bids for its "TwelveFold" collection, which will see 300 NFT-like images inscribed on satoshis using the Bitcoin-native Ordinals protocol, with 288 from the collection sent to the highest 288 bidders.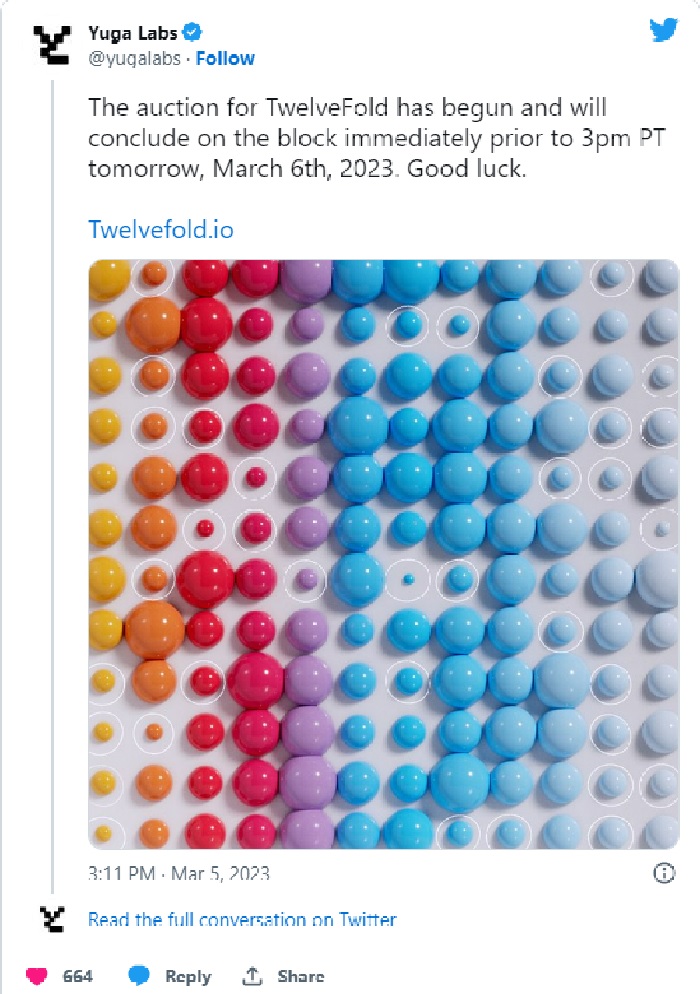 According to a March 5 press release, those participating in the bidding process must send their entire bid amount in Bitcoin  to a unique BTC address controlled by Yuga.
Winners would simply pay up the BTC they bid, while Yuga said it would return BTC to those unsuccessful in placing a top bid.
Yuga Labs' Manual Refund Process for Unsuccessful Bitcoin NFT Bids Draws Criticism from Crypto Community as 'Stone Age.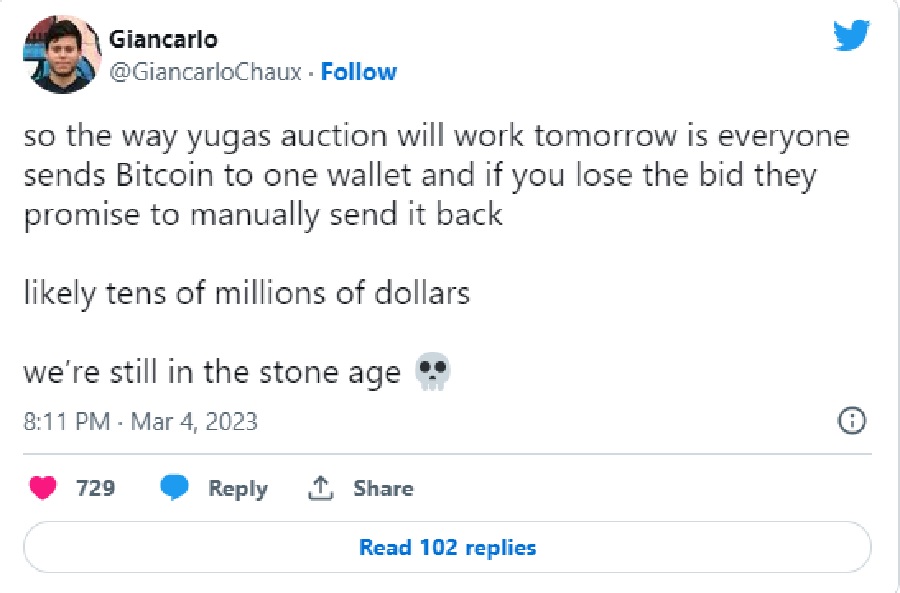 Ordinals Twitter User Brands Yuga Labs' Bitcoin NFT Auction a 'Scammers Dream,' Citing Dangerous Precedent in Questionable Sale Methodology.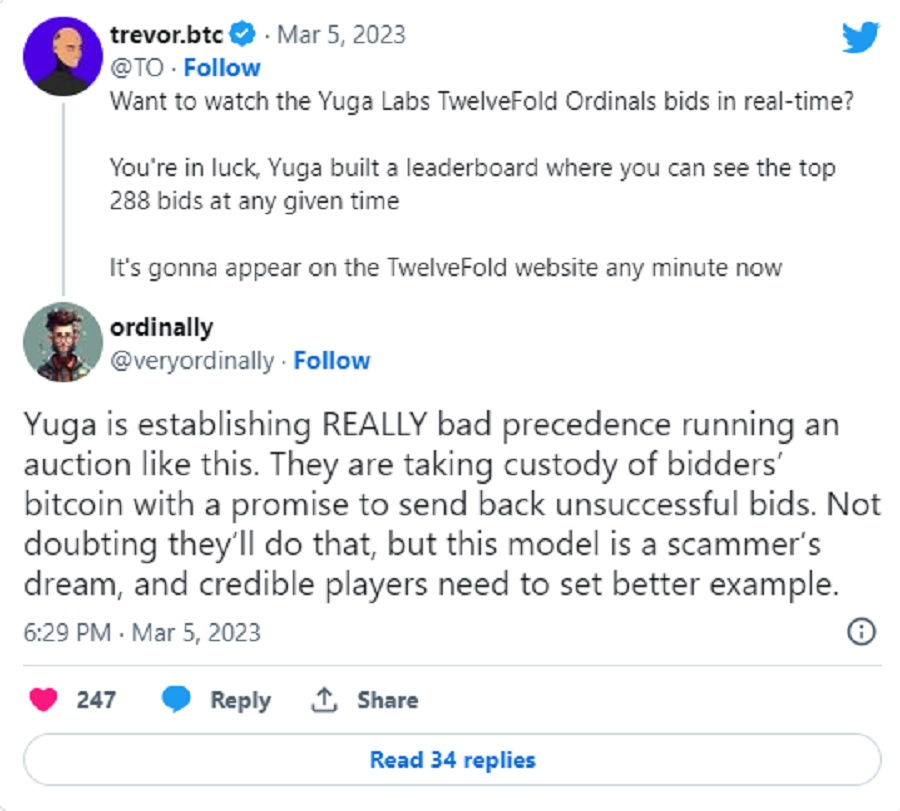 The post even saw a response from Bitcoin Ordinals creator, Casey Rodarmor, who hotly weighed in on the discussion, telling Yuga to "get fucked" and calling the conduct of the auction "degenerate bullshit."Ordinals Twitter User Threatens Boycott of Yuga Labs Over Controversial Bitcoin NFT Auction, Urging Others to Follow Suit.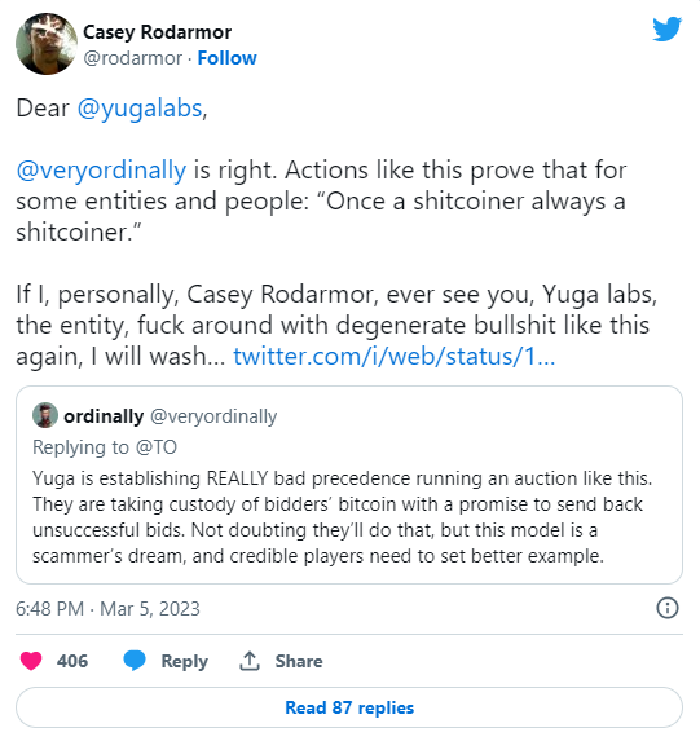 Other users pointed out the shortcomings of the auction system, saying it's possible some could overpay for a TwelveFold due to a potential significant price discrepancy between the highest and lowest bids in the top 288.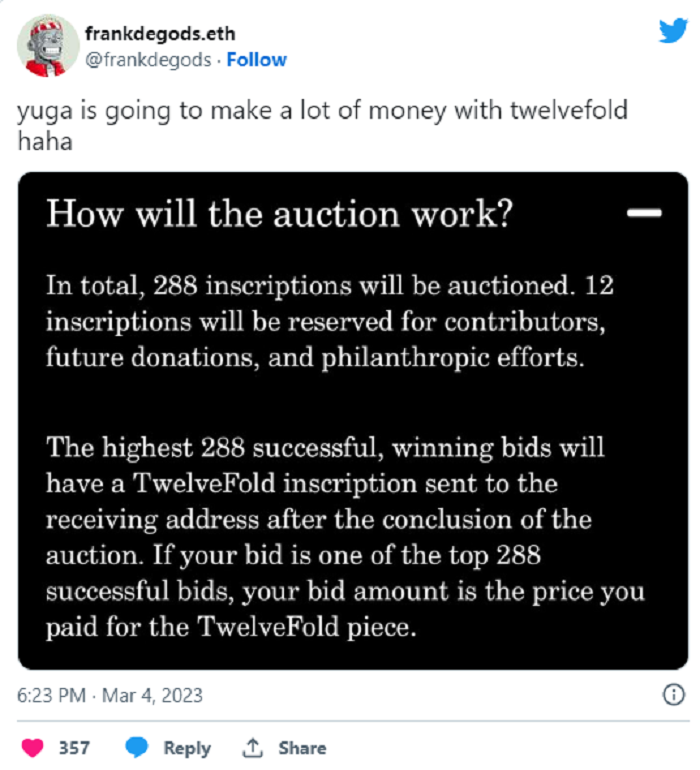 Despite the criticism from some, many were happy to see a large project such as Yuga — which rose to prominence due to multiple Ethereum-based NFT collections — bridge across to Bitcoin.Ordinals Tweets Praise for Yuga Labs' Pioneering Efforts in Bitcoin NFT Auctions Despite Previous Criticisms.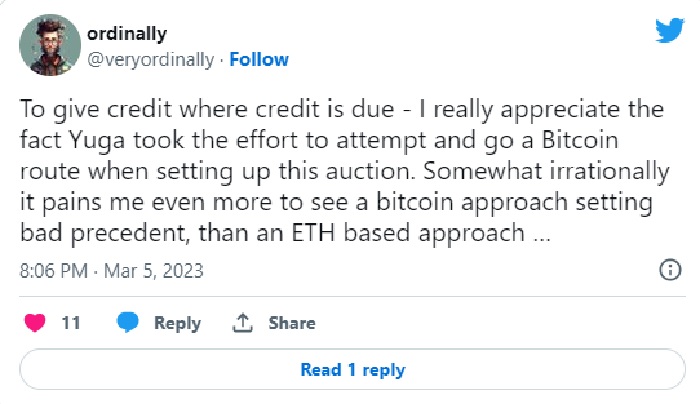 An Ordinals-based collection, Ordinal Pizza OG, expressed excitement at Yuga's BTC collection and called it a "massive net positive for Ordinals."
Undeterred by Criticisms, Deep-Pocketed Bidders Compete for Chance to Acquire Yuga Labs' Highly Sought-After First Bitcoin NFT Collection.
At the time of writing, the top bid was 1.11 BTC (around $25,000), according to the TwelveFold website with the lowest bid registered showing as 0.011 BTC, or around $250.source:
https://cointelegraph.com/
Comments